How to Share Calendars and Events on iPhone with Others
Calendar on iPhone is the portable schedule, which lets you arrange events conveniently.
Besides, you can also share the calendar with others so that they can view and edit the calendar flexibly. Whether you are planning a trip or maintaining a work schedule, you can share the calendars with your family, co-workers, friends, and everyone else easily.
It is clear for everyone to create a calendar, while it is very confusing for many to share the calendar on iPhone.
That's what we shall talk about in this post.
Here's the comprehensive guide to share the calendars and events on iPhone with others who are using iPhone, iPad, Mac or Android.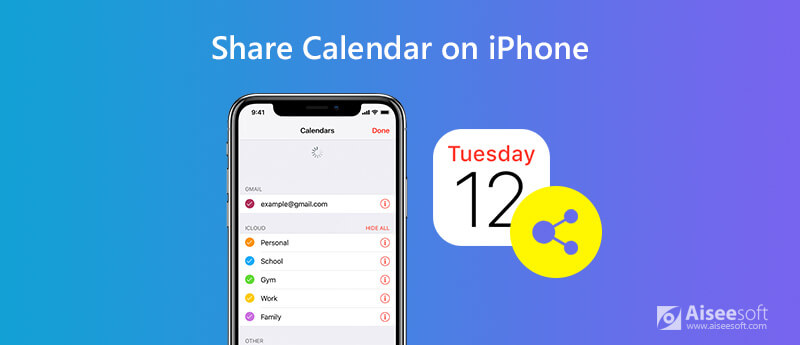 Note: Calendar sharing in the first 4 methods is complete via iCloud. When you share a calendar with others, you should enable Calendar in iCloud.
Go to "Settings" on iPhone > Tap [Your Name] > Hit "iCloud" > Toggle on "Calendars".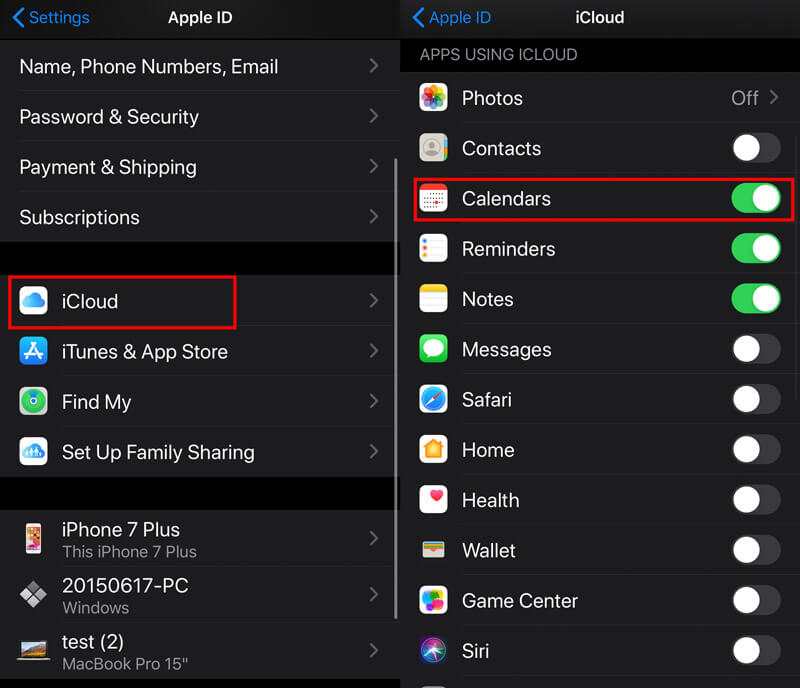 Part 1. How to Share Calendars on iPhone by Making it Public (Read Only)
The first way to share calendars from iPhone is by making the calendars public to other Apple devices like iPad, Mac, etc.
Step 1.
Run the Calendar app on your iPhone, tap "Calendars" button at the bottom.
Step 2.
Select the calendar you want to share and tap the Info button to the right of it.
Step 3.
Scroll down to toggle on "
Public Calendar
" and wait seconds you will see the option of "
Share Link…
" below "
Public Calendar
".
Step 4.
Tap "
Share Link…
" and then you can share the calendar link with anyone else via
AirDrop
, Messages, Mail, Facebook, Twitter, or other services.
When others who are using an iPhone, iPad, or Mac can open the share link, they can subscribe to a read-only version of this calendar.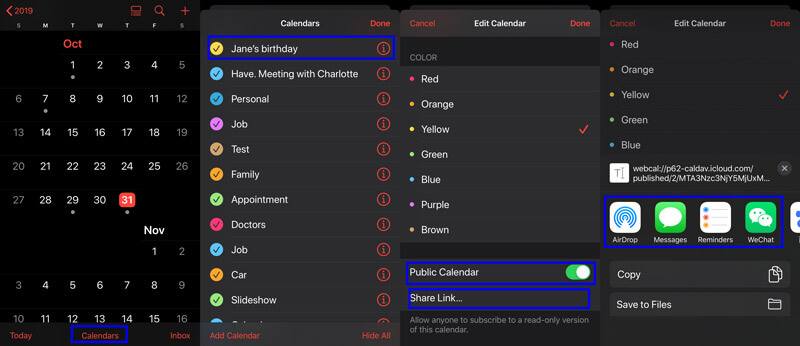 Others who get your shared calendars can only read, but cannot edit. For sharing the calendar with editing access, you need to refer to the second method.
Part 2. How to Share Calendars on iPhone with Someone (Read and Edit)
If you have a travel plan for your families or friends, or get a teamwork for your colleagues, you may want others who get your calendar to edit the calendar, too.
That's what we shall show in this method.
Step 1.
Still, launch Calendar app on your iPhone and hit the "Calendars" button at the bottom.
Step 2.
Select the calendar you want to share and tap the Info button to the right of it.
Step 3.
Tap the "Add Person" option under the "SHARED WITH" section.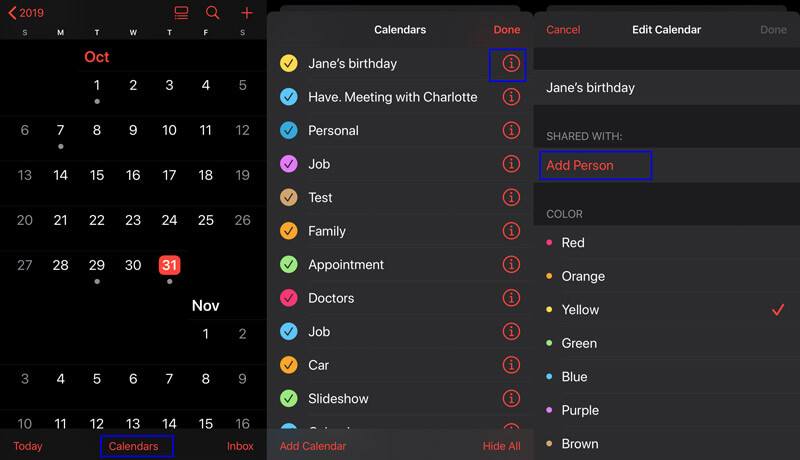 Step 4.
Add the person that you want to share the calendar from iPhone, and tap "Add" at the top-right corner. Then hit "Done" in the upper-right corner to share the calendar immediately.
Note: You should add the person via the Apple ID.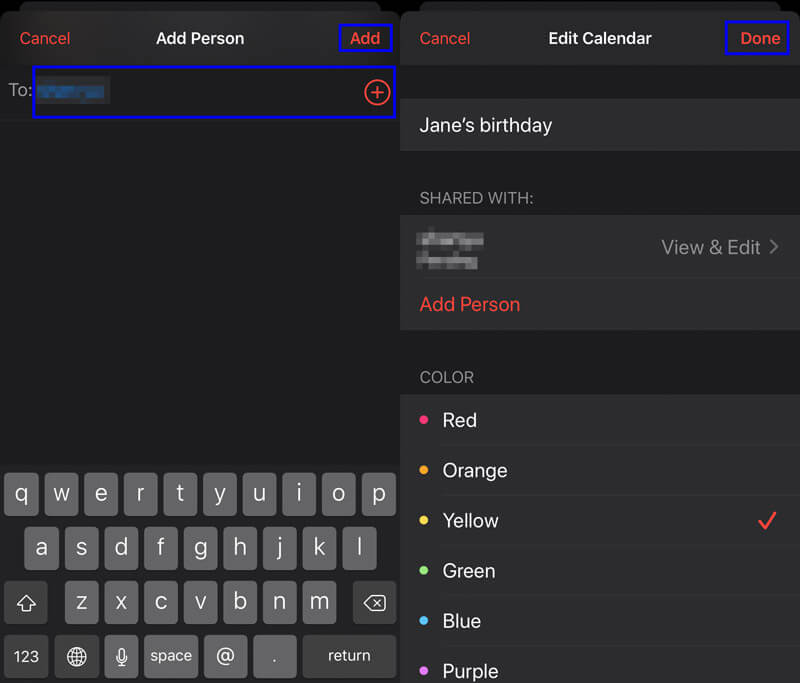 You can let others who receive the shared calendar edit them. Just find the calendar you shared and tap the Info button > Tap the name of the person you shared with > Turn on/off "Allow Editing".
For stopping the calendar sharing, here, you just need to tap "Stop Sharing".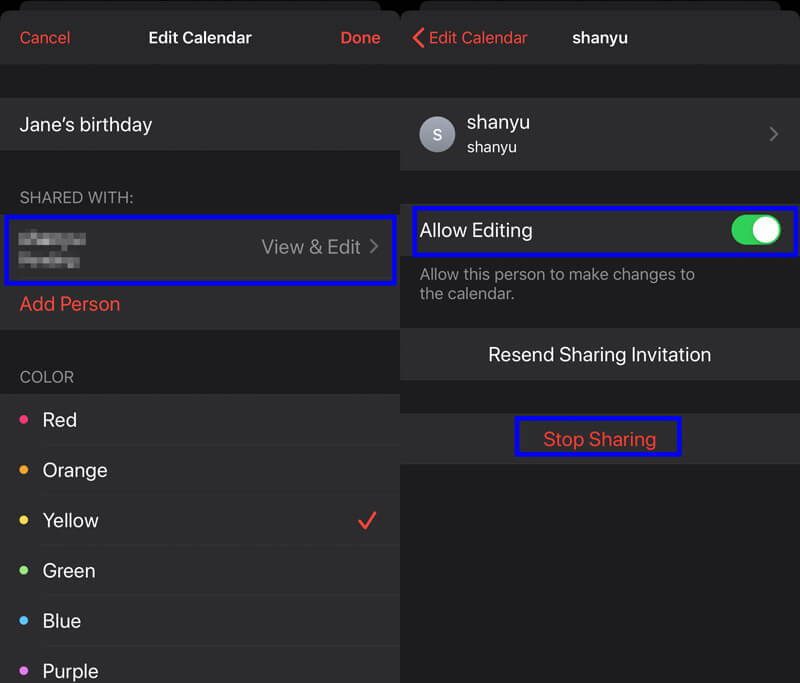 Then just repeat the steps to share the calendars one by one with others.
Part 3. How to Send Calendar Events to Others (Read Only)
If you only want to share the specific calendar events with others, instead of the whole calendars, this method is exact for you.
Step 1.
Again, run the Calendar app on iPhone. Either create a new event or open an existing even you would like to share.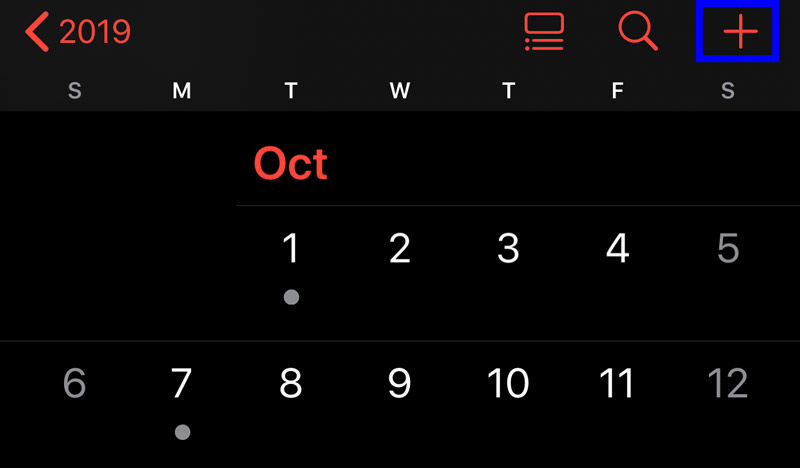 Note: To find a calendar even, you need to navigate the date with a small grey circle below and tap the event.
Step 2.
Tap "Edit" in the upper-right corner and scroll down to find "Invitees".
Step 3.
Tap "
Add invitees
" to add the Apple ID of the person that you want to share the event with. Tap "
Done
" to start sharing the calendar event with the person.
Step 4.
For the receivers, they just need to open Calendar, and tap "Inbox" and hit the "Accept" option on iPhone/iPad/Mac to receive the shared events.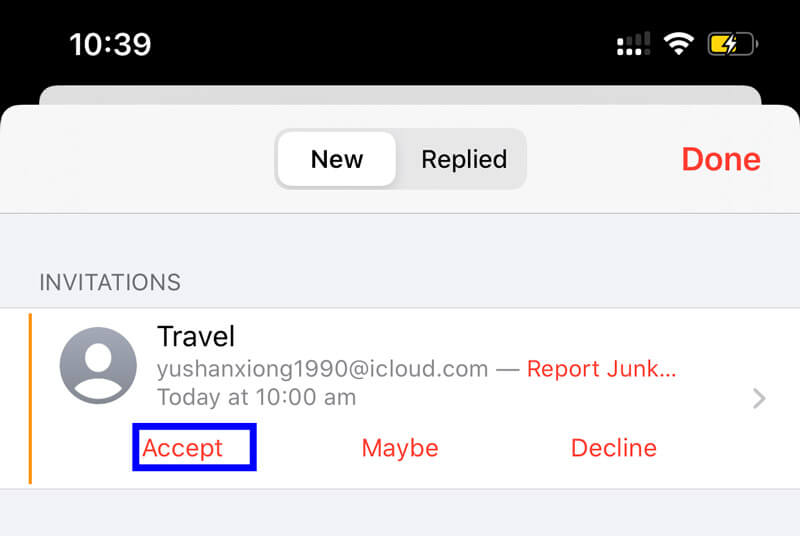 You can repeat the step to send more calendar events to others.
Part 4. How to Sync iPhone Calendars by Family Sharing (Read and Edit)
Family Sharing is another way to share the calendars with the families by putting them into one group.
Up to 6 family members can share the calendars, App Store purchases and other services. In another word, in this method, you can only share the calendars from iPhone with up to 5 person.
Step 1. Set up Family Sharing
iPhone or iPad running in iOS 8 and Mac running in OS X Yosemite and later can be added into the family you created.
After
setting up Family Sharing
, you should go to "Settings" > "iCloud" > "Family" > "Add Family Member" to enter your family member's name or email address and follow the onscreen instructions
add the family member
On your iPhone, go to "Settings" app and tap [Your Name] > Hit "iCloud" > Scroll down and tap the "Set Up Family Sharing" > "Get Started" > Choose specific features like Apple Music, iCloud Storage, etc., to start to set up
Family Sharing
.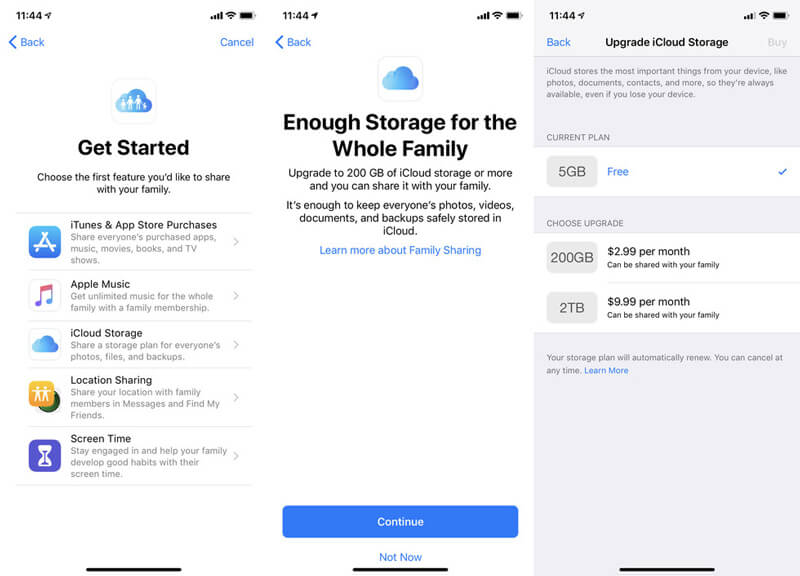 Step 2. Share the calendar via Family Sharing
Run Calendar app on iPhone, tap the existing calendar event or create a new one > Tap "
Calendar
" > Choose the calendar labeled "
Family
" > Checkmark your event and hit "
Add
".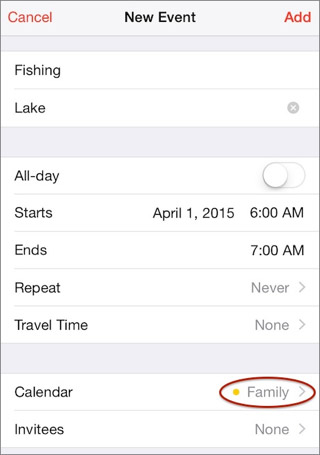 You can only join one family at a time, and you are allowed to switch to a different family group once per year.
Part 5. How to Share iPhone Calendars with Android (Read Only)
The last method of transferring iPhone calendars is using the Aiseesoft FoneTrans.
FoneTrans is the data-sharing software for Windows and Mac computer. It can sync the calendars from one iPhone to computer, and then you can open the calendar directly on Windows or Mac computer. Further, you can put the exported calendars into your Android phone for viewing. More you can benefit from FoneTrans are as following: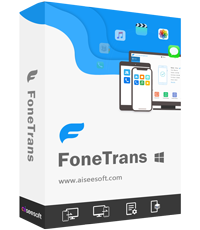 Downloads
Export the calendar events and attachments from iPhone to computer.
View the calendars directly via TXT, HTML and CSV alternatively.
Sync other data like contacts, messages, photos, videos, music, notes, calls, etc.
Support iPhone 12, 11 (Pro) Max, XS, XR, X, 8 (Plus), 7 (Plus), 6s/6 (Plus), 5s/5c/5, iPad, etc.
Now, let's check the detailed steps.
Step 1. Connect iPhone to computer
Free download this software on your computer. Run it after the successful installation.
It has Windows and Mac version, and just select the version you will need.
Then use the USB cable to connect iPhone to computer with the USB cable. If promoted, just follow the onscreen instructions to unlock iPhone and trust this computer.
Note: Make sure you have installed the latest iTunes on this computer, but not run it while using this software.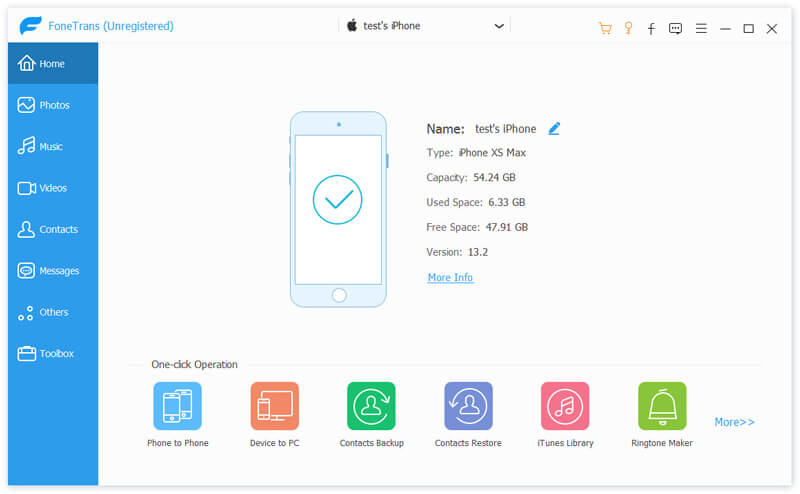 Step 2.
From the left sidebar, click "Others" and find "Calendar" to view all the calendars in details.
Select the checkbox and click the Export to Device button in the upper corner to pick up the format that will be saved from CSV, HTML and TXT. Then all the calendars will be exported to computer automatically.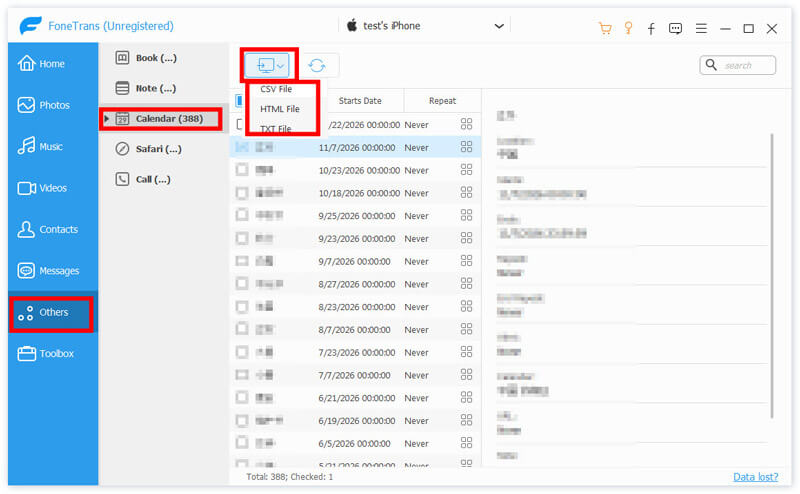 Then you can open the exported calendars from iPhone on computer or import to Android phone for reading.
Conclusion
Sharing the iPhone calendars is an efficient way in teamwork, family plan or other situations. This post mainly shows the 5 ways to sync the calendars between iPhones, iPads, Mac, and Android.
Which way is your favorite one?
Do not hesitate to share your answer in the comments.

Leave your comment and join our discussion