Video Stabilization – Stabilize Shaky Video Footage Now
Watermark is created to protect video from abuse. However, sometimes, you may want to remove watermark from the video, because the large logo or letters distracts you from the video and blocks some impressive scenes.
Luckily, here are 3 ways to get rid of watermarks on videos on computer or mobile phone. Whether you want to hide or remove the moving logo, or the still image watermark, you could achieve it easily.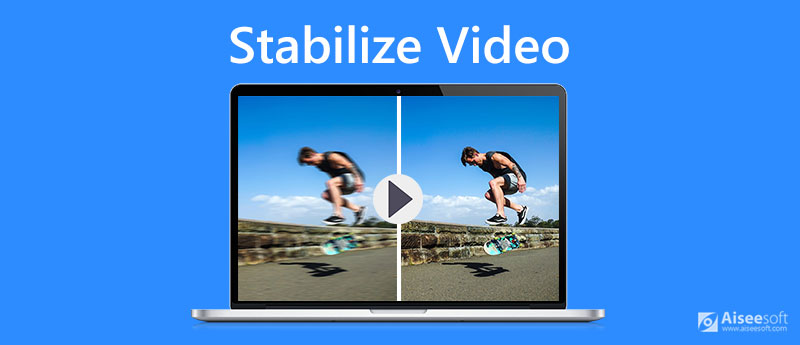 Part 1. Top 6 Video Stabilizer Software (Desktop/Mobile Phone)
Aiseesoft Video Converter Ultimate (Windows, Mac | $39.2/Year)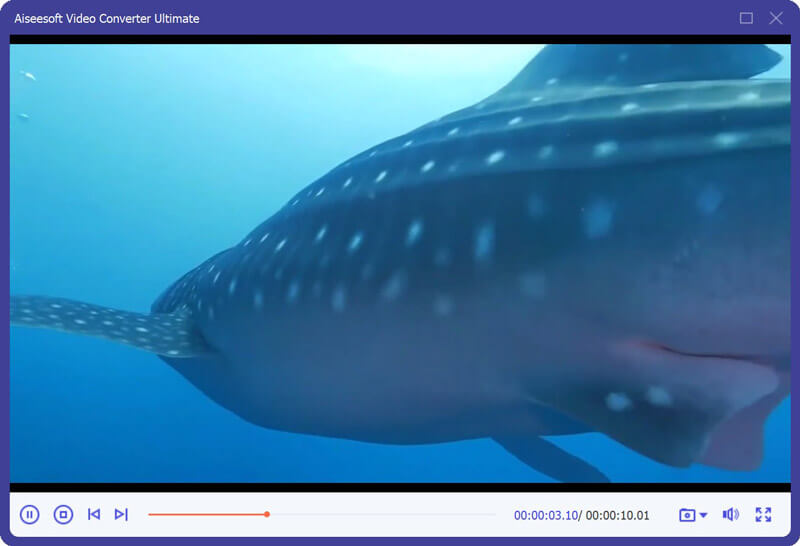 Aiseesoft Video Converter Ultimate is the desktop video stabilization software. Stabilization is one of its enhancement features, which reduce the video shaking via the whole frame movements. Supporting a wide range of video formats, it can stabilize MP4, MOV, MKV, MTS, M2TS, and other video formats. Besides, it is the all-in-one video converter and editor to change video formats, and edit video effects.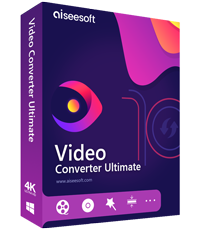 Downloads
Aiseesoft Video Converter Ultimate
Reduce video shaking for over 1000 formats.
Convert video and DVD into digital formats.
Edit video effects like filters, rotate, crop, watermark, subtitle, audio track, trim, merge, etc.
Toolbox can compress video files, create GIFs, edit metadata info, and convert 3D files.
GPU acceleration speeds up video processing at 30X faster.
Adobe Premiere Pro (Windows, Mac | $239.88/Year)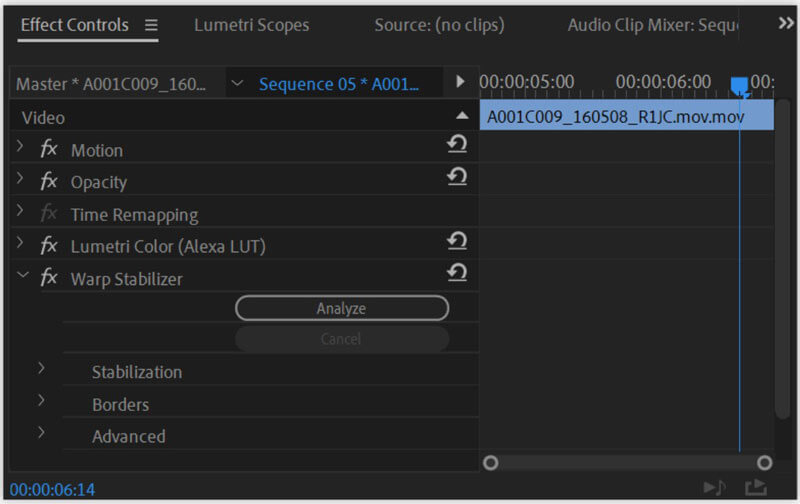 Adobe Premiere Pro is the video stabilizer program by removing jitter caused by camera movement. Thorough its Warp Stabilizer effect, you can easily work with the footage to adjust the stabilization. It offers 2 ways to stabilize videos. One is to smooth motion, which retains the original camera movement but makes it smoother, and the other one is no motion, which remove all camera motions from the shot from the selected clips.
The professional operations of Adobe Premiere Pro may be a little complicated for the beginners.
You can also use its slow motion feature from Adobe Premiere Pro to apply the slow-motion effects.
Google Photos (Android | Free)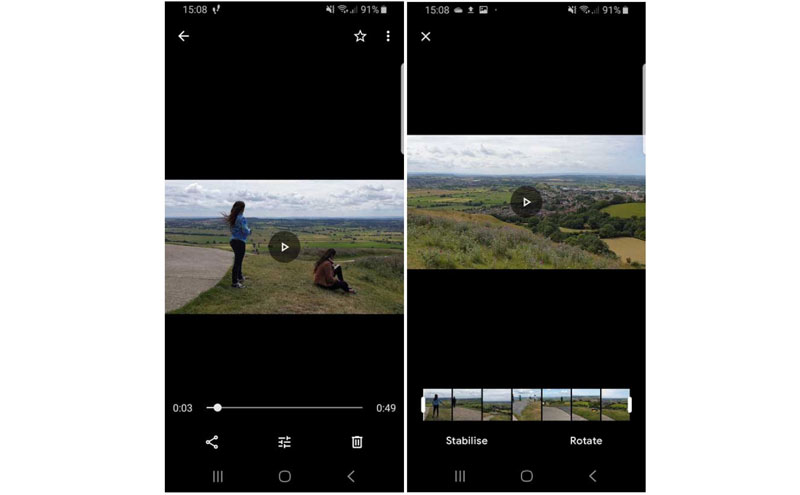 Google Photos is not only the photos backup app, but also an application to stabilize videos. The stabilize feature is the new updated feature, which can smooth over the rough spots in the videos in the library and apply the electronic stabilization. The stabilization function is under Edit feature, which is marked with the Stabilize button at the bottom.
You should keep in mind that there is some cropping of the original video after stabilizing the video. Moreover, the stabilize feature is only available for Android users.
iMovie (Mac | Free)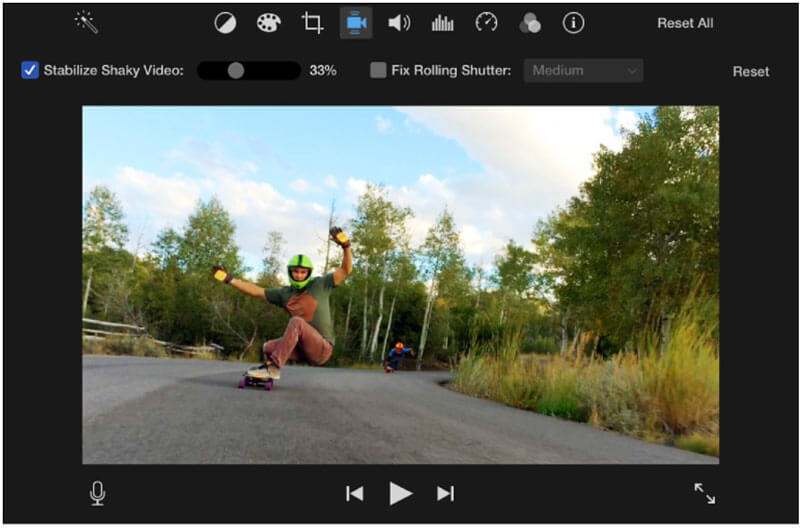 iMovie is the built-in editing software on Mac computer. Among its versatile editing features, stabilization is the one you need. It offers 2 ways to stabilize the video clips by correcting image distortion and rolling out shutter distortion. The whole stabilization process is intelligent. You only need to choose the Stabilize Shaky Video checkbox and Fix Rolling Shutter checkbox, and iMovie will analyze the shaky video and fix the it automatically.
After that, you can apply other editing features like slow motion, zoom in/out, split, etc., to edit the movie on iMovie for free.
Windows Movie Maker (Windows | Free)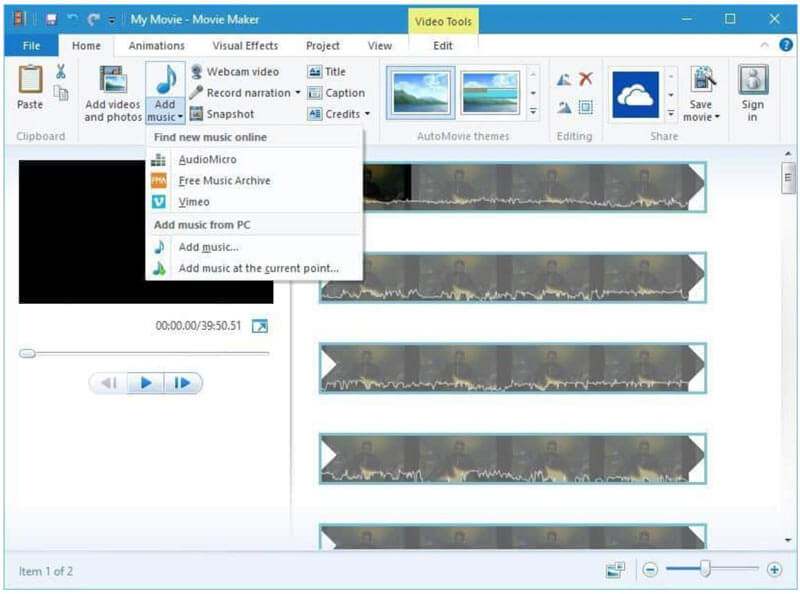 Windows Movie Maker is the built-in free movie editor on Windows computer. Supporting a wide range of video formats, it allows you to stabilize the videos. It offers a variety of stabilization modes for you between Anti Shake, Anti Shake and Wobble Correction (low), and Anti Shake and Wobble Correction (High). The preview feature lets you adjust the stabilization and choose the mode as you like.
However, this feature is only available in the latest version of Windows Essentials 2012, and you must have Windows 8/8.1/10 installed to utilize this feature.
Sony Vegas Pro (Windows | $599)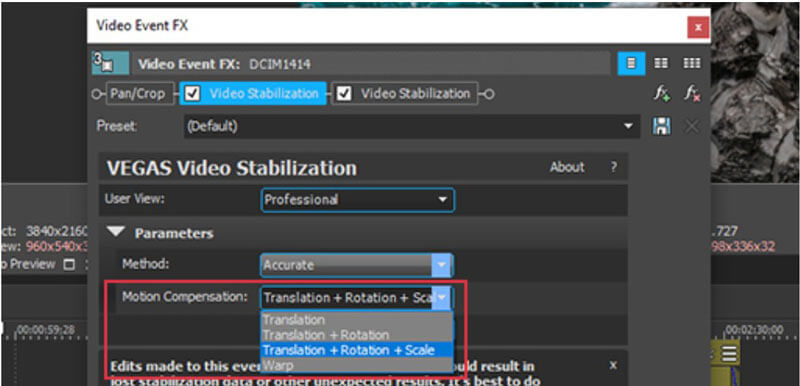 Sony Vegas Pro is the video editing software package that supports a wide range of features, including video stabilization. You can use Vegas Pro to fix the wobbly footages to the 4 different levels. Among them, only 2 of those levels make senses. The Even Level only operates on the portion of the footage contained within the event, and the Media Level do not need you to re-apply the stabilization every time. Moreover, the video stabilization plug-in provides an array of controls for advanced users.
There are 3 different versions of Sony Vegas Pro and not all versions support the video stabilization.
The above top 7 video stabilizer software are free and paid, and for Windows, Mac and mobile phone users. Whether you're a tech pro or one of the not-so-tech-savvy types, you could find the best one for yourself.
Part 2. How to Stabilize Shaky Videos on PC/Mac
The steps of stabilizing a video are pretty easy, and the process starts with the best video stabilizer software. Here, we will take Aiseesoft Video Converter Ultimate as the example to show you the detailed steps.
Step 1.
Free download this video stabilization program firstly. Install by following the on-screen instructions and run it immediately.
Step 2.
Click
Toolbox
tab, find and click
Video Enhancer
.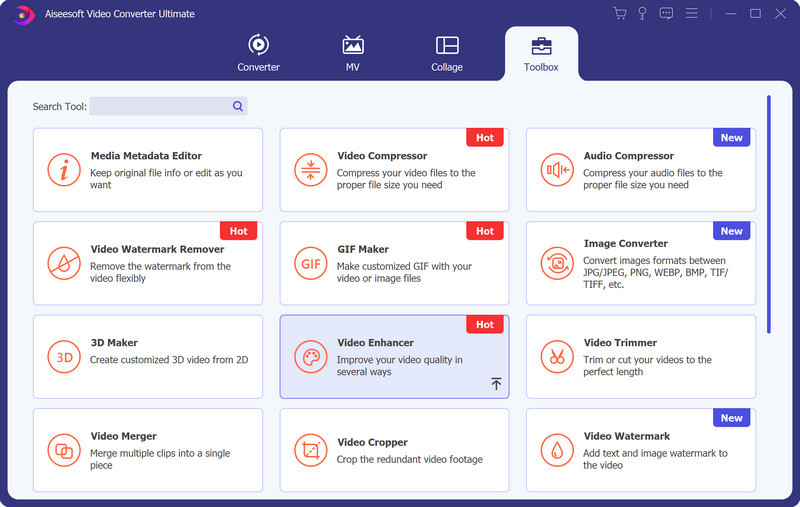 Then a window will pop up, and click the big plus button to import the shaky video.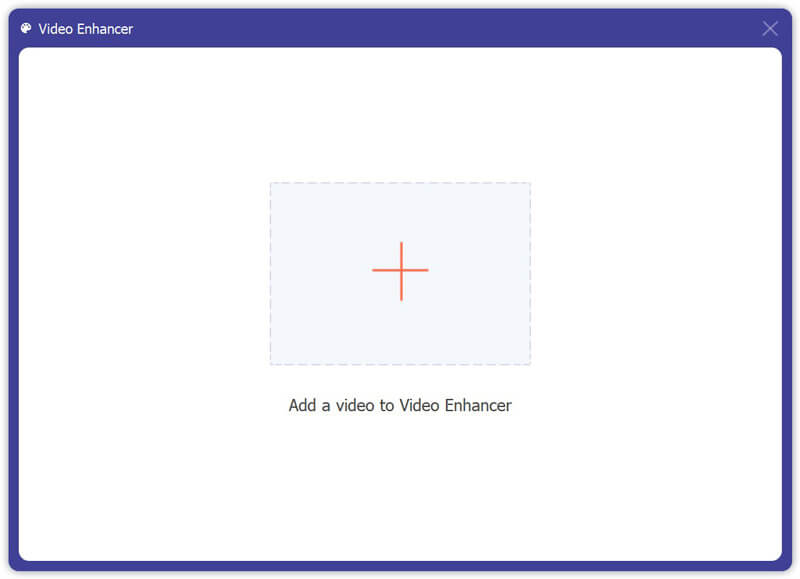 Step 3.
Tick the box of
Reduce Video Shaking
, select the output video format and resolution, and click
Enhance
to start stabilizing the video immediately.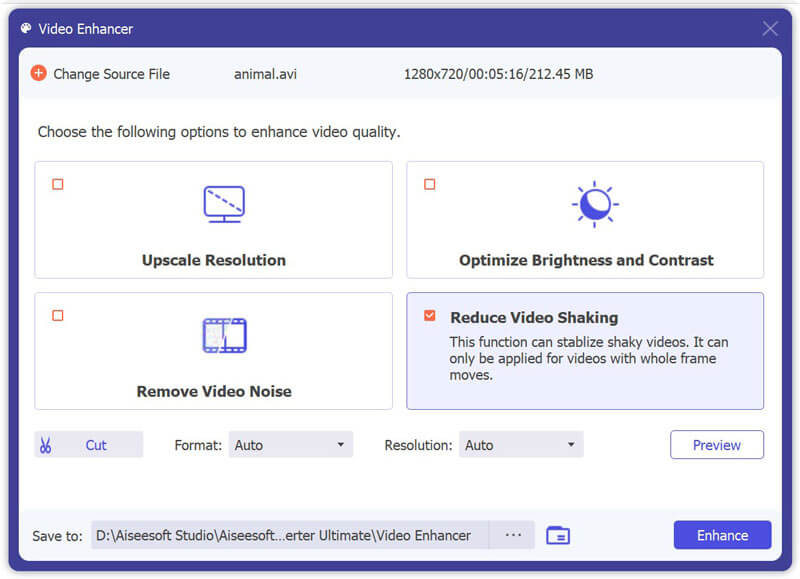 Before outputting the stabilizing video, you can use the Preview option to view the video effects.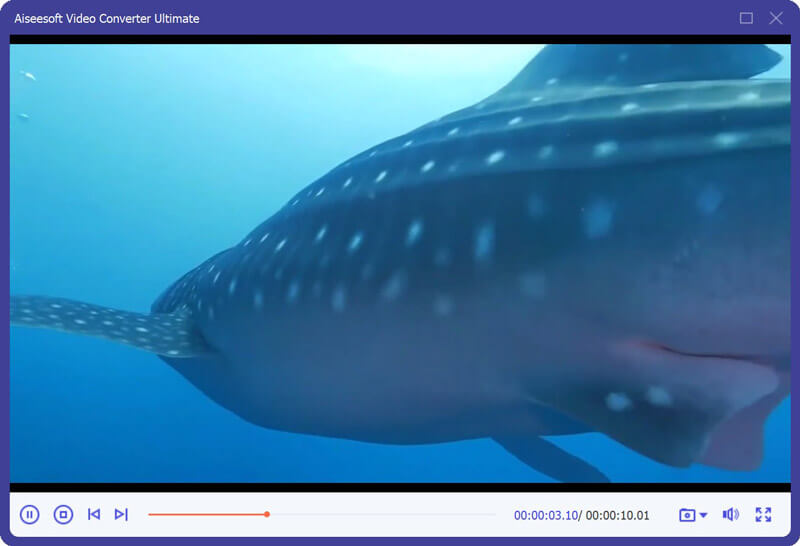 If you are not satisfied with the stabilization effect, just enhance the video again, and other enhancement features like remove video noise, upscale video resolution etc., can also improve your video quality.
Part 3. Tips of Recording Stabilizing Video
The above tools can help you stabilize video after recording. However, there are still some techniques that you can use to stabilize the footage while recording.
1. Shoot a video with 2 hands.
2. Shoot a video with the tripod, slider, or three axis gimbal.
3. Keep your camera close to your chest when recording.
4. Shoot with a wide lens.
5. Shoot with a high frame rate.
Part 4. FAQs of Stabilizing Videos
Frequently Asked Qusestions
What does stabilizing video mean?
Video stabilization is the algorithm to remove unwanted camera shakes and jitters to improve the video quality, so that the video can be played back smoothly.
How to stabilize a video on YouTube?
If you use YouTube editor online in 2019, the answer is easy to answer. However, YouTube has removed the video stabilization feature from its enhancement editing features. Now, in 2020, you cannot stabilize a video online via YouTube editor.
Does iPhone have video stabilization?
Yes. iPhone has the stabilization feature, which can compensate horizontal, vertical and rotation camera motions as well as shutter distortion.
Which is the better video stabilization software? Premiere Pro or Vegas Pro?
Both Sony Vegas Pro and Adobe Premiere Pro are the professional video editing software to stabilize shaky videos. However, still there are some difference between these 2 tools. Get more details here: Sony Vegas VS Adobe Premiere.
Conclusion
To stabilize the shaky videos after recording, you will definitely need the video stabilizer. This page shares top 6 video stabilization software on Windows, Mac and mobile phone and also attaches the detailed guide to teach you how to stabilize the footage on computer. To avoiding the video shakes, you can also follow the small tips in part 3. To create a wonderful video can be easy.
Now it is your turn.
Which video stabilizer would you pick up?
Do you have other tips to shoot a video with reducing video shaking?
Let me know by leaving your comments below.