Best Adwcleaners to Remove Adware from Your Computer
You may have such experience more or less: when you freely download some programs from the web, there are several adware bundled with the free programs that will be installed on your computer together automatically. You cannot get rid of them unless you perform a custom install. These unwanted programs will bring you with extra browser toolbars, adware, and malware. Adwcleaner is kind of solution developed to help you search for and remove these types of programs from your computer.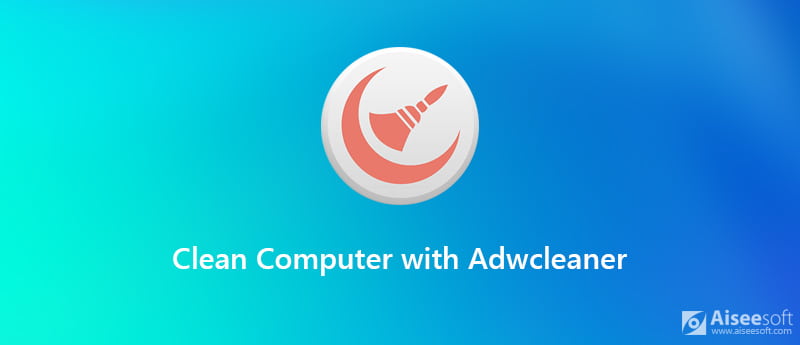 Adwcleaner
Part 1. Adwcleaners for Windows Computer
1. Malwarebytes Adwcleaner
Malwarebytes Adwcleaner is a free anti-adware that can help you search for and delete Adware, Toolbars, Potentially Unwanted Programs (PUP), and browser Hijackers from your computer. It has an intuitive interface, so you can see all its features clearly and use it to clean your computer easily.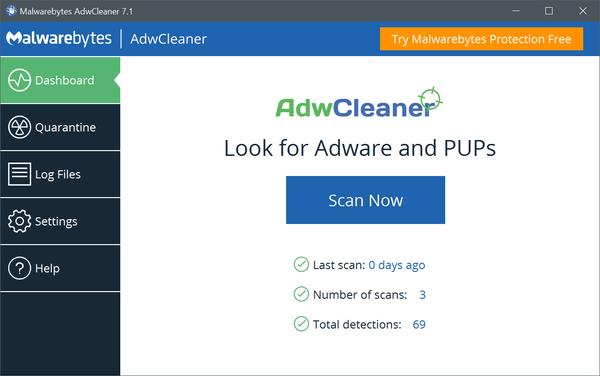 Pros:
• Powerful in removing adware, spyware, potentially unwanted programs (PUPs), browser hijackers and more quickly and easily.
• This adwcleaner presents all features intuitively in the main interface, there are different buttons for actual tasks like Scan, Clean, Report, and Uninstall. Thus you will know how to clean up your computer with this adwcleaner effectively.
• This anti-adware works quickly. No matter which function you choose, it only takes a while from scanning to cleaning.
Con:
• Some users reflect that Adwcleaner will delete some items they need to use. For example, some users reported that their browser preferences and extensions have been removed. In order to avoid this, we recommend you to make a backup of such data before using Adwcleaner. What's more, before you run this program, please close the opened browsers, save your work or any opened files in case any important data lost.
Steps to use Malwarebytes Adwcleaner
Step 1.
Download and install this adwcleaner in your computer.
Step 2.
Run the program in your computer, you will be presented with a screen containing a Scan and Clean button. Click the Scan button to find out all the adware and unwanted programs in your computer.
Step 3.
When the scan process finishes, you are allowed to look through the scan results and uncheck any elements you don't want to remove.
Step 4.
After you confirm what to be removed, simply click the Clean button, press "OK", then again "OK", then you will receive a warning that – your computer will restart if you're ready to click "OK". Finally Adwcleaner will reboot your computer and remove the files and registry entries associated with the adware you choose to remove.
Step 5.
On reboot, Adwcleaner will display a report with a text file showing the details of the scan and removal process.
2. Emsisoft AntiMalware
Emsisoft AntiMalware is an anti-malware program that keeps Windows computer free from malicious and unwanted software, and prevents your computer from phishing and ransomware attacks. It has two scanners, thus it can scan all the malware in your computer more quickly and efficiently.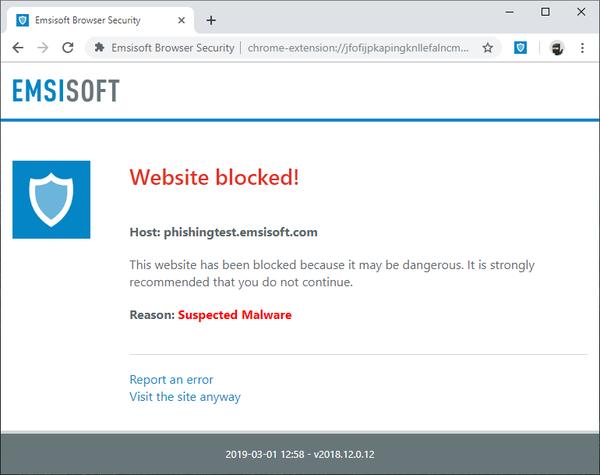 Pros:
• Destroy annoying adware like unneeded browser toolbars, PUPs, and other unwanted programs that typically gets installed with freeware software downloads.
• There are 4 proven protection layers to block online threats for you on all levels. It includes Surf Protection, Real-time File Guard, Behaviour Blocker and Anti-Ransoware.
• You are able to enjoy safe web-browsing with this adwcleaner without the worry about leaking your privacy.
Con:
• This adwcleaner is not free. There is a 30-day free trial version available, but if you want to use its full functions, you need to pay for it.
3. Reason Core Security
Reason Core Security is an anti-malware application that should be used alongside your existing anti-virus software. It will work as a second layer of defense in the event that malware slips past your anti-virus program's real time protection. It consistently seeks out and destroys malware, adware, PUPs and more with superior performance.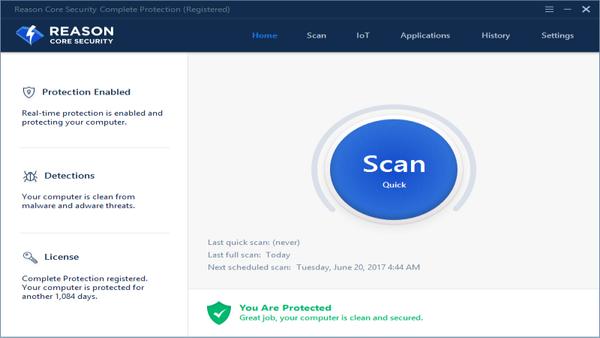 Pros:
• This adwcleaner is easy to use, especially for users who are not very skilled with computer. Everything you need to know before using this software is explained in a few brief sentences.
• It provides real-time protection for your computer.
Con:
• Reason Core Security provides you with a free full featured trial including real-time protection. But after 30 days, it will revert to the free version with limited functions. The real-protection will be unavailable. You need to pay for the full version.
Part 2. Adwcleaners for Mac
1. Aiseesoft Mac Cleaner
Aiseesoft Mac Cleaner is a professional adwcleaner for Mac that can remove unwanted programs, junk files, clutter, delete duplicate images/files and monitor your Mac performance.
Pros:
• Scan and clear cache data/logs/trash items quickly, regain more space on Mac.
• Remove malware, unwanted programs and delete the associated files from Mac.
• Eliminate unneeded files and unnecessary app localization.
• Monitor your Mac performance in disk utilization, battery status, memory performance as well as CPU usage.
Con:
• Not so powerful in anti-malware.
How to Clean up Mac with Mac Cleaner
Step 1.
Download and install this Mac Adwcleaner on your Mac.
Step 2.
Launch the software and check the system Status of your Mac.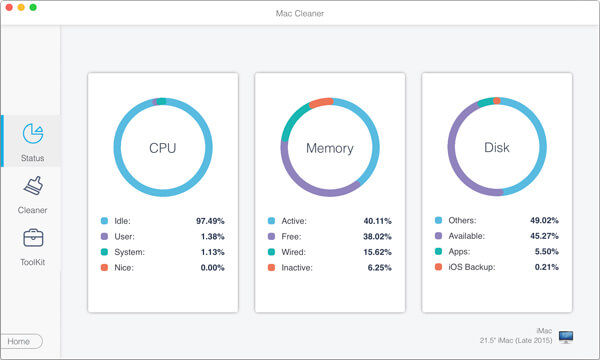 Step 3.
Click "Cleaner" in the left side, then there will be 8 modules listed in the right main interface, including System Junk, iPhoto Junk, Trash Bin, Large & Old Files, Duplicate Finder, etc. Choose the module according to your need. Here we take Large & Old Files for example.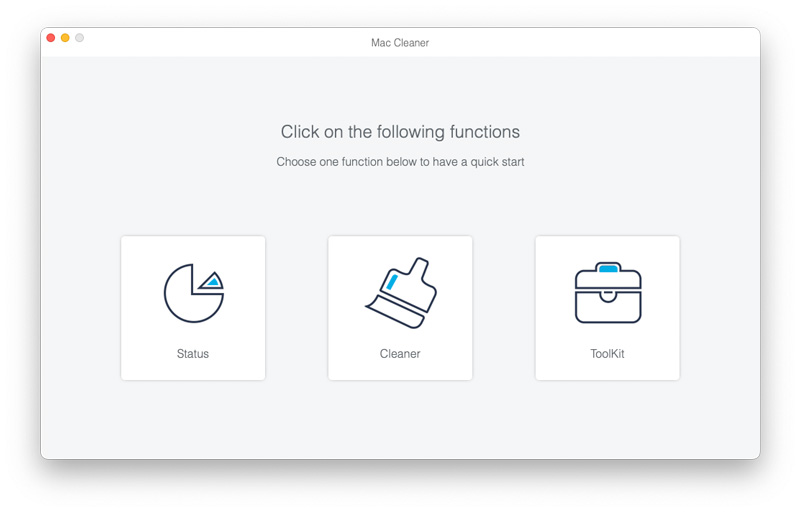 Step 4.
After choosing "Large & Old Files" module, click the "Scan" button to scan all the large and old files in your Mac.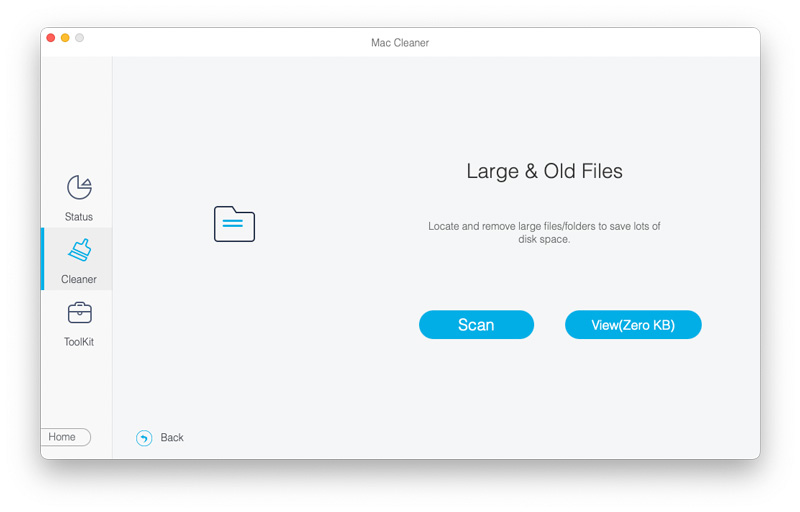 Step 5.
When the scanning is done, you can preview the scan result by clicking the "View" button. All the large & old files are listed in categories by "> 100 MB", "5MB to 100 MB", "> 1 Year" and "> 30 Days". You can browse each category and check the files you want to delete quickly, then click the "Clean" button to delete the large and old files from your Mac.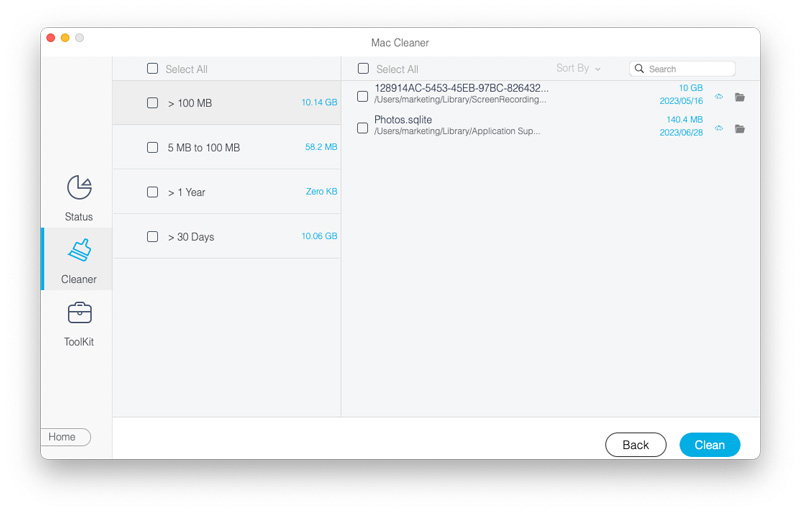 You can clean other unwanted files in this way by choosing other modules one by one.
Step 6.
Click Toolkit > Uninstall to remove adware or any unwanted program from your Mac.
This Mac Cleaner will scan all the programs installed in your Mac, you can check the scan results by clicking the Review button after the scanning is finished. Then check all the adware you want to uninstall and its associated files will be removed together.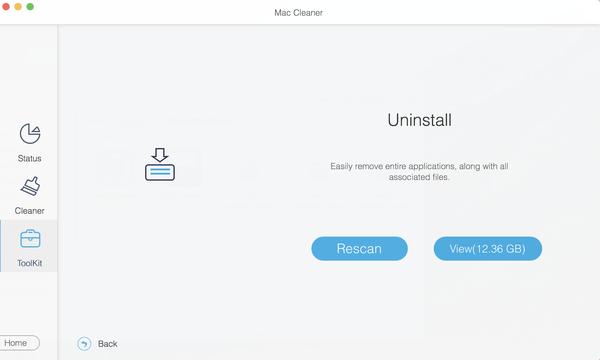 2. Malwarebytes for Mac
Malwarebytes for Mac can help Mac users detect and remove viruses, ransomware, and other malware in real time with advanced anti-malware technology. So you will be protected from Mac threats automatically.
Pros:
• Remove adware, PUPs, viruses, ransomware, and other malware from your Mac to make it remain clean and fast.
• This Mac Adwcleaner is light and lean without occupying much space in your Mac.
• The malware scanner can scan your Mac fast in under 30 seconds.
• Block applications from developers who are known to release unwanted software like malware, PUPs, or adware.
Con:
• You can only experience the free full features of Malwarebytes for Mac for 14 days, after that you need to pay for its anti-malware functions.
Conclusion
In this post we have recommended three adwcleaners for Windows computer and two for Mac, you can give them a try and pick the most suitable one for yourself. Leave us your comment if you have better recommendation.

Leave your comment and join our discussion