How to Manage HTC Phone with HTC Sync Manager on Computer
If you are Android phone fans, you must be familiar with HTC phone. And if you are using the HTC phone, you must be interested in HTC Sync Manger. So what is HTC Sync manager? HTC Sync Manager is developed by HTC Company, and it is the free software provided for HTC users to sync all data to and from PC or Mac via HTC devices. In addition, HTC Sync Manager supports Windows and Mac operation system. Users can view and manage their HTC phone files on computer as they like, transfer videos, music, and documents from computer to HTC phone, or backup and restore their HTC data. More importantly, you can transfer and restore iTunes backup files to your HTC phone. So you get a chance to move your iPhone data to HTC phone. It is a big convenience for you to transfer contacts, photos, messages and other files between Android phone and iPhone.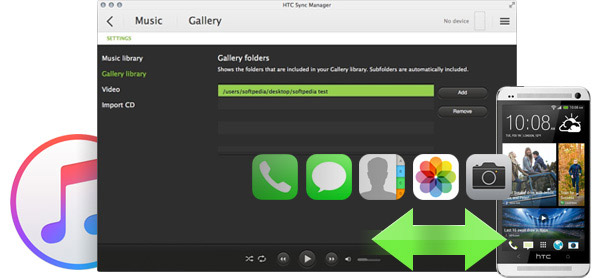 For HTC Sync Manager downloading, you can download it from HTC support site. As is mentioned, for HTC devices that use HTC Sense 3.6 or older, please download HTC Sync. Also, you need to download HTC drives. Please follow the article below to see how to use HTC Sync Manager.
Step 1 Install and launch HTC Sync Manager Software
After downloading HTC Sync Manager, open it. And connect your HTC phone with computer using USB cable.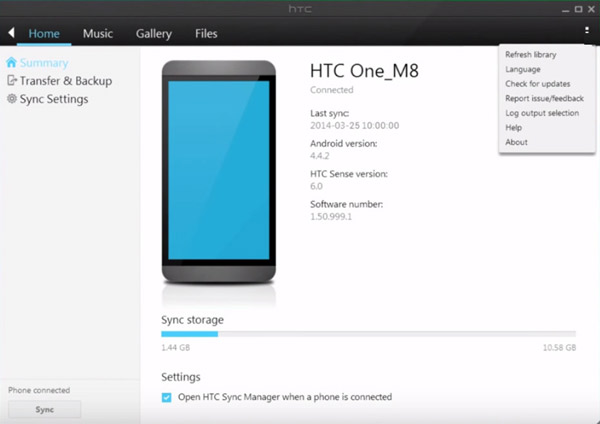 Tips: If you want to run the HTC Sync Manager on your Mac, please make sure it is Mac OS 10.6 or later.
Step 2 Transfer files with HTC Sync Managing App
After your HTC phone is connected with computer, tap "Transfer & Backup", then you will find you can transfer content from iPhone or android to your HTC phone. Just one simple click on "Get Started", you can transfer your photos, audio, videos, and images on your iPhone backups from this computer to your HTC 10. Or choose "Download" to copy all the data on your old HTC One M8 to your new HTC One X.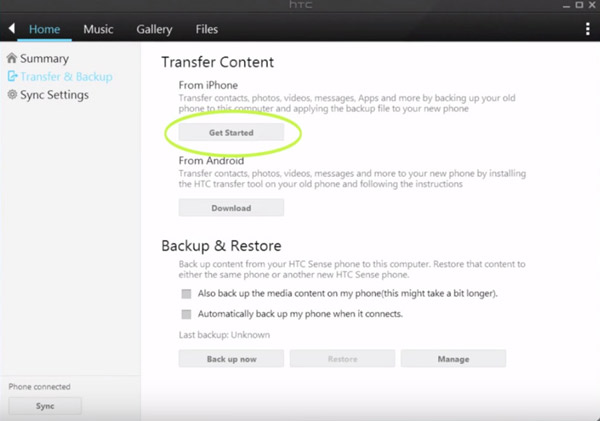 Step 3 Backup and restore phone data
Click "Transfer & Backup" > "Backup & Restore", click "Back up now", and you can copy the data (contacts, photos, videos, messages, apps and more) from your HTC Sense phone to another phone or PC or Mac. In addition, you can select the data you want to recover from your backup files on iTunes or computer, and click "Restore" button to recover HTC contacts, photos, videos, messages and other quickly.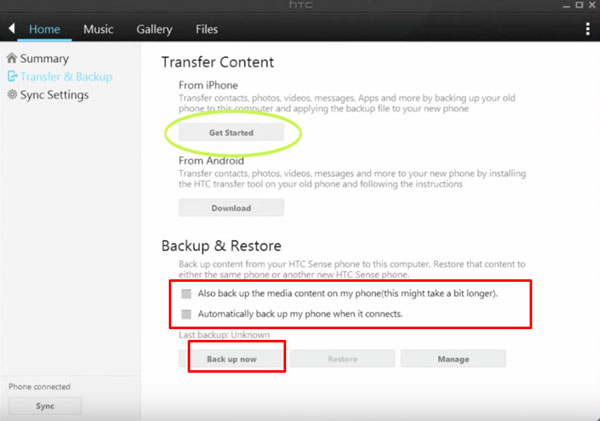 Note: There are two choices. You can back up the media on your phone and computer, or choose automatically backup when phone connected.
Step 4 Manage data on computer and HTC phone
Click "Music" or "Gallery". You can click "Add New Playlist/Album" or "Delete" to manage your media playlists. Or click "Music Settings" > "Display" > "Add" to import media playlists from computer. Also, you may import your HTC data from phone to PC or Mac. In the "Music Settings" > "Display" window, the "Add" function enables you to import iTunes music to HTC, or add Windows Media Player songs to iTunes easily.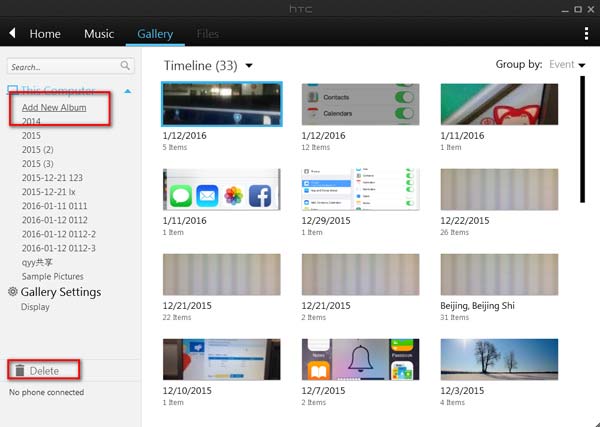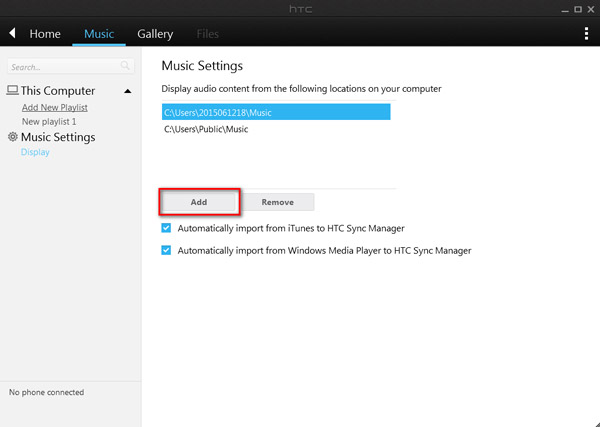 Note: You are allowed to play music or movie, and browse contacts, messages, photos, as well as documents with HTC Sync Manager.
By now, we have finished transferring, backing up and managing HTC phone with HTC Sync Manger. It is absolutely a good choice for you to use HTC Sync Manager to organize HTC data on computer via HTC phones. But according to HTC Sync Manager Review, if you want to transfer your iPhone data to/from HTC phone directly, you will find this HTC Sync cannot do this.
So here we recommend you to use FoneCopy to transfer and backup data between your HTC phone and iPhone. The iPhone to HTC backup program can be an alternative of HTC Sync Manager, it helps you sync your contacts, photos, music, movies and other files between iPhone and HTC phone, whether your phone is dead or smashed. Moreover, it supports transferring data between Android phones. See, it is a better choice for you to save your phone data, no matter you want to transfer data from iPhone to HTC phone, or from other Android phone to HTC M10/M9/M8/A9/X9 and more.