AVI vs MP4 – Characteristics & Differences Between AVI and MP4
When it comes to video file types, most of people may call to mind several video file containers, such as AVI, MP4, MOV, WMV, FLV, MKV, etc. As two of the most popular video formats, AVI and MP4 both can contain digital video and audio data in one file. But here comes the question: AVI vs MP4, which is better?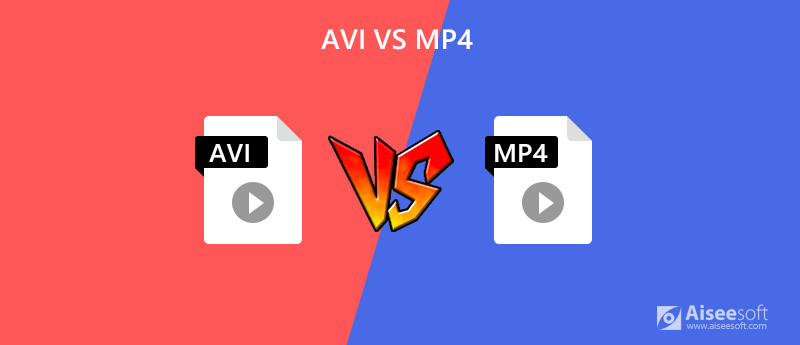 Part 1. Quick Introduction to AVI & MP4
Before answering the question above, let's take a look at what AVI and MP4 really are.
AVI, short for Audio Video Interleave, is a multimedia container format that stores audio and video with various codecs. This container allows users to play video and audio synchronously. It was first developed in November 1992 by Microsoft.
MP4 (MPEG-4 Part 14), like AVI, is also a digital multimedia container format. It actually is an international standard for the coding of audio-visual objects. MPEG-4 Part 12 was produced by the ISO/IEC and Motion Picture Experts Group (MPEG), based on the QuickTime File Format (aka MOV). In 2003, the latest version, MPEG-4 Part 14, was released.
Part 2. Comparison Between AVI & MP4
Now that you have known the basic information about AVI and MP4, the following comparison will be easy for you to understand. In this part, you will the detailed differences between AVI and MP4.
1. Compression
Compared with most video formats, AVI compresses less data of video and audio. You can even obtain an uncompressed AVI file if you want. Meanwhile, it is quite normal for MP4 to compress files while storing data. After all, it is a lossy video format that aims to reduce file size. But don't worry, that also makes MP4 a portable and web-friendly container format.
2. File Size
Due to less compression, AVI files are usually larger and may occupy more space than the files in FLV, RMVB and many other video formats. As for MP4 files, they are smaller in size than AVI files in most cases. So, if you need to save space, we recommend you to use MP4 format or you can directly compress files with a professional video compressor.
3. Quality
Even though AVI and MP4 are both video wrapper formats, they use different codecs (AVI uses DivX codec, MP4 uses MPEG-4 AVC/H.264 codec), which may cause the quality difference between AVI and MP4.
AVI files can be lossless, which brings viewers higher quality for playback. But it doesn't mean MP4 is of low quality, just a bit lower than AVI when they store the same video data. That is to say, if the storing file sizes are same, MP4 actually will perform a better quality.
4. Other Differences
| | | |
| --- | --- | --- |
| | AVI | MP4 |
| Video Formats Supported | Almost all formats | MPEG-2 Part 2, MPEG-4 ASP, H.265/HEVC, H.264/MPEG-4 AVC, H.263, VC-1, Dirac, etc. |
| Audio Formats Supported | Almost all formats | MPEG-2/4 (HE)-AAC, MPEG-1/2 Layers I, II, III (MP3), AC-3, Apple Lossless (ALAC), ALS, SLS, etc. |
| Supported Codecs | DivX, Xvid | MPEG-4, H.264/AVC, H.265/HEVC, also MPEG-1, MPEG-2, WMV/VC-1, Real Video, Theora, VP8, VP9, MVC |
| Compatible Devices | Microsoft devices, Game consoles | Almost all devices |
| Supported Media Players | Windows Media Player or other Windows-based players | Almost all players |
Part 3. How to Convert AVI & MP4
Although both AVI and MP4 are prevalent video formats, MP4 has higher compatibility than AVI. AVI is more often used for Windows based media players or other devices with related codecs. Because of the large file size, many portal devices and video streaming sites do not support the AVI format. In this situation, we need to convert AVI to MP4.
Here, we will introduce 2 simple methods to you for video conversion.
1. Video Converter Ultimate
As an all-in-one video converter, Video Converter Ultimate can not only help you convert any video with the best image quality, but also allow you to edit and embellish your video at ease. You can even use it to add 3D effect, add personal watermark, compress videos, make GIF from Video and do more.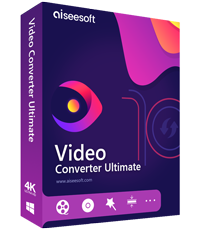 112,518 Downloads
Convert AVI to MP4 or other video formats with ease.
Optimize video and audio quality while converting video files.
Offer extensive video editing tools, like crop, clip, rotate, and more.
Preview your video files at any time with the media player.
Step 1.
Launch
Video Converter Ultimate
on your computer. Click the
Add Files
button on the left or just drag the file you want to convert to this converter.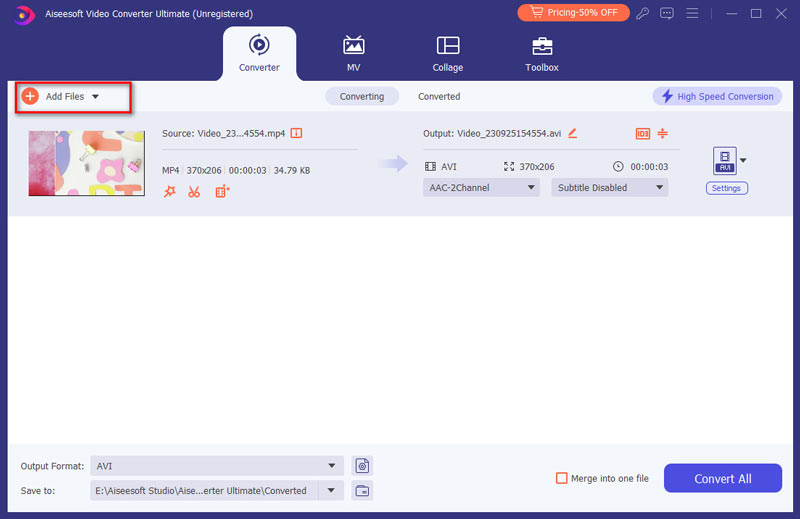 Step 2.
After adding file, click on the
Format
icon next to the video file. Choose a format from the list according to your need.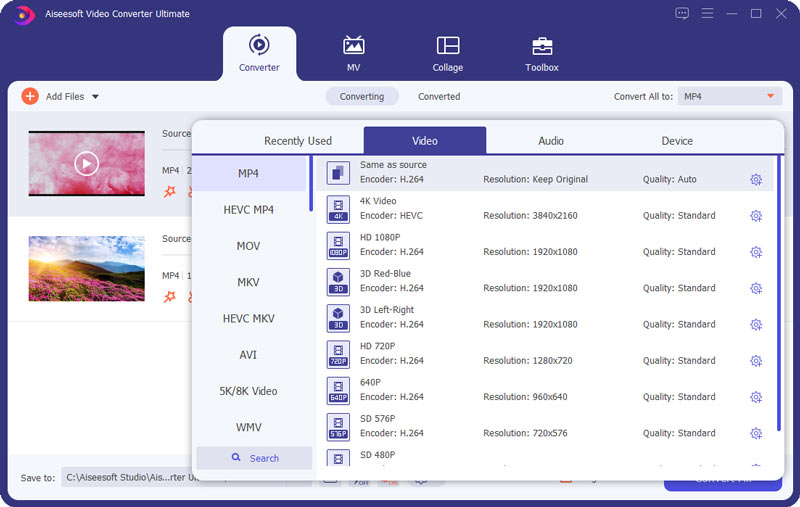 Step 3.
Select a path to save the converted file. Then click the
Convert All
button to start the conversion on your computer.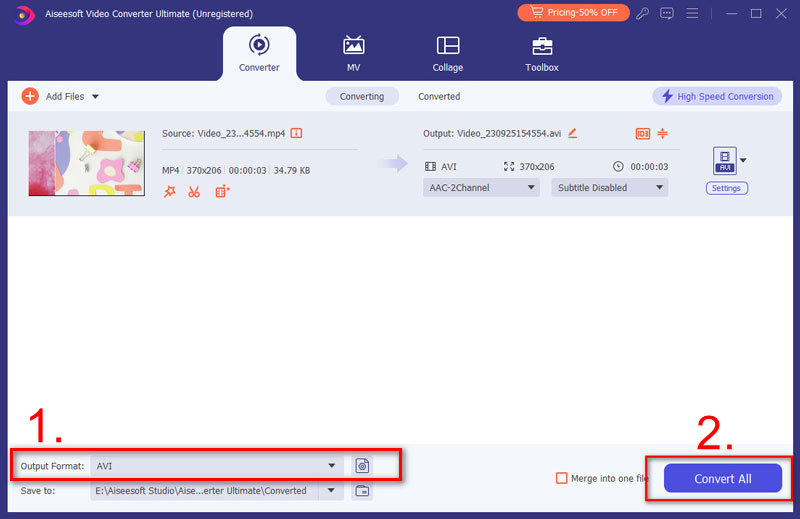 2. Aiseesoft Free Online Video Converter
If you want to avoid the hassle of installing software to your computer, you can try Aiseesoft Free Online Video Converter, which is a completely free online converting tool that supports you in converting a variety of video formats, such as MP4, AVI, MOV, MTS, M2TS, MKV, FLV, WMV, etc. with 3 simple steps. The best part is that it is compatible with both Mac and Windows PC. There will be no virus, ads or extra fees. Follow the steps below to change the format between AVI and MP4.
Step 1.
Click the link above to visit the website of
Aiseesoft Free Online Video Converter
in your browser. First please click
Add Files to Convert
, and then download the launcher. After downloading, please install it to your computer.

Step 2.
Once the installation is done, you can click the
Add Files to Convert
again and select the files you want to convert.
Step 3.
Choose the output video format before starting to
Convert
. Find a place to save the output file and wait till the conversion is over.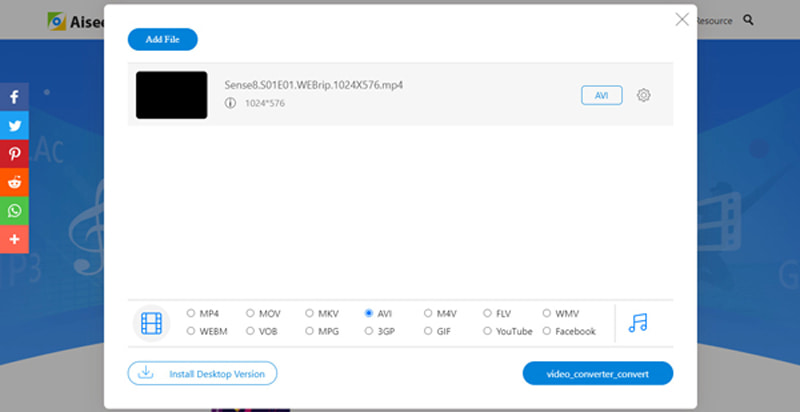 Part 4. FAQs of AVI & MP4
1. Can I upload AVI to YouTube?
Yes, you can. YouTube supports the following formats: MOV, MPEG4, AVI, WMV, MPEG PS, FLV, 3GPP and WebM. But if your AVI file is too large, then you may need to compress the video to a smaller size.
2. How to play AVI and MP4 videos on my computer?
MP4 can be played on almost every media player or device. So, let's focus on AVI. To play AVI on Mac or Windows, you'd better use a powerful player like Aiseesoft Blu-ray Player, which can play AVI files with lossless image and audio quality.
3. Can iPhone play AVI videos?
You cannot directly preview AVI videos on iPhone, iPad or other Apple devices. To solve this problem, you can convert AVI to iTunes first, and then sync the AVI files to your iPhone.
Conclusion
In this post, we have compared AVI and MP4 in detail. If you need to convert AVI or MP4 file, you can give Video Converter Ultimate or Aiseesoft Free Online Video Converter a try. We truly hope you have enjoyed the article and learned something new. If you have further questions, feel free to leave us a message.

Leave your comment and join our discussion