5 Great Android Voice Recorder Apps to Help You Capture Audios on Android
"My Android built-in voice recorder only records 10 minutes' audio and turn off automatically. Is there any app suggested to record voice with my Samsung Note 3?" One of my friends has complained her issues while recording a lecture. Actually, if you search on Google, you will find numerous results or voice recorder for Android phone. How could you select the best one from thousands of results? The article collected lots of Google results and recommend you the Top 5 popular Android Voice Recorder.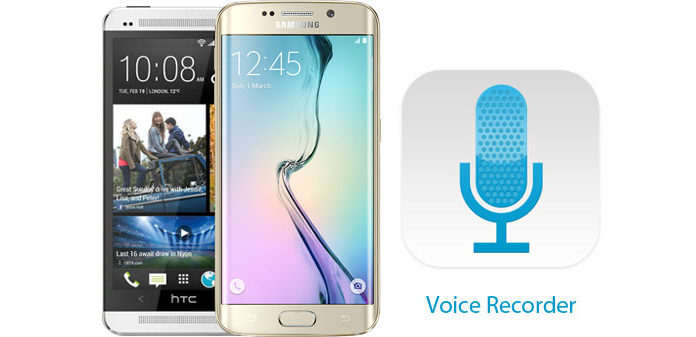 No. 5 RecForge Lite - Audio Recorder
RecFoge Audio Recorder is a useful and powerful voice recorder app for Android to record any sounds with your Android device. It includes the capability to record meetings, concert, interview, talks and any other important events, to edit users' own tracks, and to share their recorded audio, songs, voices, music, and sounds with friends or family member. And more importantly, the great RecForge Audio Recorder can convert your recordings to many more popular audio formats, such as MP3, WAV, and Ogg. It has a free version with limited features to use.
Key features:

Record audio, music, sounds, and voice with high quality
Edit your own audio track
Share recorded audio with others through Internet
Convert the recordings to popular file format, including MP3, WAV and OGG audio format.
No. 4 Smart Voice Recorder (Free)
Smart Voice Recorder is a free Android audio recording app. As its name implies, it is so smart that it can capture any voice around you as long as you start it. Apart from recording some normal events, like business meetings, lectures, and interviews, it can also record some slight sounds, like your snoring during sleep. This audio recording app enables users to select the recorded audio quality from 8Hz to 44Hz. More importantly, armed with real-time spectrogram, it can automatically skip silence while recording. A clear and simple interface makes your audio recording more easily. After launching the Smart Voice Recorder on your Android phone, like Samsung Galaxy S6, and HTC, just click the big red clock (the Start button) in the middle of the phone screen, then the recording begins.
Key featrures:

Record any sound with Android phone or tablet
Selective audio quality to choose
Real-time spectrogram
Smart sound recording
No. 3 Cogi – Notes & Voice Recorder (Free)
Cogi, a professional voice recorder app for Android, uses different method to record voice. Unlike traditional audio recorder, it is able to record only the highlights, apart from recording the entire speech or music. The highlighted audio clip can be audio with 5, 15, 30, or 45 seconds. If you need a normal recording, just tap the Start button twice. And these recorded audio clips can be categorized with tags contacts in your Android phone and be shared with others across social media. And it is totally free for you to use. However, Cogi has its own defects. It only records high-quality audio or sounds. If you are in a noisy place, the recording will be poor, even the voice recorder can't capture any clear voice. In addition, it has no options for formats or bitrate.
Key features:

Record the highlighted parts in a speech, music, lecture, and meeting
Record lengthy audio
Share recordings with others
Write notes while recording
Add tags and contacts to your recordings
Record in the background
No. 2 Easy Voice Recorder (Free)
Using Easy Voice Recorder is the easiest way to record any voice from your Android device. It is easy to use and is unlimited to use, you can record any audio around you anytime anywhere when you open this application on your Android phone or tablet. It is also a reliable Android App to use. You can use this easy voice recorder to record the lectures, speech, songs and more. And its pro version has the ability to record sounds in high quality PCM format without any noises and record stereo quality audio. If you do not need high quality of voice, the free version of Easy Voice Recorder could meet all you needs.
Key features:

Record audio in more popular formats with high quality
Share and manage your recordings and transfer them to your computer easily
Background recording and shortcuts to control the process of recording
No. 1 Skyro Voice Recorder
Skyro Voice Recorder is the best Android audio recorder app in the categories. It is popular for its powerful features and user-friendly interface. It supports users to capture any voice with their Android phone and tablet installed the app. There are three file formats for you to choose, WAV, MP3, and M4A file format. Besides, it also has some interesting features. For instance, it supports to link to an account on SoundCloud, or several media sharing sites. This Android voice recorder enables you take pictures in the process of recording for later recalling. And users are allowed to categorize their recordings and add location information to the recordings with Skyro Voice Recorder. As for its interface, it has lots of beautiful themes for you to choose from. You can change the theme of the interface as you wish.
While its fee version ($2) supports more options, including more themes to change, file compression, and Bluetooth recording.
Key features:

Record audio, sound, music, and voice in high quality
Record in WAV, MP4A, and MP3 to make ringtones for Android directly
Share recordings with others
Support Bluetooth Recording
Change themes
We mainly talk about Android voice recorder in this page. 5 great voice recorder apps are recommended for you to capture any audio on your Android devices. If you still have any question, you can leave us a message.