15 Best Vlog Cameras That Most YouTubers Use – For Beginners
Actually, all digital cameras can work for vlogging. You can even use your smart phone to take selfies and vlogs in pretty good quality, such as HUAWEI P20 Pro, Google Pixel 2, iPhone X and more. Later, you can use a vlog camera app to process video clips. Of course, you can get better shooting experience with good quality vlogging cameras.
Here comes the question, what is the best vlog camera?
If you have no idea which vlog camera to choose, you can get the direct comparison from the following best vlog camera in 2020 list. These 4K vlogging cameras are recommended by many YouTubers and vloggers. You can read and choose your best budget vlogging camera here.

Part 1. Top 15 Best Vlogging Cameras for Beginners and Professionals in Amazon
There are many types of vlog cameras for different vloggers. If you want to get a lightweight camera, you can try a compact vlog camera with an affordable price. What's more, you can use a vlogging camera with flip screen to see yourself while taking a vlog. Thus, many vloggers prefer to use a mirrorless vlog camera with flip screen. Furthermore, there is no need to swap lenses for various vlog shooting scenarios.
As for pro vloggers, the DSLR vlog camera seems to be a better choice. Because you can shoot DSLR quality footage with more customizable settings. Be aware that you had better use an action vlog camera to take a vlog on the move. It is a good HD vlogging camera that can capture your adventure in the first person point of view.
Vlog camera
Vlog camera type
Resolution
Monitor
Connectivity
Size & Weight
Price start from
Thumbnail
Canon PowerShot G7 X Mark II
Compact
20.1MP
3.0-inch tilt-angle touchscreen
Wi-Fi, NFC
106 x 61 x 42mm, 319g
$649.00
Sony Cyber-shot RX100 IV
20.1MP
3.0-inch tilt-angle touchscreen
Wi-Fi, NFC
102 x 58 x 41mm, 298g
$539.99
Cannon PowerShot S120
12.1MP
3.0-inch tilt-angle touchscreen
Wi-Fi
120 x 35 x 71mm, 218g
$348.00
Sony a7R II
Mirrorless
42.4MP
3.0-inch tilt-angle touchscreen
Wi-Fi, NFC
293 x 186 x 173mm, 1361g
$1,798.00
Olympus Pen E-PL9
16.1MP
3.0-inch tilt-angle touchscreen
Wi-Fi, Bluetooth
117 x 68 x 39mm, 380g
$649.00
Canon EOS M50
24.1MP
3.2-inch vari-angle touchscreen
Wi-Fi, NFC
116.3 x 88 x 59mm, 287g (not include lens)
$599.00
Panasonic Lumix G7
16MP
3.0-inch vari-angle touchscreen
Wi-Fi
125 x 87 x 78mm, 410g (not include lens)
$522.22
Fujifilm X-A5
24.2MP
3.0-inch tilt-angle touchscreen
Wi-Fi, Bluetooth
117 x 68 x 40mm, 361g
$499
Canon EOS 77D
DSLR
24.2MP
3.0-inch vari-angle touchscreen
Wi-Fi, NFC, Bluetooth
131 x 100 x 76mm, 540g
Nikon D5600
24.2MP
3.2-inch vari-angle touchscreen
Wi-Fi, NFC, Bluetooth
124 x 97 x 70mm, 465g
$696.95
GoPro Hero7 Black
Action
12MP
2.0-inch touchscreen
Wi-Fi, Bluetooth
63 x 45 x 33mm, 117g
$382.44
Olympus Tough TG-Tracker
7.2MP
1.5-inch, flip-out
Wi-Fi
35 x 57 x 93mm, 180g
$199.00
Canon Vixia Mini
Mini camcorder
NA
2.7-inch LCD monitor
Wi-Fi
131 x 98 x 37mm, 392g
$1489.99
Zoom Q8 Handy Video Recorder
Camcorder
NA
Full-color rotating LCD touchscreen
NA
272 x 86 x 247mm, 258g
$340.16
DJI Osmo+
Stabilizer with lens
12MP
NA
NA
43 x 34 x 147mm, 119g
$319.00
You need to figure out your real demand before choosing the best vlogging camera equipment. Even though you are on a tight budget, you should also buy a vlog camera with high performance. In another word, you may get tired of the best vlogging camera under 100 quickly. If you really need a cheap vlogging camera, you can consider above recommendations.
As for the best vlogging camera in 2020, the top pick compact cheap vlogging camera is Canon PowerShot S120. You can get sharp lenses and easy file sharing support. Its small size and good vlog shooting features have attracted many vloggers.
If you want to get the best vlogging camera under 200, Olympus Tough TG-Tracker can be a nice choice. You can take fast-moving objects without shaking. Of course, the expensive vlog cameras provide higher-level vlogging shooting features than cheap vlog cameras.
Part 2. Best Video Editor Software for All Vloggers
Choosing a capable vlog camera is just the first step. If you want to create an awesome vlog with low cost, you should not miss Aiseesoft Video Converter Ultimate. It is the best video editor and converter for all vloggers. You can take your video content to the next level with this vlog editor. Its intuitive interface and easy-to-use vlog editing tools are friendly to all shutterbugs. You can make up shortages of the cheap vlogging camera here.
Aiseesoft Video Converter Ultimate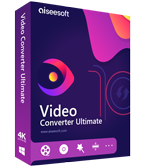 Rotate, flip, crop, add watermark and enable 3D settings in clicks.
Enhance video quality to make your vlog visually energetic.
Extract audio tracks from DVDs and video files losslessly.
Reduce video shaking while holding a vlog camera without stabilization.
Add external subtitle, external audio track and multi-audio tracks to your vlog movie.
Support HD/4K UHD formats and encoding.
Export your vlog to any portable device in high quality.
Work on Windows 10/8.1/8/7/Vista/XP and Mac OS X 10.7 and above.
How to Edit RAW Materials Shot by Your Vlog Camera with Ease
Step 1Add vlog camera video
Free download, install and launch the vlog editing software. You can connect your vlog camera to the computer to get the video footages first. Then click "Add File" on the top toolbar to import video clips for vlogging.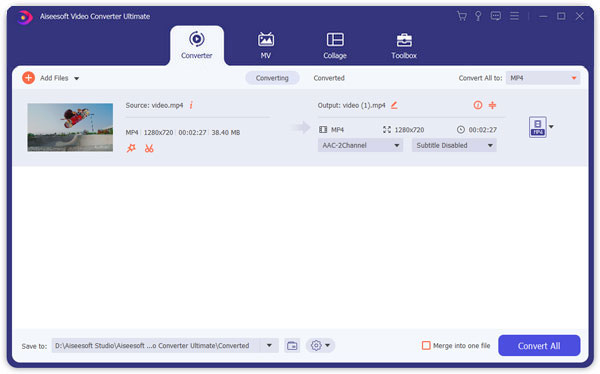 Step 2Edit vlogging video
Click "Edit" to access vlog editing tools. You can rotate video angle, customize 3D settings, crop vlog video, change video effects, add text or image watermark and enhance video quality easily. The original and output preview windows allow users to monitor the real-time vlog effect. Later, you can click "Apply" or "Apply to All" to save vlog editing changes.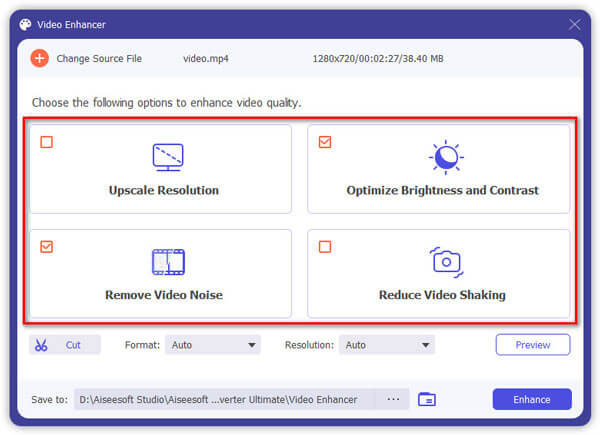 Step 3Add subtitle to vlog
Many people may like watching vlogs in silent mode. To help audiences understand your vlog easily, you can click "Add Subtitle" to add vlog subtitle. Moreover, you can click "Add Audio" to add vlog background music too.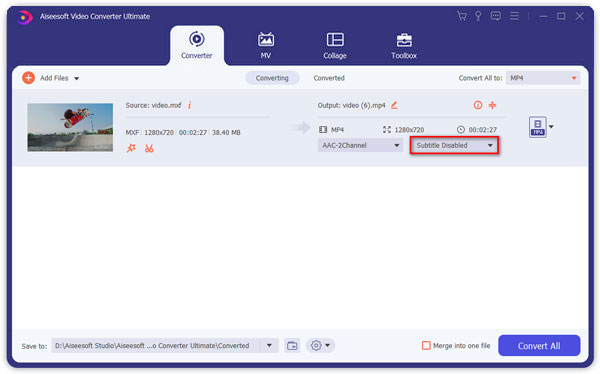 Step 4Export the vlog
Choose your output video format from the "Profile" list near the bottom. In addition, you can adjust vlog settings and output folder if necessary. At last, click "Convert" to save your vlog video. You can upload vlog to YouTube and other sites directly.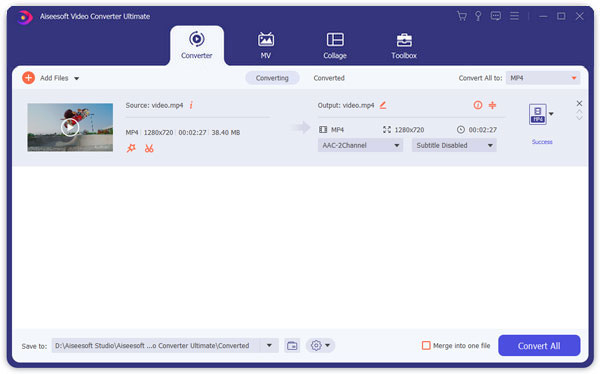 This is the complete tutorial for new vloggers. You can get the best beginner vlog camera and ultimate vlog editor to create a vlog effortlessly. Even though you record videos with your phone, you can still make a better vlog in a short time here. Can you find your budget vlog camera for YouTube now? If not, just feel free to contact us.