Ready to Be a Vlogger? Here're 5 Best Vlog Editors for All Platforms
Vlog (video blog/log) provides a new way to track and share your life to people all over the world. You can share daily life to YouTube, Vimeo, Facebook, Instagram, Dailymotion and other video-sharing platforms. If you want to be a vlogger (video blogger), you need to pick a good vlog editor first.
There are many vlogging cameras in the market, such as Canon Powershot G7 X, Sony a7R II, Canon S120, GoPro Hero 5, etc. Well, you can also shoot vlogs via your smart phone without extra cost. No matter how you start a vlog, you can always get the proper vlog editor app here.

Part 1. Best Vlog Editor That Every Vlogger Should Not Miss
If you want to create a vlog with video clips, pictures and background music, Aiseesoft Slideshow Creator can be your first choice. The vlog editor software has simplified video editing tools into a clean and intuitive interface. You can get various pre-made profiles in different themes. Of course, you can also add or remove element to your vlog.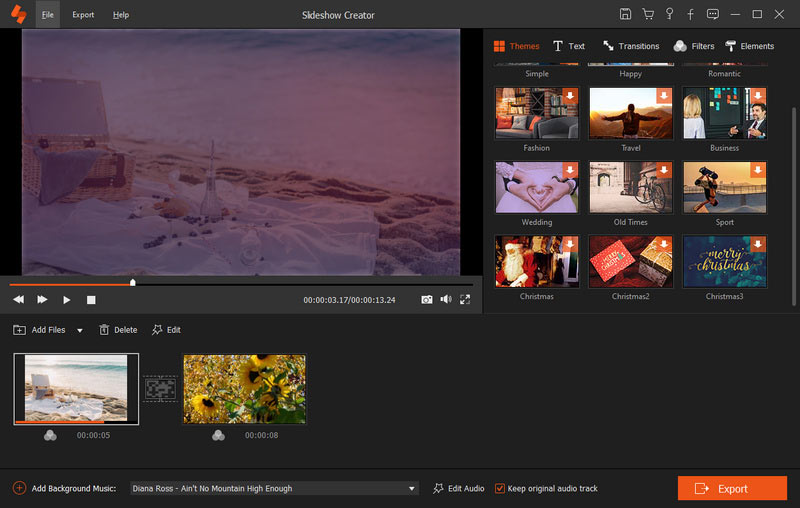 With the wide support for input and output formats, this vlog editor can combine all RAW materials into the device-compatible file. Thus, you can watch vlogs on your portable player without the incompatible issue. Furthermore, you can share vlogs to YouTube and other sites in one click. Thanks to the powerful editing functions, you can start a successful vlog without professional skills.
Main Features of the Vlog Editor
Make a vlog with photos, videos and music from digital devices.
Offer various video/photo/music editing functions.
Provide ready-made themes for vlogs including happy, romantic, fashion, travel, wedding and more.
DIY a vlog with 31 types of texts, 31 transitions modes, 32 kinds of filter effects and 37 selections of elements.
Make fast and slow motion video playback for vlog movies.
Set the vlog image duration manually.
Extract original background music or add songs to your vlog.
Work well on Windows 7/8/10 (64/32-bit OS).
How to Edit Vlogs for YouTube with Video Clips Easily
Step 1Add video clips to the vlog editor
Free download, install and launch the vlog editor for PC. Click "Add photo(s) and video(s) here" to import your video files. The free vlog editing software supports most popular video formats, such as MP4, MOV, FLV, WMV, MTS, AVI, SWF, etc.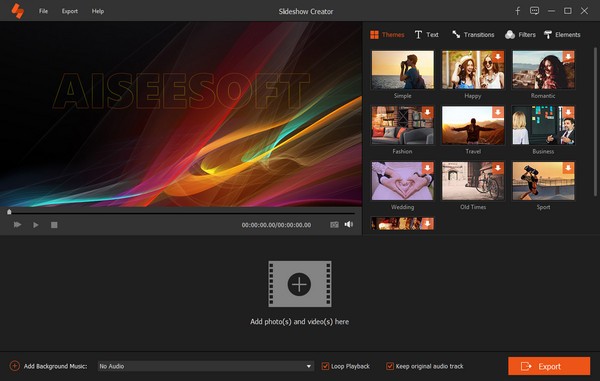 Step 2Edit your vlog
Highlight the video clip you want to customize. Click "Edit" above your imported video sources. In the popping-up "Edit" menu, you can rotate, clip, crop, speed up/slow down any video file.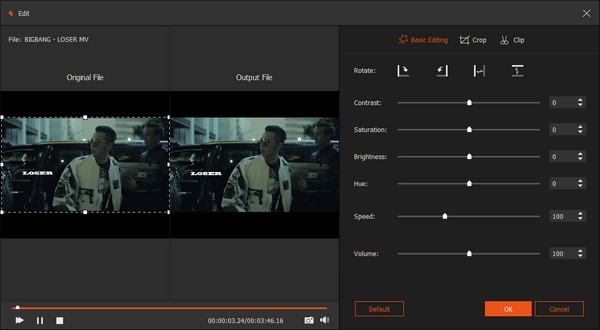 What's more, you can adjust contrast, saturation, brightness, hue and volume of your vlog with a real-time preview window. Actually, you can get the direct comparison from the vlog editing software for Windows.
Step 3Add background music for vlog
Click "Add Background Music" at the bottom of the vlog editor. You can import the downloaded songs as MP3, AIFF, FLAC, AAC, AC3 and many other formats. Later, you can decide whether to loop vlog background music or not. Be aware that you had better add non-copyright songs as vlog music.

Step 4Apply the vlog theme
Select the video file you want to edit. Head to the right panel of the vlog editor. You can get many pre-designed themes. Just hover your mouse above the theme. Click "Download" to save and apply the vlog theme.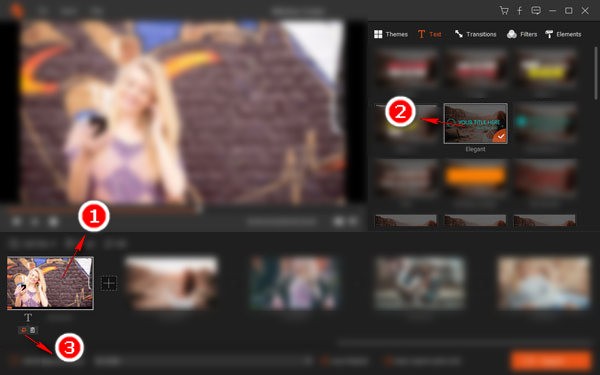 Meanwhile, you can edit the text, filters, transitions and elements to your vlog. If it is the first time you use the vlog editing software, remember to download online themes and materials before using.
Step 5Save vlog footage
After all customizations, click "Export" on the lower right corner. If you want to transfer vlogs to your iPhone or Android, you can select the profile in the left panel directly.
For instance, you can choose "Apple" and set the specific output vlog format directly. In addition, you can adjust the vlog resolution, quality, bitrate, frame rate and other settings too. At last, click "Convert" to create a vlog.
Here's the video about making slideshows for you. Click it to check.
Part 2. Windows Movie Maker – Free Vlog Editing Software on Windows
Windows Movie Maker used to be the pre-installed video editor for vlogs on Windows. It offers many video editing functions. You can trim, rotate, split, combine and edit videos on PC with ease. Moreover, Windows Movie Maker supports background music for vlogs too. Well, just like other free video editing software, Windows Movie Maker has limited features. You cannot get up-to-date themes and video editing filters.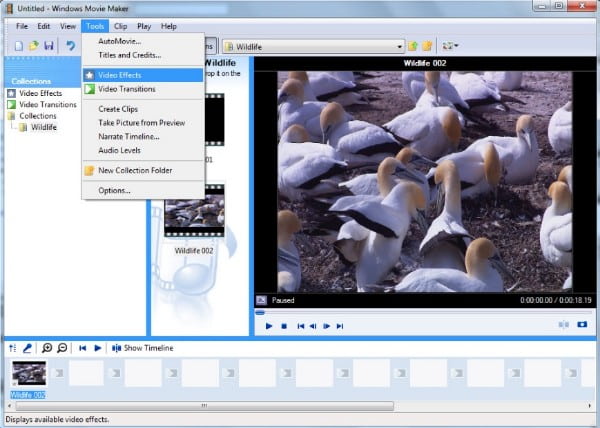 Sadly, Microsoft has ended up the support and download service for Windows Movie Maker since 2017. So if you see Windows Movie Maker 2019 free download or other similar packages, you need to stay away from those files in case of malware, virus or hidden costs. If you haven't uninstalled the vlog editing freeware for Windows, you can still access its features. As for Windows 10 users, you can get Story Remix after the Windows 10 Fall Creator update.
Part 3. iMovie – Free Vlog Editor for Mac
iMovie is a popular video editor for vloggers by Apple. If you shoot videos with your iPhone, you can transfer videos to Apple iMovie for further editing via AirDrop wirelessly. The theater feature allows users to share vlogs among all Apple devices easily. Compared with common vlog editors, you can get the "chroma-key" tool from iMovie. Well, you can call this feature as green screen too. As a result, you can place characters and overlay scenes freely.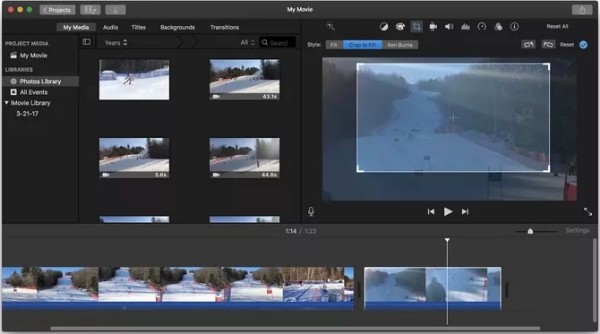 Moreover, the Apple video editor for vlogs allows users to add text, animations, voiceover and others to your vlog movie. You can also trim, split and personalize video clips with iMovie. With the social platform integration, you can post iMovie vlogs to YouTube, Facebook and other sites after editing quickly. Though iMovie does not offer much output controls for vlogs. To some degree, iMovie can be the video editing software for beginners only. You can try Final Cut Pro to get more features for vlog editing. Though you need to purchase for certain features.
Part 4. Magisto – Vlog Editor APP for iOS
You can also make a travel vlog on your iPhone with Magisto video editor. The vlog editor app can find the best part of your vlog footage based on sophisticated A.I. tech. Furthermore, you can get stabilization, facial recognition and other powerful features.
Of course, most vlog features are not free to use. You can use video clips and photos to create a vlog with Magisto filmmaker together or separately. In addition, you can add vlog background music with in-app licensed songs or your local music collection.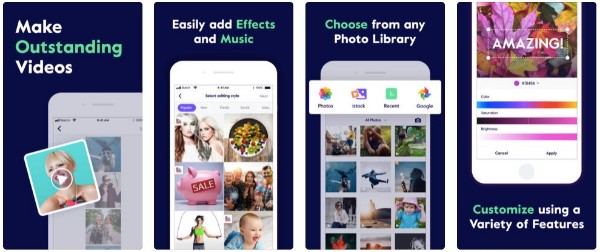 Just like most vlog editor apps, the free version offers limited features. You need to subscribe to Magisto Premium or Magisto Professional monthly to access more vlog features. Well, the latter vlog editor app for iPhone supports users to create vlogs up to 10 minutes. However, some users complain that the voice over and audio placement features are difficult to manage.
Part 5. PicPlayPost – Vlog Editor APK for Android
PicPlayPost is a photo and video collage maker. You can create a vlog with photos and videos shot by your Android phone directly. Moreover, the vlog editor apk supports GIFs too. You can create vlogs with up to 6 GIFs or videos. In addition, you can record your singing and then import into the frame with the built-in acapella maker. To prevent others making money with your vlogs, you can add a personalized watermark to the video. Well, you need to purchase or subscribe to Android vlog editor to access this feature.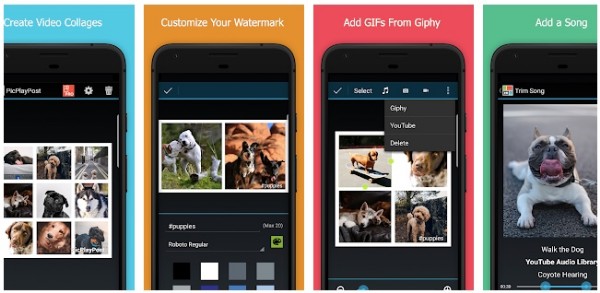 There are 48 adjustable frames and 72 background patterns. You can trim the video or song to get your target part first. Later, you can adjust placement and apply effects. However, the free vlog editor for Android app has limited features. You can make a vlog no more than 5 minutes for free with PicPlayPost. After that, you can share your video story to Snapchat, Vine, TikTok, YouTube, Tumblr and other social media platforms directly.
Part 6. Overviews of Vlog Editor APPs for Windows, Mac, iOS and Android
If you are tired of long paragraphs, you can get direct vlog editor reviews from this table. Just read and get your best video editing software for vlogging.
OS Supported
Pros
Cons
Aiseesoft Slideshow Creator
Windows
1. The vlog editor offers a clean, safe and intuitive interface.
2. All vlog editing functions have been simplified.
3. Offer classic and latest vlog themes.
1. There is no vlog editor for Mac version yet.
Windows Movie Maker
Windows
1. Use webcam to record a video for free, as well as audio recording.
2. Share vlogs to Vimeo, Facebook, Flicker and One Drive directly.
1. No further Windows Movie Maker update or support.
2. Lack professional video editing tools for vlogs.
3. Fail to speed up the certain vlog part.
iMovie
Mac
1. Free to edit vlogs on Mac with abundant audio editing tools.
2. Share videos with all Apple devices.
1. Lack motion tracking, multicam and many professional features for vlogs.
2. Not support 360-degree videos.
3. Poor output controls for vlog sharing and output.
Magisto
iOS, Android
1. Get smart vlog editing with videos and photos.
2. Share vlogs to Instagram, Facebook, Twitter, YouTube, Google+ and other sites and blogs in one tap.
1. Fail to create lengthy vlogs.
2. Need to upgrade to pro version to get better video storytelling filters.
3. The vlog editor app is not friendly to one-time vloggers.
PicPlayPost
iOS, Android
1. Create a vlog on Android with easy operations.
2. Combine videos, photos and GIFs to vlogs.
1. Have in-app purchases for video length, frame layouts and more.
2. The free Android vlog editor has its watermark attached on your vlog video.
3. App crashes.
So what's your final choice? This article does not show Adobe Premiere Elements, Filmora video editor and other hot recommendations. You can get free and user-friendly editing tools and effects for vlogs in most cases.
If you are new to vlogs, Aiseesoft Slideshow Creator can be your best vlog editor. You can get professional vlog themes and tools with a reasonable price. The life-long tech support and update is totally free. Why not take a free trial with Aiseesoft vlog editing software right now? Both beginners and experts can create a vlog effortlessly here.