Top 10 Best Camera APPs for Android Users to Take Photos with
You can take stunning photos by yourself, with camera app on Android installed. As smart phones have done the good job in taking selfies, sceneries and other situations, more and more people tend to use Android phones to capture every moment in their daily life, during the party, meet cute pets or see the charming girl in one click. The lightning weight enables people to take photos everywhere. However, the built-in camera can only cover your basic needs, or you need to choose from following 1o best camera apps for Android, to apply presets and edit with filters to manage Android pictures with.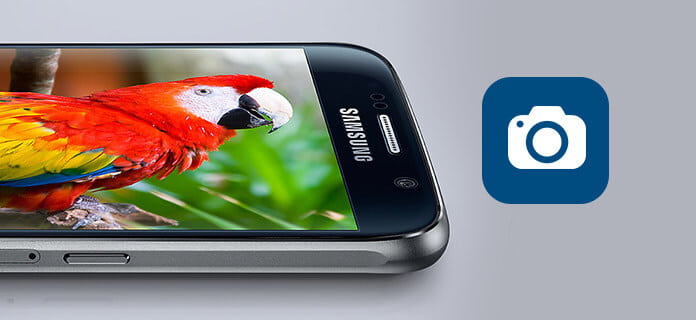 Part 1: Top 10 Camera APPs for Android
Developers are chomping to upgrade Android camera apps work better, to shoot in low light, provide well-designed presets and add more features to get gorgeous pictures. You can read and compare, to select from 10 best camera apps for Android, aims for different necessities of photo taking.

Top 1: VSCO Cam
Average rating: 4.4
Price: Free with in-app purchase
Get Instagram-like capturing and sharing experience with VSCO Cam. It is not only the camera app for Android, but also the platform for people to share and communicate everything about photographs, in its creative communities. You can search photograph sources as well. All presets and filters display on the bottom, which apply with related photo effect already. The photo-editing filters offer more space to users to customize with, by the sliders to move left or right. Though you need to pay to unlock some presets and film presets in VSCO Cam.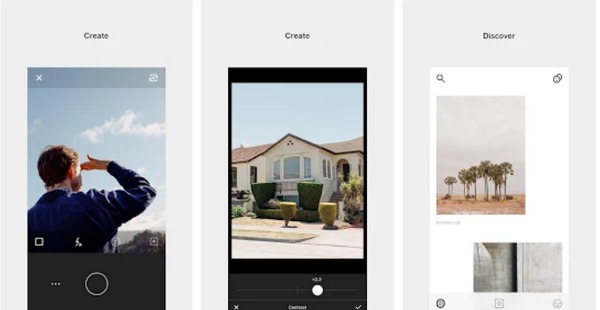 Top 2: Camera MX
Average rating: 4.3
Price: Free/ Up to $1.99
Preserve full resolution and all ratios of photos by Camera MX without compromises. Camera MX supports people to manage photos, videos and GIFs in the all-in-round camera editor. For instance, you can activate flash of the front camera, pause video recordings, animate GIFs within 3 seconds and get other useful features with the camera app for Android. In another word, Camera MX is the comprehensive photo editor, to record and output objects into 3 different artworks.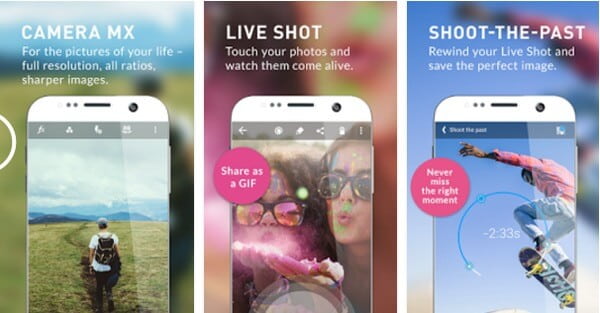 Top 3: Camera Zoom FX
Average rating: 4.3
Price: Free/ $3.49
Camera Zoom FX is the camera app, which supports people to apply presets and adjust filters, to analog photo effects while shooting with Android camera. It allows users to set up grid lines and display the stabilization indicator, to set ISO, focus distance, exposure, shutter speed and other tools, which turns to be the professional photographic camera via the camera enhancing app for Android. You can download Camera Zoom FX apk to shoot photos like the real camera.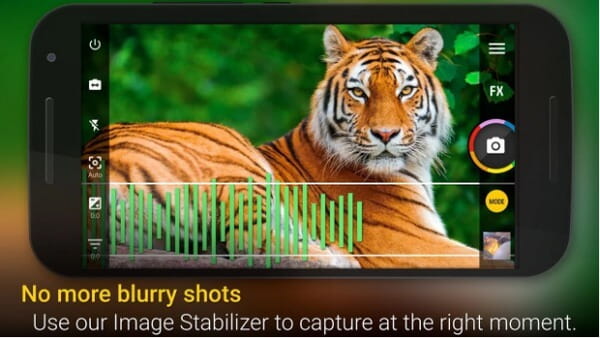 Top 4: Open Camera
Average rating: 4.3
Price: Free/ $1.99
If you are the kind of serious photographers, then Open Camera is outstanding among camera apps for Android tablets. The interface of your Android will displays manual camera controls, like timer, microphones, HDR, exposure and other common tools, to pretend to shoot pictures and videos with professional filters. To explore deeper Open Camera features, you can download for a try.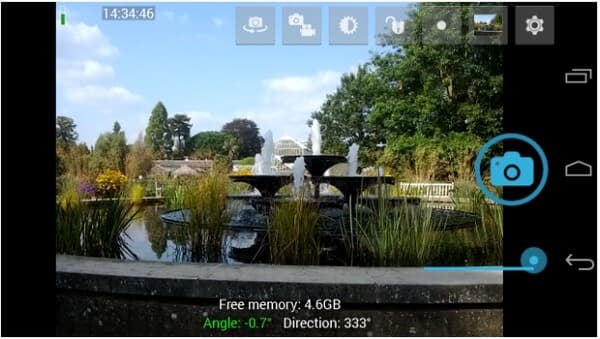 Top 5: Z Camera
Average rating: 4.3
Price: Free with in-app purchase
Beautifier your selfies by changing eye color, getting 3D tattoo, dying hair color and other filters by Z Camera in one tap. Even though you do not have the habit to make up or you are not so satisfied with your body shape, Z Camera can help you achieve effects by advanced filters built-in. There are also hundreds of in-app purchases you can apply with, to capture and edit portraits better than other camera effects apps for Android.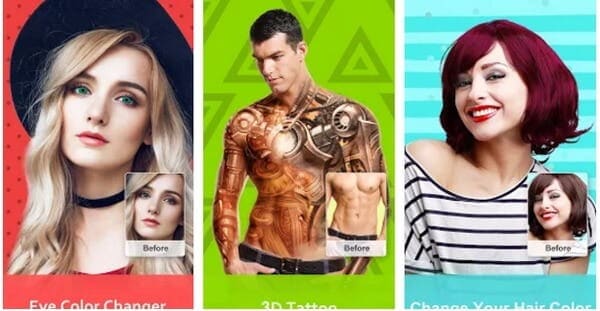 Top 6: Camera 360
Average rating: 4.3
Price: Free with in-app purchase
You can use motion sticker, beauty cam and other pro editing filters, to perfect your selfie photos and videos. Camera 360 offers live face effects and numerous special designs of selfies, to turn your portraits into similar effects with other photographs you have seen before. All editing tools contained in the selfie camera app for Android are designed into sliders, for you to move sliders to adjust in real-time.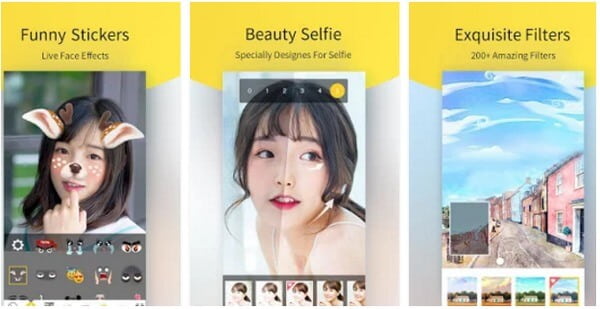 Top 7: Prisma
Average rating: 4.2
Price: Free with in-app purchase
Being the artist to create modern or impressionistic photographs, by using styles from famous artists, like Picasso. Get free camera app for Android download first, and then transform photographs into artworks, to free your creations up. Prisma supports users to output artwork to Instagram, Facebook and other popular social platforms directly, no resize photos and other requirements need to be optimized.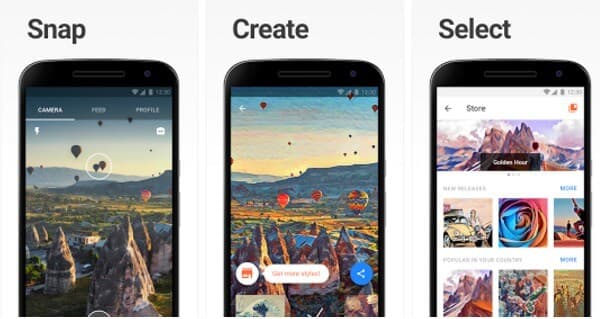 Top 8: Camera FV-5
Average rating: 4.0
Price: Free/ $3.95
Similar with the real digital camera settings, Camera FV-5 offers the interface with adjustable ISO, focus, white balance, light metering and other easy to use filters to manage with. It is easy to shoot with Camera FV-5 from camera apps for Android, by the DSLR emulated tools. If you pay additional $3.95 for pro Camera FV-5 version, all stunning filters will be unlocked to use.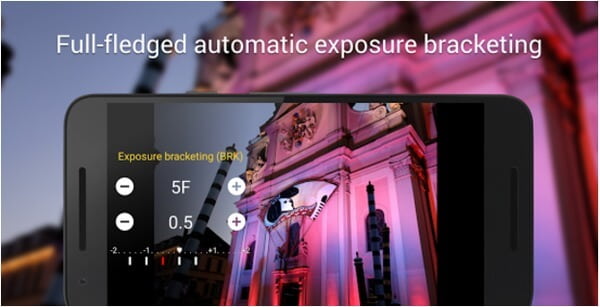 Top 9: DSLR Camera
Average rating: 3.9
Price: $2.99
DSLR Camera is the better camera app for Android tablets, with several shot modes, shutter buttons, live histogram, ISO and other manual controls. There is one thing you need to be aware first that, many features from DSLR Camera depend on your hardware-dependent. Thus, your Android phone may not highly compatible with the Android DSLR camera app in some cases, with certain features fail to achieve.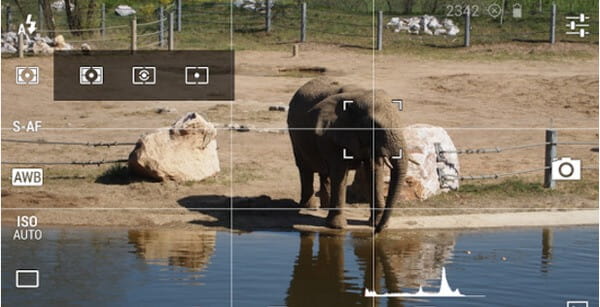 Top 10: Manual Camera
Average rating: 3.8
Price: Free/ $2.99
Just as its name has shown, what Manual Camera mainly does is offering manual settings, to adjust ISO, shutter speed, WB and other else. Moreover, Manual Camera supports RAW format, timer, gridlines, GPS and screen brightness on/off additional features, if you purchase for the full version of the camera app for Android download. Or you can try the free version first, to decide whether to pay for additional features of Manual Camera or not.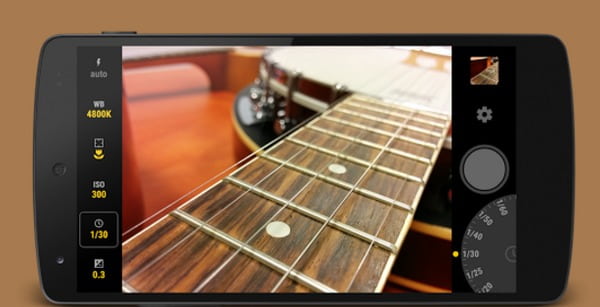 Part 2: Recommendation: Best Desktop Android Photo Manager Tool
If you deleted or lost something important on Android, calm down and download Fonelab for Android for help.
Best Android Data Recovery Tool
The Android data recovery software can recover your Android photos without data loss, with all Android tablets covers. Whether you delete photos from camera apps for Android or directly from Android phone, you can get them back with Fonelab for Android with ease.
Recover lost photos, videos, music and other files on Android.
Restore deleted contacts, call history on Android in smart way.
Rescue Android data from awkward situations, like password forgotten, water damage and etc.
Conclusion
The above ten best camera apps for Android have gathered representative photo taking and editing tools, with specific features contained. You can choose the free version to detect how the camera app works first. If you wanna to unlock the specific camera effects or filters, then the Android camera app is successful in some degree.