Everything about Subtitles
Turn On/Off Subtitles, Add New Subtitles, Download/Edit/Convert/Translate Subtitles
Want to know more about English/Spanish/Indian movie subtitles? Want to know how to deal with the subtitles on video? Where to download movie subtitles? How to turn on/off and remove subtitles?

This simple guide will tell some aspects you may want to know about subtitles. Simple parts like how to turn on and turn off subtitle, how to open subtitle on Apple TV, where to download new subtitle, how to add, edit or remove subtitle and more.
Turn on/off movie subtitles
Subtitles can help you better understand what's going on in a movie, especially when the videos are spoken in another language. So when you watch foreign videos, you may choose to turn on subtitles. But for most time, when you watch native videos, you prefer to turn off subtitles. Whether you want to open movie subtitles, or get rid of subtitles, you can do that with ease.
Add and remove movie subtitles
You may often access the situation that there are no proper subtitles in videos you are watching, even no avaible online subtitles are offered. In some latest TV shows or foreign videos, you can't find any subtitle in them. Where to download suitable subtitles and how to add the new subtitles to the movies?
What's worse, some movies carry improper or wrong subtitles. What should you do? You definitely want to remove useless subtitles and add suitable ones, especially for the videos you really like. Considering that, this part will show you how to add new subtitles or remove useless subtitles step by step.
How to add new subtitle to movie
To quickly add new subtitle to video, you need to rely on some professional subtitle adding software. You are not suggested to use online subtitle editing tools. Here we sincerely recommend the powerful Video Converter Ultimate for you. It can work as a great video editor to help you add new subtitles to movies.
Video Converter Ultimate
For Mac
Add new subtitle/audio track and remove unnecessary subtitle/background music with ease.
Support converting videos and over 1000 formats' video and audio conversion for playing on your any device.
Provide built-in video editor to help you edit video files like trimming, merging, cropping, rotating, flipping, etc. before converting to AVI format.
Support any 4K encoding and decoding, including H.265, H.264, MPEG, Xvid, VP8, VP9, etc.
Before you add new subtitles, you should download them first. If you don't know where to download them, you can move to the next part. This part will mainly focus on how to add or remove subtitles.
Step 1 Download and run subtitle add tool
Double click the download button above and then follow the on-screen instructions to install this subtitle adding app on your computer. It offers two version, for Windows and for Mac. Make sure you download the right version. After the installing process, launch it to prepare for the new subtitle adding.
Step 2 Add video(s)
When you enter the main interface, click the "Add Files" button to load the video(s) you want to add new subtitle. This all-featured software highly support any popular video format like MP4, MOV, AVI, MKV, FLV, and more. You don't need to worry about the unsupported format issue.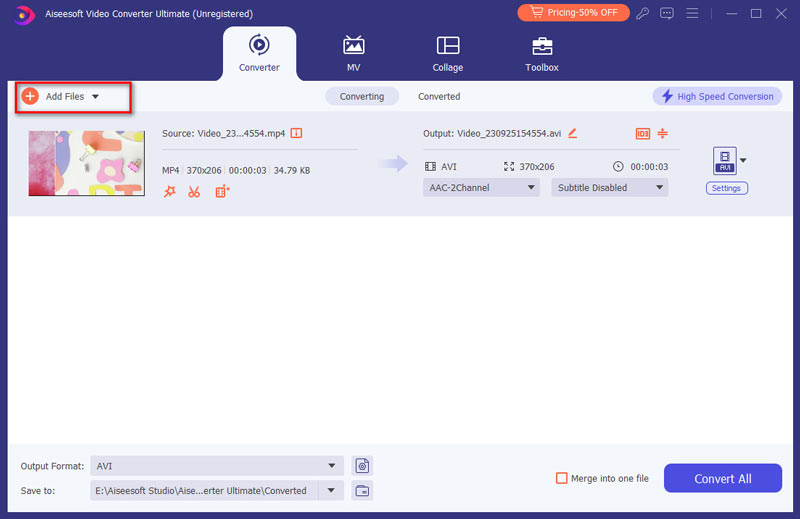 Step 3 Add subtitle to video
Locate the target video and open the drop-down list of the subtitle option to add external subtitle. Any frequently-used subtitle format is supported, such as .srt, .ssa, .ass, and more. After that, you can choose the new subtitle from the list.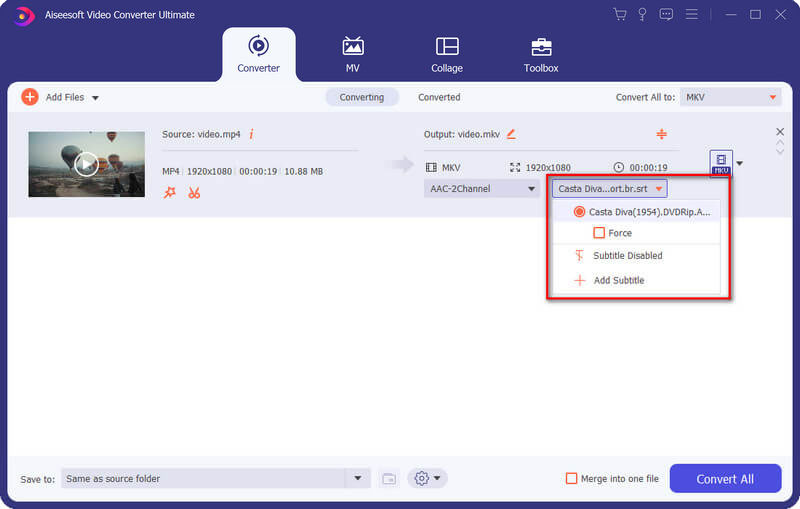 Step 4 Confirm the operation
Click "Custom Profile" and then select your preferred video format. Then click on the "Convert All" button to confirm the operation of adding new subtitle to a movie.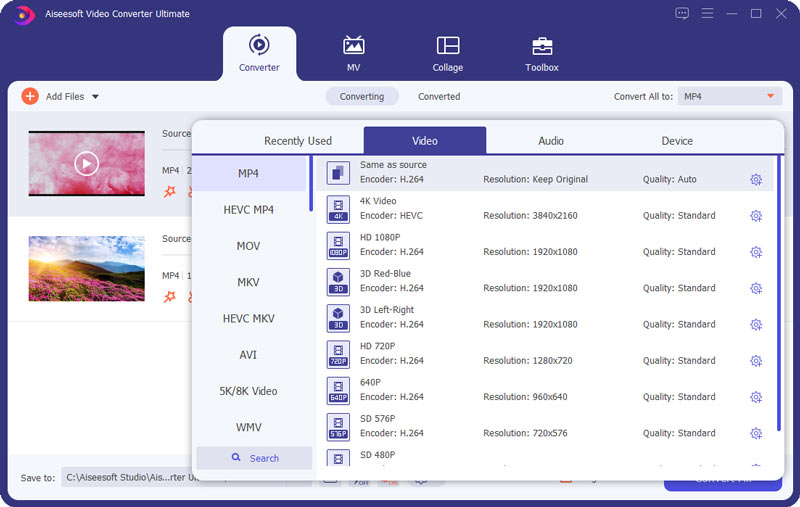 How to remove subtitle from video
It's easy to remove useless subtitle from MKV video. While for other video files, especially for some embedded subtitles, you will feel impossible to get rid of it. This part will show you how to remove subtitle in two points. Here you will use the same tool we mentioned above.
Step 1 Download and launch the subtitle editing software and import the movie you want to remove subtitle.
Step 2 Click the subtitle option and make sure it's on No Subtitle condition. If you are removing subtitle from MKV video, you can see the improper subtitle is gone. Then you can choose to add new subtitle to it.
Step 3 A built-in player will help you check if the subtitle is removed. If it is still there, you have to use the other way. You need to move to the editing function. Just click the Edit button.
Step 4 When you enter the editing window, choose the "Crop" tab. Now you need to adjust the range to remove the unnecessary parts. This operation will cut some images away. You may feel unsatisfied with this method. But you have to admit that, it seems to be the only way to remove the embedded subtitle.
For more tips about adding or removing subtitles, check the posts below:
Get a new subtitle? Edit, convert and translate it
After you get the subtitle, you need to edit subtitle, convert subtitle format, or transfer subtitle to proper language. Here comes the question, how to easily edit, convert or translate subtitle?

Download subtitles
If you can't find any useful subtitle in the video, you can navigate to some great subtitle sites to download subtitles.
Create subtitles
With subtitle makers, you are allowed to make your own subtitles. Then you can upload videos to YouTube/Facebook.
Translate subtitles
Only get subtitles in foreign language? You can translate subtitles into English and convert subtitles to right formats.
Subtitle issues
Can't open subtitles? VLC subtitle delay? You can learn how to deal with various subtitle problems and play subtitles here.
Subtitles in different languages, video sites and movies
You must often watch online videos, so you should know more about subtitles. What's more, you may be interested in subtitles in different languages and subtitles of popular TV shows and movies.
Subtitles in different language
Want to learn a foreign language by watching foreign TV shows or movies? You can download some videos with multi-lingual captions to do that. Besides English subtitles, you can get Farsi subtitles, Myanmar subtitles and captions in other languages. Spanish subtitles will help you learn more about Spanish. Yeh Jawaani Hai Deewani subtitles enables you to know more about Indian culture.

Subtitles of popular TV shows/movies
When you play some popular TV shows or movies on your TV, subtitle still plays an important role. For instance, if you want to watch Ip Man 3, you have to find the Ip Man 3 full English subtitles to help you better understand the Chinese kung fu movie. When you catch up on Game of Thorns, in order not to miss the outstanding storytelling and character building, you also need to rely on the Game of Thorns subtitles.

We try to talk about every point about subtitles in this page. We detailed some key points like how to add or remove subtitle, where to download subtitle, how to edit new downloaded or created subtitle and more. While for other parts, we just show links to guide you to the specific pages. Leave us a message if you want to know more or still have any confuse about subtitle.