How to Record a Skype Call or Meeting without Quality Loss
"I prefer to talk with friends and colleague with Skype, but how to record a Skype call or meeting?" Skype is far more than a simple audio call service as the developer keeps introduce new functionalities. Now, users can make video calls to a single contact or create meetings with a group of contacts. In 2018, Skype added a feature that help you record a call or a video session in various situations. This guide will show you the feature and more options.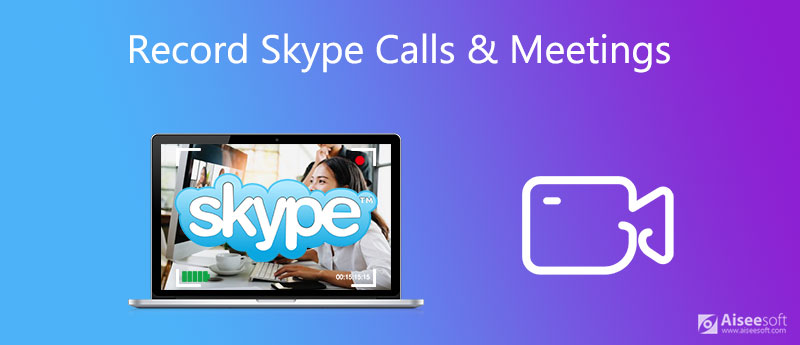 Part 1: How to Record Skype Calls with Built-in Feature
The built-in call recording feature in Skype is the easiest way to save your conversation, but there are somethings you should know before:
The recording feature is only available to the host.
All participants will get the inform once you begin recording.
Participants are invited to save the recorded audio or video at the end.
How to Record a Skype Call without Extra Software
Step 1:
Open Skype client on your PC or Mac, and start a video call or meeting.
Step 2:
When you want to record the Skype call, click the
three-dot
icon at the bottom right side, and choose
Start recording
.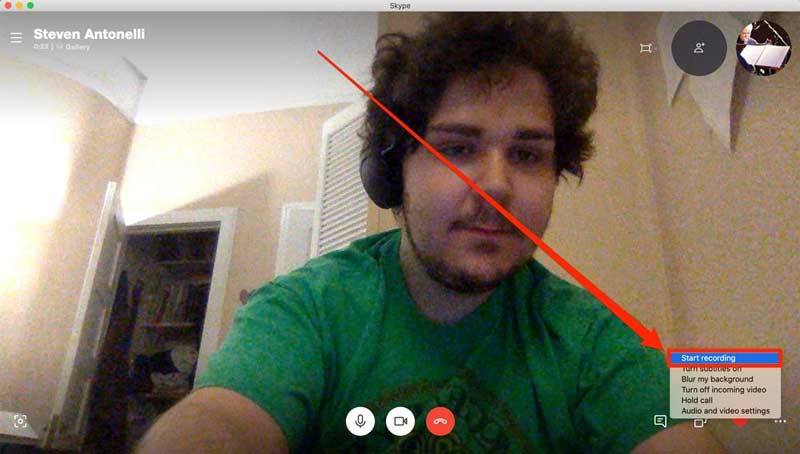 Step 3:
Once you see the recording bar appears at the upper left side, it means that your session is recording now. At the same time, all participants will be informed.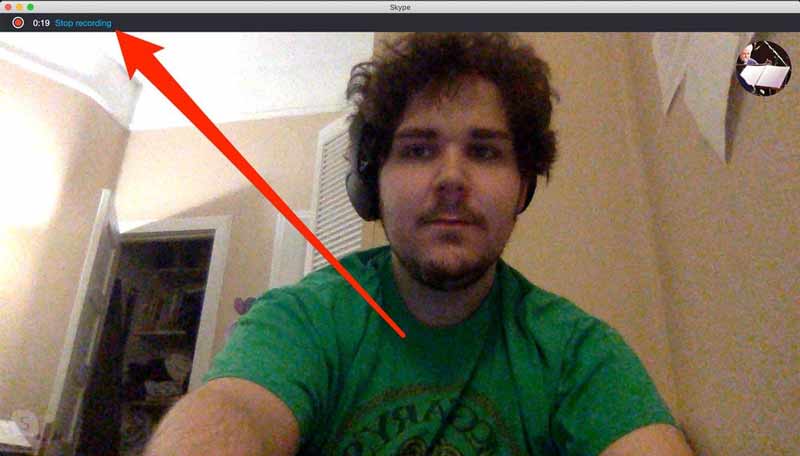 Step 4:
Wait for the session to finish or any moment when you want to stop, click the
Stop recording
on the bar.
Tip: Even if you did not click Stop recording, it will stop when your call is over.
Step 5:
Next, go to the change and click the
three-dot
icon next to the recording, and choose
Save to Downloads
. If you do not save the recording, it will be automatically deleted 30 days later.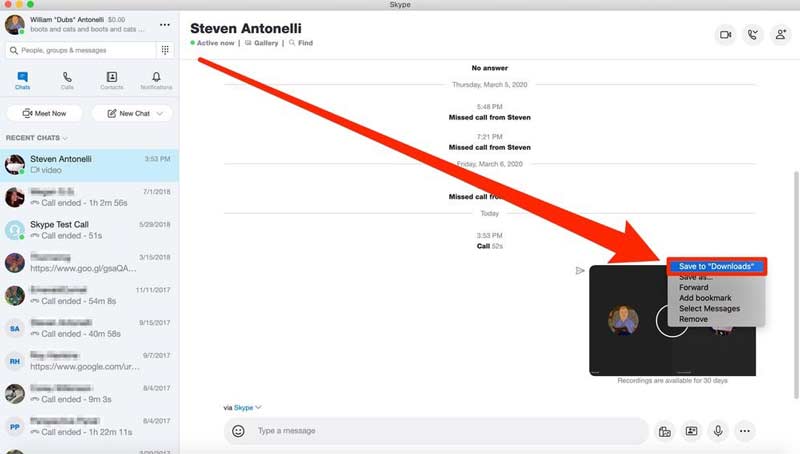 Part 2: The Easiest Way to Record Skype Calls
The built-in feature is just a simple choice, but not the best way to record Skype meeting. It does not offer any bonus features, like video editing. Moreover, you cannot record a call without informing others. Aiseesoft Screen Recorder is a powerful alternative solution. Compared to the built-in feature, this recorder is available to any Skype call and meeting including audio and video. Moreover, it is able to automatic record a Skype call secretly.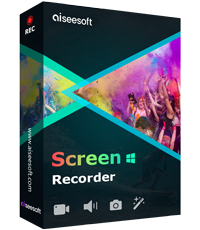 Downloads
Needless to say, it is the best choice to record your Skype calls and meetings on Windows and Mac.
How to Record a Skype Video Call on PC
Step 1: Install Skype recorder
The best Skype call recorder provides two versions, one for Windows 10/8/7 and the other for Mac OS X. Install the right one on your computer and launch it. Choose the
Video Recorder
option to enter the main interface. To record an audio call, select
Audio Recorder
instead.

Step 2: Record a Skype call
Toggle on the
Display
option and set the recording region, like
Full
for full screen or
Custom
to set it manually. Next, turn on the
System Sound
option and move the volume slider to get the proper level. The
Webcam
option will capture your face and add it to the recording. The
Microphone
option is used to add your voice to the recording. You can decide to enable the two options or not based on your need.
Create a new meeting in Skype app and click the
REC
button on the Skype recorder to begin recording the Skype call. Other contacts won't get any notification about recording.
Tip: If you need to record a scheduled meeting, click Take Schedule at the bottom, hit Add to create a new task, and set the options accordingly. Then the recorder will work automatically.

Step 3: Edit and save call recording
During Skype call recording, you will be presented a toolbar. If you want to draw on the recording, click the
Edit
button, select the
Pen
tool and set the size and color, and draw with your mouse. With the toolbar, you can also add text, shapes and arrow to your recording. At an important moment, click the
Camera
icon on the toolbar to take a screenshot.
When you want to stop it, click the
Stop
button to enter the preview window. Play the call recording in the built-in media player. If you are satisfied, click on the
Save
button and follow the instructions to export the call recording. You can also remove unwanted frames by resetting the start and end positions on the preview window.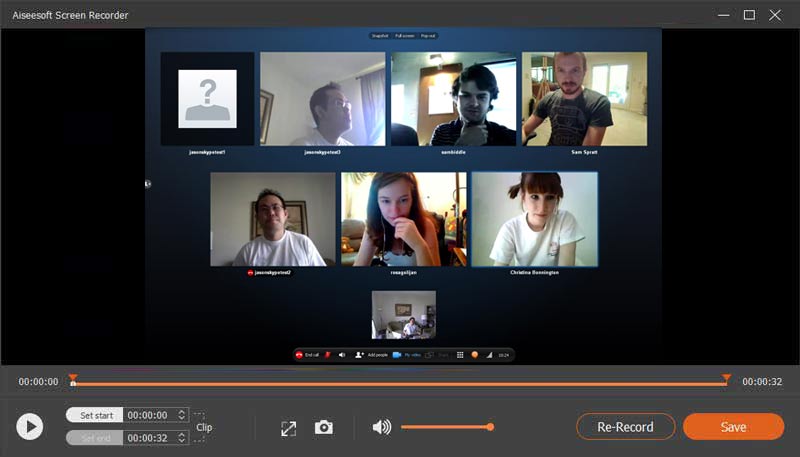 Part 3: How to Record Skype Calls Online
Sometimes, you just need to record a Skype call occasionally. A web Skype call recorder, such as Aiseesoft Free Online Screen Recorder will become a good choice. As the name indicated, this web app is absolutely free of charge. Moreover, it enables you to record a Skype call or meeting online without installing any software. It allows you to control recording with custom hotkeys. Except video editing, you can get the basic features related to call recording. More importantly, it won't limit on length or watermark.
Step 1:
Before the Skype call starts, visit https://www.aiseesoft.com/free-online-screen-recorder/ in your browser. Hit the
Start Recording
button to download the launcher.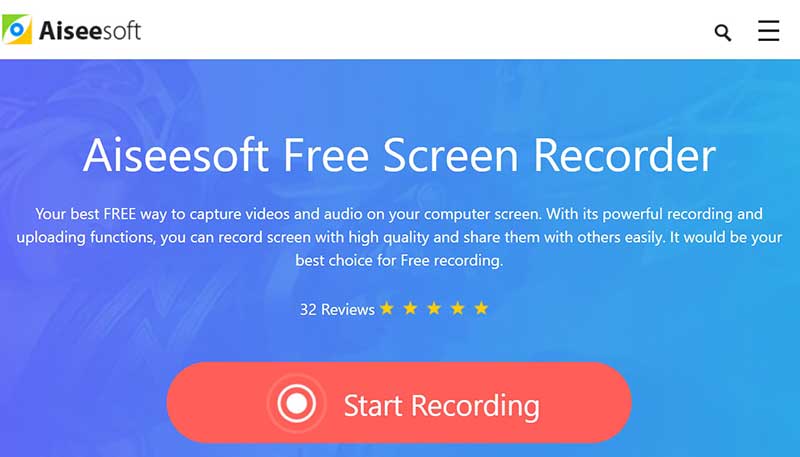 Step 2:
The launcher will pop up after downloading. Pull down the
Recording area
and set the recording region. Make sure the
Speaker
is opened. Then disable or enable
Camera
and
Microphone
. Click the
REC
button when the Skype call begins.

Step 3:
Wait for the call to finish and click the
Stop
button. At last, download the Skype call recording to your computer.
Note: The web Skype call recorder is available to both host and participants.
Part 4: FAQs about Skype Call Recording
Is it legal to record Skype calls?
According to Skype, the recording feature will inform all participants in order to protect the privacy. Although there is no regulation to prevent from Skype call recording, you'd better get the permission before doing it.
Where are recorded Skype calls saved?
Once a call stops, the recording will be saved to Skype server temporarily. You have to save it to your hard drive. Otherwise, the recording will be deleted from the server a month later. If you are using a third-party call recorder, you can decide the destination folder.
Do people know if you record Skype?
According to Skype, it will inform all participants once you click the Start recording feature. Then all of them will know you are recording. When it comes to third-party call recorders, Skype cannot detect it or inform other participants.
Conclusion
This guide has told you how to record a Skype call or meeting on PC and Mac. Of course, the built-in recording feature is the easiest way to save important calls and meetings. However, we suggest you to try a professional Skype call recorder, like Aiseesoft Screen Recorder, if you want to get more advanced features. If you have other problems related to Skype recording, please leave a message below this post.

Leave your comment and join our discussion