What to Do When iPhone 8/8 Plus/7/7 Plus/6/6s not Showing Up in iTunes
Why my iPhone is not showing up in iTunes? How to fix it?
Every time Apple released new update in iTunes or iOS, most iPhone users will install it immediately to get more features. In order to update software or restore your iPhone, the primary requirement is that you should be able to access iTunes or iOS. In other words, For iPhone not showing up in iTunes happens or iTunes not recognizing your iPhone, you cannot do anything, like software update, restore iPhone or purchase favorite music. There are many factors could cause iPhone not showing up in iTunes. And of course, a single solution may not be able to help you get rid of the problem. Therefore, we are going to summarize major reasons lead to such problem and offer several solutions in details below.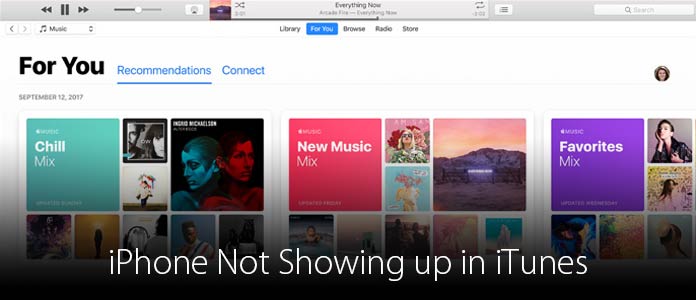 Part 1. Reasons for iPhone not showing up in iTunes
According to analyze, millions of iOS users complained about iPhone not showing up in iTunes. We found that there are several reasons may lead to this problem:
• USB cable is easy to break, which could cause the connection between iPhone and iTunes fails.
• Windows drivers are another factor makes iTunes not recognizing iPhone.
• If you did not press Trust prompted by iPhone, the connection will be refused.
• Outdated iTunes also is responsible for this problem.
Part 2. How to fix iPhone not showing up in iTunes
Targeting the factors above, we will share several solutions to fix iPhone not showing up in iTunes below.
Solution 1: Use another USB cable
If your USB cable is broken, you can use another USB cable. Then iTunes will detect your iPhone as normal.
Moreover, you'd better use original USB cord to avoid hardware damages.
Solution 2: Fix Windows drivers
Go to Computer Manager > Universal Serial Bus Controllers. If you see the warning mark on the Apple Mobile Device USB Driver entry, you can right-click on the entry and press Enable to fix it.

Solution 3: Trust the computer
In order to solve this problem, you need to disconnect your iPhone and iTunes, and then connect them again. When iPhone ask whether trust this computer, you can tap on Trust to get rid of iPhone not showing up in iTunes.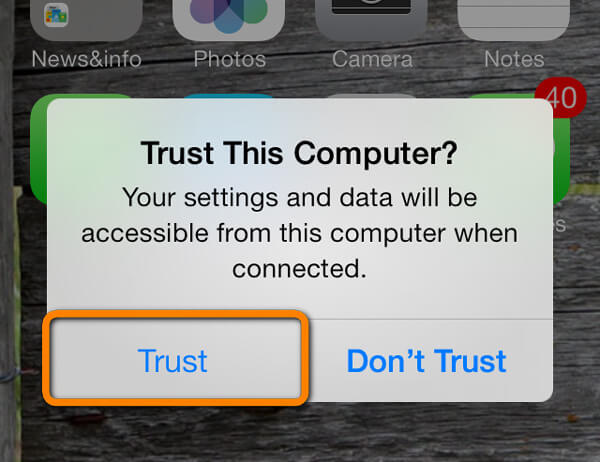 Solution 4: Update iTunes
iTunes update is rather simple. Open iTunes client and go to Help > Check for Updates. Then what you need to do is to follow the onscreen instruction to install iTunes update to your computer.

Solution 5: Restart computer, iPhone and iTunes
Sometimes, the simplest way is effective too. When iTunes does not detect your iPhone, you can try restarting your iPhone, computer and iTunes. And then connect iPhone to iTunes again. This is important especially when you just update iTunes or iPhone software.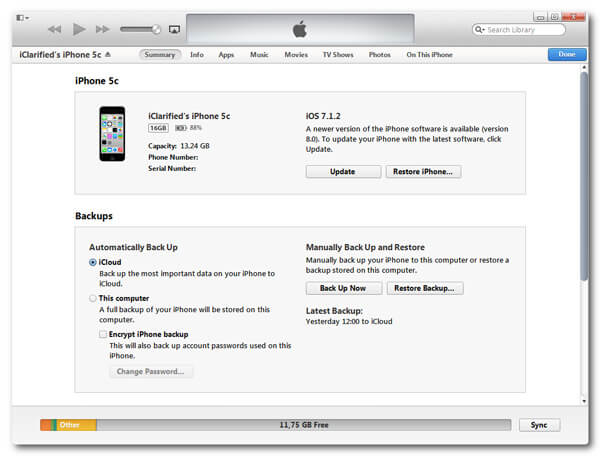 Part 3. Ultimate way to fix iPhone not showing up in iTunes
As you can see, it is not simple to fix the problem of iPhone not showing up in iTunes. If you are looking for an easy way to repair iPhone software problem and make iTunes recognize your phone, you should try iOS System Recovery. Its key features include:
1. It offers multiple modes to fix various iPhone software problems, including stuck in DFU mode, recovery mode, or headphone mode.
2. This iPhone system recovery tool uses USB connection to repair iPhone, so it is rather safe and quick.
3. iOS System Recovery supports all iPhone models and iOS versions.
4. And you can use it no matter your computer runs Windows or Mac OS X.
5. Moreover, it can help you get rid of iPhone software problems in one click.
How to fix iPhone not showing up in iTunes with iOS System Recovery
Step 1 Connect iPhone to iOS System Recovery
Launch iOS system recovery application after installation. Plug your iPhone into your computer. The software will detect your iPhone automatically.
Step 2 Shift to recovery mode
Press More tools option on home interface and then choose iPhone System Recovery on the tool list. Hit Start button to start diagnosing iPhone software problems.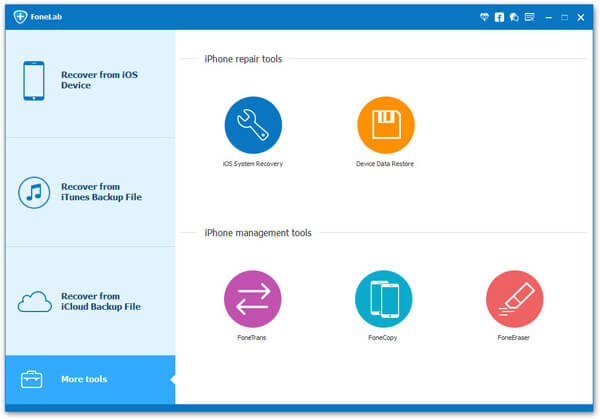 Step 3 Repair iPhone errors
Check the configurations of your phone on the result window and then click on Confirm to continue. Finally, click on the Repair button to fix iPhone software errors immediately.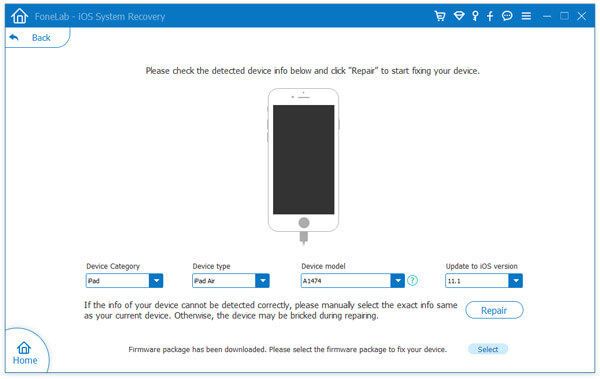 When the process is done, you can try to connect your iPhone to iTunes again to test whether the problem of iPhone not showing up in iTunes is resolved.
Part 4. Best alternative to iTunes for iPhone data transfer
You iPhone not showing up in iTunes does not mean you cannot transfer data from PC to iPhone. Actually, iOS Transfer is a better alternative to iTunes for iPhone data transfer, because it offers more useful features.
1. Move contacts, SMS, music, photos, video and other documents from iPhone to computer.
2. Share music, photos and other files from PC to iPhone.
3. Backup iPhone data to iTunes.
4. Compatible with all iPhone models and latest iOS versions.
5. Available to both Windows and Mac OS X.
How to transfer music from PC to iPhone
Step 1 Prepare iOS Transfer
Download and install the right version of iOS Transfer on your PC and connect your iPhone to the computer too. Launch the software and wait for it detects your iPhone.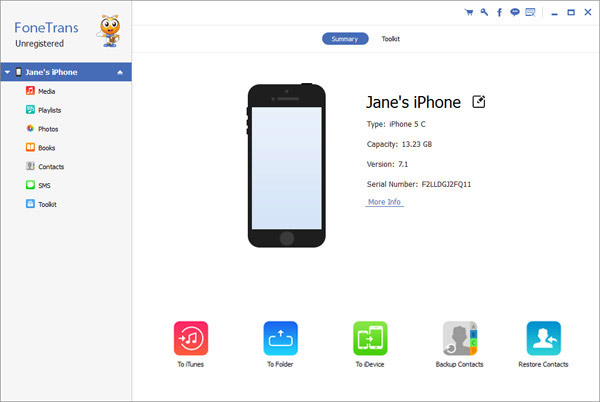 Step 2 View multimedia on iPhone
Choose the Media option on left ribbon to show up multimedia files on detail panel, including music, playlist and more.
Step 3 Transfer music to iPhone
When you are ready, click on the Add button and locate to the folder contains the songs you want to transfer from PC to your iPhone. Once press the Open button on explorer, the music will import it to your phone.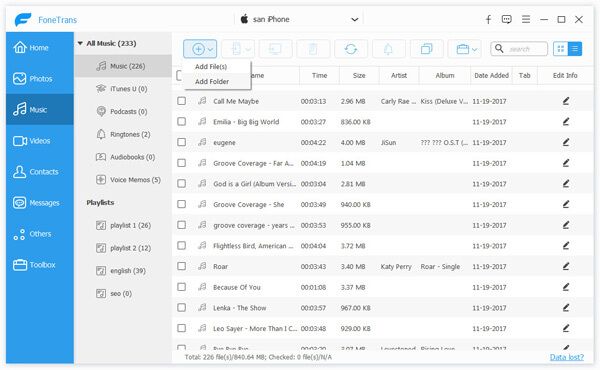 iOS Transfer also could move music, movies, photos and other files between iPhone and computer..
Based on the introductions above, you might learn about what factors could cause iPhone not showing up in iTunes. Apple developed iTunes service to help iPhone users update software, restore to factory settings, transfer files from PC to iPhone or purchase multimedia content. Unfortunately, iTunes client does not work very well with Windows PCs. If you encounter iPhone not showing up in iTunes, you can follow our simple guides to get rid of this problem. On the other hand, iOS System Recovery is a professional iOS recovering tool to fix software problems and let iTunes detect your iPhone seamlessly. Compared to fix complicated technological problem, many people are more likely to choose an iTunes alternative simply. Then iOS Transfer is a good choice. It is easier than iTunes and able to transfer various data types between iPhone and PCs.