Top 3 Ways to Back Up My Android With Ease
Dear friends, are you a user of Android phones, just like me? Whether you have wondered to back up your Android in case you lose all data on it for good? Whether you are still confused to look for the way to back up your Android device? In this tutorial, we will show you three smart methods to back up your Android phone.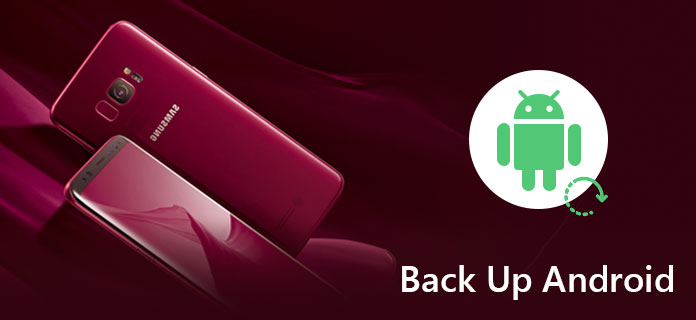 Method one: Back up Android data to PC for free

Backing up Android to computer is the easiest way. You just need an USB cable to connect them to your computer and drag and drop the target data files to local files in your PC.
But there are some Cons you should note that, you are only allowed to back up documents files, music and movies. But for contacts and messages, you have to miss to back up from Androdi to PC.
Method two: Sync Android data to Google

Google Backup enables you to make a backup of your Android data. What you need is a Google account, then go into phones Settings > find "Backup & Reset" > Slide "Back up my data" on. In this case, you can back up App data, Wi-Fi passwords and other setting to Google servers. Once you reinstall these used Apps, adn sigh in your Google account, you could easily restore Android contacts with Google account, so do photos, music, and more.
Still some Cons you can should bear in mind is that, You Google account only gives you free 15GB storage. If you have a huge number of data on your Andorid over 16GB or 64GB, you have to pay more cashes. And the price is as the following. One thing you should know that is you may be charged local taxes or fees in addition to the prices listed. Google doesn't charge extra fees.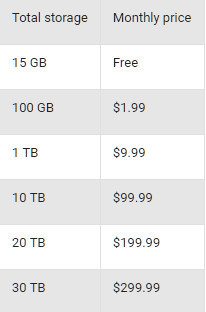 Method three: Back up your Android phone with third-party App

In this way, you can back up your Android phone or tablet is to use App. Android backup app varies. Like Helium Premium, MyBackup Pro, Backup to Gmail, Google+, SMS Backup & Restore Pro or Titanium Backup Pro Key. All Those apps enables you to back up Android to computer.
If you get a new iPhone 6s and want to back up your old Android phone to a new iPhone, the easiest way is to use a third-party tool, Phone Transfer which lets you selectively back up data files of Android phone to your new iPhone 6s, instead of restoring them from your computer. Phone Transfer enables you to back up your dead, smashed or old Android phone to another phone selectively and safely. You can back up contacts, media and photos from your Android device to your new device directly.
Steps of backing up an Android device to another phone with phone Transfer
One point you can not miss is that you can easily copy your Android data to another phone (Android and iPhone/iPad/iPod) for backup. What you need is an app.
FoneCopy - Phone Transfer
The professional phone data transferring software to help you directly transfer data between iPhone and Android phone in one click.
Transfer old phone data to new phone.
Sync files when switching between iPhone and Android phone.
Fast and easy-to-use.
Step 1 Download and install FoneCopy
Download and install FoneCopy to your PC. Then open it.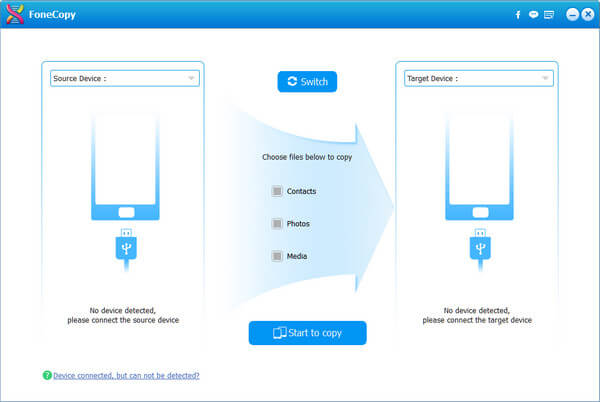 Step 2 Connect your two devices to PC via USB cable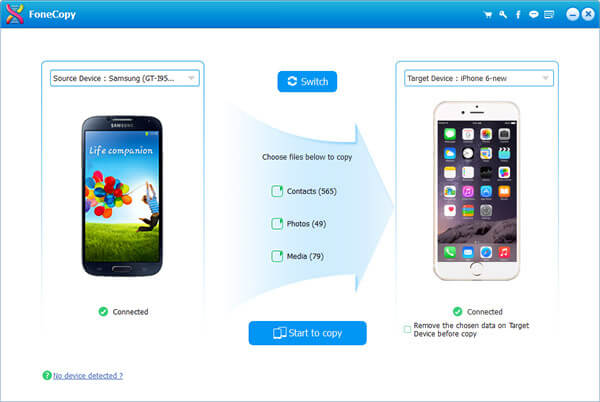 Step 3 Choose the files you want to back up
With FoneCopy, you can back up contacts, photos, and media from your old or smashed Android phone to new Andrid phone or tablet, even iPhone iPad or iPod. Just tick the categories you want to back up.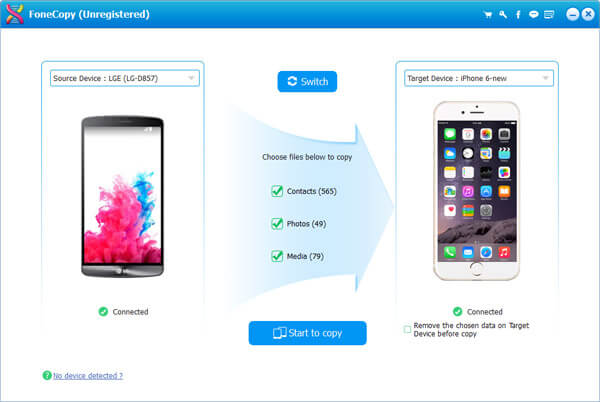 Step 4 Start to copy
After selecting the files, click the "Start to copy" button to back up them to your new device.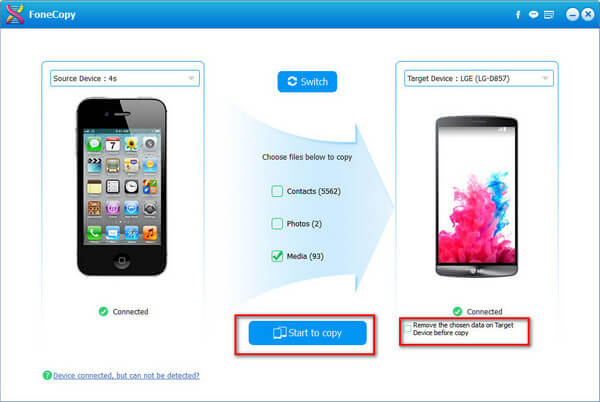 Compared with the first method, this software lets you back up your data completely, like photos, contacts adn media files. Still compared with method two, this software is cheaper to charge you $20.30 lifetime.
Still some Apps are used for free, for instance, Easy Backup & Restore is sort of them. It enables you to back up your text messages, call history, contacts, etc.
Also, some phone manufacturer also provides the free applications to let you back up Android phone. Like Samsung Kies is the free Samsung backup tool. But it only enables you to back up Samsung data to computer, not another Android or iOS devices.