Best Way to Create Free iPhone Ringtones
How to create free iPhone ringtones? If you are also confused by this problem, you can read this article to learn how to create free iPhone ringtones.
We will offer three ways for you to create free iPhone ringtones.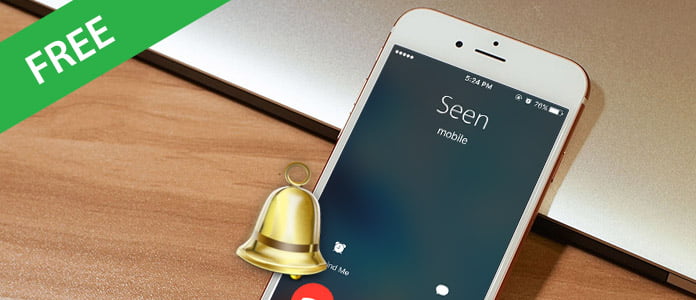 Best way to create ringtones with iPhone Ringtones Maker
You can use iPhone Ringtones Maker to create free ringtones. This way is most convenient, and you are able to create free iPhone ringtones with any popular songs you like for any models of iPhone devices, such as iPhone X, iPhone 8/8 Plus, iPhone 7, iPhone 6s, iPhone 6, iPhone 5s, iPhone 5, etc.
We know that iPhone ringtones use the file extension .M4R. And the users must pay $2 for a piece of song through Apple iTunes store. Now, I will guide you how to create free iPhone Ringtones by yourself with Aiseesoft iPhone Ringtones Maker.
Step 1 Click "Add File" to import the file that you want to make ringtone from it.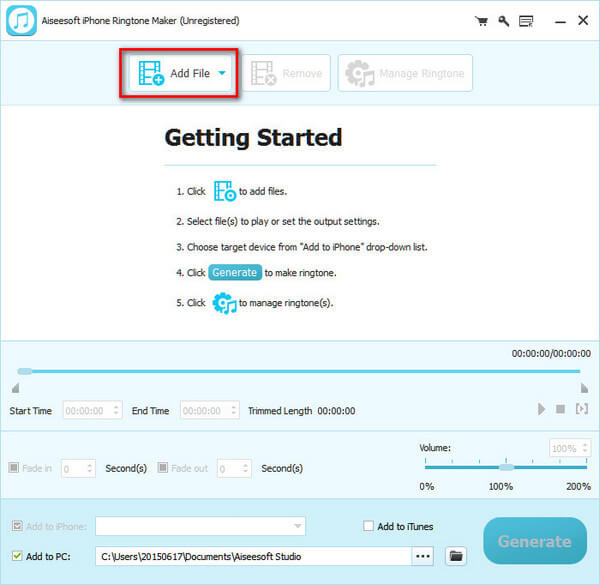 Step 2 >Choose your output "Profile" and "Settings"
Play it and listen the music to find the segment that you want to use it as ringtone. Then drag and click the start & end slider to set your wanted segment, or type the start & end time in the corresponding text box directly to get the exact segment. You also can pre-listen the converted audio before generate.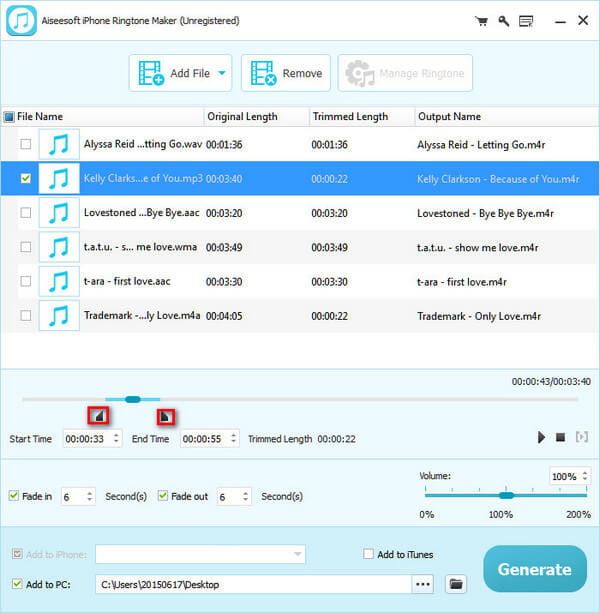 Step 3 Click "Browse" on the right side of "Local Output Folder" to choose the output destination.
Step 4 Check "Export to iPhone" option, the converted ringtone will be load to your iPhone directly.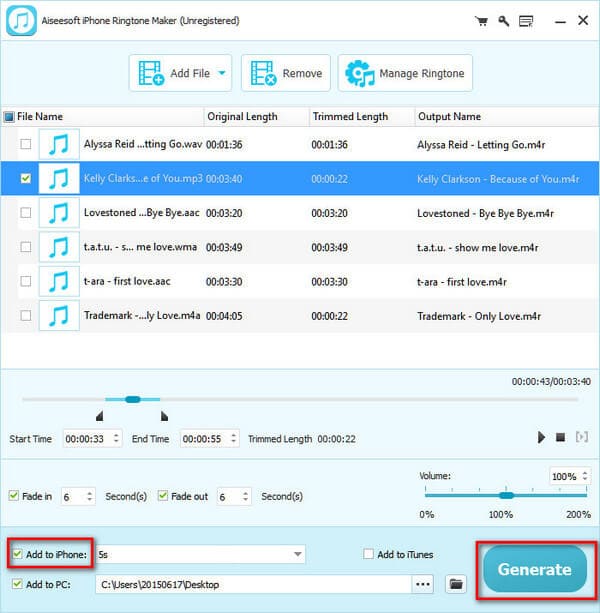 Step 5 After all the settings are finished, click "Generate" to begin making your own iPhone ringtone.
Best way to turn music to iPhone ringtone format
You can also use FoneTrans to turn your music into M4R format for iPhone.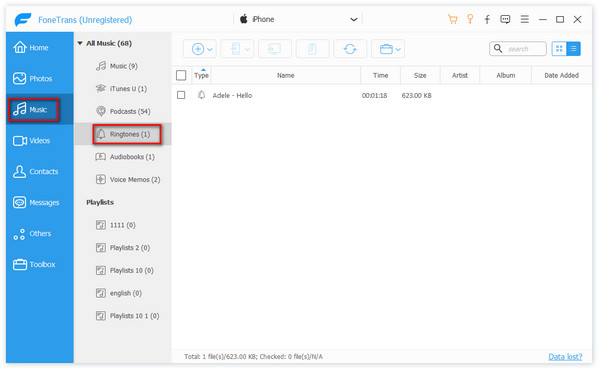 Step 1 Download FoneTrans on your computer
After downloading FoneTans, click "Media" in right list. And click "Ringtones" on the up list.
Step 2 Add music files
Click "Add" to add music you need to turn into ringtones.
Step 3 Turn music into M4R format
After adding the music into FoneTans, just wait a few seconds, the music will be turned into M4R format automatically.
How to create ringtones with iTunes
You may have thousands of songs on your computer, and do not know how to make this nice song to be a ringtone on your iPhone. With iTunes, you will be able to turn any popular songs in your library into a free ringtone. Below are the detailed steps of how to create free iPhone ringtones with iTunes.
Step 1 Download and open iTunes
Open iTunes, and upload your favorite song that you want to turn into iPhone ringtone. And then right click the song, select "get info".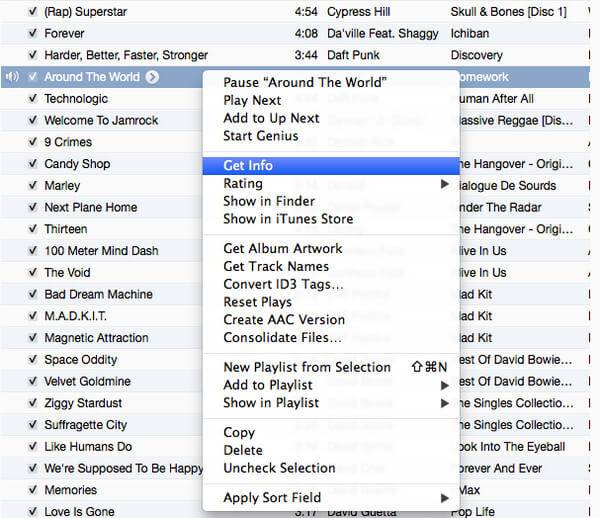 Step 2 Set a start and stop time
After clicking "get info ", you will see the "Start Time" and "Stop Time", you can set a time according to your need. After listening and trimming the ringtone where you exactly want it to start and stop, then click "OK". Please note that the ringtone time cannot be longer over 40 seconds.
Step 3 Create an AAC Version
Right click again on the track and click on "Create AAC Version". It will automatically duplicate the track. You'll notice that there is a difference in the time of the track compared to the original.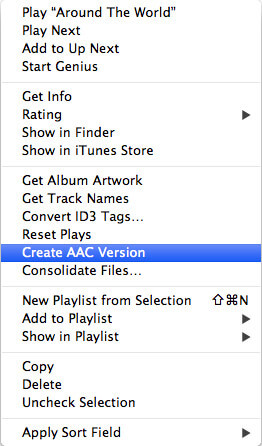 Step 4 Convert to a ringtone
Click "Show in Finder", you need to locate to file of the track, and to do that you should right click on the new version, and choose "Show in Finder".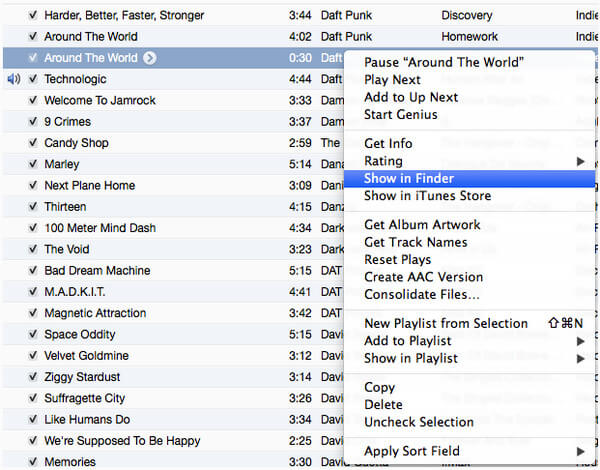 Then you will see that the new M4A Version and the original track, this should present you with the track name, with a M4A extension. We need to rename that to M4R. You'll get a popup asking if you're sure, click "Use .M4R".

Step 5 Delete the M4A Version
Go back into iTunes again, right-click and delete the M4A Version (the shorter duplicate of the original). Click "Delete Song and Keep File" on the popup.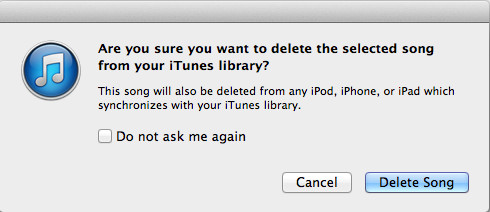 Step 6 Add to Tones
You should go back to Finder and double-click on your ringtone file (.m4r), which should automatically copy it to the Tones section of your iTunes library.

Free create iPhone ringtones online
Besides ways above, you can also create free iPhone ringtones online. There are many online iPhone ringtone creators that can help you to create iPhone ringtones online. We will mainly introduce one of these websites for you. We will introduce the steps on Ringer for you.
Step 1 Open your computer and get into ringer. Click "UPLOAD FILES" to upload the song you would like to create.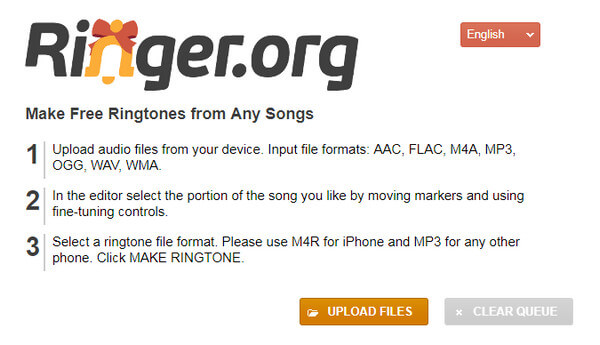 Step 2 After uploading the song. Then set a start and stop time which cannot over 40 seconds. And select the output format M4R. Finally, click "MAKE RINGTONE" to create the ringtone for your iPhone.

This article introduces three ways for you to create free iPhone ringtones. Which is the best way for you? iPhone Ringtone Maker is the most recommended. Hope this article is helpful for you.
If you still have any other problems, please leave us a message on message board.