How to Repair and Recover a Corrupted Word File on Windows/Mac/Online
I have been working on a Word document since January 1, 2014. I have never had any problems regarding opening the document and such. But today, as I was opening the Word document, I got 'The File ** cannot be opened because there are problems with the content.'. When I open the 'Details', it specifies that 'the file is corrupt and cannot be opened.'… How can I uncorrupt a file and repair the corrupt Word document?
The error message "The file is corrupt and cannot be opened." does not mean that you cannot open the Word document any more. Though you may see lots of unreadable characters and different kinds of Word error messages. Actually, you can recover a corrupted Word file with online and offline measures here. Of course, you can also recover corrupted Word files saved on your memory card and other external storage devices.
Now, let's read together to recover Seagate files easily.

Recover a Corrupted Word File
Part 1: Open and Repair Your Corrupted or Damaged Word Document
Microsoft Word has its default repairing function. You can open and repair the corrupted file within Word repair toolbox for free. Just read and check.
Step 1Run Word. Choose "Open" from the "File" drop-down menu on the top right corner.
Step 2Browse and select your corrupted Word file.
Step 3Choose "Open and Repair" from the downside arrow on the lower right corner of the "Open" window.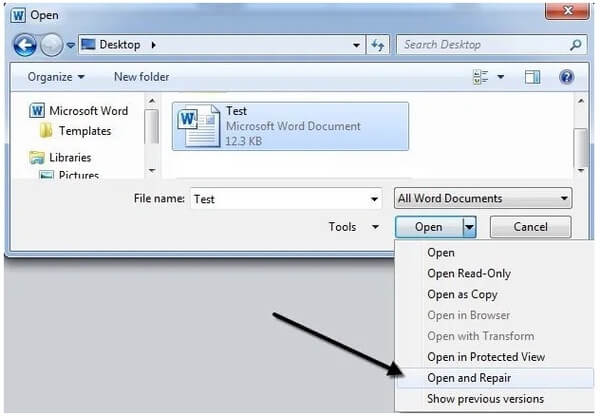 Step 4If you fail to recover a corrupted Word file, you can repeat above operations. Select "Recover Text from Any File" next to "File name". Later, you can click "Open" to uncorrupt a Word file for a second try.

Part 2: Create a New Word File with the Content from Your Corrupted Document
This is a little trick to repair and recover a corrupted Word file without software. You can insert the corrupted Word file's content to a new Word doc. But the result varies in different cases. So do not expect too much to uncorrupt a file here.
Step 1Open Word and create a blank Word document.
Step 2Locate the "Insert" section on the top.
Step 3Choose "Object…" from the "Object" drop-down list.
Step 4Click "Create from File".
Step 5Choose "Browse" to select your corrupted Word file.
Step 6Click "OK" to recover a corrupted Word file for free.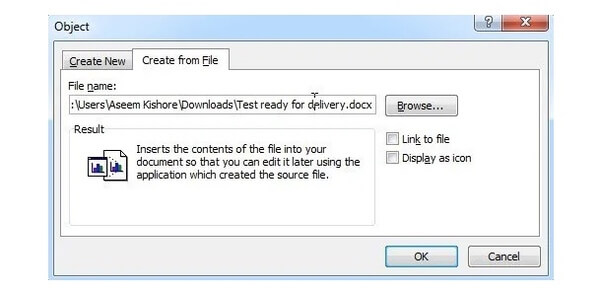 Part 3: Repair a Corrupted Word File Online with OfficeRecovery
There are also many corrupted file recovery online sites you can try. This section will take OfficeRecovery as an example. Thus, you can recover a corrupted Word file online for free.
Step 1Visit https://online.officerecovery.com/word/ to get the free online Microsoft Word file repair service.
Step 2Click "Choose File" to add your corrupted Word file.
Step 3Choose "Secure Upload and Repair" to load the word file.
Step 4Click "Get the repaired file" to complete the corrupted Word file recovery online.

Part 4: Best Way to Extract and Recover Corrupted Word Files (2003/2007/2010/2013/2016)
If you want to recover a deleted or lost Word file on Windows or Mac, Aiseesoft Data Recovery can be your first choice. You can get back the inaccessible Word document from any hard disk drive without a backup. Thanks to the powerful search function, you can find out all deleted, hidden and existing Word documents in a short time for further file recovery. So if you have no idea how to recover a corrupted Word/Excel/PowerPoint file, you can turn to Data Recovery to try your luck.
Main Features of the File Recovery Software
Recover all kinds of documents (DOC/DOCX, XLS/XLSX, PPT/PPTX, PDF, CWK, etc.) on Windows/Mac.
Recover Word files from deletion, formatting, corruption and almost all data loss situations.
Scan your corrupted, lost or deleted Word document via Quick Scan and Deep Scan mode.
Recover corrupt Word documents from your computer, memory card, flash drive, hard drive and more.
How to Recover Corrupted Word Documents with Simple Steps
Step 1Launch the file recovery software for recovering corrupted Word files.
Step 2Mark before "Document". Then select the Word file location.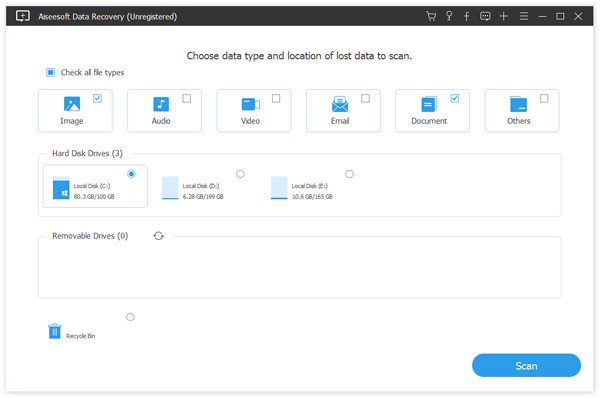 Step 3Click "Scan" to start the Quick Scan mode. You can choose "Deep Scan" to get more available Word files.
Step 4Unfold "Document" in the left pane. Click "DOCX" or "DOC" and see if the Word file can be scanned and listed on the main panel. If you find it, congrats! You can very probably recover it.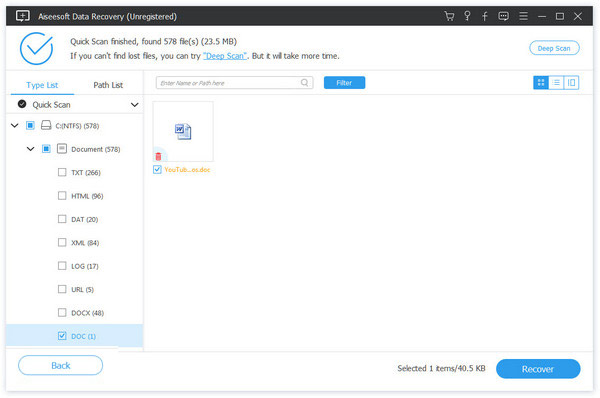 Step 5Click "Recover" to recover a corrupted Word file.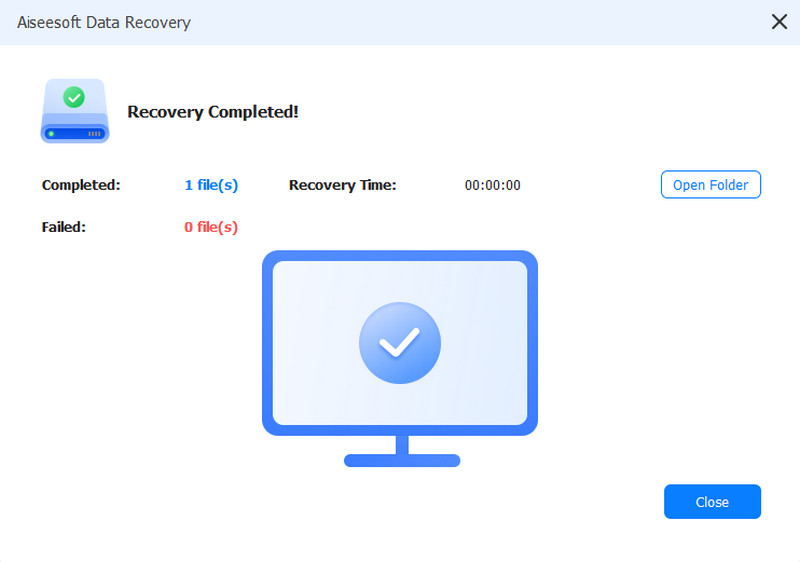 What's more, you can recover a previous version of Word document here with ease. It is supported to run Data Recovery to find recovered documents in Word too. If you cannot find the certain file, you can use Data Recovery to scan and extract the file you need quickly. But there's one thing you should know. Any data recovery software cannot promise you 100% successful recovery. Don't hurry to pay it before you try it. That's all for how to recover a corrupted Word file on Windows and Mac. If you have any other good solutions, just feel free to contact us.