Part 1. How to Recover Deleted Facebook Messages with Default Feature
1. Archived Messages
One of the common misconceptions is that messages on Facebook are not deleted but removed from the primary message and send into a folder known as Archived Folder. It is a method you can use not to see the message of a Facebook user on you from the primary inbox. How to find deleted Facebook messages on Archived? Well, you can follow the succeeding steps we have listed below.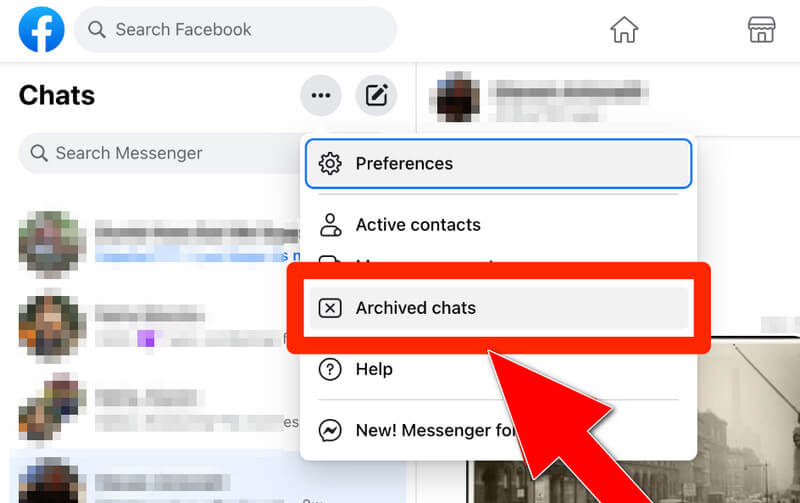 Steps on How to View Archived Messages:
Step 1.
You can log your Facebook account on the app's main website or through the application installed on your device.
Step 2.
Open the messenger, and tap the pfp in the top left corner. On the website version of it, click the Messenger icon that will appear.
Step 3.
Next, click on
See All in Messenger
or
Message Request
and scroll to the button of the list to see the messages.
Step 4.
In the section Archived, find the conversation that you have accidentally transferred here, and you can send a message to them to put it back in the primary inbox, or you can unarchive it if you want.
2. Downloaded Data
We must remember that Facebook has advanced data preservation for users only. You can download your data containing messages, posts, photos, and more. This method will not retrieve your past conversation to the Facebook messages, but you can view them on the downloaded data. Can you recover deleted messages on Facebook? Well, you can perform the steps we provided to see the Facebook data archive it has saved.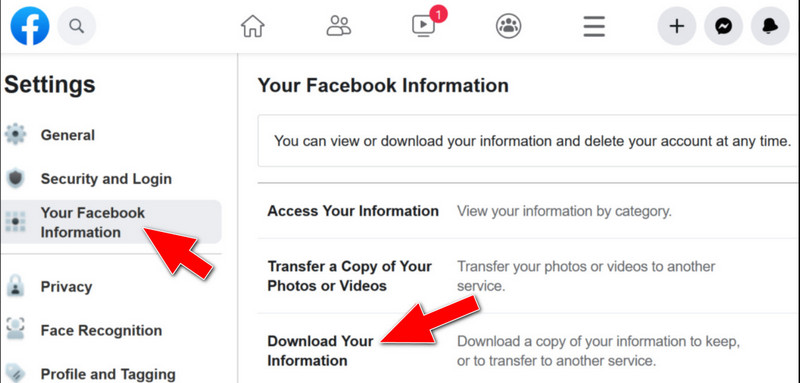 Steps on How to Download Data on Facebook:
Step 1.
Open your account, click
Facebook Settings
, and select
Settings & Privacy
.
Step 2.
Inside it, click
Settings
and select
Your Facebook Information
in the left-hand column.
Step 3.
Next, select
Download Your Information
, and choose the data you wish to include in the archived. In this case, select messages and set the date and time range of the data you want.
Step 4.
Click the
Create File
button, and when the file is ready, you will be notified of the download. Check your conversation in the downloaded archive to see if any deleted messages you want to retrieve are presented.
3. File Explorer
File Explorer on your Android does contain a summary of the currently available data on your device; it includes temporary files. But, if you have formatted your Android device and still want to retrieve the deleted message, this method will not work. Try this out if you want to know how to find deleted Facebook messages on your Android by default.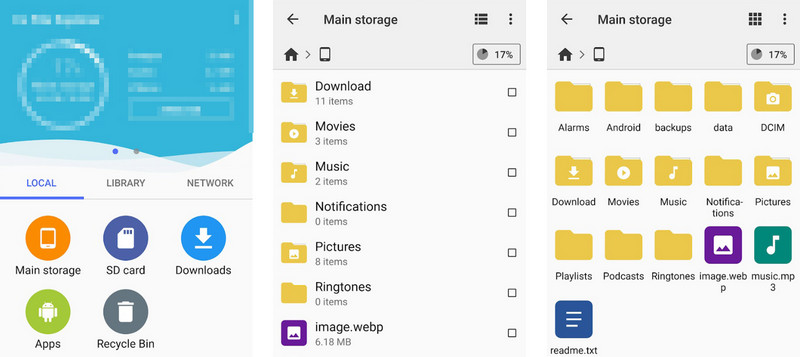 Steps on How to Use File Explorer:
Step 1.
On your Android device, launch the File Explorer app and navigate to where the temporary files are being kept, either internal storage or SD card.
Step 2.
Find the Android folder, open the data folder, and select the Cache folder.
Step 3.
Inside that folder, find the
fb_temp
and open the file to retrieve the deleted message from Facebook.
4. Inspect
For those who access Facebook on their computer and haven't cleared their browser cache since the deletion of a message, there is a possibility that the temporary files may contain your deleted messages. It is worth noting that this method is more technical than the previous one we mentioned. Sometimes, the result is not what you expected, but the possibilities are still there if you want to try. By following the steps included, learn how to see deleted messages on Facebook using this method.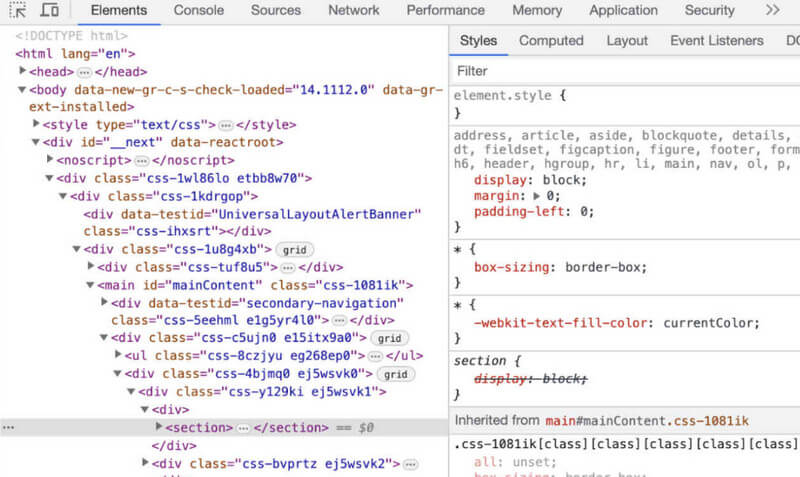 Steps on How to Use Inspect for Retrieving Data on Facebook:
Step 1.
Open your web browser and log your account into the main website of Facebook.
Step 2.
Open the chat where you want to retrieve the currently deleted message.
Step 3.
In the empty area of the chat interface, right-click it, and choose
Inspect
or
Inspect Elements
from the context menu that appears.
Step 4.
After that, windows with code snippets will show; look for the
Console
tab and type localStorage to view the browser's local storage. Here, you can see the temporary message information that is.
5. Facebook Support
If the method mentioned above did not work as expected, it is best to ask for help using Facebook Support. In this way, you can actively contact chat support to help you solve the problem and restore deleted Facebook messages.
Part 2. Ways to Recover Deleted Facebook Messages with Third-party [Android & iOS]
1. FoneLab iPhone Data Recovery
How to recover deleted Facebook messages on iOS? Well, you can use the FoneLab iPhone Data Recovery. This app is comprehensive, and it highlights a powerful recovery function where it scans all of the existing and recently deleted data on the connected iOS. The app can retrieve files such as media, messages, contacts, memos, etc. It may seem challenging to use this at first, especially if this is your first time. Still, if you follow the how to recover deleted Facebook messages tutorial we added, surely you can master it in a single try.
Step 1.
You can download the app by clicking the download button presented below. Install it promptly, and launch the program to start using it.
Step 2.
Connect your device to the computer where you download the app, and click Trust when a notification appears on your iOS screen.
Step 3.
Select iPhone Data Recovery mode and tick the Start Scan button to scan your iOS data.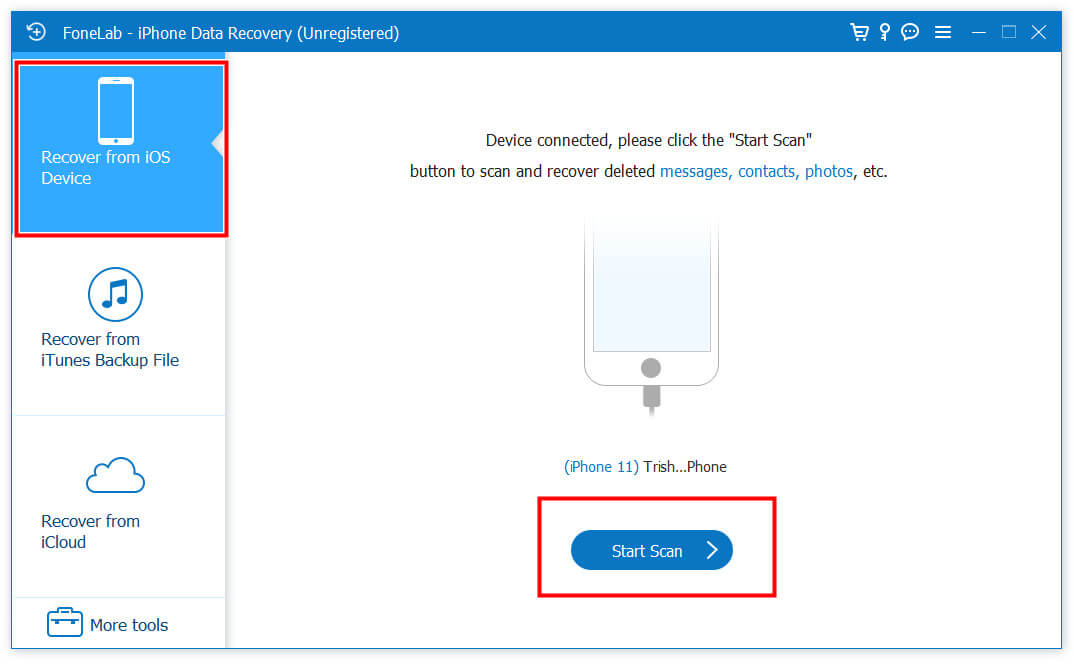 Step 4.
When it is completed, click everything you want by ticking each box, and select Recover to start recovering all of the checked data.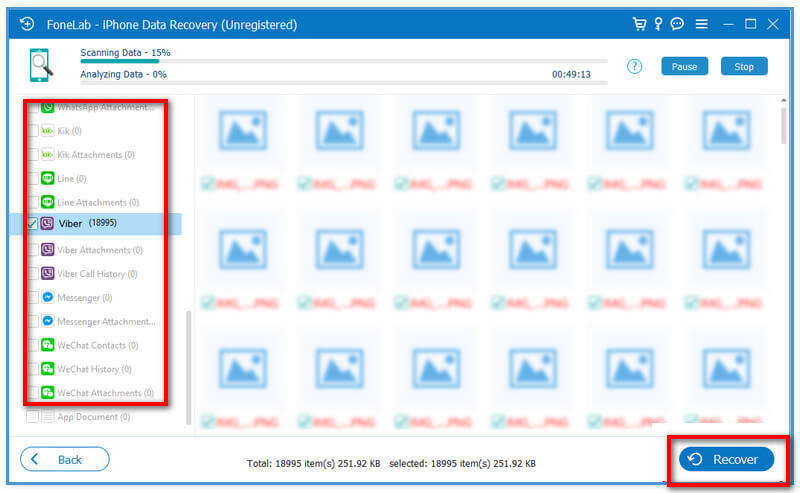 2. FoneLab Android Data Recovery
FoneLab Android Data Recovery is a complete Android data recovery app you can install on your Windows or Mac, and you can also use this to retrieve deleted messages. With it, you can quickly preview the existing and deleted messages on Facebook, WhatsApp, and other messaging platforms. It is the best option to recover deleted Facebook messages on Android. Use the steps below to learn how to find deleted Facebook messages using this app.
Step 1.
Download it on your PC or Mac, then install the package you downloaded earlier to your computer. When that is finished, click the Start Now button to launch it.
Step 2.
Connect your Android device to the computer inside the app, and this tool will detect it. Then, open
Data Recovery
.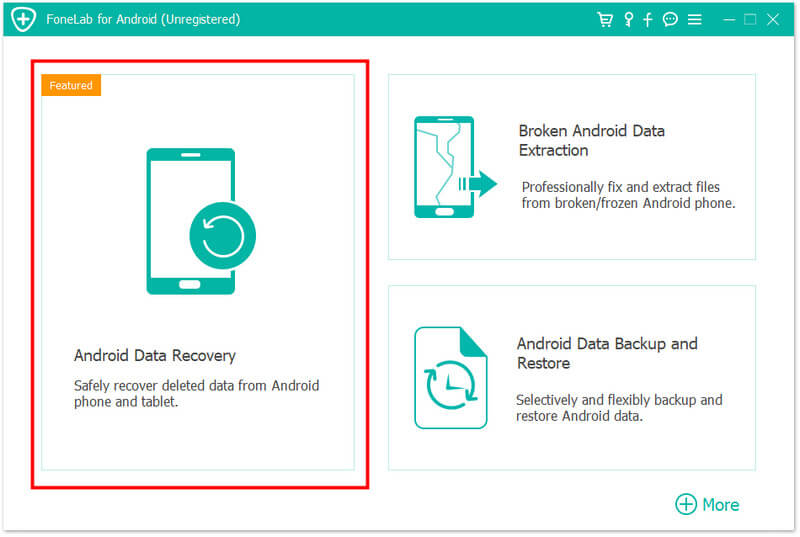 Step 3.
Choose the files you want to recover from the options on your screen. When every box is ticked, click the
Next
button.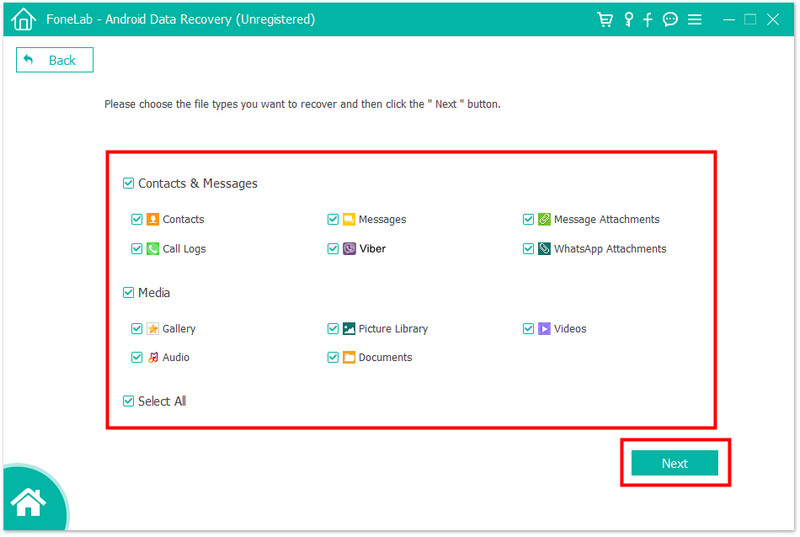 Step 4.
Take a quick preview of every data the app scans before you export it. Click Recover to start the process and export the files.