Simple Ways to Remove Watermark from Photo
Due to copyright and other various reasons, you may easily get lots of pictures with watermarks. Sometimes, you need to remove watermark for better usage. You can directly cut the watermark part to remove the watermark. But there are always better ways to do that. In this post, we will show you how to remove watermark with online and professional watermark remover. If you just have the same need, you can keep reading to find the best answer.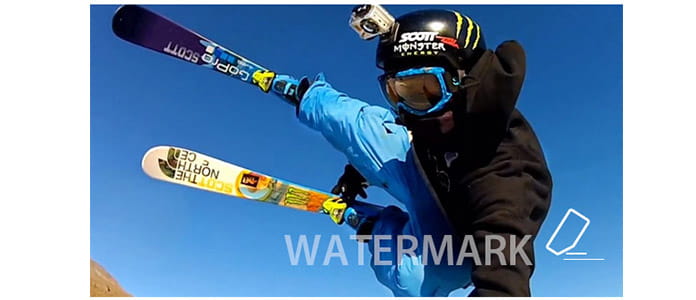 Remove Watermark
Remove watermark with online watermark remover
In case you don't want to install watermark remover software to remove watermark from picture, here we sincerely recommend online watermark removers to meet your will. You can try one to remove watermark online.
WebInpaint
WebInpaint is an easy-to-use watermark removing software to magically fill the selected watermark area. With its help, you can handily remove watermarks, repair old pictures, delete unwanted people/objects from photo, erase wrinkles and skin blemishes and more within just a few clicks. You can follow the following steps to remove watermark from photo.
Step 1Open WebInpaint

Navigate to WebInpaint site on Chrome, Safari, Firefox, IE, etc.
Step 2Upload image
Click "Upload Image" button to add the picture you want to remove watermark. During this step, you need to log in your email or Facebook account.
Step 3Remove watermark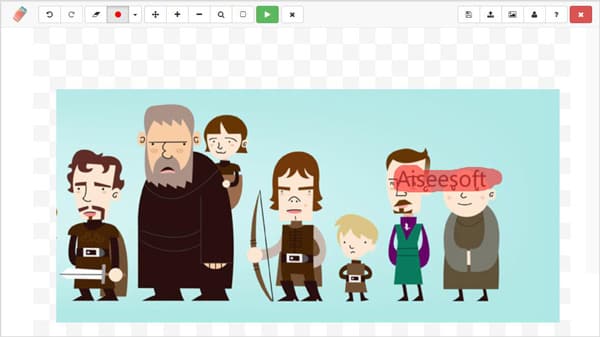 Use the magic pen paint on the watermark area. After that, click the green "Start" button on the top bar to remove watermark from the picture.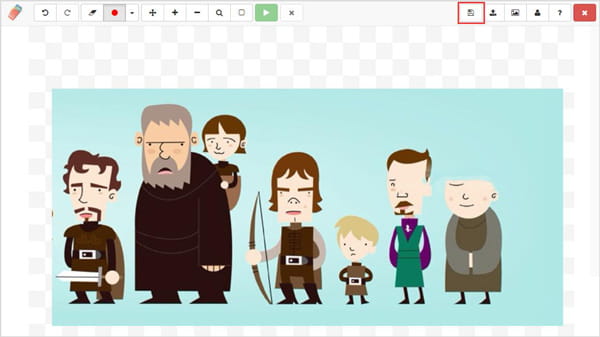 Then you can click "Download" button to get the picture saved on your computer.
With this method, you can easily remove watermark from a photo. And under most circumstance, the watermark can be erased very effectively.
Pixlr
Pixlr is an another free online watermark remover. It is equipped with many useful features to help you edit your pictures. Similar to Adobe Photoshop, it can work as a powerful image editor to remove watermark from photos. Moreover, Pixlr highly supports various languages of the world. It's very convenient for you to take any operation. You can remove watermark online by taking the following guide.
Step 1Launch Pixlr Editor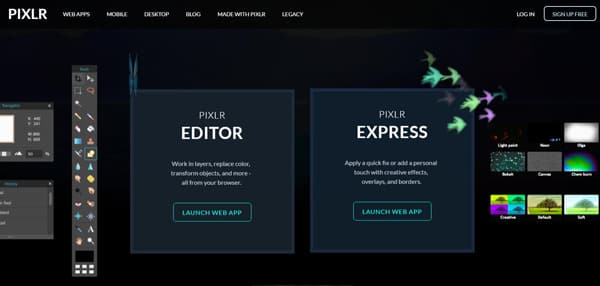 Open your browser and open the Pixlr site. Select the Pixlr Editor and click "LAUNCH WEB APP".
Step 2Upload picture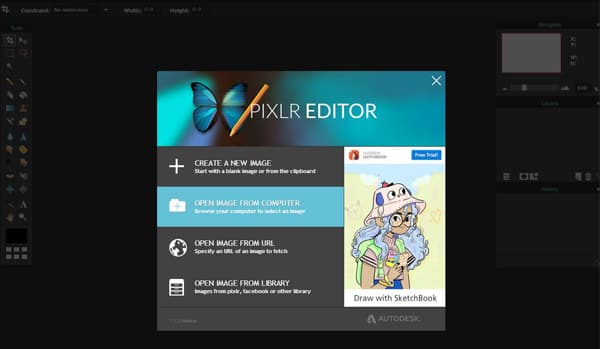 Click "OPEN IMAGE FROM COMPUTER" to import the photo you want to remove watermark from the pop-up window.
Step 3Remove watermark from photo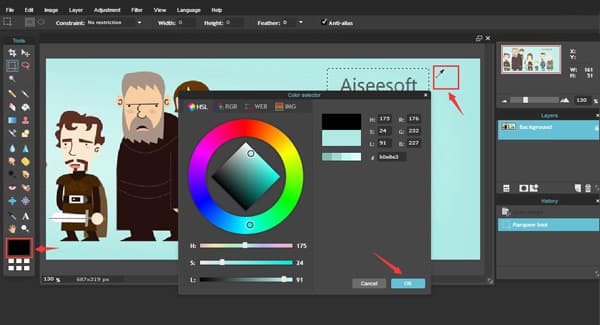 When the picture is added to this software, you can use "Marque tool", "Pencil tool", "Drawing tool" and more to remove the watermark part. And you can click "File" > "Save" to get the new picture on your computer.
Don't miss: How to Remove a Watermark in Word
Pixlr is a more powerful photo editor than WebInpaint. But you may feel a little bit harder to remove watermark with Pixlr. Because the steps of removing watermark on Pixlr is very similar to Adobe Photoshop, so we will show you detailed information at the next part.
Remove watermark with professional software
As the professional image-processing software, Adobe Photoshop also can help you remove watermark. There are various features are designed in Photoshop, which can assist you in removing unwanted watermark from photo. In this part, we will show you how to remove watermark with Photoshop step by step.
Step 1Launch Adobe Photoshop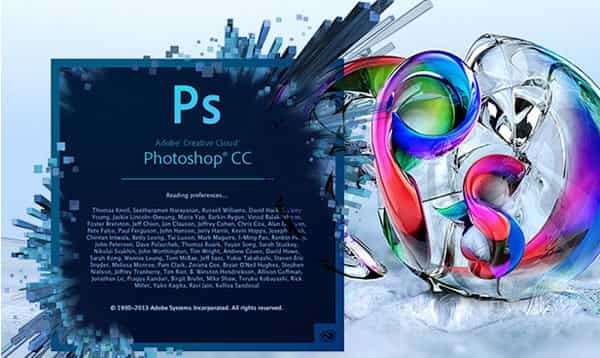 Download, install and open this powerful image-processing tool on your computer.
Step 2Add picture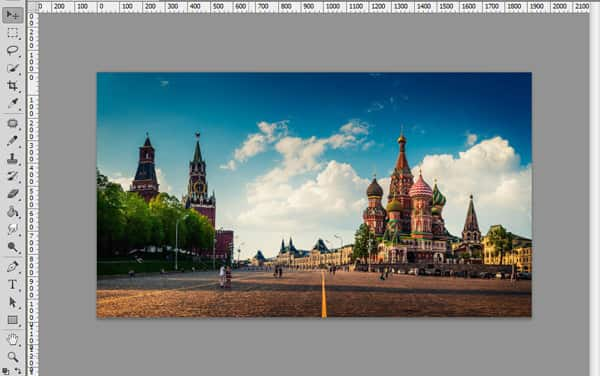 Directly drag the picture you want to remove watermark to the interface of the Adobe Photoshop. Also, you can click "File" > "Open..." or use shortcuts to load photo.
Step 3Remove watermark from a photo
➤ If the watermark is putted on the edge position of the image, you can choose to remove watermark by cutting that unnecessary part.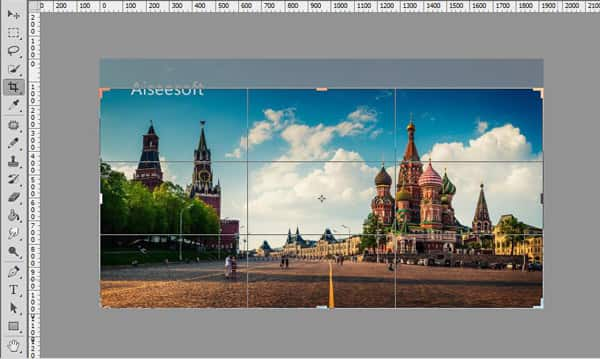 Click the "Crop Tool" on the left toolbar of the interface, then you can freely drag the controls to cut the watermark part. Type "Enter" on your keyboard to confirm the operation.
➤ If the watermark is surrounded by the same color, you can paint this part to erase watermark.
Click "Marquee Tool" or "Lasso Tool" to select the whole watermark area. Use "Eyedropper Tool" to copy the background's color. Then click "Pencil Tool" or "Paint Bucket Tool" to paint and remove the watermark.
➤ If the watermark is complex, you may need to rely on the "Content-Aware Fills" feature to remove watermark.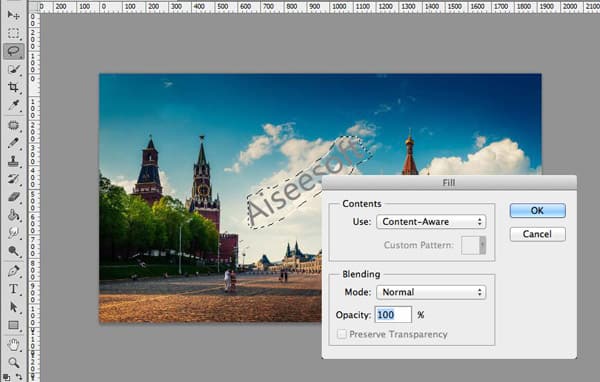 Use "Lasso Tool" to select the watermark part. After make the selection, click "Edit" on the top bar and then choose "Fill". Make sure you select the "Content-Aware Fills" and then click "OK". The professional watermark remover will automatically remove watermark from the picture for you.
In this post, we mainly talk about how to remove watermark online and erase watermark with professional watermark remover software. You can choose any method according to your need. Hope you can easily remove the watermark from a photo after reading this post.