Ultimate Guide of Watermark on Video, Picture, and Document
Get a video or photo with a watermark and want to remove it? What is a watermark?
Nowadays, you can easily access lots of media files and documents that come with a watermark. A watermark placed in a video, photo, or document is mainly used to inform other people that it is created by someone, should not be copied, contains confidential information, or is a draft file.
For different reasons, you want to create your own watermark and add it to your video, picture, or document. Are you looking for a way to create a watermark? While in some cases, you may need to remove a watermark from a file. This post will give you a detailed introduction to the watermark. You can learn what a watermark is, how to create or remove a watermark, and related information.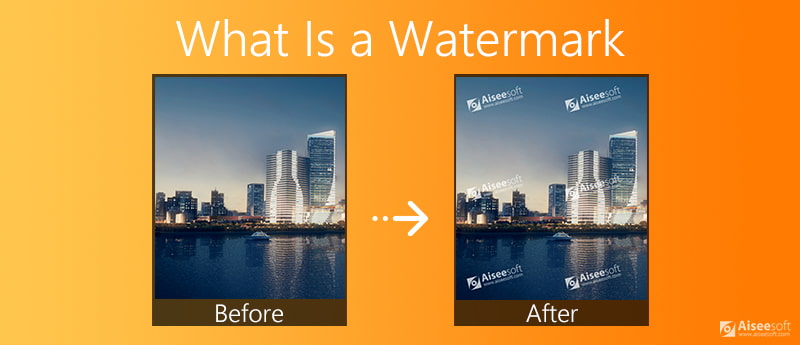 Part 1. What Is a Watermark
A watermark is a logo, overlay, text, or pattern that is intentionally placed over a digital asset. In general, the watermark is monochromatic and transparent. It won't affect others to view the main content of the video, photo, or document. This kind of mark or a symbol embedded in an asset is to identify its ownership or authenticity.
What is the purpose of a watermark
The main purpose of the watermark is to proclaim the ownership of the object. It can show the file source and copyright, and discourage theft of the watermarked material. Watermark makes it more difficult for the original video, picture, or document files like Microsoft Word, Excel, and PDF to be copied or used without permission. These days, you can also see some kind of audio watermark in songs and audio tracks.
Watermarking can simply be used as a branding tactic. Similar to the signature on a painting, a digital watermark can heighten brand awareness. You can see many camera brands like Sony, Canon, Nikon, Fujifilm, and more export pictures with its watermark. For some smartphones like HUAWEI and Xiaomi, you can choose to add a watermark to your captured photos or not.
Moreover, watermarking offers a simple way to better protect the copyright of your work and ensure it cannot be reused or altered without your permission.
A watermark on a Microsoft Word, Excel or PDF document can act as a stamp to indicate the status of a document. It comes with terms like VOID, COPY, or SAMPLE.
For some commercial usage, watermarking can be applied on low-resolution copies of the images, mainly used for previewing. After you purchase it, you can get a high-resolution copy of the image without the watermark.
Part 2. How to Create and Add a Watermark
Nowadays, the concepts of we media, network, blog, virtual communities and other new media have become quite popular. You can see many media files, images and documents attached with various watermarks. Are you looking for a way to make your personal watermark and add it to your file? Keep reading and add a watermark to your video and other files.
Add watermark to photo
With so many photo editing tools offered on the market, you can easily make and add a watermark to a picture, either on Mac, Windows PC, online free or portable iOS/Android device.
If you want to add watermark on photos directly on your phone or pad, you can go to App Store or Google Play Store to install a third-party watermarking app. When you get there, you can simply search for a watermark and then install your preferred one for the watermarking.
For better photo editing on the computer, you can rely on some professional editor like Adobe Photoshop. Compared with other image editors, it can give you more picture editing features. Whether you want to add a stamp watermark, text watermark, or add another picture overlay, you can use specific tools to do that. In addition, you can easily adjust the size and opacity of the added watermark.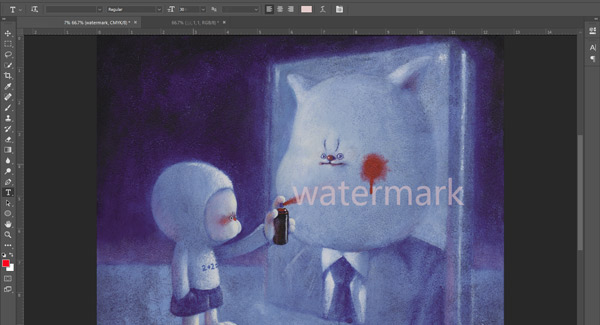 There are also many online watermarking tools that can help you add a watermark to photos online free, such as Watermarkly, Online Photo Watermarker, and more.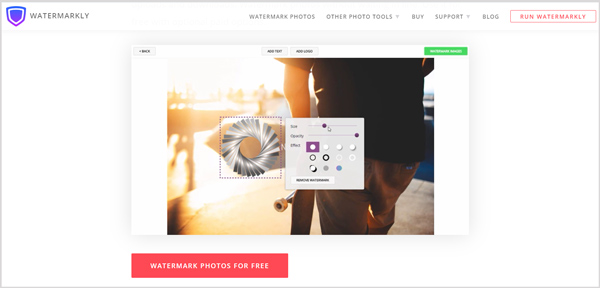 Add watermark to video
Relatively speaking, watermarking on videos can be more difficult, comparing with adding a watermark to photos. But there are still video editors that carry the watermarking function. Here we introduce you to the powerful video watermarking software, Video Converter Ultimate. It enables you to add a watermark to video on both Windows 10/8/7 PC and Mac.
Step 1.
Double click on the download button above and follow the instructions to free install it on your computer.
Step 2.
Click
Add Files
to import the video(s) you want to add watermark. Then you can click
Edit
or
Cut
icon to enter the main editing window.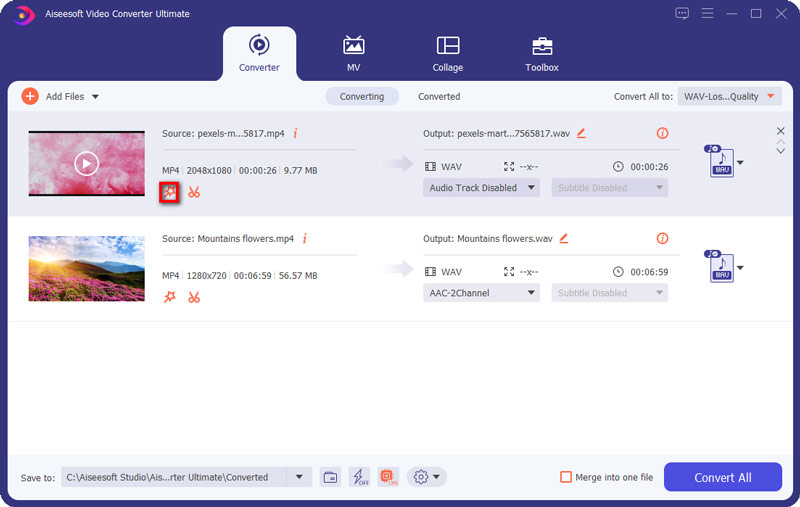 Step 3.
Click on the
Watermark
tab, and then you are allowed to add text or image watermark to the video. Many watermarking options are offered there for you to freely custom the font, size, effects, color, opacity and more of the inserted watermark.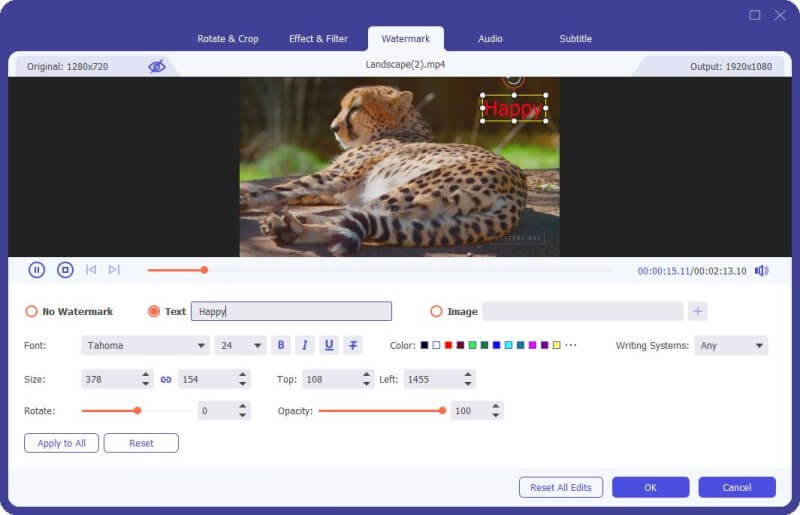 Step 4.
Click the
OK
button to confirm your operations. Then you will be taken to the home window. Here you can select a suitable output format for the watermarked video. After that, you can click
Convert All
button on the bottom right to save it on your computer.
Add watermark to Microsoft Word
When you want to add watermark to your Word document, you can click the Design tab and then select Watermark option. Now you are allowed to add a text or picture watermark to Word file based on your need. For Mac users, you can use the same method.
Add watermark on a PDF document
To add a watermark to a PDF document, you can rely on the professional Adobe Acrobat DC or online PDF editor tools.
You can open your PDF file in Adobe Acrobat DC, choose Tools and then Edit PDF option. Now you can see the Watermark feature. Click Add to add a watermark to PDF.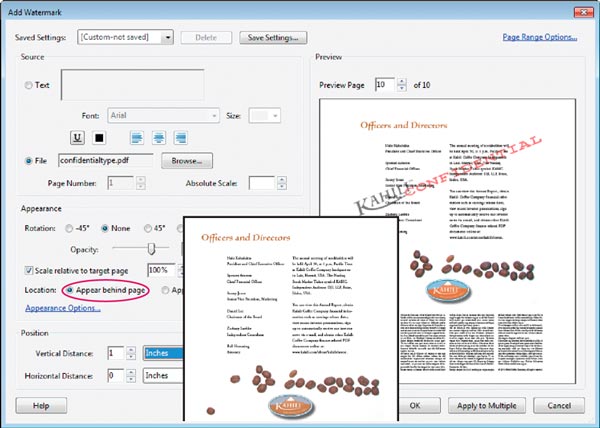 If you prefer a free way to edit your PDF document and apply watermark to it, you can use some online PDF editor like Soda PDF Online. You are allowed to add and edit a PDF file through a computer, Dropbox or Google Drive.

Insert a watermark in Excel
Microsoft Excel does not come with a built-in watermark feature. But you can rely on its Insert function to put a text, image or logo on an Excel document as a watermark.
When you are editing on Excel, you can click on the Insert tab. You can choose Text and then Header & Footer or WordArt to create a watermark on Excel. During this step, you are also able to drag a picture onto it for watermarking.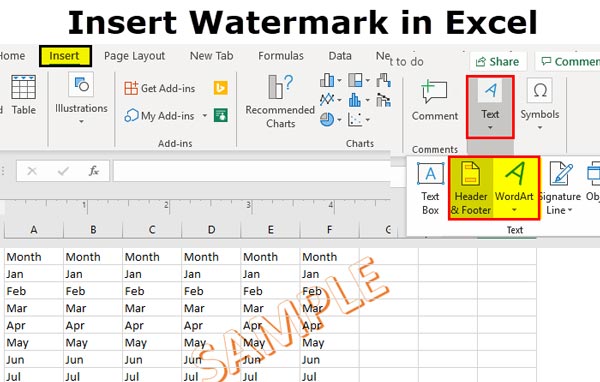 Part 3. How to Remove Watermark
For some specific reason, you want to remove watermark from a picture or video. When it comes to restoring the intact image or video from watermarked one, you may feel hard to do it. Considering your need, this part like to share 2 effective ways to remove watermark with ease.
Remove watermarks from photos for free
You can rely on the Autofill function in Photoshop to try removing watermark from a picture. But the truth is, we prefer a free way to quickly remove watermarks from photos. Here we introduce you with a popular online watermark removing tool, Free Watermark Remover.
This free watermark remover is able to get rid of any unwanted watermark from photos in seconds. It can easily efface any watermarks including text, camera date stamps, graphic logos, and more watermark objects from pictures. With the adoption of the advanced watermark automatic recognition feature, it can accurately remove watermark from any image files like JPG, JPEG, PNG, BMP, TIFF, and more.
Step 1.
When you want to remove a watermark from a photo, you can open your browser like Chrome, IE, Firefox or Safari and go to this
Free Watermark Remover
site.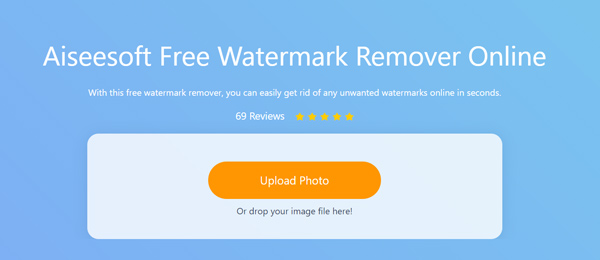 Step 2.
Click the
Upload Photo
button to load the image file you want to remove its watermark. Then you have prompted a detailed guide on how to remove the watermark from the photo.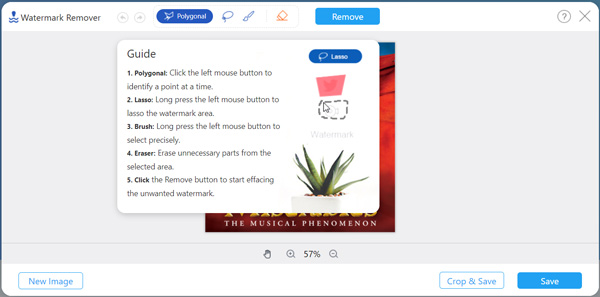 During this step, you are allowed to freely adjust the loaded image size for better removal. Select a suitable watermark removing tool to select the watermark area. After that, click on the Remove button to start removing the watermark from this picture.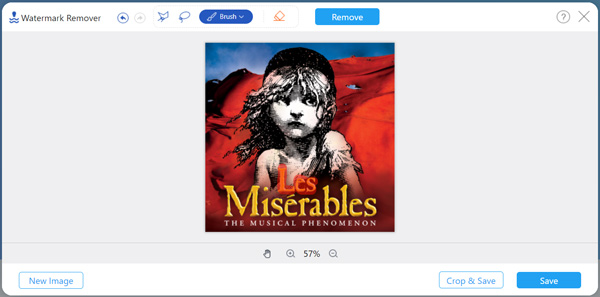 Step 3.
The watermark on your picture can be easily and accurately removed. Then you can click
Save
button to save it on your computer.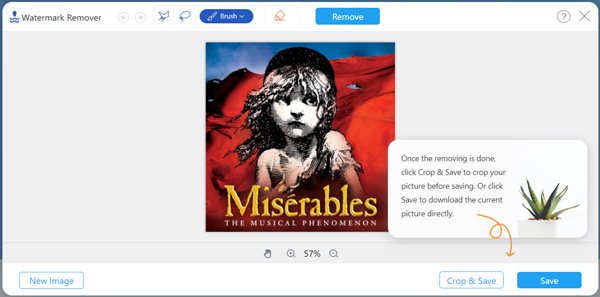 Before or after the watermark removing, you are allowed to crop the added image file. Your photos are safe with this online watermark remover. All uploaded pictures will be automatically deleted from its server after editing.
Removing watermark from videos will be much harder than removing from pictures. But there are 3 kinds of ways to delete watermark from video.
You can choose to crop video to remove the watermarked region, blur the watermark or replace the original watermark with a new one. Luckily, you can achieve all of them with Video Converter Ultimate, the best option when you want to remove a watermark from a video.
As mentioned above, it allows you to add a new watermark to replace the original one. Moreover, it carries a Crop feature for you to remove watermark from video with cropping way.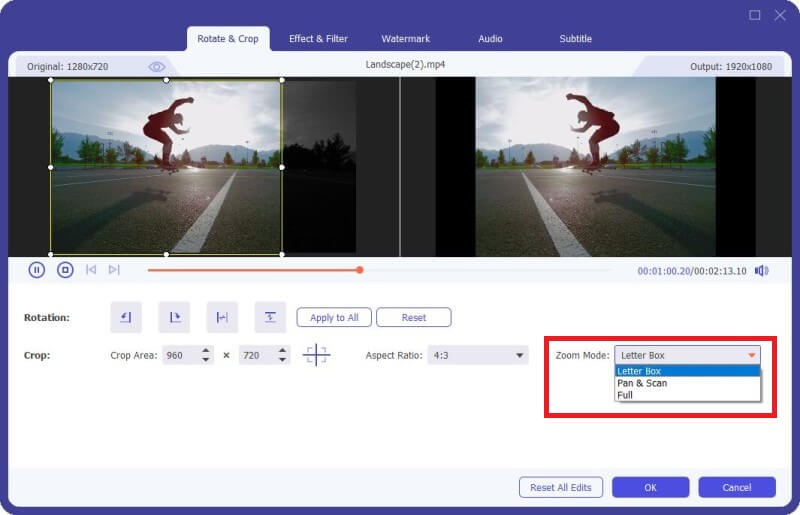 And it has added a new Video Watermark Remover feature recently, which can help you blur the watermark using image around with the advanced AI technology.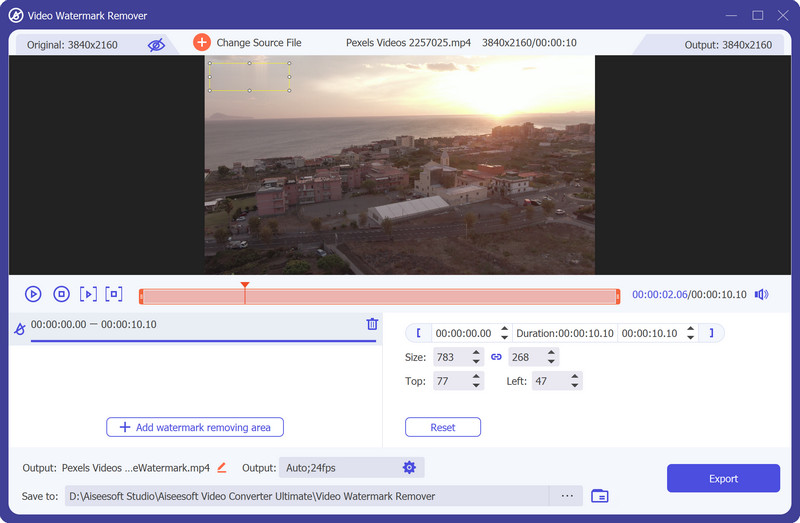 For small video clips, you can rely on online video watermark remover tools to erase the watermark. Some popular ones like HitPaw Online Watermark Remover and Apowersoft Online Video Watermark Remover can help you get the watermark removing. But we have to admit that, they can't remove watermark from videos accurately. Read more about how to remove watermark from video.
Part 4. FAQs of Watermark
Question 1. Who should use a watermark?
Watermark can be used for different needs. If you want to protect your work, or attach it to you, you can add a watermark to it. Whether you are a photographer, cameramen, animator, illustrator, or graphic designer, you should use a watermark when sharing photos, videos and documents online.
Question 2. Can I remove watermark for commercial usage?
You should not remove watermark for commercial usage. According to the Section 1202 of the U.S. Copyright Act, it's illegal to remove the watermark from one copyright-protected photo. Or you may get fines starting at $2500 and go to $25,000, in addition to attorneys' fees and any damages for the ownership violation. You can erase watermark for your personal usage, but not for commercial, or fully public broadcasting.
Question 3. Do watermarks really protect your work?
In most cases, watermarking your work doesn't protect your creations. But you can still protect your art a little bit. And watermark can better attach your work to you, notifying others it belongs to you.
Question 4. Can I remove a watermark in Word?
Yes. You can open the watermarked document in Microsoft Word, click the Design section, choose Watermark, and then select Remove Watermark from its drop-down menu. Learn more about removing watermark in Word here.
Conclusion
After reading this post, you can know more useful information about the watermark. You can get a better understanding what a watermark is, how to create and add a watermark, and how to remove a watermark.

Leave your comment and join our discussion