How to Resize a Logo With and Without Photoshop Efficiently
You need to resize a logo or a photo for various reasons. Notice that when the logo is too large in file size, it is slow to load, especially on a website. It could give a not so good experience to your visitors. In other words, the size of your photos determines whether it is fast or slow to load on a website.
In some instances, enlarging a logo is necessary when delivering a presentation. That is vital because you discuss the logo's details and what each element signifies. Whether you are decreasing or increasing your logo, there are programs you intend for this kind of need. Read along and learn more about these tools and how you can use them to resize a logo.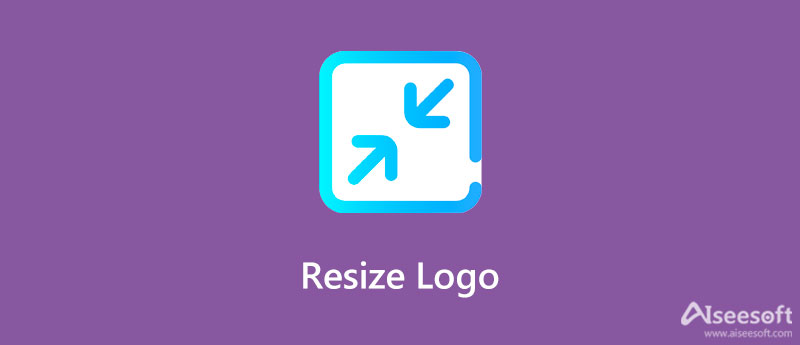 Part 1. How to Resize a Logo Online
This section of the post shows the methods you may employ to upscale images, compress and shrink and crop logos. The best part is they all work online, meaning you do not have to install anything on your device. Otherwise speaking, you can process logos and photos directly from the web.
1. Aiseesoft Image Upscaler Online
An effective and efficient program is necessary when enlarging a logo or photo for a presentation. Aiseesoft Image Upscaler Online is a recommended program to help you with this process. It is equipped with a super artificial technology that enables users to zoom in and enlarge logos while keeping the quality of the logo. Furthermore, this tool can give you four results for upscaling because it is available in 2X, 4X, 6X, and 8X magnification factors. The higher the upscale the factor, the larger the logo becomes.
Here is a step-by-step process of how to resize a logo for presentation:
Step 1:
To begin, launch a browser you commonly use and visit the program's official page. From the home page, hit the
Upload Photo
and select your target logo from your file folder. As an alternative, you may drop your logo on the web page directly.

Step 2:
Upon uploading your logo, it will be upscaled by a 2X magnification factor. You may hover over the former and the resulting image to see the difference in details. If you are not delighted with the appearance, you may choose another magnification factor to get your desired outcome. You may also check the
Original and Output
sizes for your reference.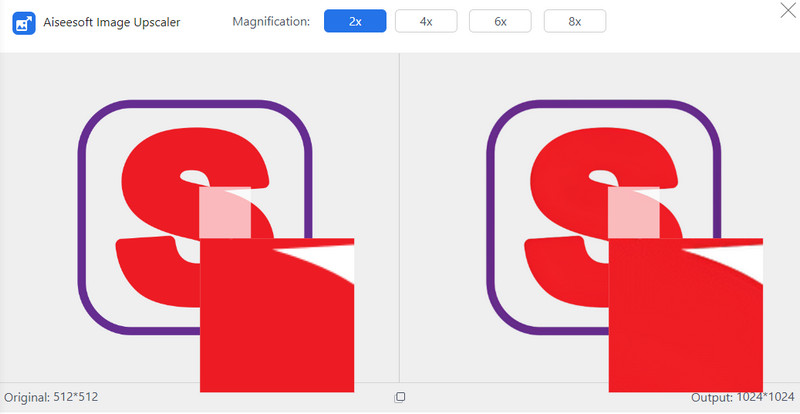 Step 3:
Now, hit the
Save
button to download the final output of the logo. The output can be located in the Download folder of your computer. You can process another by hitting the
New Image
button.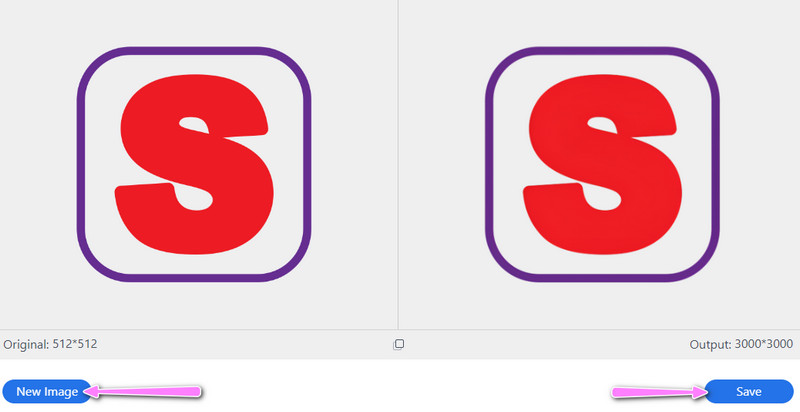 2. Aiseesoft Image Compressor Online
Aiseesoft Imager Compressor Online is an excellent tool that assists you in resizing photos to smaller file sizes. In like manner, the program is supported by an AI technology that makes the compression process quick and easy. Moreover, you can upload and resize multiple logos using this tool. Mainly, you can process up to 40 images in total. Aside from that, it reduces the file size of a logo or photos to 90%, with quality preserved. If you wish to know more about this program and how to resize a logo without losing quality, refer to the guide below.
Step 1:
Open a browser and visit the tool's website by typing its name on your browser's address bar.
Step 2:
Next, hit the
Add Images
button from the home page and choose your target logo to shrink.

Step 3:
Once the logo is uploaded, the program will instantly reduce its size without you tweaking any settings. Lastly, hit the
Download
button to save and download your constricted logo.

3. IMG2Go.com
In case you need to crop the photo to remove unwanted areas on the outside edges, you can depend on IMG2Go.com. What sets this program apart from the aforementioned programs is that you may import files from Dropbox and Google Drive. Also, you may upload from your local folders. Beyond that, you could apply various aspect ratios for cropping the logo. You can employ 3:2, 5:3, 4:3, 10:8, and many more. Alternatively, you can customize the aspect ratio using the handles for cropping. On the other hand, you can learn how to resize a logo for an email signature by following the instructional guide below.
Step 1:
Go to IMG2Go.com's official web page using any browser on your computer. Then, select the
Crop image
option from the home page.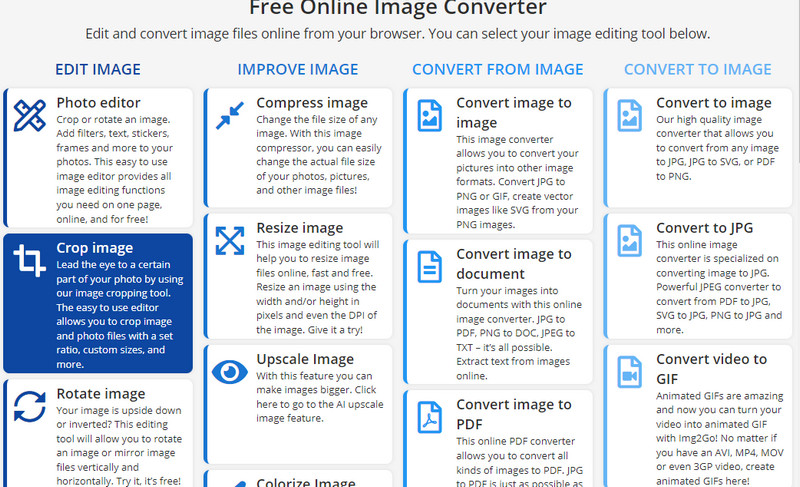 Step 2:
After that, hit
Choose File
and import your desired logo to crop. Next, adjust the cropping area using the handles or the preset aspect ratio on the menu above.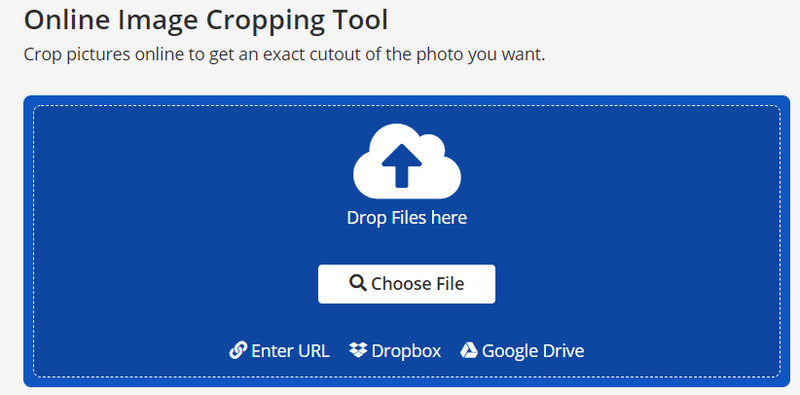 Step 3:
Lastly, hit the
Save as
button and select a target format. Rename the file and hit
SAVE
to download the output logo.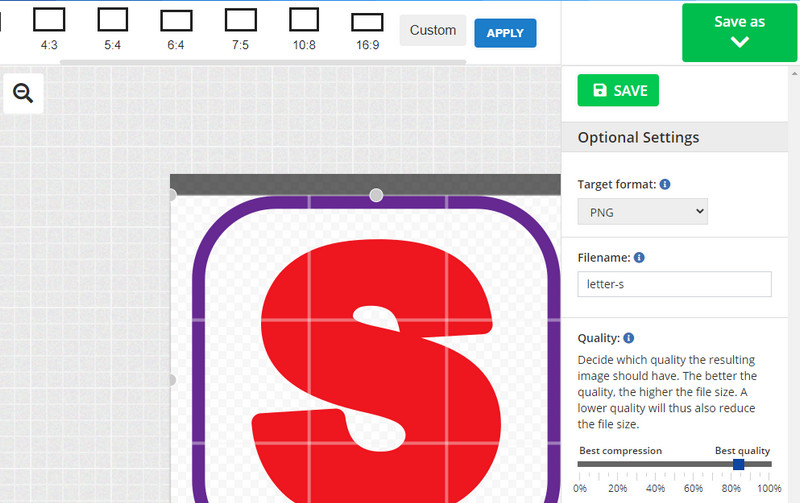 Part 2. How to Resize a Logo in Photoshop
With Photoshop, users may create, edit, crop, and resize logos or photos. Most professional editors utilize a comprehensive tool due to its extensive collection of editing tools. You can retouch and fix damaged photos by changing background colors, areas, and many more. See the steps provided to learn how to resize a logo in Photoshop.
Step 1:
Install and launch Photoshop on your computer. After that, upload your target logo to resize. Then, you will get to the program's main editing interface.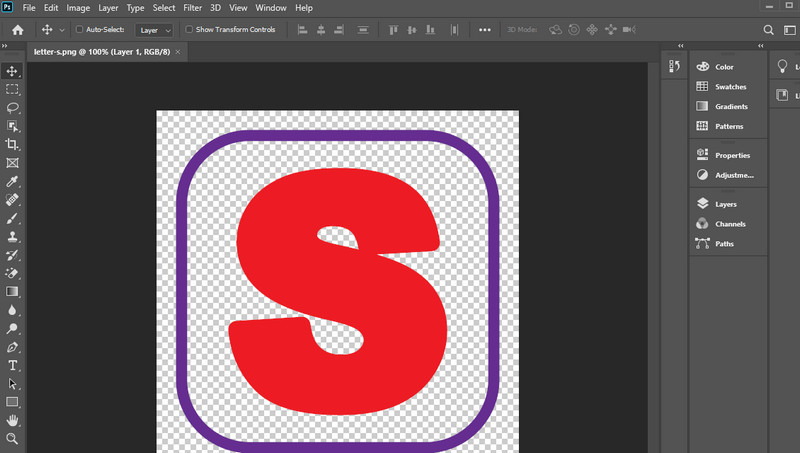 Step 2:
Next, navigate to
Image > Image Size
. Right after, the Image Size dialog box will appear.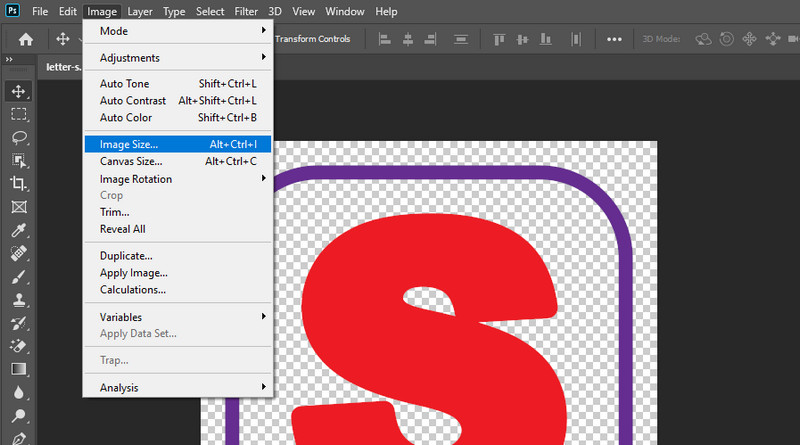 Step 3:
Lastly, hit the
Save as
button and select a target format. Rename the file and hit
SAVE
to download the output logo.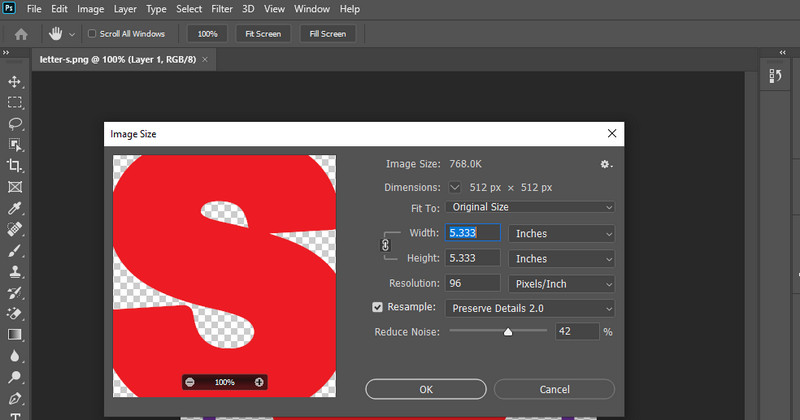 Part 3. FAQs About Resizing a Logo
How can I edit an existing logo?
If you want to edit an existing logo, we recommend using Photoshop for the flexibility of editing tools and features. Yet, if you are looking for a free program, GIMP is an excellent alternative.
How can I save a logo without a background?
After creating a logo, remember to save the photo as a PNG file so the photo will have a transparent background. If there is already a background, you can use a background remover to make logo background transparent.
How can I edit the logo in Illustrator?
Illustrator is a software product offered by Adobe that will help you edit HD logos design. You may change the element and text colors. You may also incorporate a photo or icon as you like using the program.
Conclusion
You can choose a logo resizer from above that you like the most. In general, online programs are practical tools to utilize because you can resize logos without installing software on your device. However, Photoshop may be the right pick if you want a stable tool. Yet, many users find it expensive. Still, you have the final say.

Leave your comment and join our discussion