Full Guide on Samsung Bootloader Unlock
What is bootloader on Android? Like BOIS interface to windows operating system, bootloader is the first code executed before running Android OS. An Android bootloader includes the instructions of booting operating system kernel. Most of them particularly instruct to run their modification or debugging environment. Different Android phones have diverse Custom ROMs because each motherboard has its bootloader that make the processor specific. Bootloader works to check and initialize the Android phone hardware and booting software. Also, it can be adopted for flashing official software release. You need to backup Android before bootloader unlock.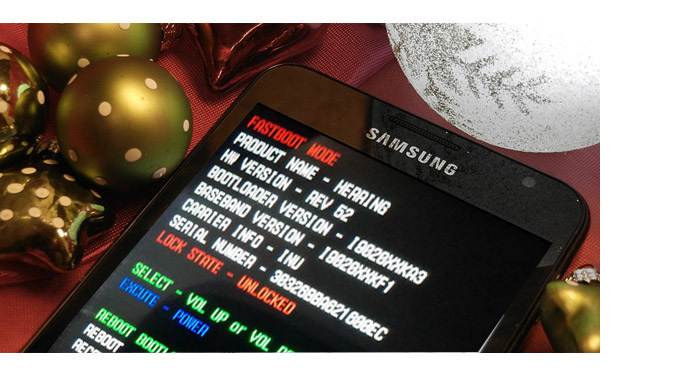 Part 1. Check Samsung bootloader
You need to first check whether your Samsung phone's bootloader is locked or unlocked. It is easy for you enter your Samsung bootloader.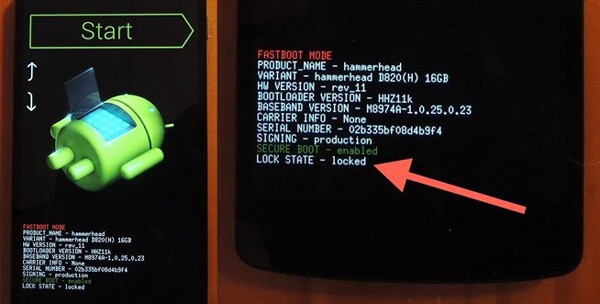 Step 1 Power off your Samsung phone. Press and hold down three physical keys of Home, Power and Volume Down. Release them when the screen is lightning, and then press the Volume Up key.
Step 2 Check whether there is option of "Unlock" or "Lock".
Part 2. Advantages and Disadvantages of Bootloader
Bootloader enables you to break the default Samsung factory restrictions and bring you great convenience when you want to root Samsung to gain more features, download new apps, delete default apps and so on. But you cannot ignore the disadvantages of bootloader. In this part, we will focus on discussion of advantages and disadvantages of bootloader.
Advantages
◆ Break many default restrictions limited by locked bootloader.
◆ Personalize the phone according to your need.
◆ Download or delete any applications for your reference.
Disadvantages
Created by Samsung, Knox is a security system for its Android terminals that allow writing to memory when your Samsung device is altered by bootloader unlock or rooted. When you head for bootloader unlock, you have o break the Knox.
◆ The warranty of your Samsung would be invalid once you unlock the bootloader. If you care less about the warranty, then you could consider to unlock bootloader.
◆ Some inappropriate procedures will affect or damage the Samsung phone.
◆ Your Samsung phone would run worse than before.
◆ Wrong operations will lead to unexpected result.
Part 3. Backup your Samsung before bootloader unlock
Before you go for bootloader unlock, you should make Android backup before bootloader unlock for the best.
Step 1 Connect your Samsung phone to computer and launch Kies. Choose "Back up/Restore" tab.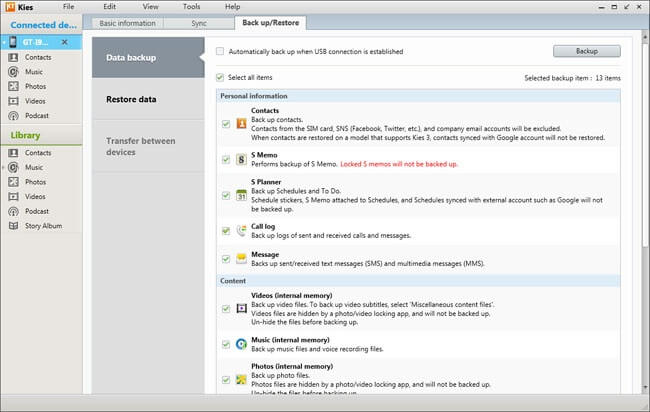 Step 2 Tick the files you want to back up. Click "Backup" button. Click "Complete" when the backup process is done.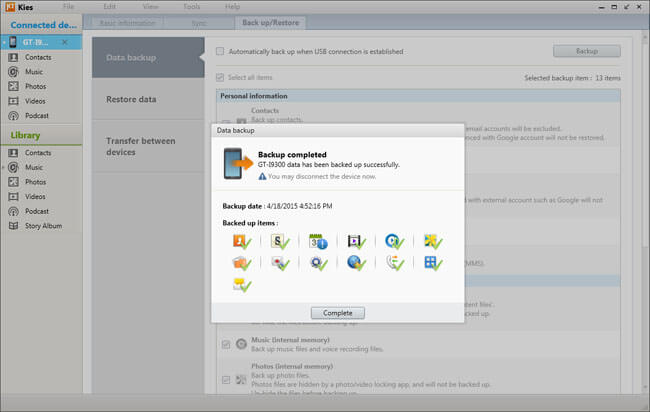 Note: You can also choose "Automatically back up when USB connection is established".
Bonus tips: Restore Samsung data with Kies.
Step 3 Plug your Android device into computer and launch Kies. Choose the tab of "Back up/Restore". And then select "Restore Data" option. Kies will automatically load all your backup files. You are able to restore whole all selected data.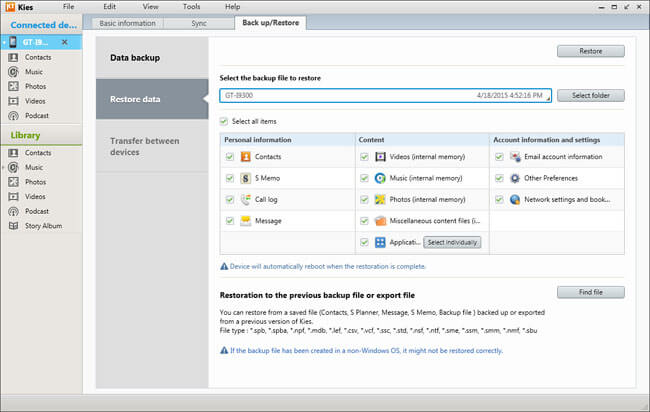 Step 4 Click "Restore" on the upper-right corner to begin retrieving Android files. Once the restoring process is finished, click "Complete" and check the data on your Samsung smartphone or tablet.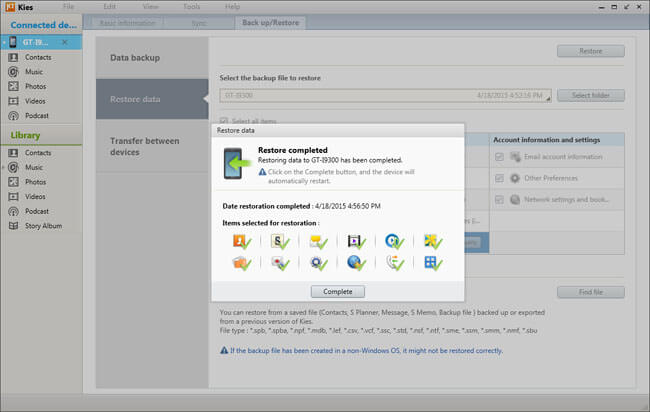 Note: Some data items may need other additional settings.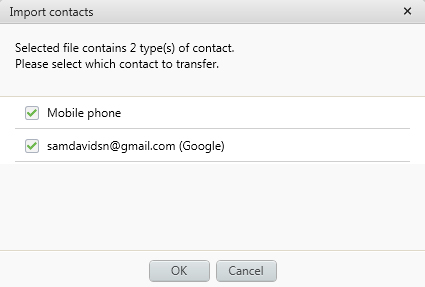 Part 4. How to unlock Samsung bootloader
In this part, we will show you two methods for Samsung bootloader unlock.
Method 1
Step 1 Download and Install Android SDK
Download and install Android SDK on your Windows or Mac computer according to your need. Plug in your Galaxy S6 Edge for example to the computer with USB cable.
Step 2 Download Superboot
Then download another tool for bootloader unlock, Superboot to your computer. Power off your Samsung phone at first and click to open Superboot to let your phone enter Superboot mode. Then you have to browse the Superboot folder, now hold the shift key and right click on any black space on the screen.
Step 3 Run Windows CMD Prompt
Then open CMD prompt from computer. Now type here "Superboot device" and press enter as it will show your device is connected to the laptop and recognized as well. Type "Superboot OEM unlock" on CMD prompt, tap on "Yes" when you get a message for confirming the operation on your samsung phone.
Step 4 Run Windows CMD Prompt
Your bootloader should be successfully unlocked. Then close the CMD prompt and disconnect the device. Simply reboot your device as you've managed to root your Samsung phone.
Method 2
You are able to search and download CROM Service from the Samsung APK Store. If you find nothing, it means your phone has not been provided with such unlock service.
Step 1 Tap on CROM Service on your Samsung phone.
Step 2 Tap on "OK" when you get a warning message.
Step 3 Confirm to unlock the bootloader.
Reading more: How to Unblock Samsung Galaxy.
Best Android data recovery - FoneLab for Android
Designed to help Android users to backup/recover Android files, FoneLab for Android highly supports various brands of Android phones and tablets, such as Sony, Samsung, Motorola, HTC, HUAWEI and so on. Just with several clicks, this brilliant software helps you make a backup or recover Android contacts, photos, messages, and more.
Step 1 Connect Android device to computer
Launch FoneLab for Android, and connect your Android phone or tablet to computer.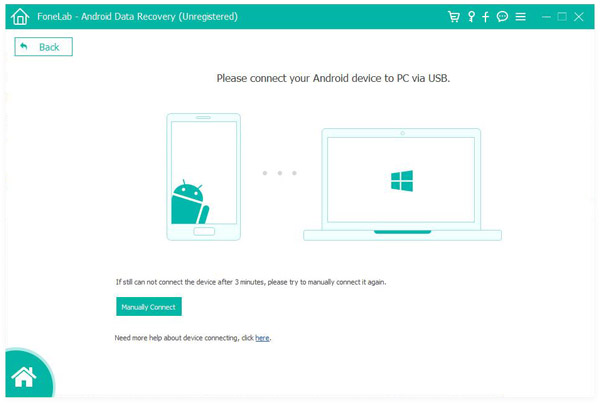 Step 2 Allow USB debugging
Allow USB debugging. If not, you can manually trigger it from your Samsung phone.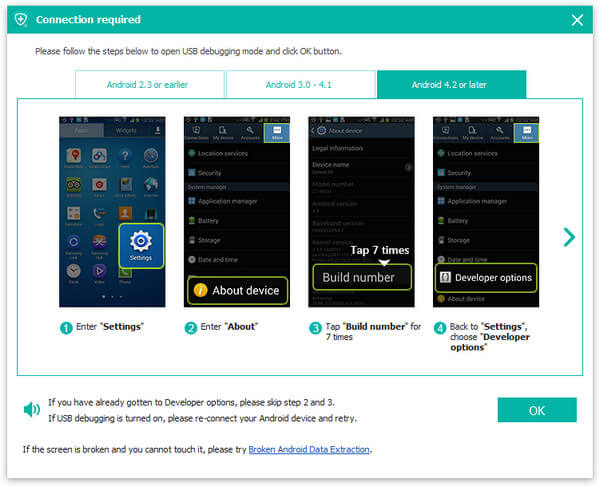 For Android 2.3 and former versions: Tap "Settings" app > "Applications" > "Development" > "USB debugging".
For Android 3.0 - 4.1: Navigate to "Settings" > "Developer options" > "USB debugging".
For Android 4.2 and later versions: Choose "Settings"> "About phone". Choose "Build number" for several times until the message of "You are under developer mode" shows. Return to "Settings" > "Developer options" > "USB Debugging".
Step 3 Select Android files to back up
You will enter the window where you need to choose file types to back up, including contacts, messages, call logs, pictures, videos, audios, documents, etc. Tick what you need and hit "Next" button.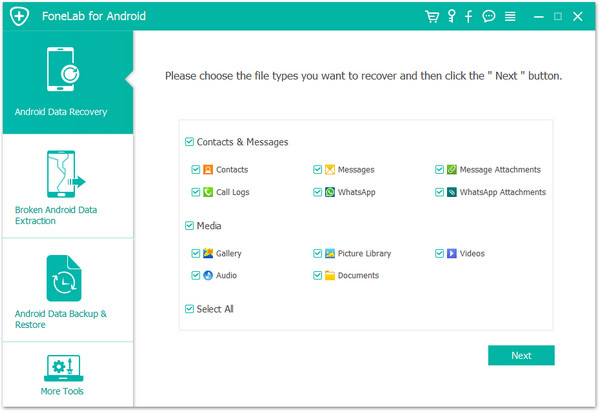 Step 4 Preview and recover Android files
Within moments, the scanning process will be done. You are able to preview the files before backup. Tick the file you want. When the selection is done, click the button of "Recover" and choose a final destination folder. Within seconds, you will find Android files you choose will be saved on your computer.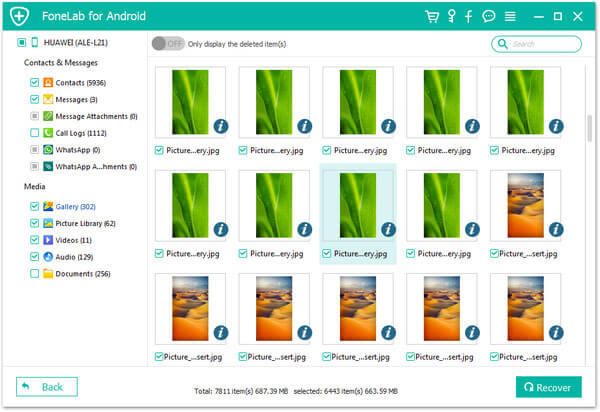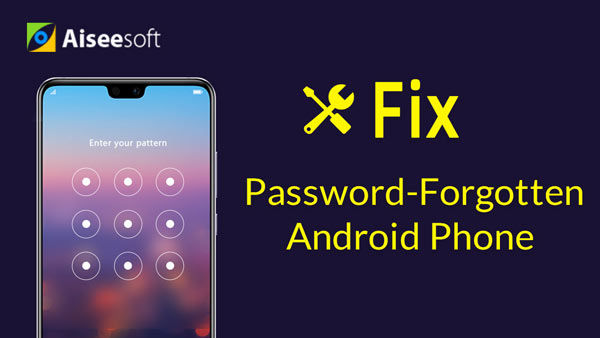 In this part, we mainly focus on Samsung bootloader unlock. You should think it over when you go for unlocking your Samsung bootloader as bootload unlock has its advantages and disadvantages. In case you lose your Android data, you can free try FoneLab for Android for recovery. Wish this article can help you.