How to Unlock Samsung Galaxy S6/S5/S4/Note 4 without Password
"How can get Samsung Galaxy S5 unlocked? I forgot the password and try for several times till the Android phone gets totally locked. Can someone help me to bypass Samsung lock. I have some important files on the phone."
"How to unlock Samsung Galaxy S4? I don't want to factory reset this Android phone as there is no backup for that."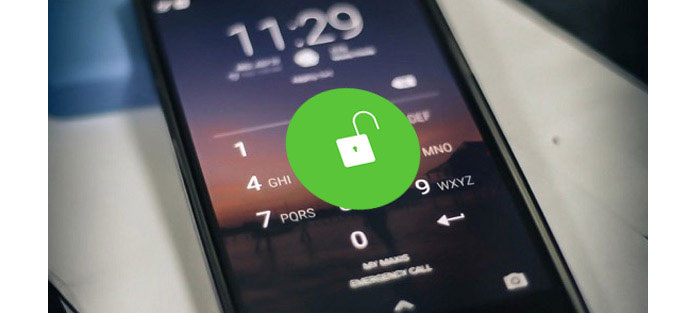 First, don't panic. It is common that Samsung Galaxy phones or tablets get locked. Whatever reason why Samsung is locked, you may be desperate to unlock the phone or bypass the phone pattern or PIN code. Then you are in the right place. There are several ways we will show you to unlock your Samsung Galaxy S6/S5/S4/Note 4 and other phones without any password, and you don't need to perform a factory reset to your Samsung device, so that you won't lose any data.
You can also read this article: Unlock Samsung Galaxy S6/S5/S4.
Part 1. Unlock your Android device using Android Device Manager (ADM)
A service called Android Device Manager (ADM) sounds good for unlocking newer Android smartphones and tablets, including Samsung devices. Any device or computer is available to access ADM service, as long as you make sure your Samsung device has been logged into your Google account.
Step 1 On a computer or other mobile phone, visit the site of Android Device Manager.
Step 2 Sign into it with your Google account. Make sure the Google account is the same with the one with which you logged into on your Android phone. In the ADM interface, choose the device that you prepare to unlock, and click "Lock".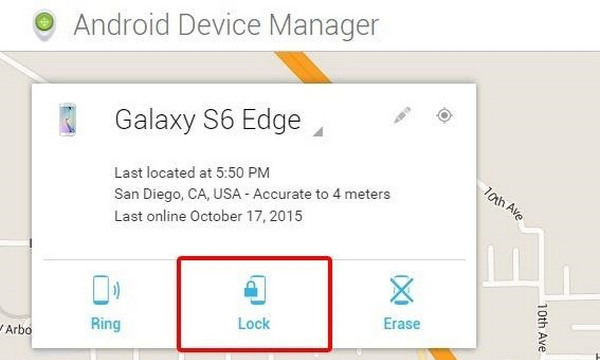 Step 3 In the pop-up window, enter a temporary password. You don't need to enter a recovery message. Now click "Lock" again.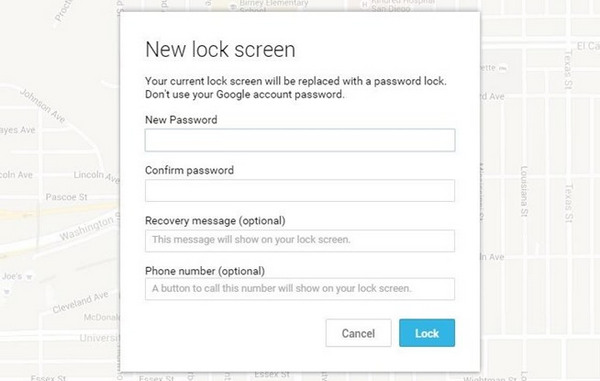 Step 4 When it was successful, you should see a confirmation below the box with the buttons "Ring, Lock and Erase". On your Android phone, you should current see a password box where to enter the temporary password you set before.
Step 5 Then your Android phone will be unlocked. Remember, first go to your lock screen settings from your phone and disable the temporary password.
Part 2. Bypass Samsung lock with Samsung's Find My Mobile
For Samsung users, Find My Mobile is another good tool for Samsung unlock. This is an easy way to unlock your Samsung device if you've created a Samsung account and registered it beforehand.
Step 1 Go to Samsung Find My Mobile.
Step 2 Sign in using your Samsung login details.
Step 3 You should see your registered phone on the left hand side. On the left sidebar, select "Unlock my screen".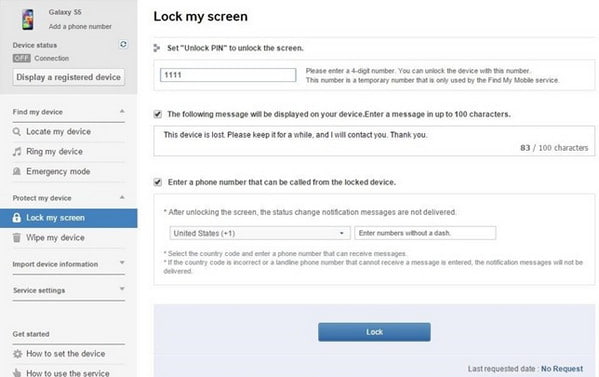 Step 4 Confirm to unlock and wait for seconds until the process is done.
Step 5 You should receive a notification which tells you that your screen is unlocked. That's it. should be unlocked.
Part 3. Unlock Samsung with online service
The IMEI or MEID number for your mobile phone acts as a unique identifier for that device. No two devices will have the same IMEI or MEID. With IMEI number, you can use some online phone unlock service to unlock your Samsung device, but most of them are not free of charge, and may be a little risky.
1. freeunlocks.com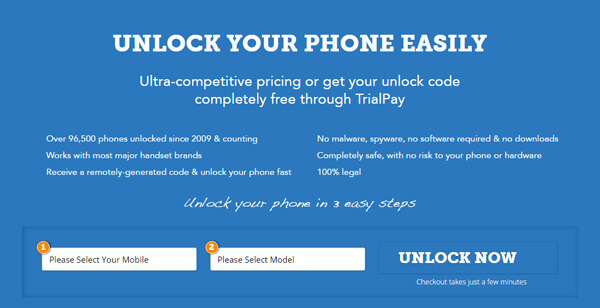 FreeUnlocks for Samsung unlock provides free Samsung unlock codes. Once your Samsung device is unlocked, you may use any SIM card in your phone from any network. All it needs is only your device's IMEI number, model number as well as a good network.
2. GetUnclockd.com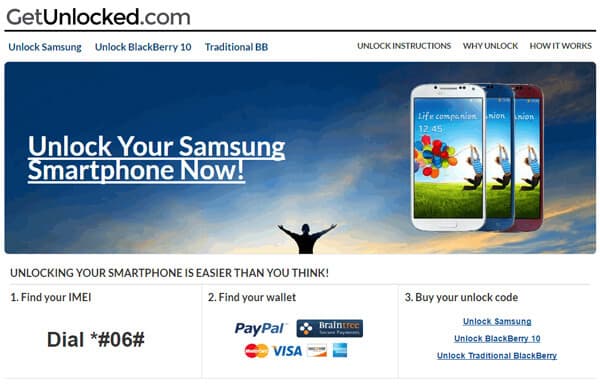 GetUnlocked.com for Samsung unlock is hosted on a reliable, PCI compliant e-commerce platform. Our website is also secured using an Extended Validation SSL certificate. With this site, your Samsung device's IMEI number is required. And it is not free of charge. You need to purchase its unlock service. After that, the site will email you the unlock code.
More reading: Recover SIM Card Contacts from Android Phone.
3. unlockbase.com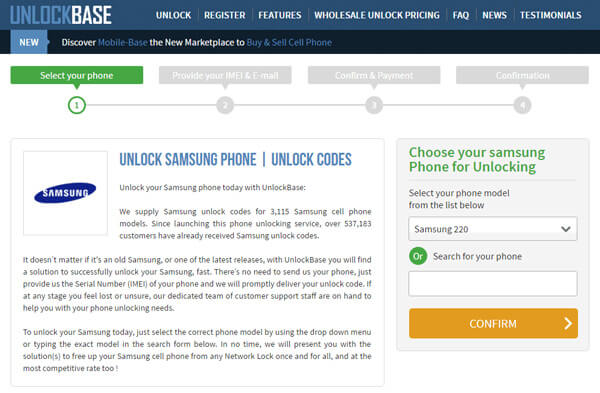 UnlockBase for Samsung unlock provides Samsung unlock codes for 3115 Samsung models. UnlockBase needs you to supply the IMEI and it will send you the unlock code. You have to purchase the service.
Part 4. Access files from the locked Samsung phone/tablet
Broken Android Data Recovery enables you to bypass the Samsung password and let you access your Android files, like contacts, videos, messages, photos and so on. It is able to let you back up Samsung devcie without any password required. It is also capable of fixing the Android system to normal.
Main Features:
◆ Fix broken screen, locked, frozen, crashed, black-screen, virus-attack Android phone to normal.
◆ Recover and extract contacts, messages, WhatsApp data, call history, photos and more from broken Android phone.
◆ Support almost Samsung Galaxy S, Samsung Galaxy Note, etc.
You may need: How to unlock your Verizon phone
Part 5. How to bypass the Samsung password for Android data backup
Step 1 Connect your Android device with computer, launch the program, choose "Broken Android Phone Data Extraction" and then click "Start" button.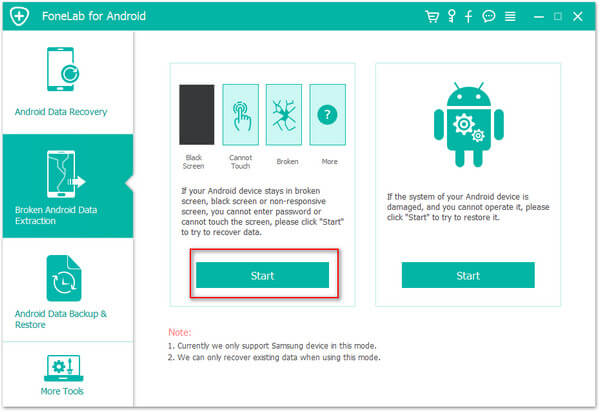 Step 2 Choose the model and phone name for your phone and click "Confirm".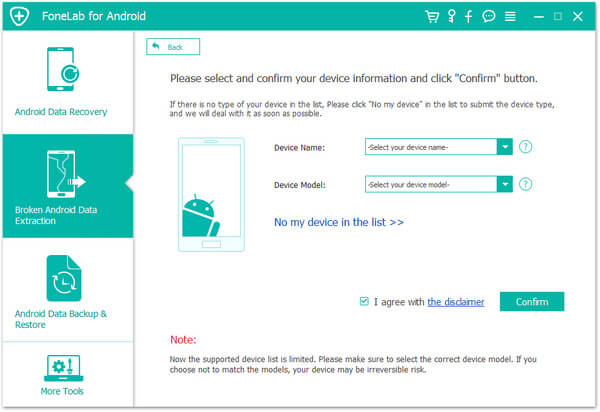 Step 3 A simple guide to let your Android phone enter Download mode and then click "Start" button.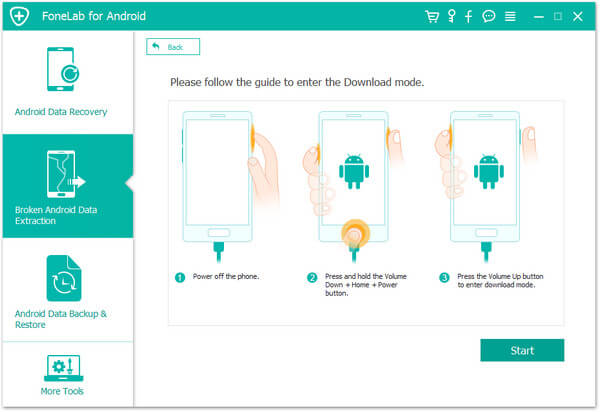 Step 4 Soon, the program will scan your Android data. And you are able to view and recover your contacts, photos, messages, videos and other Android files.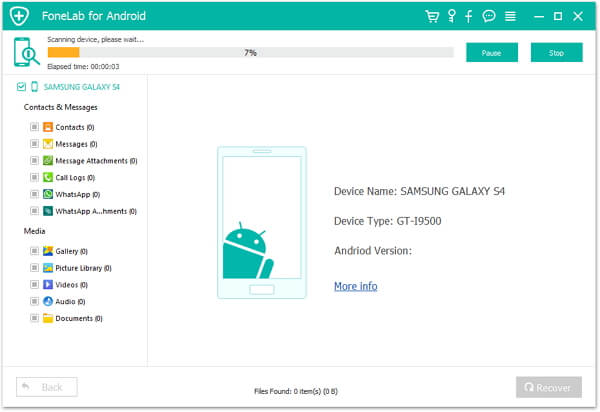 To sum up, this article probides some tips when your Samsung phone or tablet gets locked. If you have some better idea, welcome to tell us.
You can learn the steps from the video below: