Ultimate Tutorial on How to Sharpen Images with Photoshop or without Photoshop
Editing images is important because not everything we capture is picture-perfect. Sometimes, the image you capture doesn't look sharp enough to be used, but you can with the help of an image editor. Adding a pinch of sharpening the image can make your image much more detailed than the original raw file. For professionals, Adobe Photoshop is the go-to image sharpener they can use to make a fantastic final output with a much sharper image. If you want to achieve the same effect with the tool, then you must follow the tutorial we add below, and we will teach you how to sharpen the image in Photoshop.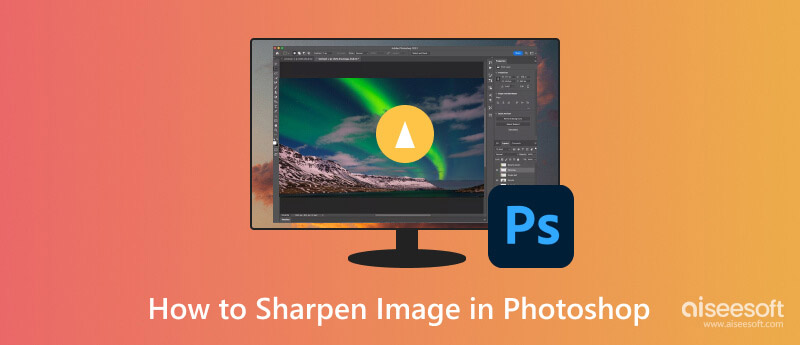 Part 1. Tutorial on How to Sharpen Image in Photoshop with Complete Steps
So before we start to sharpen images on Photoshop, you will need to download the tool first on the official website. You can search it on your web browser. A friendly reminder, do not download the PhotoShop on other websites or piracy it because others do have a virus on them. If you haven't enough budget to purchase the tool, you can use the 30-day free trial it provides for new users. But if the trial period ends, you must purchase it or use the alternative tool we add to the next part. For the users that do have Adobe Photoshop, then follow the complete steps we add below for you!
Step 1:
To add the image you have on your device, go to the
File
, and under it click
Open
. A file manager will show on your screen; you can search for the image you want, click it once, then press
Open
.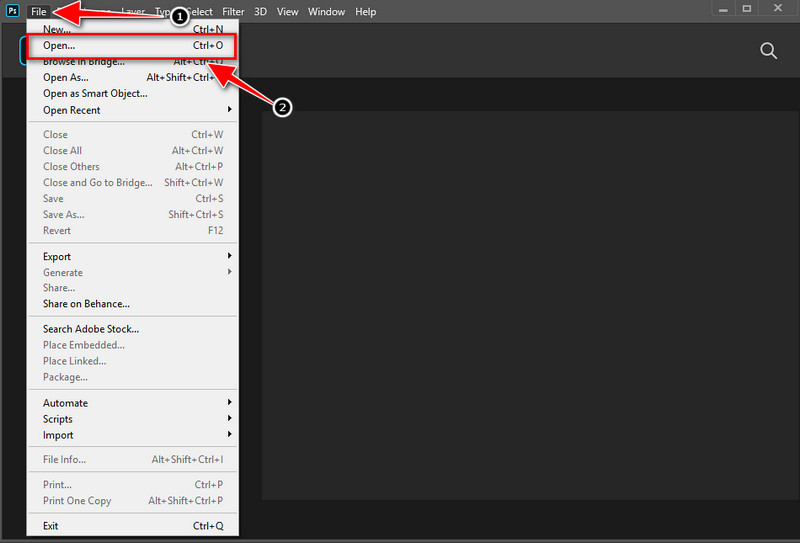 Step 2:
On the upper section of the app, click
Filter
, then
Sharpen
. You can use a different selection to sharpen your image, but click
Unsharp Mask
for now.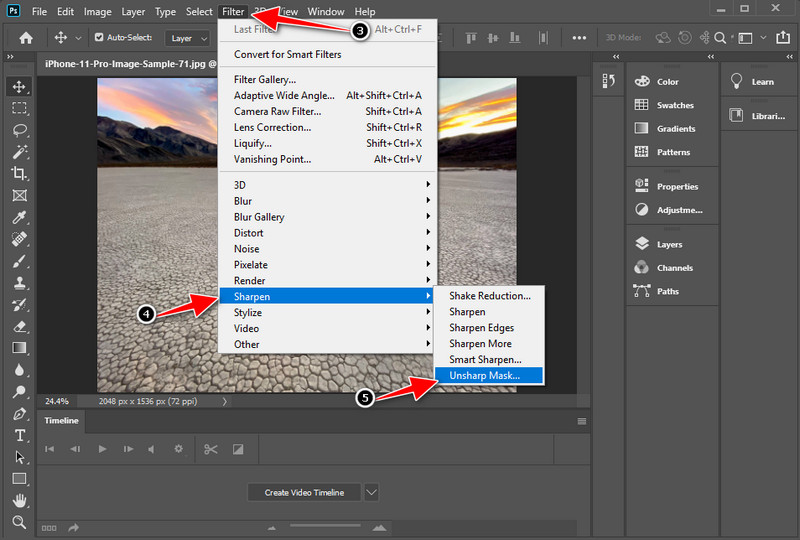 Step 3:
Change the Amount, Radius, and Threshold of the image you upload to sharpen it. There will be a preview that will show on it to see what would be the result of the image once you sharpen it.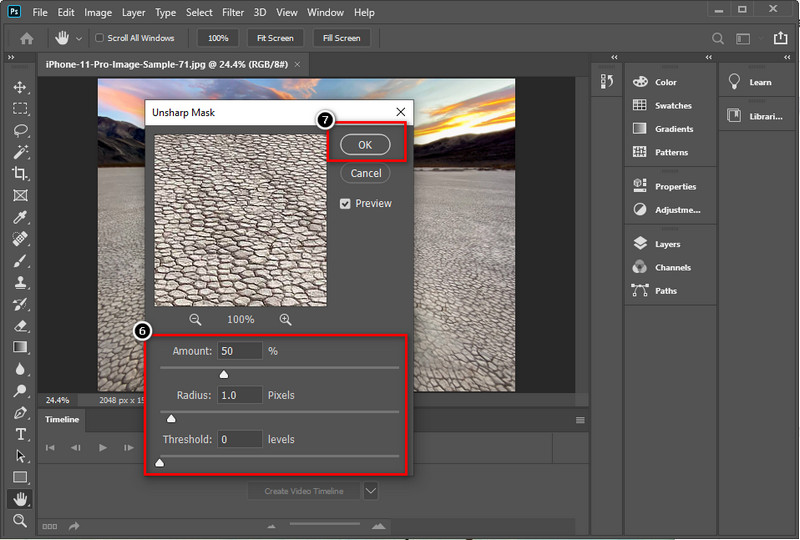 Step 4:
If you are done sharpening the image, click
OK
to save the changes and apply the sharpening you did earlier.
Part 2. How to Sharpen Image without the Photoshop [Free Online Tool]
Doesn't want to go into manually sharpening blurry images in Photoshop? If so, you can use the Aiseesoft Image Upscaler Online because it will automatically sharpen the image you upload here with the AI tech. This tool can automatically sharpen your image while resizing it to make the photography even more perfect. There is no need to make extra effort to adjust the amount, radius, and threshold here because the supported AI will do it for you. You can upload the image here, choose the magnification, export, and wait a few seconds to process the image you want to sharpen. Doesn't believe what we are saying? To prove to you that it does, you must follow the written demonstration we add that you can follow.
Step 1:
There is no need to download and install the app; you can click this
link
to open right away the image sharpener you can use on the web for free.
Step 2:
To upload the image you want to sharpen, click
Upload Image
or you can
drag and drop
the image file in here for a faster way to upload it.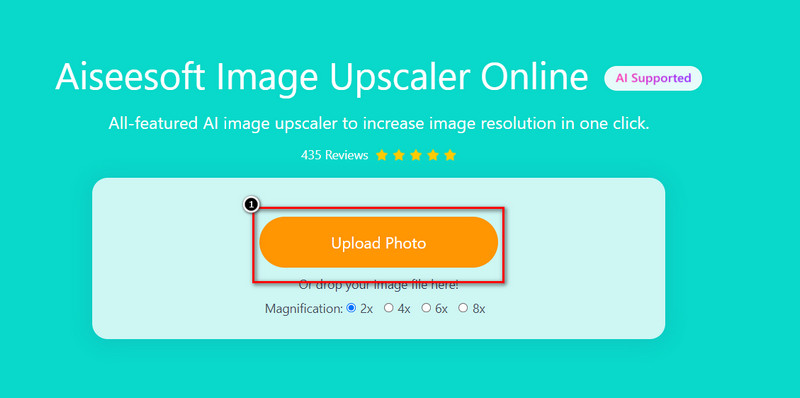 Step 3:
In the upper section, choose the Magnification. This feature will help you resize and sharpen the blurry image you have. Also, if you don't like the magnification of the first you click, you can try them all to see which suits the image best.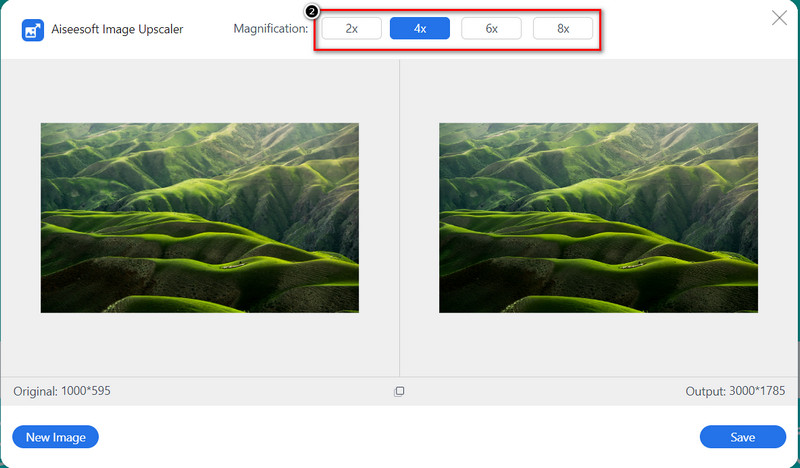 Step 4:
It will automatically apply the sharpening on the image you upload; then, if it is done, click Save to download the image you sharpen here. Voila! Isn't it easy to use like what we said earlier?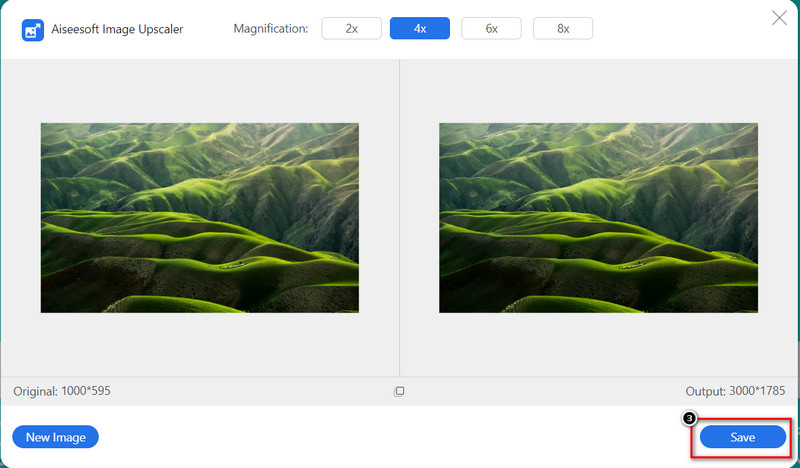 Part 3. What Is the Best Method to Choose to Sharpen Images [Professional v.s. Alternative]
With the two tools we introduce, you can learn how to sharpen an image by following the tutorial we add to each. Though both tools we provide in this article are top-notch to remove the watermark, let's see and dig deeper unto them with a comparison chart. After this, you will know what software you should use to sharpen your image.
| | | |
| --- | --- | --- |
| Feature/s | Adobe Photoshop | Aiseesoft Image Upscaler Online |
| Internet Connection | Unnecessary | Required |
| AI technology Supported on Sharpening Images | No | Yes |
| Advanced Image Editing Features & Functions | Yes | No |
| Adds Watermark on Image | No | No |
| Supports Previewing Images | Yes | Yes |
| Free to Use | A free trial is available for 30 days, but you must purchase it after that. | Yes |
| Available Platforms | Windows, Mac, Android, and iOS. | All Platforms with browsers. |
Part 4. FAQs on How to Sharpen Images on Photoshop
Is it the best option to download Photoshop?
Yes, it is; Adobe Photoshop can handle the difficult task of visual editing. Even though it is for commercials, business, brochures, etc., this tool can help you. So, if you want a professional output, you must use this heavy-duty image editor on your device.
Do I need to purchase Photoshop to sharpen the image?
For regular and professional output, Photoshop could be an option for you. But if you are about to use it once, then it is ideally not to download or purchase the software on your device to sharpen an image. Our top pick as an alternative to sharpening an image is the Aiseesoft Image Upscaler Online. If you need a tutorial and other information regarding this tool, you must read the information we add above.
Can Photoshop sharpen HEIC photos?
Yes, you can sharpen the HEIC photo you took on your iOS on Adobe Photoshop. You can follow the tutorial we add above if you need a helping hand on how to do it effectively and finish it in no time.
Conclusion
Are you still confused about what to follow on how to sharpen an image? If so, the comparison chart could help you decide. For professional purposes, it is better to use Photoshop because it is the pinnacle of all image editors you can use on your devices. With its unique features and functions, there is nothing left you can search for with this tool. Suppose you don't want to download the tool to sharpen an image. In that case, we highly suggest you pick the alternative we add here to help you sharpen the image with the help of AI technology. You can share your thoughts about the apps we include in this article with us if you want to. Leave a comment below, and indeed we will respond to you immediately!

Leave your comment and join our discussion