AI Image Upscaler: 6 Best Choices to Upscale Photo Resolution on Windows and Mac
How to enlarge an image to 4K-resolution with the best quality? If you simply resize the photos to a larger size, you only get pixelated files. AI Image Upscaler is an easy method to upscale photos to 4K-resolution through learning millions of details and performing complex adjustments.
Just learn more details about reasons for choosing the AI Image upscaler, as well as the detailed process to enhance photos. You can also compare the programs with Photoshop before uploading photos for enhancement.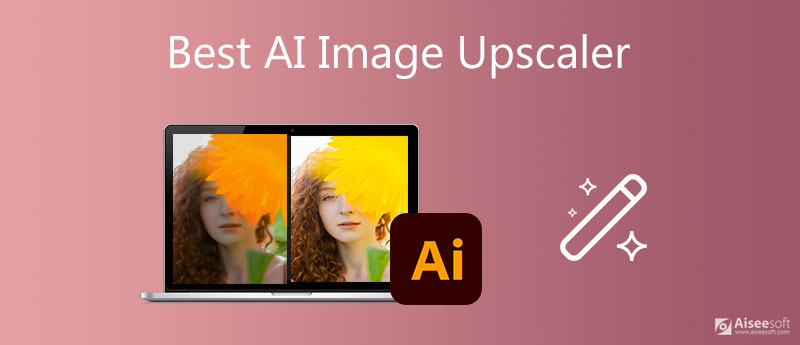 Part 1: Why Should You Choose AI Image Upscaler
As mentioned above, AI Image Upscaler is different from the other online image enlarger tools. It uses the advanced SRCNN neural network with thousands of high-resolution photos. Once you have uploaded the photos, you can upscale the low-resolution image to 4K within one click. What are the excellent features of the SRCNN neural network? Here are more details you should know.
1. Recover lost details for resizing
If you resize or enlarge a photo without upscale the resolution, its pixels cannot get stretched but new blank pixels are inserted to increase the size. In the contrast, AI Image Upscaler will recover the lost pixels, colors, textures, and more other details to enhance the photo quality. It enables you to retouch the low-resolution image to a high-resolution one within one click.
2. Enhance photos for better colors
Once you enhance the resolution of the photos, the best AI Image Upscaler enhances your photo and obtains a perfect color balance. It will have a better photo contrast and color for presenting the photos. Just check the images created with super high-resolution online, and compare them with the original one in the before and after mode.
3. Reduce the noise of enlarged photos
As for enhancing the blurry photos, AI Image Upscaler fills in more details to fix blurry images by detecting the blurred space automatically. Once you have uploaded the photos taken with your digital camera, it will get rid of the noise and pixelated file with the advanced SRCNN neural network only within one click.
Moreover, the image quality increaser can refine the face automatically. When you need to scan the portrait details, you can simply upload the photos to get a satisfactory image accordingly.
Part 2: How to Enlarge Image without Losing Quality Online for Free
Aiseesoft Image Upscaler not only provides advanced SRCNN neural network AI technologies to enlarge photos without losing quality, but also enables you to have a simple and safe experience. What you have to do is uploading the photos. The online AI tool will enhance the photos for you within one click. Here are more features of the program.
Support popular photo formats, such as JPG, PNG, BMP, TIF, and more.
Auto enhancer that produces a super-resolution image in a few seconds.
Improve photo quality on the web server without software installation.
Preview the picture within browser or download it to your computer directly.
Step 1:
Go to the online AI Image Upscaler, you can click the
Upload Photo
button to upload your image into the program or drop the image file directly. The uploaded image can be in any format, and the size of the image should be less than 5MB.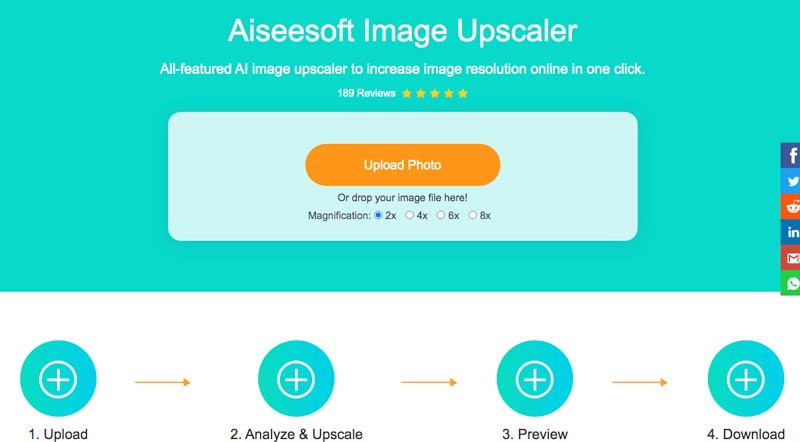 Step 2:
Once you have uploaded the photo, it will analyze your photos and display the process magnification factor with 2x as the default. Moreover, if you are not satisfied with the quality, you can enlarge the photos to 4x, 6x, or even 8x without losing quality.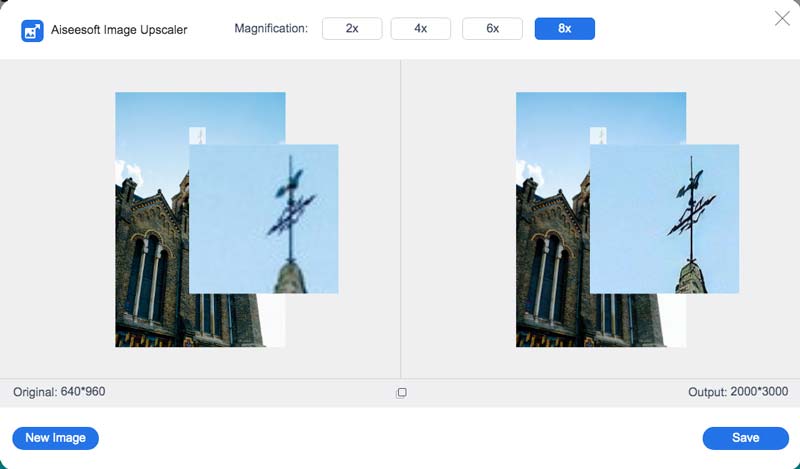 Step 3:
Preview the details of the up-scaled photo before you click the
Save
button in the lower right corner of the window, and the picture will be saved to the default location of the browser. Click the
New Image
button to enhance another photo with the AI Image Upscaler.
Part 3: 5 Best AI Image Upscalers to Enlarge Small Photos
Top 1: ImgLarger – 6-in-One AI Image Enhancer
If you need to remove the noise, enhance the photos, and even upscale the resolution, ImLarger is an AI-based online resolution to upscale image size and increase resolution without quality loss. The AI Image Upscaler removes the noise and sharpens details for the images.
Pros
Provide 2x, 4x, and 8x photo resolution upscale solutions.
Support JPG, JPEG, PNG, and more other photo formats.
Quickly analyze and enlarge images without losing quality.
Cons
The free version limits files to 5M and 1200px by 1200px.
Cannot upscale photos to more than 2000px by 2000px.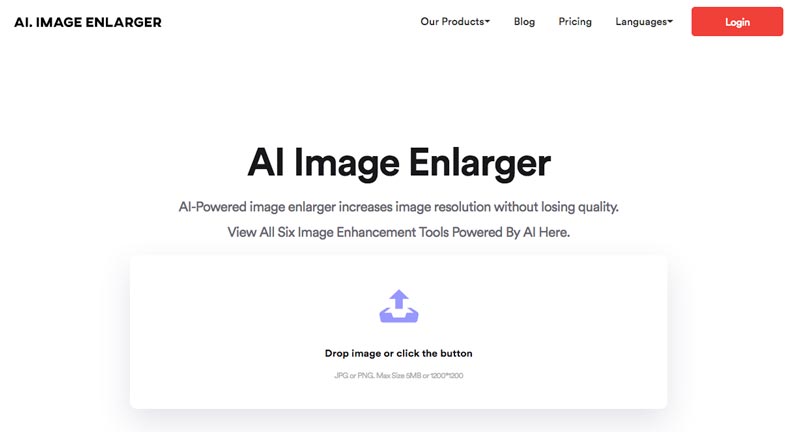 Top 2: Image Upscaler – Enhance Lines/Colors for Images
Image Upscaler is an excellent AI Image upscaler to enlarge images without losing quality. Many details in a portrait can be well preserved, such as lines in the hair, eyelashes, and more. It only supports photo files within 1000px in both width and height.
Pros
Take few seconds to upscale resolution and enlarge photos online.
Remove JPEG artifacts, enhance intensity, and optimize colors.
Provide two CNNs to recognize pixel accuracy and pixel transparency.
Cons
Without a subscription, you can only resize images 4 times.
Support 5MB maximum photo size within 2500px by 2500px.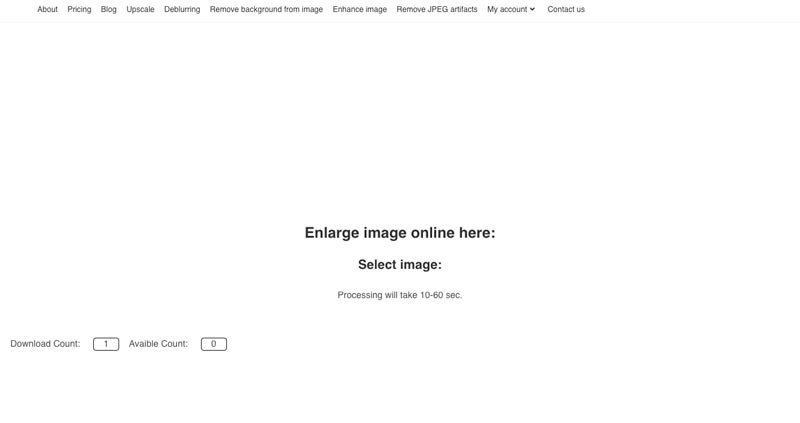 Top 3: Bigjpg – Easy AI Upscaler for Anime Images
To upscale resolutions for anime images and illustrations, Bigjpg is another AI image upscaler with single-image processing. Compared to the other AI toolkits to upscale the photo resolution, the program has a higher limitation and the processing time is much longer.
Pros
Support API to enhance the image quality with AI technology.
Compatible with JPG, JPEG, PNG, and more other file formats.
Capable of adjusting the lines and color of image files with ease.
Cons
The output photos are not satisfied and some visible blur.
Support photos within 10MB lower than 3000px by 3000px.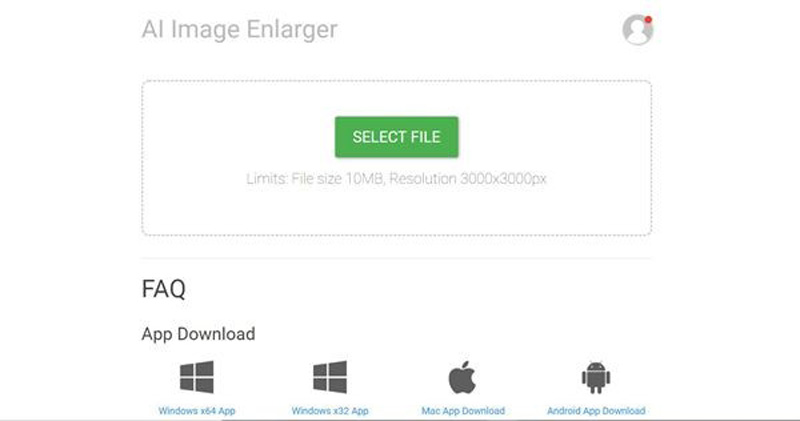 Top 4: Deep AI – Upscale Images Free of Charge
Is there another AI image upscaler that enables you to enlarge photos? Deep AI provides an automatic method to enlarge an image by 4x. Just upload the desired images and you can download the photos to your computer without extra settings or a complicated process.
Pros
Upscale the photo without losing quality and defining characteristics.
Sharpen images with a photo editor, including color and detail.
Increase the resolution of your images 4x without losing features.
Cons
It lacks some photo parameter settings and batch processes.
Cannot export high-quality photos as other AI Image upscalers.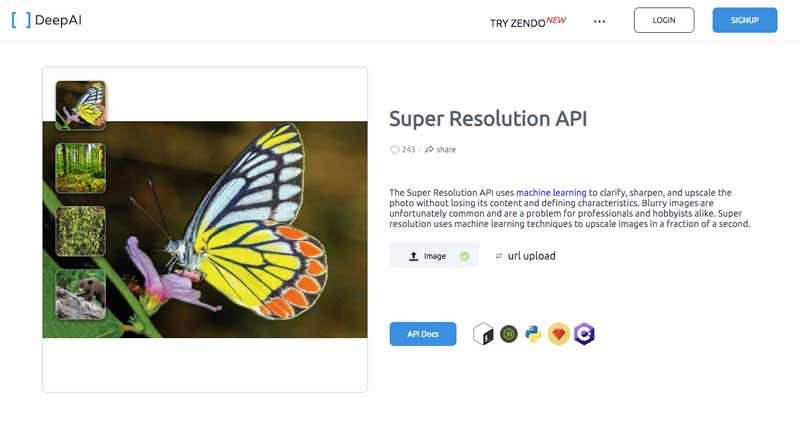 Top 5: Photolemur – Automatically Enlarge Image Quality
Photolemur is more than an AI image upscaler that can enlarge image quality automatically with instantly performing complex adjustments. It will restore lost details, boost lighting and colors, fix exposure, and even batch processing for unlimited photos.
Pros
Provide batch processing for an unlimited number of photos.
Support most of the photo formats, including RAW files.
Can be used as an Adobe Lightroom and Photoshop plugin.
Cons
There is no option for enlarging the size of images.
It does not a professional method to enhance photos.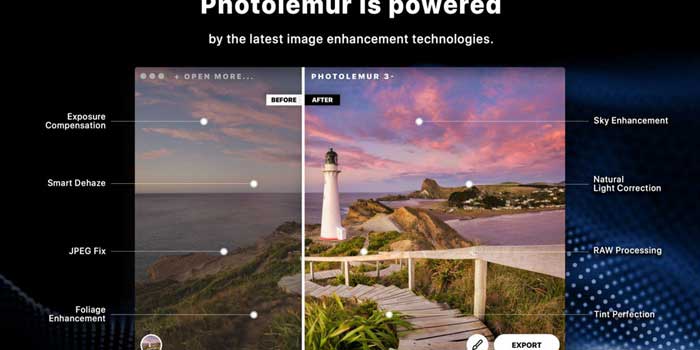 Part 4: Differences between AI Image Upscaler and Photoshop
What are the differences between the best AI Image Upscaler and Photoshop? As the all-in-one photo editor, you might use Photoshop to upscale the photo resolution.
1. User friendly. Instead of tweaking the parameters of different photos with Photoshop, you only need to upload the photo online to enlarge photos without losing quality in one click.
2. Free of Charge. If you have not subscribed to Photoshop, or only need to enhance several photos, AI Image Upscaler is the desired solution to improve the photo quality online for free.
3. Image Upscale Methods. When you need to upscale the photos with Photoshop, you should be familiar with the different tools and processes of Photoshop. But AI Image Upscale enables you to get the desired effect automatically.
Part 5: FAQs about AI Image Upscaler
1. What should I do to enhance an image?
Besides the basic methods to upscale the resolution and fix the pixelated parts, you should also adjust the color balance, apply filters, choose a frame, tweak the layering, and more to enhance an image. Of course, you can simply choose AI Image Upscaler to enhance an image within one click.
2. What is the AI technology for SRCNN neural networks?
SRCNN neural network is short for Super-Resolution Convolutional Neural Network. Different from the traditional methods that handle each component separately, it jointly optimizes all layers. The CNN has a lightweight structure, yet demonstrates state-of-the-art restoration quality, and achieves fast speed for practical online usage.
3. Is AI Image Upscaler better in quality than Photoshop?
SRCNN surpasses the bicubic baseline with just a few training iterations, and outperforms the sparse-coding-based method with moderate training. The performance may be further improved with more training iterations. When you only need to upscale the resolution, AI Image Upscaler should be a better choice than Photoshop.
Conclusion
When you need to learn more about the 6 best AI Image Upscalers, you can learn more details about the programs from the article, such as the features, the process, and even the comparison between Photoshop. If you have any queries about the software, you can leave a comment in the article.

Leave your comment and join our discussion