What Is Gaussian Blur In An Image Processing And How To Use It
Blur may impact an image in a good or bad way. Some use it for hiding areas on a photo for confidentiality, while others use it to reveal the beauty of the image. Meanwhile, you may utilize different types of blurring effects according to your needs. The blur effect that may add artistic effect to your photo is a Gaussian blur.
This effect on a photo is so helpful. It can reduce the noise and grain that are affecting your images. It could be very beneficial when overlaying an object to a photo that is too busy, or a lot is going on in the picture. The Gaussian blur effect could assist you in softening parts of the photo, so the object you overlay stands out. Find out more about what is a Gaussian blur by reading below.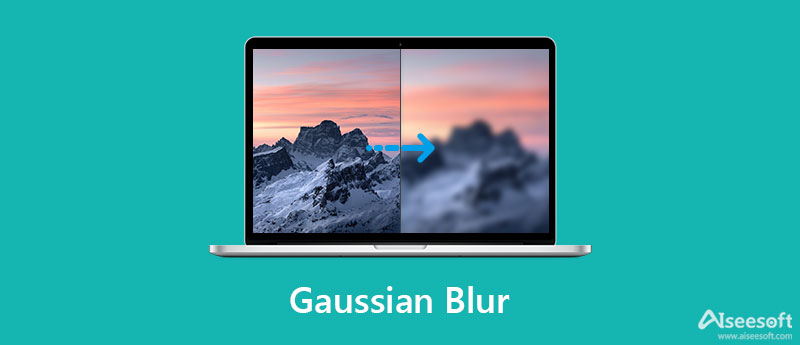 Part 1. What is a Gaussian Blur
Gaussian blur is used in image processing, also known as Gaussian smoothing. The filter was named after the scientist mathematician Carl Friedrich Gauss. The primary purpose of the Gaussian blur is to reduce the noise in the image and the detail. In simple terms, this blur effect is suitable for hiding areas in the picture without ruining them and exposing the image's beauty.
It is also beneficial when you are trying to mimic or imitate a depth of field. With this blur effect, you will be able to control what is in and out of focus. This technique is typically achieved with a high-end camera that has expensive lenses. But with Gaussian blur, you will be able to achieve it with or without using expensive lenses.
Part 2. How Do You Use Gaussian Blurring
Gaussian blur is easy to implement on a photo. In fact, some photo editing tools include this feature for amending professional photos. And the photo editing tool that evolves as the day passes by is Photoshop. It comes with multiple impressive features to produce outstanding results. More importantly, you can accomplish Gaussian blur using this program. If you wish to apply Gaussian blur in Photoshop to your images, kindly follow the steps below.
Step 1:
Go to the download page of the program and get its installer. You can obtain its Windows and macOS operating systems. Please observe the minimum requirements and see to it that your computer has the requirements needed.
Step 2:
Now, open a new project and add the photo you want to edit or which you wish to apply the Gaussian blur into.
Step 3:
There are two technique methods by which you can implement Gaussian blur. One is by applying the effect to the entire image. Another is by selecting the subject and blurring the background. On the top menu, click on the Filter option. Then, hover your cursor over Blur and choose
Gaussian Blur
.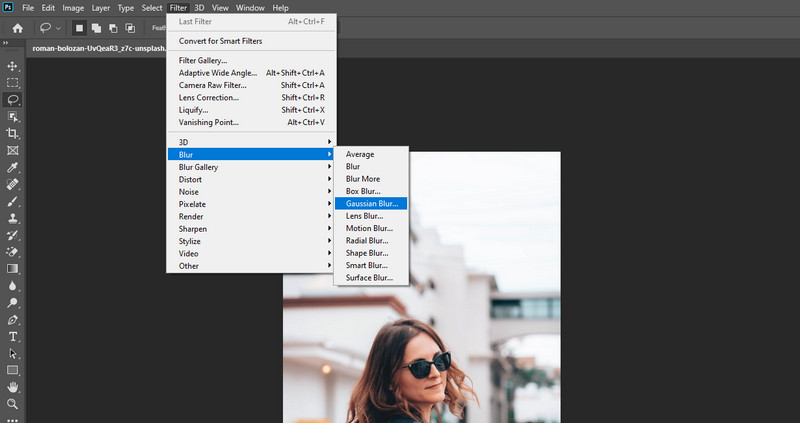 Step 4:
If you are already satisfied with the photo's results, export the image according to your requirements. Navigate to
File > Export > Export As
, and modify the export settings as per your preferences.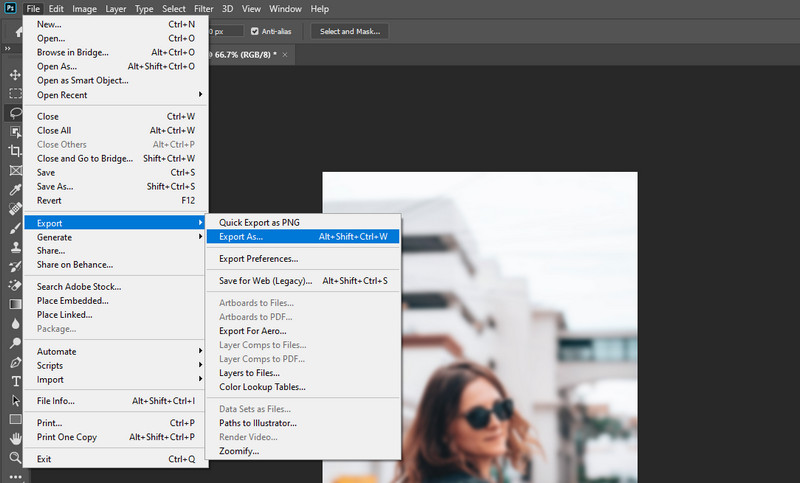 Part 3. Gaussian Blur VS. Lens Blur Comparison
This part will focus more on differentiating Gaussian and Lens blur effects. Mainly, we will discuss the basics of both effects of filters. Therefore, please read the paragraph below if you want to understand Gaussian blur vs. Lens blur.
Gaussian Blur
Gaussian blur basically softens everything out in a photo. It is a low-pass filter that involves cutting out the extreme outliers to achieve even pixel values. This blur effect helps you effectively minimize the photo's noise, especially when the photo is too busy. It can make a text, object, or person stand out by softening the image. One thing to remember about Gaussian blur is that it implements greater blur intensity which could decrease the sharpness.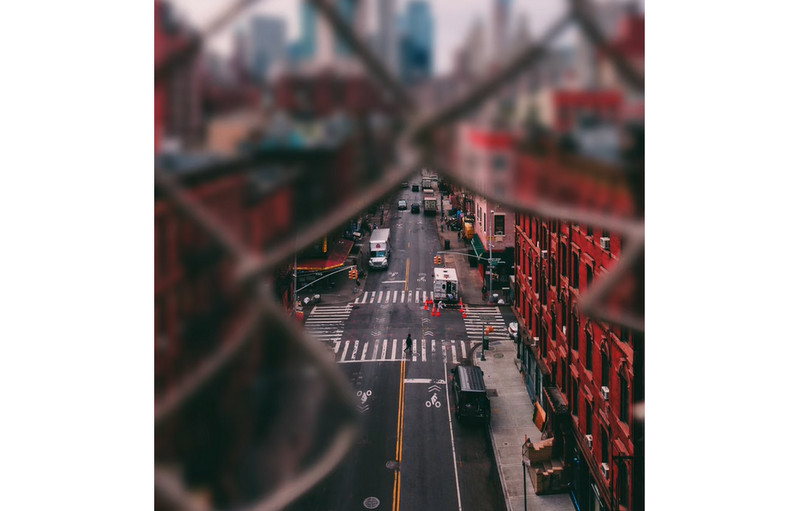 Lens Blur
In terms of Lens blur, it achieves a bokeh effect of shallow depth of field. It brings out the foreground into emphasis and blurs the background. When it comes to blurring control Lens blur has the upper hand. It offers a massive amount of control over the effect. On the other hand, Lens blur is preferable if you want to achieve a creamy blur effect. In other words, it is subtle compared to Gaussian blur.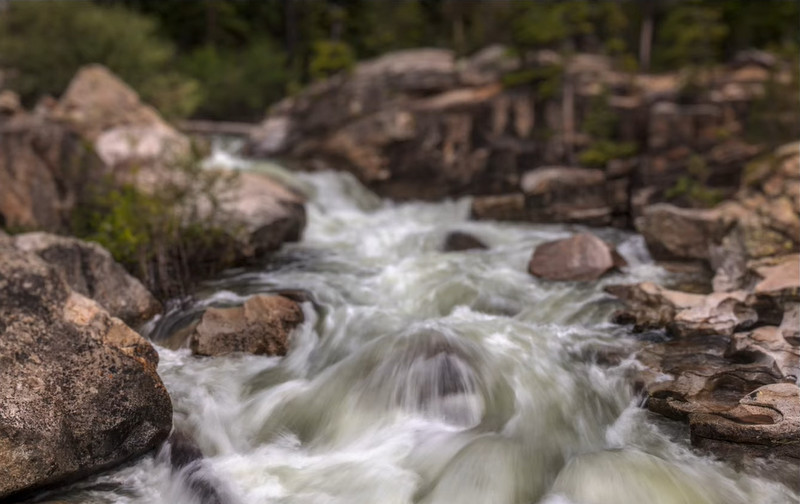 Part 4. How to Remove Blur From An Image
You might be able to achieve the blur effect you want in your photos. However, there are some instances when you need to remove the decrease in the blur effect by upscaling the photo. On other occasions, you merely want to improve the quality of a photo. In this case, you can utilize a free program to enlarge the quality of your picture.
Aiseesoft Image Upscaler Online will enable you to increase the quality of your photos. It delivers a high-quality result that works well with your personal photos, product photos, or images. Therefore, you will not hesitate to share it online or with your friends. Have a look below to learn how to use this tool.
Key Features:
It enhances the resolution of photos by up to 800%.
Support JPEG, JPG, PNG, BMP, TIFF, and many photo formats.
AI technology is applied to increase the resolution of images.
Enhance photo qualities without limitations.
Tweak photo magnification to 2x, 4x, 6x, and 8x.
Step 1:
Get started by going to the official website of the program. You need to open a browser on your computer and type in the program's link on the address bar. After that, click the
Upload Photo
button from the main interface and load your target photo.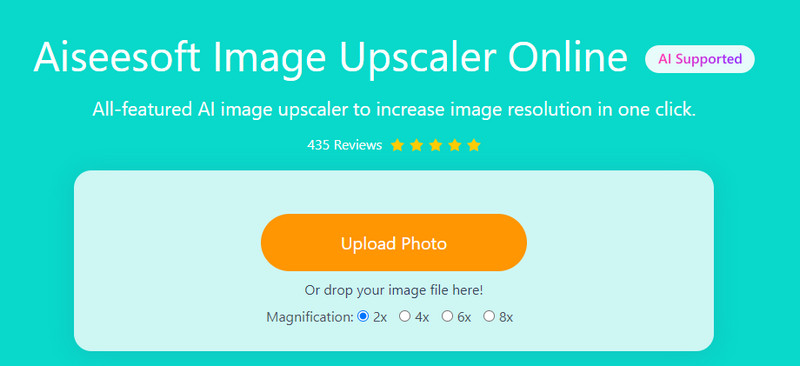 Step 2:
Once done uploading, select a magnification level as per your requirements. Then, preview the enhanced photo and compare it with the original photo. Based on your selected magnification, the quality changes accordingly.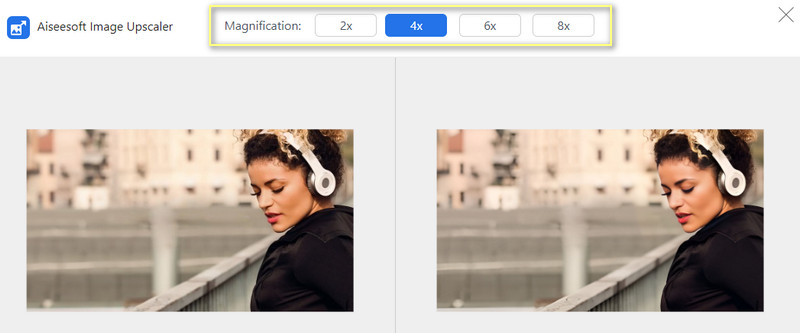 Step 3:
Click
Save
at the bottom right-hand side of the interface if you are delighted with the results. As you hover over the resulting image you will see the changes. You could then share the photo with confidence because the quality is already enlarged.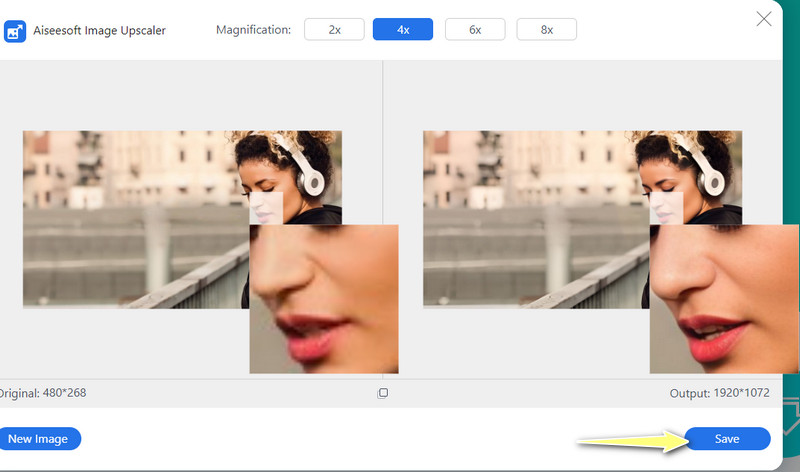 Part 5. FAQs About Gaussian Blur
Can I undo Gaussian blur on my pictures?
Yes. Numerous programs will help you somehow reverse the blur effect and make the picture sharp. Using Photoshop, you can take advantage of the High Pass feature to unblur the photo.
What is a motion blur?
It is a technique in photography that uses a slow shutter speed that will blur the moving subjects through the frame.
How can I improve the resolution of photos on the iPhone?
The Photo app on your iPhone could get the job done. Go to Edit > Definition. Then, change the definition until you reach your desired quality.
Conclusion
Gaussian blur is helpful in many scenarios like subject isolation. It could almost replace those high-end camera lenses to achieve the blur effect you want for your photos. Meanwhile, you may be familiar with some blur problems and want to fix them. Aiseesoft Image Upscaler Online is a handy utility you may employ. Go ahead and unleash the beauty of an image using the tutorial above.

Leave your comment and join our discussion