Learn How to Unblur an Image with the 4 Solutions to Fix Blurriness on Images
With a camera, you can capture every moment happening in your sight. Instantly, capture it with your phone, DSLR, action camera, and photography. Indeed, we love taking a photo of everything that our eyes can see. Most of the time, we do encounter a problem because of the blurriness. The reason why your image became blurry might be because of the uncleaned lens, unstable holding of the camera, and moving object. It is pretty irritating to encounter such a problem with the perfect image we capture. Instead of deleting the image and recapturing it again, why don't you read the information we added below to turn the image back into its unblurred version? To know how to unblur an image, you must read the information we add in the following parts.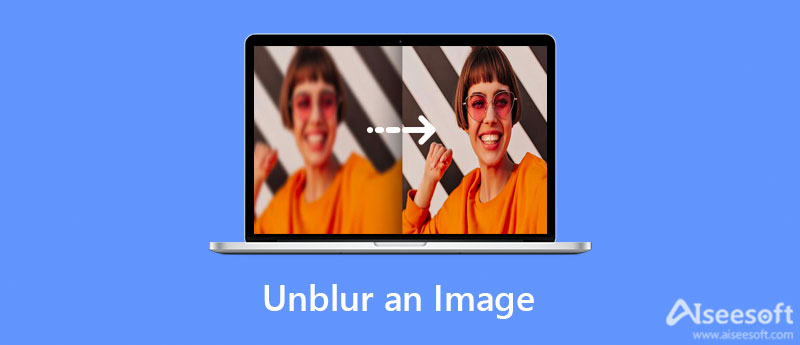 Part 1. What Is the Reason Why Image Become Blurry - 4 Reasons with Solutions
Before you proceed to how to fix the unblur image, let's determine first what causes this problem. This part will tackle different reasons and additional solutions to fix the problem. Keep on reading the information below to know more about it!
1. Stability of Holding a Camera
Every photographer's assets are not only the camera but also their hands. With a good hand gesture and a stable hand, you can instantly capture a fantastic image if you want to. Even though you have a branded camera, the image will turn out blurry if you don't have stability. To fix this problem, you must use instruments like a monopod, tripod, and many more to take an image with stability.
2. Capturing Moving Object or Subject
It is easier to film a video than capture an image, especially if the subject or the object is moving, which could lead to image deblurring. There are scenarios where the final image product will appear blurry if your camera uses a low shutter speed. The best solution to this problem is by using a higher ISO speed, or you can use a higher shutter speed, and you will need to correct the dark photo using the flash.
3. Uncleaned Lenses
Did you forget to clean the lenses of your camera? Then expect the result of it to be blurry. Even though you have a great camera with stability on holding the camera, if you don't have a clean lens, it could be worse than blurred. So, the best solution to this problem is to clean it first before capturing an image.
4. Camera Sets a Wrong Auto Focus or AF
Most cameras on the phone have trouble in this part because it detects the wrong object, especially if this feature is activated. So, you will need to clean the lens first and click the object to make autofocus on it and see if it does work. But if the camera you use autofocus doesn't work, you will need to check the camera and lens compatibility. If the two instruments are not compatible, you will have a complication doing nan auto focus on your digital camera, DSLR, and others.
5. Don't use a Low-Resolution Image Output
If your settings on the image you capture are low quality, then expect that you will have a blurry image. However, this situation has an advantage because the image file size is much smaller than the high-quality one. To fix this problem, you can go to setting, search the Camera, then change the setting and set it into a high-quality output.
But what should you do if the image is already captured? The best solution to this problem is using the tools we enlist below. Take time to read them as we sift out the best of the best application you can use to turn your blurry image into a clearer one. If you need to know how to unblur an image, then it is essential to read the information below.
Part 2. How to Unblur an Image on a Computer Using the Aiseesoft Image Upscaler Online
The best solution to make the image less blurry is by upscaling it. If you don't have a tool, we recommend using the Aiseesoft Image Upscaler Online because of its efficiency in upscaling images within a few clicks. Even though you haven't enough experience handling this task, this tool is in your favor because it is easy to use. Due to its efficiency in turning your image into an excellent quality with the help of AI technology, more users use this often. If you are fond of this tool and looking at how to unblur an image online, the steps below will give you a walkthrough.
Step 1:
Open the tool by clicking this
link
, and it will directly go to the main website of the image upscale online.
Step 2:
To insert the image you captured that became blurry, click the
Upload Photo
; a folder will show, select the image, and press
Open
to upload.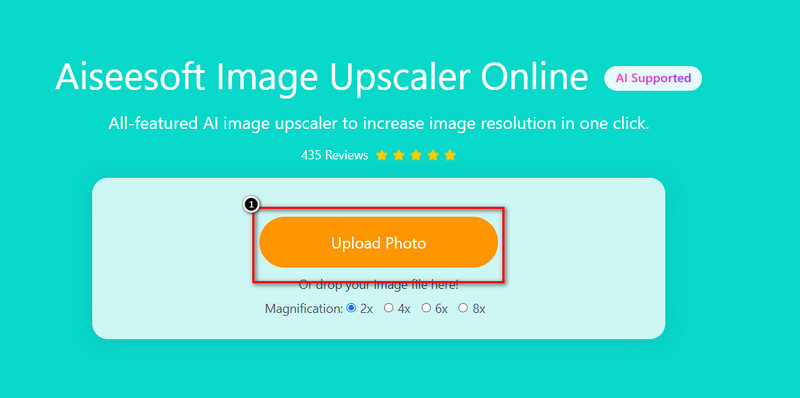 Step 3:
With this tool, you can select what type of Magnification you want to apply to your image; you can try all of them to see which suits your image the best. The Magnification will automatically turn your photo into high quality with the help of AI technology.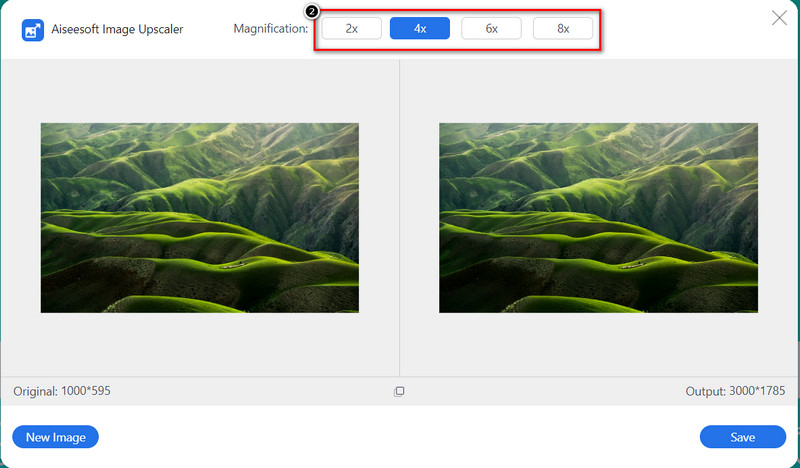 Step 4:
After that, you can see the result on the preview pane on the left side; click the
Save
button so that the image will you upscale here will be downloaded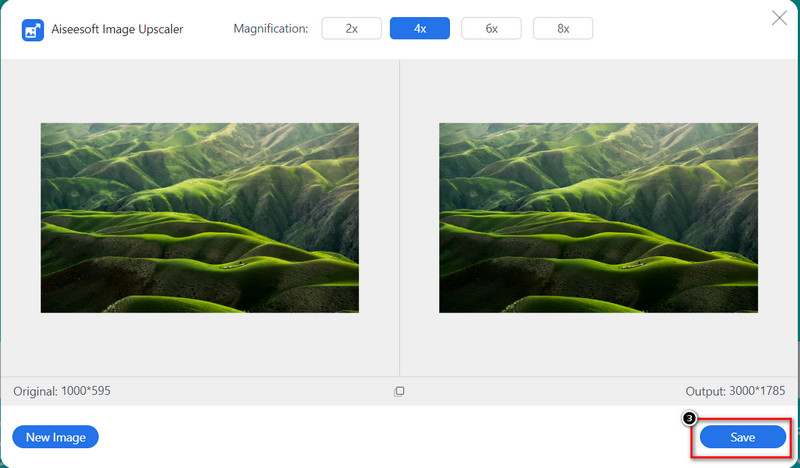 Part 3. How to Unblur an Image on iPhone and Android Effortlessly
1. EnhanceFox - AI Photo Enhancer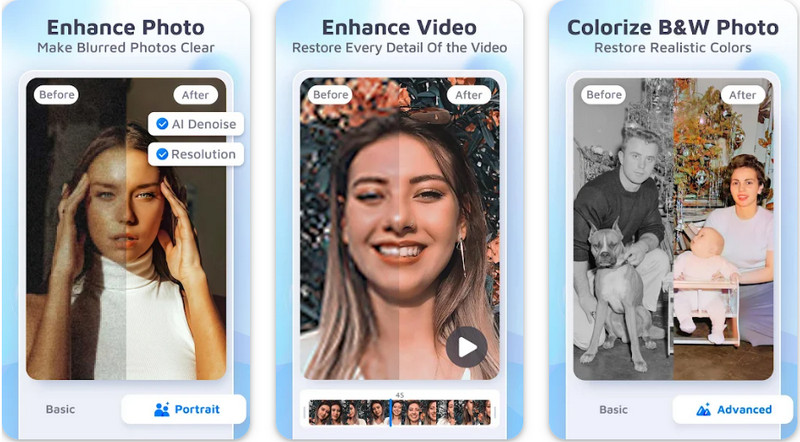 Enhance Fox- AI Photo Enhancer can be downloaded on iPhone and Android devices for free but offers in-app purchases. It is known to be an on-the-go photo enhancer you can download and use to make the blurred, pixelated, and damaged images into their original glory. So, if you need a solution to fix the blurry photo you have, you can try to use this app and download it on your device. Are you interested in the app? If you want to know how to deblur an image on Android, then there is a tutorial we add below.
Step 1:
Download the software on your device by going to the PlayStore if you are an Android user, but if you are an iOS user, you will need to visit it on the AppStore.
Step 2:
Now that the app is launched, go to the Enhance Photo and click the plus icon and choose the image you want to upload.
Step 3:
There will be three options available, click the
Advance
and press
Start
.
Step 4:
After the process, click the
Export
button to save the enhanced image.
2. Remini - AI Photo Enhancer 4+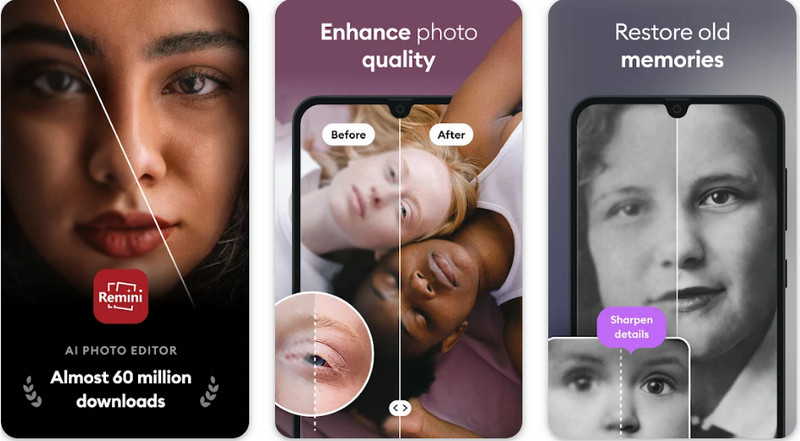 How to unblur an image on iPhone? If you are an iPhone user, you can pick the Remini - AI Photo Enhancer 4+ because of how excellent it works. This photo editor is available to be downloaded on Android as well. Just like the first app, it also supports AI technology that could detect the blurriness of your image and turn the old glory back. Even though you aren't a pro on image beautification, this app does the job for you once you use it. Do you want to know how this app deals with blurry images? Say no more! Because the steps we add here are easy yet effective, you will have the result in no time!
Step 1:
Download and install the app on your iPhone or Android, then open the tool.
Step 2:
Wait for the app to load up, select the
Enhance
option, and choose the blurry photo you want to be enhanced.
Step 3:
Stand by for a few seconds because the app will automatically add the details to the blurred image you have. There will be a line in the middle to see the before and after results.
Step 4:
Click the
download
icon to have the enhanced version of the image.
Part 4. Additional Part: How to Unblur an Image on Course Hero for Free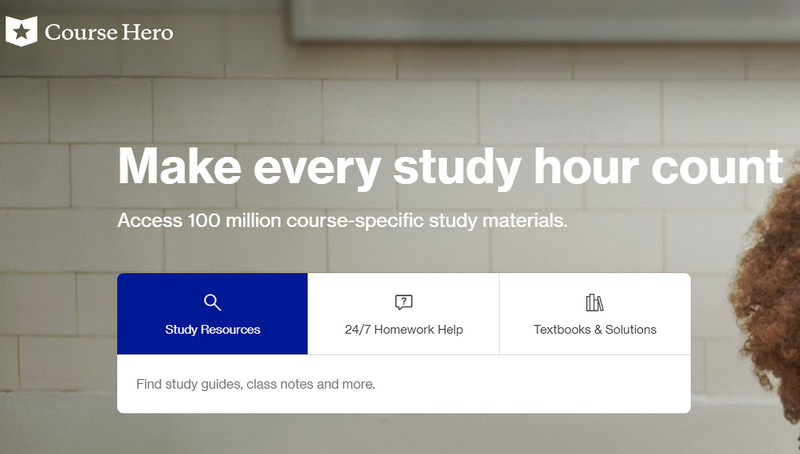 How to unblur image on Course Hero? This problem could be a pain for most of us because documents with images are blurred to be protected once you open and visit them. Instead of worrying about this problem, why don't you try to copy the steps we added below? Keep on reading the information to know more about it!
Step 1:
Open the Course Hero on your browser, type the document you want to have, and choose the result.
Step 2:
After clicking the document with the image, tap the right click on your mouse and select Inspect.
Step 3:
Go to Source, click bg, right-click the file, and press
Open In New Tab
.
Step 4:
Change the URL of it into
-html-bg-unsplit.png
to see the result of the document without blurriness.
Part 5. FAQs on How to Unblur an Image
Why does Facebook make my image blurry?
This problem is because FB compresses the image you upload here, which could result in a low resolution. Also, this social media site does have an automatic image editing feature that makes your image fit into the standard by stretching out the image you upload.
Why does the image become blurry after converting?
It is because the quality of the image format of your choice does not support high-quality output. To avoid this problem, it is ideal to choose the JPG because of the color combination it supports and also the compatibility of the said format.
Why did compressing high-quality images become blurry?
Once you compress an image file size, you will have much lower quality because you make the image bitrate less than the original file. It is unavoidable, especially if you are compressing the image file. So, if you don't like to have a result of low quality, then you will need to mind compressing the image and also choose a reliable compressor.
Conclusion
Indeed all of the information on how to unblur an image has already been here! So, you won't need to look and read other articles because, as we said in the beginning, we've got you covered! With all of that, we hope that it helps you fix the image blurriness problem on your images. If you have additional questions, then you can leave your questions below, and let's discuss and fix the problem together!

Leave your comment and join our discussion