How to Transfer Photos between iPhone and Android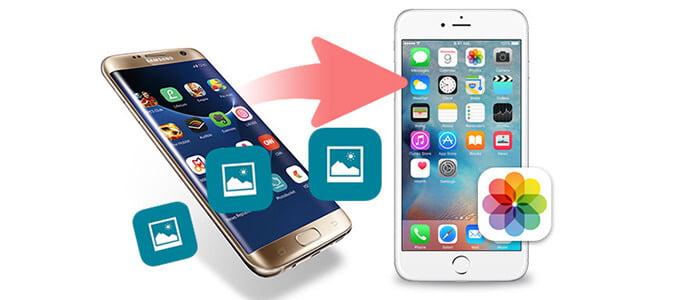 With the development of technology, people can easily take beautiful photos with their iPhones or Android phones. I'm sure that most of you would have collected some amazing photos in your phones. So here is a question, what would you do with your photos if you change your phone? Frankly, this is a common yet rather annoying situation, especially when you change those phone running different platforms, like from Android to iPhone, or from iPhone to Android. But don't worry, we could find very convenient solutions. This guide will illustrate to you how to transfer photos between iPhone and Android with the simplest way.
Transfer Photos from iPhone to Android
Every time Apple upgraded and released their products, people went crazy and intended to change their phones. But not all people would stick to new iPhone X/8/7/SE/6s Plus/6s/6 Plus. After all these years using iPhone, some people may want to get a Samsung Galaxy S6, HTC 10 or any other Android phone. (iPhone or Android?)
The fact is, for Android users, transferring Android photos to new iPhone is not that hard even though there are restrictions with different operating platforms. iTunes could help a lot to move iPhone photos to Android. To be specifc, back up your iPhone photo files from your iPhone to computer first, then connect your new Android phone to PC. Now you can easily drag and drop iPhone photos to your Android phone. When photos transfer from iPhone to Android finishes, you can view Android photos in much the same way as on iPhone.
However, as you can see, iTunes could be of use only after you copy all iPhone photos to your computer. Is there one simpler way to easily transfer iPhone photos to Android directly? Actually, an easy-to-use iPhone Photo transfer tool could help you do this. The following are the step-by-step guides:
Step 1 Download FoneCopy
Download, install and run this iPhone to Android transferring program on your computer. You'll see the interface as below.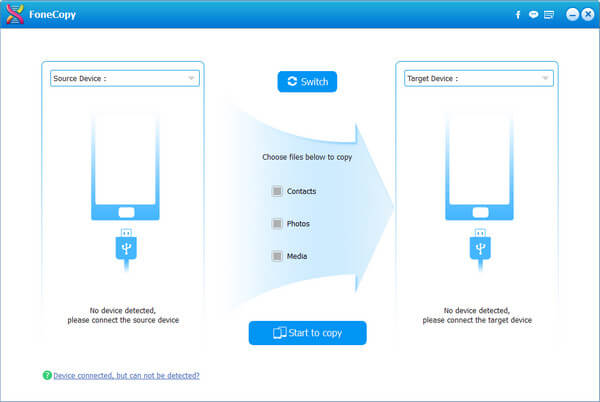 Step 2 Connect iPhone as well as Android phone
Connect your new iPhone to computer via USB cable, then your Android to computer. Wait until they are automatically recognized.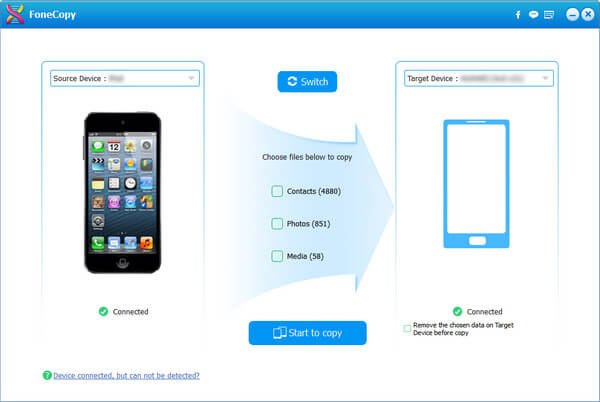 Step 3 Choose photos to copy
Your iPhone will be scanned and you'll see how many photos in it. Select the "Photos" section in the middle of the interface, and then click "Start to Copy". Soon you will transfer all photos from your iPhone to Android.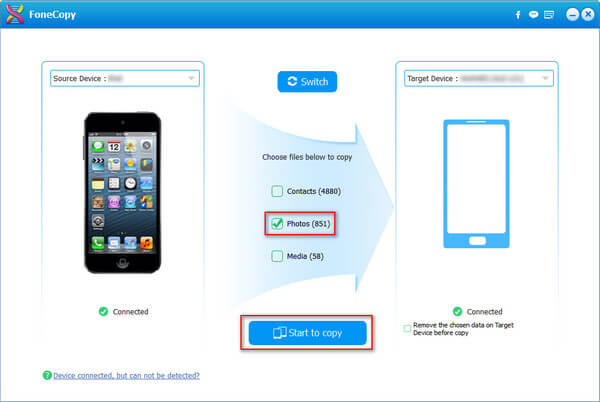 Transfer Photos from Android to iPhone
In order to make Android users more convenient when transferring Android data to iPhone, Apple has launched its first Android application - Move to iOS, which supports you to wirelessly transfer camera photos/contacts/messages history/videos/calendars and more from Android phone to iPhone. However, there are too many restrictions for it and the rating isn't pretty. To be specific, in order to use Move to iOS perfectly, you have to download it on both your Android phone as well as iPhone. Also, your iPhone has to be iOS 9 or above, while your Android has to be 4.0 or later. The most disappointing thing is that Move to iOS only works when you first set up your new iPhone, or after you reset your iPhone.
To make it easy, you could also use an Android to iPhone transfer tool. It enables you to transfer photos from Android to iPhone quickly. It works just like iPhone to Android transfer.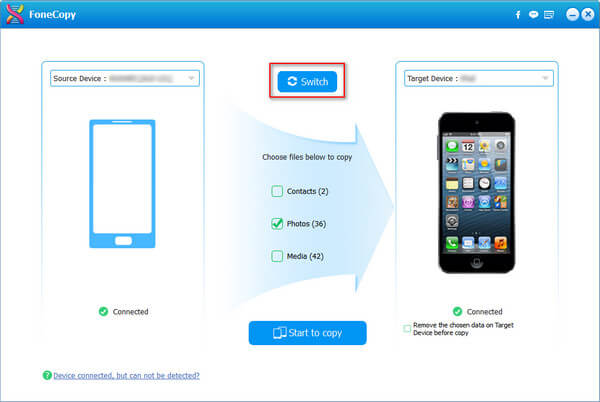 As you can see, there is a "Switch" button in the middle of the interface. Click it and you can change the transferring direction. Just make sure that iPhone is the source device on the left and Android is the target device on the right, you can transfer iPhone photos to Android following the same steps.
Much easier than Move to iOS or iTunes, right? In case you haven't noticed, you could not only move photos with this iPhone Android transfer tool, but also transfer other files between iPhone and Android phone, such as SMS messages transfer from iPhone to Android.