10 Best Apps to Lock Android Safely
AppLock should be a popular and lightweight security application on Android. It is able to lock almost any type of Android files, such as photographs, videos, and even contacts and individual messages. When you need to explore the features of AppLock for Android or find some alternatives, you can find the suitable solution from the article.

Security is a hot topic nowadays. Almost everyone has something private in our phones that we do not want to show to others. But what should you do when the iPhone got lost. Some important documents will be leaked. So we need AppLocks and alternative applications to protect our private things in our phones.
Top 1: AppLock – DoMobile Lab
AppLock is a versatile Android application for encrypting files. Not only lock system applications of Android, such as photos, video and other files, you can also encrypt third-party apps under the protection of password.
Picture Vault feature to keep the private photos in a virtual space.
Lock and unlock app automatically according to the time and location.
Encrypt the apps with different profiles and random keyboard.
Fake cover to confuse intruder with a fingerprint scanner or force-closed message.
https://play.google.com/store/apps/details?id=com.domobile.applock&hl=en
How to use AppLock for Android
Step 1 Search for AppLock on Google Play first, which you can click on the "Install" button. After that you can tap "Accept" to get the program on Android.
Step 2 If it is the first time to launch the program, you should enter a password with at least 4 digits, and then you can tap the "OK" and confirm the password.
Step 3 Now you can select the apps you want to encrypt with AppLock on Main Lock tab, what you have to do is locate files with the program.
Step 4 Set up a relock policy, which dictates how often you must enter the locking password in order to open an app.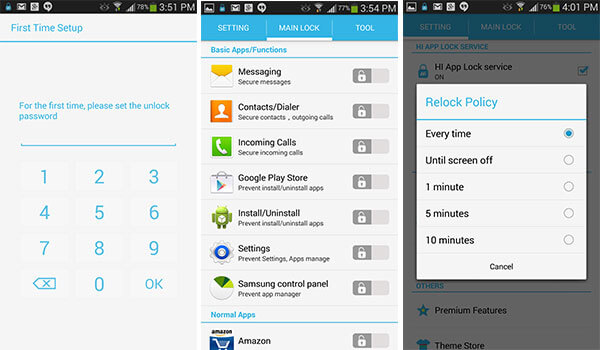 Top 2: App Lock – SailingLab
App Lock is a light app protector tool to protect your privacy on Android. It has two kinds of locks: pattern lock, which is simple and fast to unlock. PIN lock, which is safer for you to lock apps. You can prevent misuse of the phone to change the system settings by locking Setting. Also, you can set the lock to prevent others from seeing your album, video and sensitive applications. Besides, you are able to set Lock Time to activate lock at certain time. The most important thing is that this app lock is completely free to use.
https://play.google.com/store/apps/details?id=com.alpha.applock&hl=en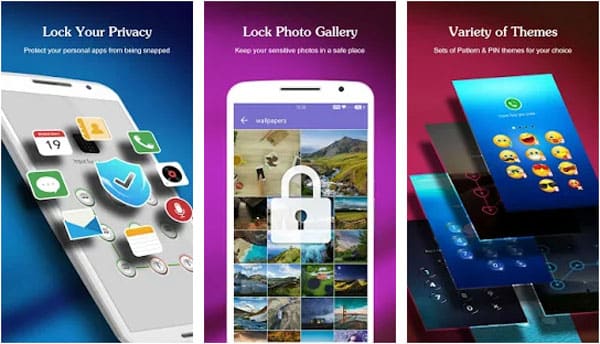 Top 3: AppLock – IVYMOBILE
AppLock of IvyMobile is a free app-protecting program. You can choose a digital password or a graphic password to lock your phone. Beside you can lock cell phone settings and applications to prevent private information, such as messages, photos, videos and so on, from prying eyes as well as avoid children deleting important information. In addition, you are able to lock games or built-in pay software to prevent your children from buying unnecessary content. In a word, the applock is worth using.
https://play.google.com/store/apps/details?id=com.ivymobi.applock.free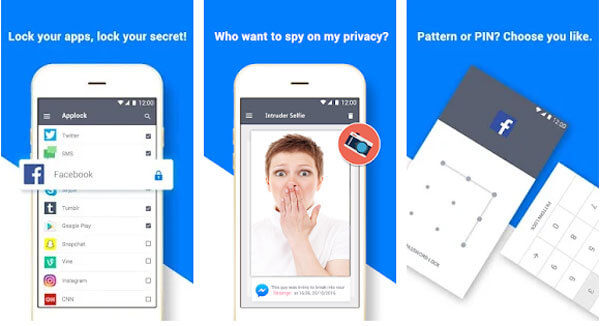 Top 4: AppLock – Cheetah Mobile
AppLock – Fingerprint Unlock is a light and safe application lock tool on Android. You can lock almost everything in your phone including settings and applications so that you don't need to worry about the leakage of your private information. Once someone tries to unlock your phone, the phone will automatically take his photo which meanwhile records date and time and then send the photo to your mail when he inputs the wrong password. It is free to use and there is no ad in the applock.
https://play.google.com/store/apps/details?id=cms.lock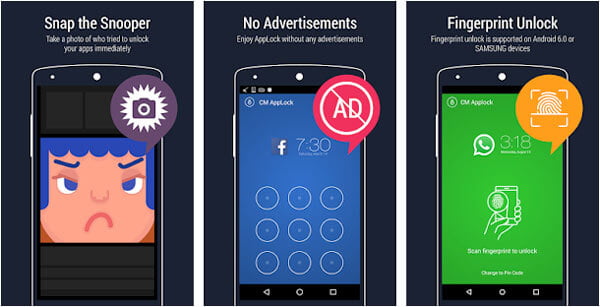 Top 5: App Locker – Burakgon
App Locker is the lightest applock for Android with fingerprint support on Google Play Store, which is completely free. Besides, it also has pattern lock and PIN lock, which are of awesome themes and colors. It has abilities to secure your message and social apps, hide your pictures by locking gallery and photo apps, lock Facebook Messenger chat heads (bubbles) as well as keep your data from prying eyes. It works flawlessly even with latest version of Android.
https://play.google.com/store/apps/details?id=com.martianmode.applock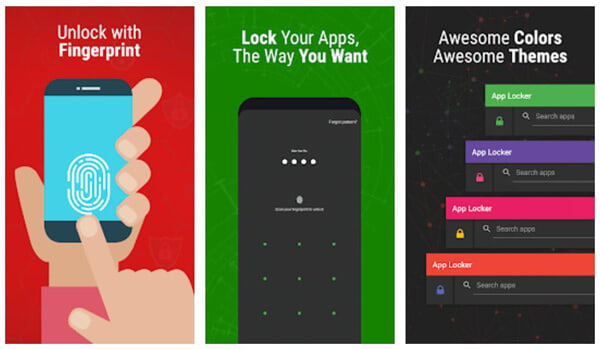 Top 6: CM Locker
CM Locker is a wonderful applock on Android, which protects your confidential data as well as lock your phone's screen, photos, apps and so on with PIN and pattern password lock. Fingerprint lock is also available on supported devices. It will snap photos of intruders who enter the wrong password and then send photos to your e-mail instantly. You can link CM Locker with your Facebook account to remotely lock and locate your device. It also reply IMS messages on lock screen directly and enjoy chatting without unlocking.
https://play.google.com/store/apps/details?id=com.cmcm.locker&hl=en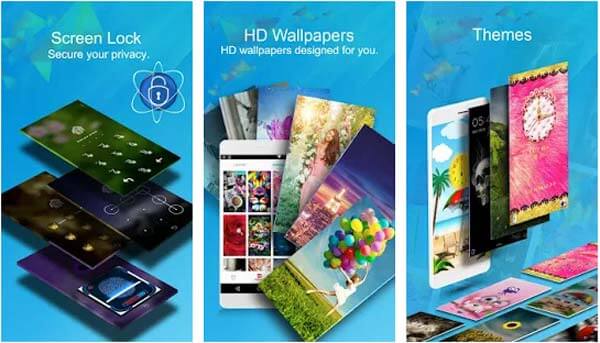 Top 7: Norton App Lock
Norton App Lock is an efficient and secure applock, which leverages special Android permissions to safeguard your sensitive apps. It can keep app content private if you share your phone with kids or friends and protect your photos and data from prying eyes. Besides, it enables you to lock one or more apps with the same 4-digit pass code and add a layer of security in case your device is lost or stolen. You are able to prevent the embarrassing "pocket-dial" accidents and choose the apps you want to lock.
https://play.google.com/store/apps/details?id=com.symantec.applock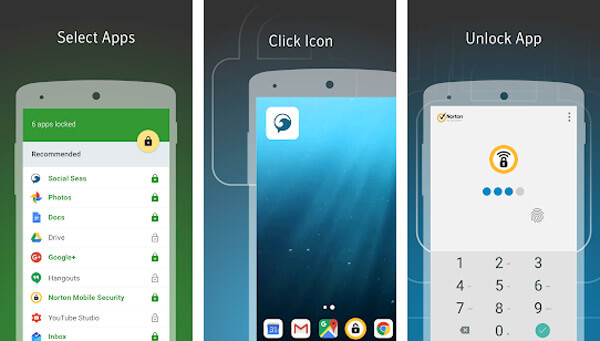 Top 8: Smart AppLock
Smart AppLock is a light and professional applock, which keeps you away from privacy leaks. It has Graphics lock, PIN lock and password lock. You can use it to lock social apps, the Wi-Fi switch and Bluetooth switch as well as sensitive content, such as photos, videos, call records and so on. There is no delay of lock protection even when the devise is restarted. In case that you forget the password, you can set the way to retrieve your password: security mail or security questions.
https://play.google.com/store/apps/details?id=com.thinkyeah.smartlockfree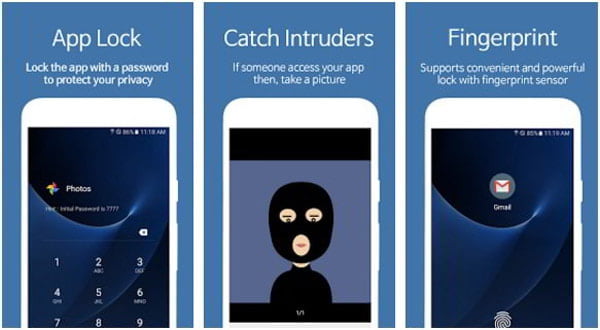 Top 9: AppLock – Fotoable
AppLock is a smart applock app, which you can not only use DIY locker with which you can customize lock screen wallpaper, but also choose PIN or pattern lock with many kinds of themes. It is a good privacy guard that protects your photos, gallery, massages, notes and apps. It can also lock the app market to prevent your children from buying unwanted apps. It also protects Wi-Fi, Bluetooth, Mobile data and Data Sync so that others will not mess up your phone.
https://play.google.com/store/apps/details?id=com.fotoable.applock&hl=en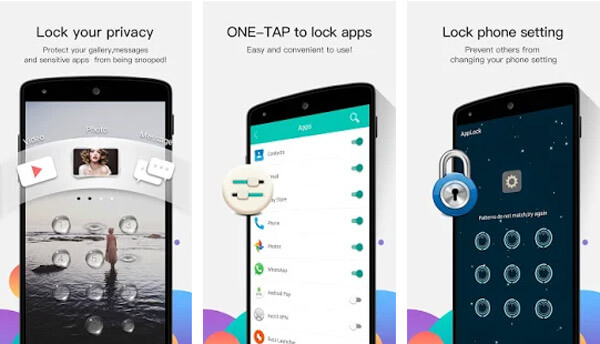 Top 10: App Lock – Fingerprint Password
App Lock - Fingerprint Password is an easy-to-use applock. It supports more than 10 languages and has three kinds of passwords including digital password, graphic password and fingerprint password. It can lock any apps and information, such as messages, photos, videos and anything you want to protect. It will automatically protect the newly installed apps. Besides, when your device is restarted, the applock will automatically begin to work at the same time. You can lock and unlock any application at any time by switching the switch.
https://play.google.com/store/apps/details?id=com.getkeepsafe.applock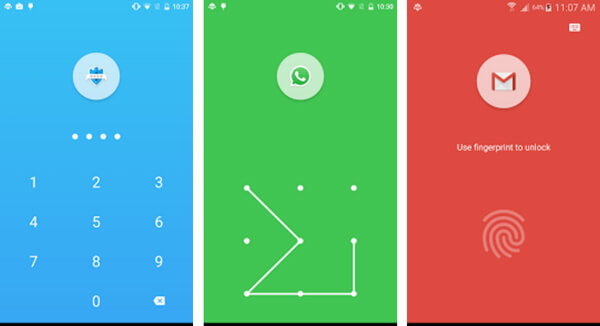 Recommendation: Tjhe Best Android Data Recovery Software
FoneLab for Android is the best Android data recovery, which is able to recover deleted files from Android phone, SD card and tablets on Windows 10/8/7 and Mac OS X High Sierra. When you delete some important files from Android, you can also get them back.
Recover delete SMS, contacts, call logs and documents from Android phone.
Retrieve lost photos, music, videos and WhatsApp files from Android tablets.
Restore delete data from Samsung, HTC, LG, Huawei and more other devices.
Back up Android deleted or existing data to PC or Mac.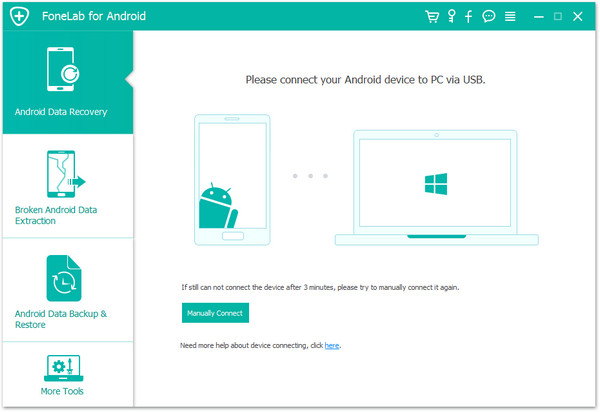 Conclusion
In order to better protect the private of the Android phone, you have to use some applock for Android. Just check out the top 10 Applock for Android from the article. What is more, you can also find the best data recovery once the files are deleted by accidently or restoration.