AudioTool and Its Alternatives: Make Your Own Music
What is AudioTool? Audiotool, formerly Hobnox, is an audio content distribution website specializing in music, particularly electronic music. As a powerful online browser music production studio, users are able to produce and publish their own music track onto AudioTool site. For financial issues, Hobnox was taken down. But you can still see Audio available to use.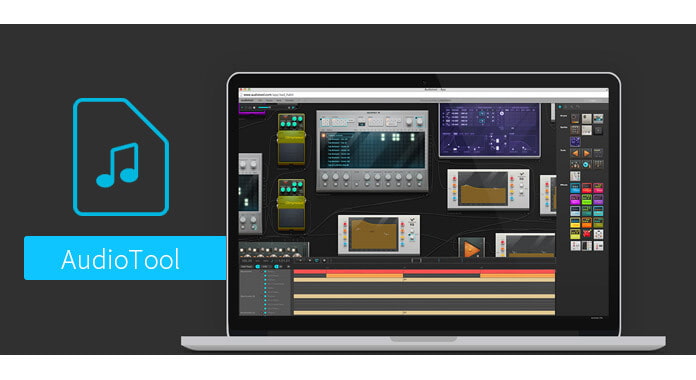 AudioTool
In this article, we will show you in detail about AudioTool. In case you want to find an AudioTool alternativle, this article can also give you some tips.
Part 1: What is AudioTool
Richie Hawtin, a Canadian electronic musician, says that AudioTool is a must for anyone who is interested in electronic music. Using AudioTool, you are able to create music in your browser, remix others tracks to make a new one track, collaborate on multiple tracks with other music enthusiasts or artists. All tracks you created, samples as well as presets will be stored on AudioTool servers, and you are able to access them from any browser. In addition, you are allowed to promote your own track on other platforms according to your need.
How to use AudioTool to make your own music
Audiotool will store all your tracks, tests and presents on the Audiotool servers and you can find them through any brower. For a green hand, Audiotool permits the user to try different things with multiple audio segments to create your own style.
AudioTool offers an extensive gathering of crossfaders, synthesizers and mini mixers and that will let you create a kind soundtrack or a remix. Using a modifiable, users can drag a gadget or sound from the control board onto the principle work region. Sound instrument is an flexible electronic application and it needs a personal computer or other gadget with an internet connection and the capacity to utilize flash.
Part 2: The alternatives to AudioTool
In this part, we will show you 10 AudioTool alternatives in case you want to find a replacement to AudioTool.
No.
AudioTool Alternative
Screenshot
1
Cubase


An excellent AudioTool alternative to make audio easilier.
Users can record, edit and mix music or other audio files.
Support sequencing, composing and lyrics.
Cut or move musical notes/make beats and rhythms.
Offer lots of samples and equipment.

2
FL Studio


Offer various editing and music composition tools.
Be popular among music lovers.
Easy to use and operate.
Users can create and experiment with music.

3
GarageBand


Users can generate and mix music.
Enable users to play equipment and record during the composition.
Be popular among green hands and amateurs.
Users can compose and experiment with music.
Offer tutorials to instruct users.

4
Reason


A comprehensive AudioTool alternative for users to make music.
Offer drum machine, synthesizers, samples, professional mastering tools, REX file loop player, vocoder, mixer and so on.

5
REAPER


A multifunctional audio and MIDI recording, processing, mixing, editing tool.
Record audio and MIDI from manifold inputs.
Users can edit the recordings.

6
Studio One


A DAW scheme to compose, edit and record all types of music.
Allow the users to record macros and apply various modifications with key shortcuts.

7
Soundation Studio


A great online music studio for recording, virtual instruments, impacts and over 700 free sounds and loops.
Easy for users to make music on the web.
Four separate channels to be included to make a novel sound and style.

8
LMMS


A free AudioTool alternative for Windows and Linux users to make music.
Offer a user-friendly interface and a range of tools.
Let users compose music or beats and mix audio files.

9
Ardour


A multiplatform AudioTool alternative for the Mac OS X and Linux operating systems.
Record, edit and mix music.

10
Bitwig Studio


Create music in web browser.
A flexible AudioTool replacement to realize your musical thoughts.
Let your fully control your music.
In this article, we mainly talk about the AudioTool and its alternatives. You can find good options here.