How to Backup iPhone X/8/7/6/5/4 to iTunes
Along with the daily usage of your iPhone, many important and precious files are gathered on it, including photos, contacts, videos, songs, apps, etc. Actually, you can backup iPhone to iTunes for avoiding data loss. However, some questions were put forward when people use iTunes to back up iPhone, such as "How to backup iPhone to iTunes on a new computer?", "How to back up iPhone with iTunes wirelessly?", and even the basic operation "How do I back up my iPhone?"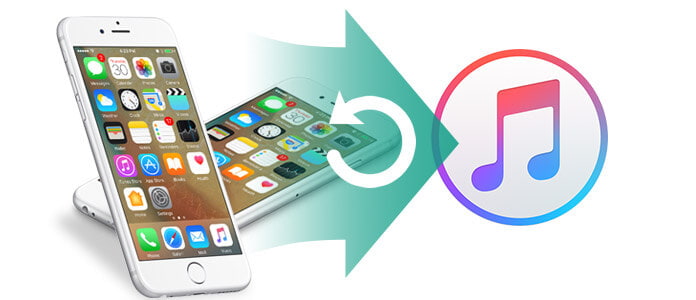 Here in this guide, we will show you how to backup various data on iPhone in 3 cases, helping you know backing up your iPhone X/8/7/SE/6s Plus/6s/6 Plus/6/5s/5c/5 is not a difficult thing. You can back up iPhone to iTunes/computer under different circumstances.
Part 1. How to Backup iPhone to iTunes
Go without saying that, iTunes is a very useful tool to back up all types of iOS data on iPhone/iPad/iPod. At the first part of this post, we will show you how to back up iPhone to iTunes with detailed information.
Step 1 Run iTunes and connect iPhone
Install and launch the latest version of iTunes on your computer. Connect your iPhone to it via USB cable. Wait a moment, iTunes will recognize your iPhone automatically.
Step 2 Backup iPhone to iTunes
When your iPhone icon shows up on the top left menu of iTunes, click on it. All data of your iPhone will be listed on the left bar. Under "Summary" > "Backups", choose "This computer" and then click "Back Up Now". iTunes will begin to back up your iPhone to computer.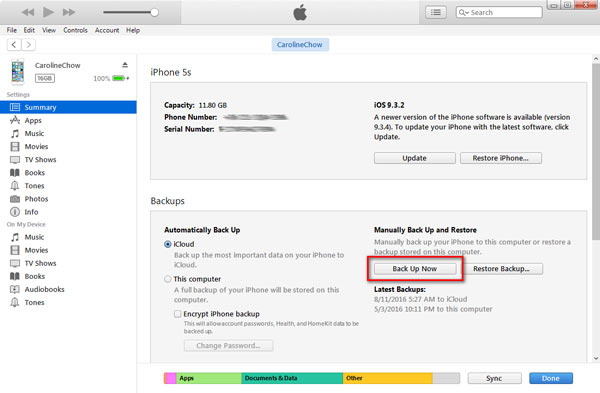 Step 3 Check iTunes backup
After backing up process is finished, you can click "Edit" > "Preferences" > "Devices" to check your iPhone backup.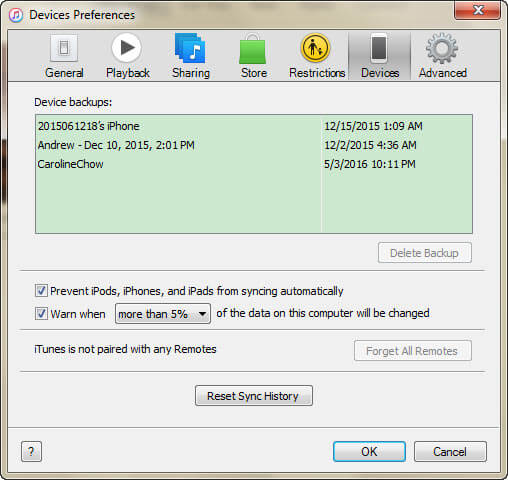 For the iTunes iPhone backup location on computer, different computer versions have different iTunes backup locations.
◆ For Windows XP, the location is "\Documents and Settings\(username)\Application Data\AppleComputer\MobileSync\Backup\".
◆ For Widnows Vista, 7 and 8 is "\Users\username\AppData\Roaming\Apple Computer\MobileSync\Backup\".
◆ For Windows 10, the iTunes backup location is "\Users\USER\AppData\Roaming\Apple Computer\MobileSync\Backup"
◆ For Mac users, iPhone backup location is " username/Library/Application Support/MobileSync/Backup/"
Best iOS data backup tool you may want to know:
FoneLab - iPhone Data Recovery
For Mac
FoneLab is the professional iPhone data backup and recovery software for Windows and Mac users.
Backup iPhone and iTunes/iCloud backup to computer.
Back up contacts, call logs, videos, audios, pictures, etc.
Support any iOS device like iPhone X/8 Plus/8/7 Plus/7/SE/6s/6s Plus/6 Plus/6/5s/5c/5, iPad Pro/Air 2/mini 4, iPod touch 6/5/4.
Part 2. How do I back up iPhone on iTunes over Wi-Fi
If you think that syncing iPhone to iTunes with USB cable is a little troublesome and don't want to use USB cable for iPhone backup, what should you do? How to backup iPhone to iTunes without USB cable? The solution is that, you are able to sync and back up iPhone with iTunes using Wi-Fi.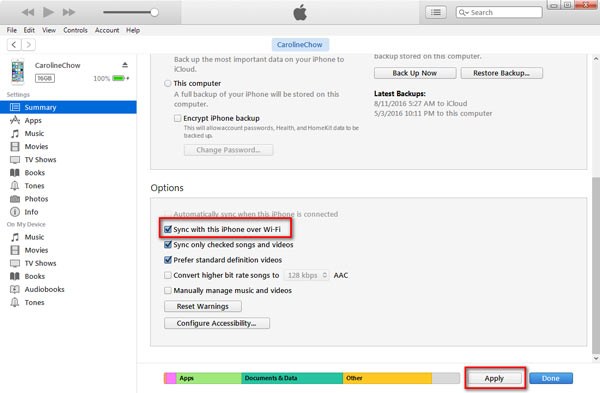 Step 1 Make sure your iPhone is under a good Wi-Fi network.
Step 2 Launch iTunes
Run the latest iTunes on your computer. You can select "Help" > "Check for Updates" to download the latest iTunes. Also, your computer running iTunes must be connected to the same Wi-Fi network with your iPhone.
Step 3 Plug in iPhone to computer
Next, you can plug in your iPhone to the computer that runs iTunes with Apple USB cable.
Step 4 Find iPhone on iTunes
As long as iTunes recognized your iPhone, you can find iPhone icon on the top left menu. Click it to enter "Summary" interface and pull down until you see "Sync with this iPhone over Wi-Fi" under "Options".
Step 5 Backup iPhone to iTunes
Click the box before "Sync with this iPhone over Wi-Fi" and click "Apply" on the bottom. After that, disconnect your USB cable and choose which items you want to sync, then click "Sync" to backup your iPhone to PC or Mac.
Note: Backing up iPhone to iTunes using Wi-Fi only supports syncing parts of iPhone data to iTunes. And call history, notes, SMS and iMessage, or apps are not synced to computer if you don't back up them to iTunes before.
Part 3. How to backup iPhone to computer via iTunes
When you want to sync your iPhone to iTunes on your new computer, this process will not go well. For example, if you want to backup iPhone 6 to your new computer, there will be some words reminding you whether to erase your iPhone because your Phone is synced with another iTunes library. Now, you hesitate. And if you have backed up iPhone, maybe you will continue. But what if you have no backup? So, how to copy iPhone files to a new computer via iTunes without losing data?
In fact, iTunes is designed to transfer data in only one way - from computer to iOS devices, not the other direction. So if you changed your computer or hard drive, your phone will see it as a new computer and iTunes will notice you the reminders as mentioned above. Therefore here we will tell you how to backup iPhone to iTunes on new computer without data loss.
The steps to backup iPhone to new computer with iTunes
Step 1 Disable sync automatically on iTunes
Click "Edit"/"iTunes" > "Preferences" >"Devices" to select "Prevent iPods, iPhones, and iPads from syncing automatically.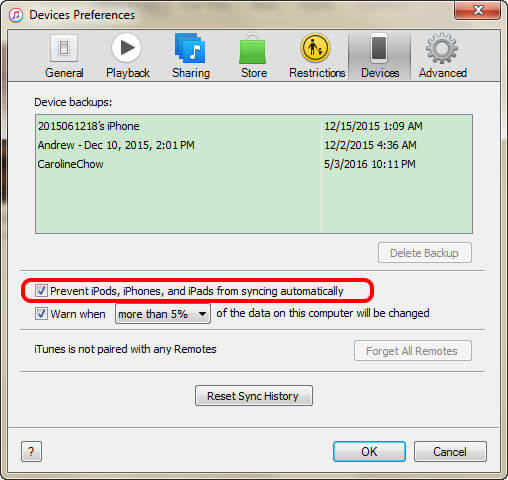 Step 2 Create one event and one contact
If you are using Windows computer, you can create one event or contact in Windows Address Book or Outlook, and iCal & Address Book if using Mac. The most important is that these programs should not be empty.
Step 3 Connect iPhone to iTunes
Step 4 Choose "Account" > "Authorizations" > "Authorize this computer" on iTunes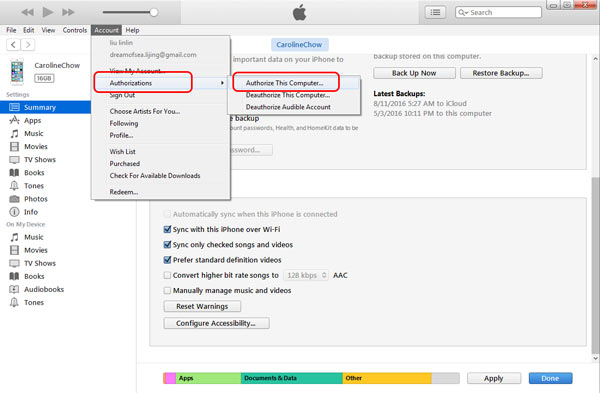 Note: For ensuring all purchased content will be in iTunes library, click "File" > ("Devices") > "Transfer Purchases from 'your devices name'".
Step 5 Scroll down until you see "Reset warnings" under "Options" and tap it.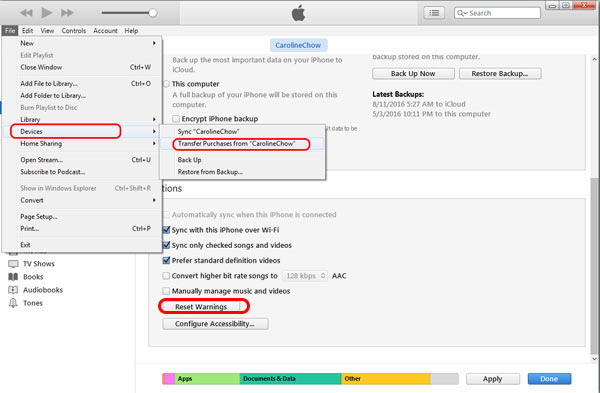 Step 6 Backup and restore from backup
Back to "Backups" to choose "Back Up Now", and then choose "Restore Backup". Don't to create another backup.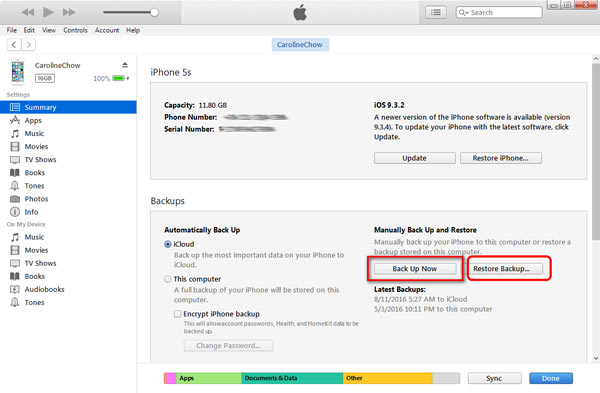 Step 7 Sync between iPhone and iTunes
According to Apple Support, "This must be followed by a sync to restore your iTunes content, which you select from the various tabs". And a popup reminds you to merge or replace your contacts and calendars, please select "Merge".
Now, you can check your iPhone, it is as the same as the beginning you want to sync it to new computer - without data loss. And you have backed up iPhone to iTunes on new computer.
How to directly backup iPhone to computer
If you have the need to backup specific files on iPhone to computer, maybe you can check the following method. Here we highly recommend you to use a professional transferring tool, iOS Transfer, to transfer your iPhone files to computer.
Best iPhone Data Transfer you may want to know:
Aiseesoft FoneTrans - iOS Transfer
For Mac
Best iTunes alternative to help you manage iOS files. Transfer various iOS files like photos, music, contacts and voice memos between iPhone/iPad/iPod and PC/Mac.
Backup iPhone/iPad/iPod to computer
Transfer from computer or iOS device to iPhone/iPad/iPod
Sync from iPhone/iPad/iPod to iTunes
Support any popular iOS device and all types of data
Step 1 Run iOS Transfer
Install and launch iOS Transfer on your computer. The software will automatically recognize your iPhone. It will show the basic info of your device in the main interface.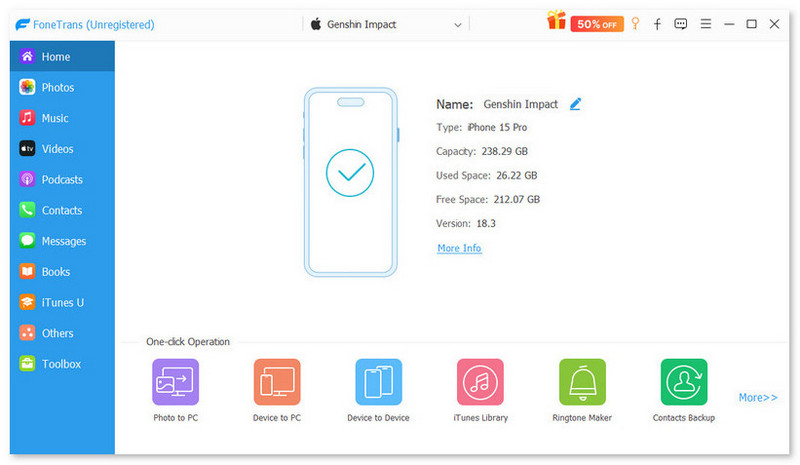 Step 2 View iPhone data
You can see all your iPhone file types from the left column. Click the data type on the left control and you can see the detailed information of each data on the preview window.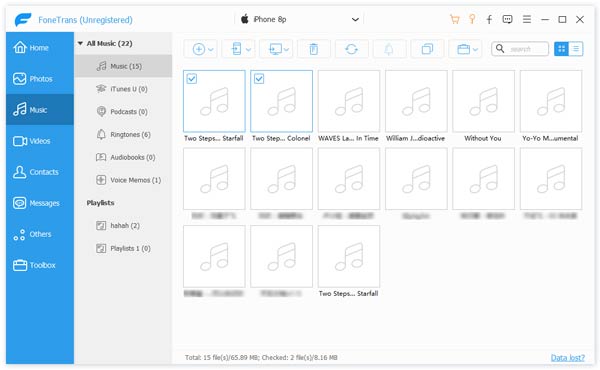 Step 3 Backup iPhone to computer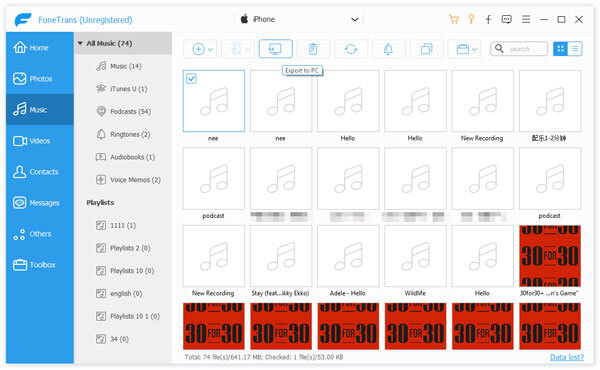 After selecting is done, you can choose Export to PC option from the drop-down list of Export to. Choose the preferred destination folder, and after a while, all the selected iOS files will be backed up to your computer.
In this post, we show you several ways to back up iPhone to iTunes. For better understanding and quicker operation, we highly recommend you that back up iPhone to computer with the safe and professional transferring software - iOS Transfer. It will help you sync all the data from iPhone to computer, and all the data are not be erased from your iPhone. Also, if you have better ideas about backing up iPhone, please tell us without hesitation.