5 Best Google Video Editor Applications for Chromebooks Computers
A Chromebook is a laptop running the Chrome OS, which is based on Linux. Chromebooks are designed to perform various tasks using Google Chrome browser, so most applications and data residing in the cloud server rather than on the devices. One of the biggest criticisms of the Chromebook is the shortage of good applications for content creation. Luckily, you can learn about top 5 best Google video editors for Chromebooks.

Google Video Editor
Part 1. Google video editor apps
Google Photos
Google Photos is one of the most powerful multimedia toolkits. Many people use it to back up photos. Actually, it also integrated some basic video editing features, such as
1. Create a movie with your video clips.
2. Display a video on the timeline for editing further.
3. Remove unwanted clips and trim video on the timeline by dragging the edges.
4. Rotate a video 90 degrees, 180 degrees, 270 degrees clockwise.
5. Apply filters to change the style of your videos.
6. Edit audio track in a video separately.
Pros
1. This Google Video Editor is totally free of charge.
2. The interface is user friendly.
Cons
1. The video editing features are limited.
2. These features are only available to Google Photos app, but not website.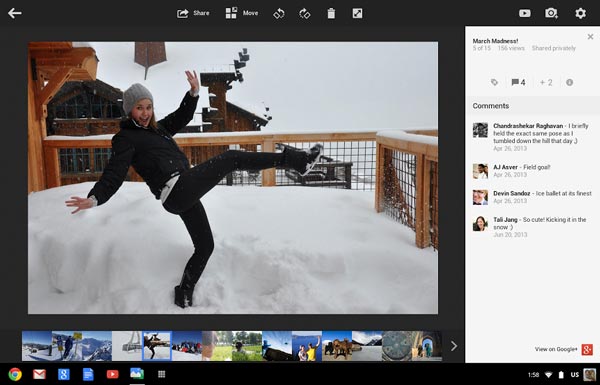 YouTube Video Editors
Unlike Google Photos' video editor, YouTube Video Editor is a web-based Google video editor. Its key features include:
1. Edit the videos in your YouTube account online.
2. Offer several basic video editing tools, such as trimming, rotating, slow motion, and time lapse.
3. The Auto-fix feature is able to correct and balance video color automatically.
4. Stabilize a shaky video in one tap.
5. Add filters, video effects or audio to your videos.
Pros
1. This Google video editor is free to use.
2. The output quality is great.
Cons
1. It needs a YouTube account.
2. YouTube Video Editor is web app, so you should have a fast internet connection.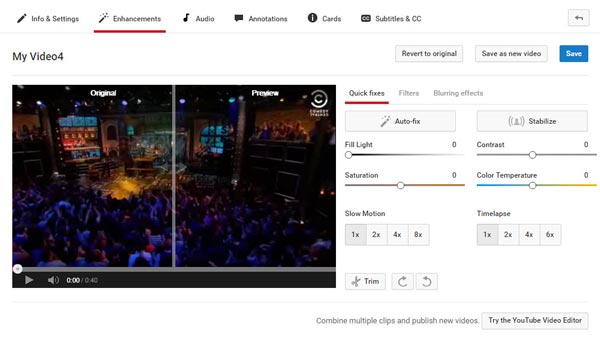 Magisto
Magisto is professional online video editor available to Chromebook. Its main features include:
1. Offer a variety of themes to create stylish videos, such as Sports or Foodie.
2. Create professional looking video stories with several taps.
3. Add music, filters, video effects and transitions on your videos.
4. Stabilize a shaky video automatically.
5. Share and publish the resulting video to social networks.
Pros
1. This Google video editor offers both web app and Android app.
2. It is free to download from Chrome web store.
Cons
1. It lacks some necessary video editing features, such as trim.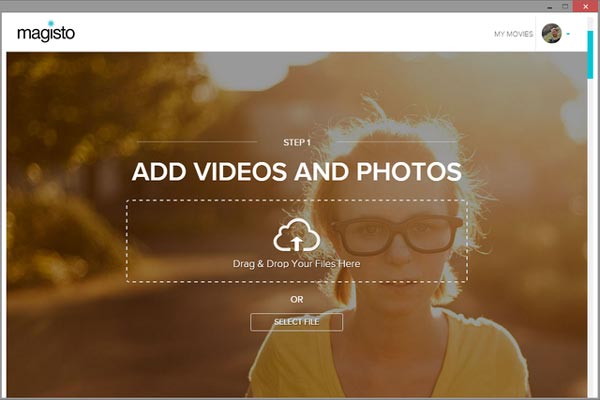 WeVideo
WeVideo is a versatile Google video editor. Its principal features include:
1. Edit videos on the timeline.
2. Provide a variety of video editing features, like merge, trim.
3. Add titles, captions, music, text elements, and photos on your videos.
4. Enhance the portrait videos with burred background.
5. Control audio tracks, video speed, style and other parameters.
6. Save your video to cloud services or YouTube account directly.
Pros
1. This Google video editor integrates extensive useful tools.
2. It is available as web app and Android app.
Cons
1. This video editor needs to sign up with personal information.
2. Video rending speed is poor.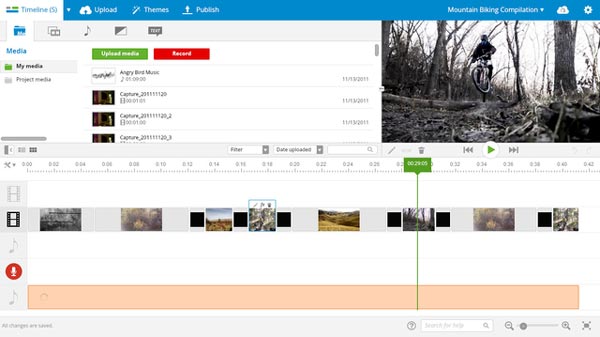 Stupeflix Video Maker
As its name said, Stupeflix Video Maker is both a Google video editor and a movie maker. Its features include:
1. Import videos from hard disk, Dropbox, websites or social media.
2. Provide dozens of themes to redesign your videos.
3. Add titles, custom transitions and audio on the video.
4. Adjust video speed to create special effects.
5. Share resulting movie to Twitter, Facebook, YouTube or email directly.
Pros
1. This Google video editor is quick and easy to use.
2. It allows you to decide output quality.
Cons
1. Some features need to purchase, such as more themes, higher output resolution, or unlimited upload file size.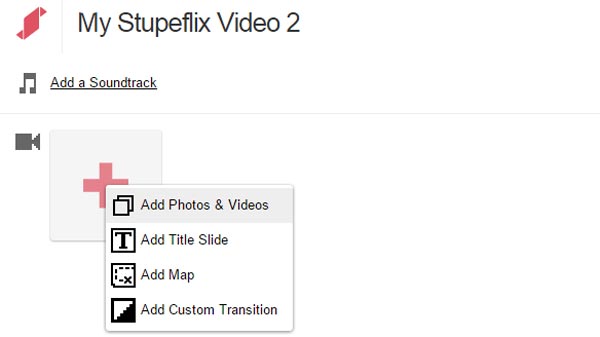 Part 2. video editor on Windows
On the other hand, if you are using Windows PCs, you will have more options to edit videos. It is true that there are a lot of video editors available to Windows, but we recommend Aiseesoft Video Editor for it has a lot of easy-to-use features.
1. Edit videos on Windows in only one click.
2. Provide all basic video editing tools, such as clip, crop, rotate, trim, and more.
3. Enhance and optimize video quality automatically using advanced algorithm.
4. Allow you to adjust brightness, contrast, color, speed and other parameters.
5. Decorate videos with plentiful video effects, watermark, text and your favorite audio.
6. Support all video formats, including 4k and Ultra 4k video files.
7. Available to Windows 10/8/8.1/7/XP and Mac OS.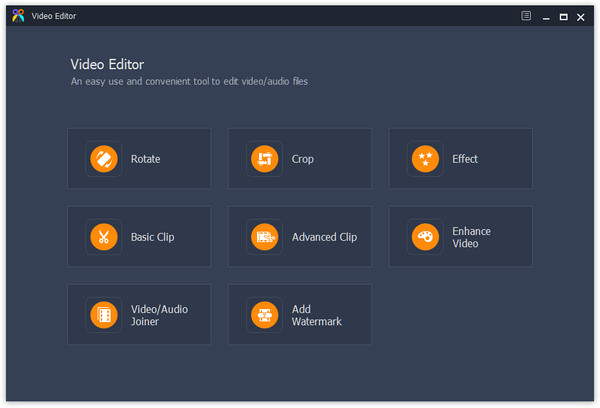 How to edit videos on Windows in one click
Step 1 Get the easy-to-use video editor installed on your PC
Download and install the latest version of Aiseesoft Video Editor on your PC. Launch it and pick a video editing tool from the home interface, such as "Rotate".
Step 2 Edit the video in one click
When going into the video editor window, click "Add File" button to import the video you want to edit in to the video editor, then you can edit it immediately. For example, there are four options in rotating window, "Rotate 90 clockwise", "Rotate 90 counterclockwise", "Horizontal flip" and "Vertical flip". You can click any one to achieve the effect you want.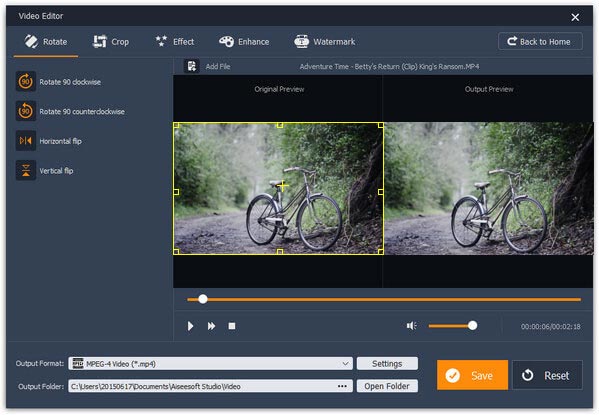 Step 3 Save the result video
After editing, pick an appropriate video format in "Output Format" dropdown list, drop a destination in "Output Folder" box and click "Save" button to export the result to your hard drive.
More video editing tools available include:
Crop video: In video crop window, you can select a part of the video footage and remove unwanted parts with marquee.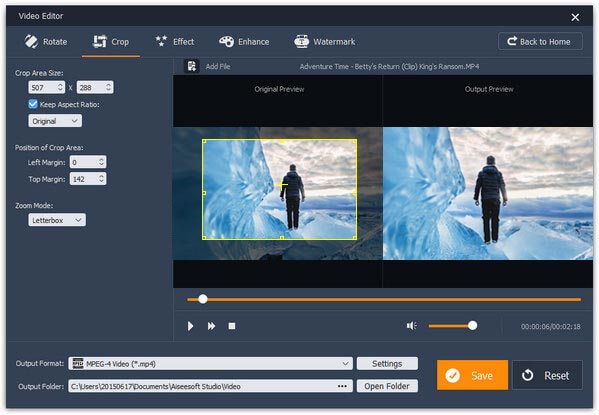 Apply video effect: Here you can change Brightness, Contrast and other parameters to create special tunes.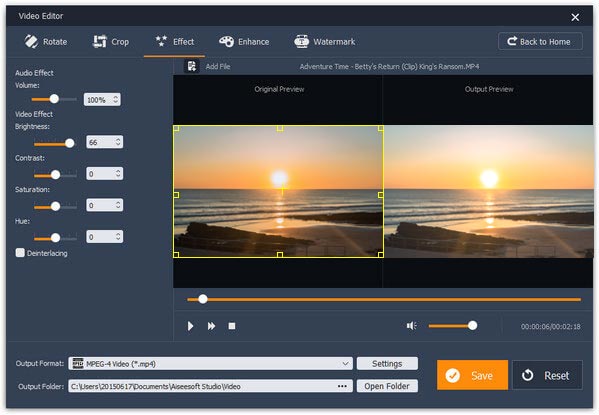 Clip video: The Basic Clip tool allows you to cut and shorten a video length. And if you want to split a video into several clips, the Advanced Clip tool can meet your demands.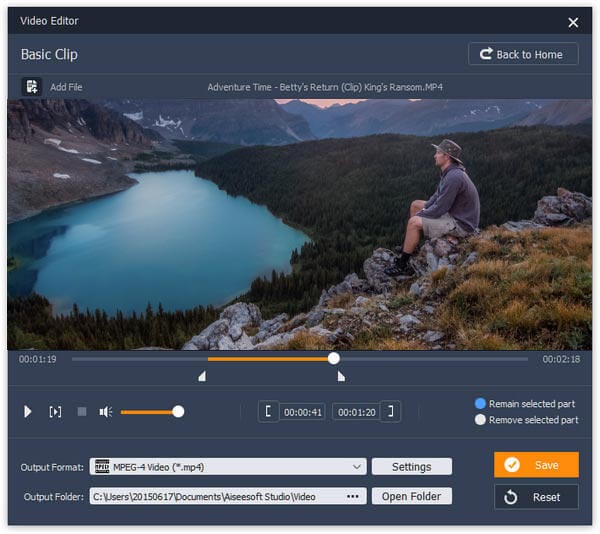 Enhance video quality: The enhancement tool could optimize video quality by upscaling resolution, balancing color, removing noise and stabilizing.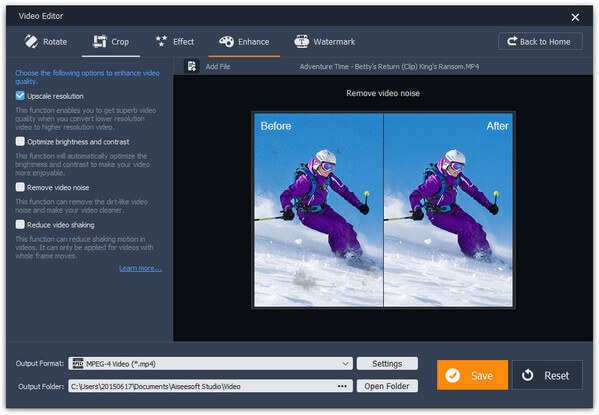 Merge video clips: The Video/Audio Joiner tool could help you to merge more than one multimedia file into one.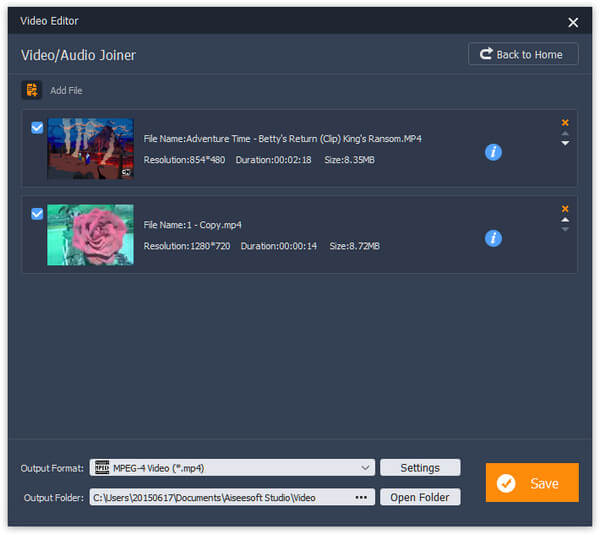 Add watermark: If you want to add logo or watermark on your videos, the Watermark tool is ready for you.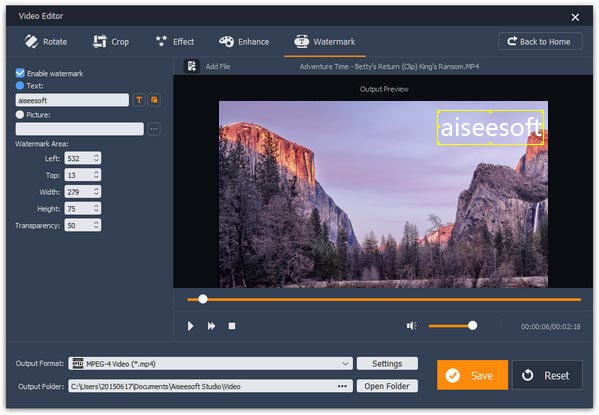 Conclusion
Most professional video editing programs, such as Photoshop or Adobe Premiere, are not available to the Chromebook. Is there Google Video Editor? Can we edit video on the Chromebook? If you have such questions in your mind, you will find this post is helpful, because we have shared multiple excellent Google Video Editors for Chromebooks above.