Top 5 Linux Video Editing Software to Edit Videos on Linux
"I want to find a video editor to help me edit videos under Linux operating system. I tries several editing apps, but they can't support Linux. Is there any good Linux video editing software?"
The truth is, if you are using a Linux operating system computer, you may feel hard to find suitable software. When it comes to video editing, the situation will be worse. You may notice that, even Windows Movie Maker doesn't support Linux. Where to get the Linux video editing software which similar to Final Cut Pro, Adobe Premiere Pro or Apple iMovie? Don't worry. This guide will list 5 great Linux video editor tools to help you edit videos on Linux.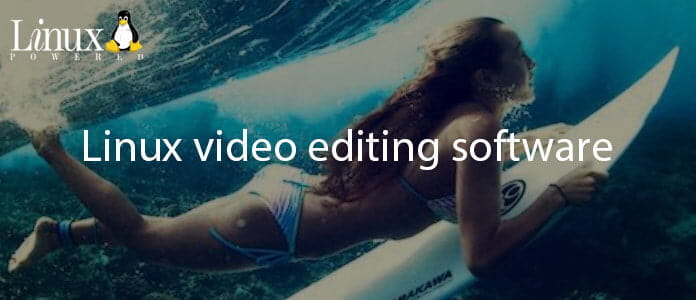 Linux Video Editing Software
There are Linux video editor programs on the internet that can help you edit videos on Linux. However, after downloading, you will find out that it can't work on your computer. In case you can't find the right Linux video editing software, here we list 5 best ones for you to choose from.
Blender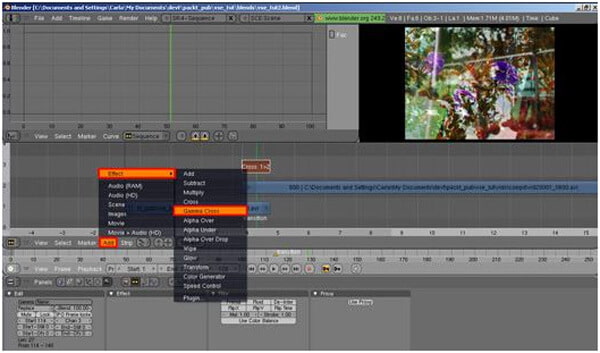 Blender is the free and open source 3D computer graphics software which mainly used for visual effects, video games, animated films and 3D interactive application. It supports the entirety of the 3D pipeline, including modeling, rigging, animation, simulation, rendering, compositing and motion tracking, and more. Surely, it can work as the Linux video editing software to help you make video editing and even create games. It carries many basic editing functions, you can give it a try.
Open Shot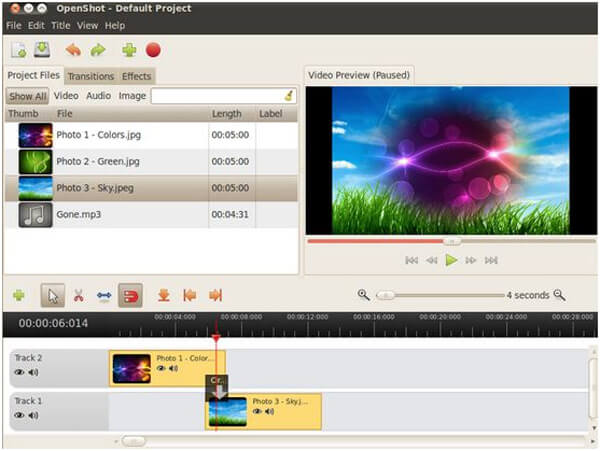 Just like Blender, Open Shot is also an open-source video editing software for Linux that creates, modifies, and edits video files. You can consider it as the most stable and easy-to-use program on Linux. It highly supports many popular video/audio/image formats. This Linux video editing software enables you to trim/crop/snap video with ease. What's more, it supports video transition, compositing, digital zooming, editing and mixing of audio, 3D and other digital video effects and motion picture credits.
Pitivi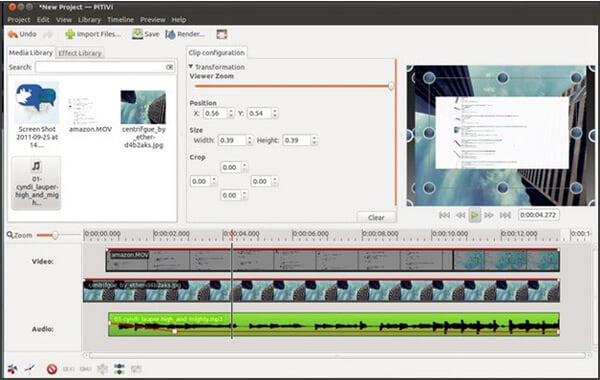 Pitivi is a very popular free Linux video editing software. As an open source and non-linear Linux video editor, it carries hundreds of animated effects, transitions and filters. It is equipped with many frequently-used editing functions like crop, snap, trim, split and more. Moreover, it offer many audio editing features, you are allowed to edit audios on Linux. It is capable of using keyboard shortcuts and scrubbers to command operations. It is the first video editing software for Linux which supports the MEF- material exchange format. With a user friendly interface, you can use it to edit videos on Linux easily.
Cinelerra

Cinelerra is the powerful Linux video editing software which can help you perform common compositing operations such as keying and mattes on Linux operating system computer. It is mainly used for capturing, compositing, and video/audio editing. It is designed with a intuitive and user-friendly UI, you can handily make various edits. It is compatible with high-fidelity audio and video.
Kdenlive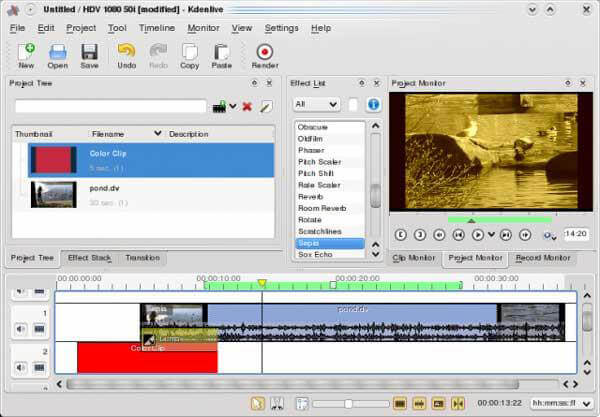 The last recommendation on the list of Linux video editing software is Kdenlive. Kdenlive is a free and open source video editor. Besides Linux, it also supports FreeBSD and Mac Os X. It has many basic editing features like cutting, splitting, transitions, video effects, copy paste and so on. In addition, it highly supports a wide variety of file video/audio formats. You don't need to worry about the unsupported formats.
Best Video Editor for Windows 10/8/7/XP/Vista and Mac OS
If you want to edit videos on Linux, the recommended Linux video editing software above can help you do that. If you want to easily rotate/crop/clip video, merge clips together, adjust output video effects, enhance video quality, you can free download the professional Video Converter Ultimate and have a try.
Video Converter Ultimate
Video Converter Ultimate is the most professional and multi-functional video downloading program.
Download online video or audio in any format with easy clicks.
Convert video/audio to any popular video formats.
Simple and easy to use with advanced video/audio editing functions.
Want to edit videos under Linux operating system? Now you can find the suitable Linux video editing software to do that. We also introduce you with an all-featured video editor to help you deal with various edits on Windows 10/8/7/XP/Vista and Mac OS computer.