DaVinci Resolve Tutorial and Alternatives You Want to Know
There is no doubt that DaVinci Resolve can be one of the best Video Editors all over the world. What's more, you can get professional offline and online editing experience, color correction, audio post production and visual effects in the latest DaVinci Resolve 15. And this powerful program allows you to get the industry-standard grading and editing filters through DaVinci Resolve update as a free public beta.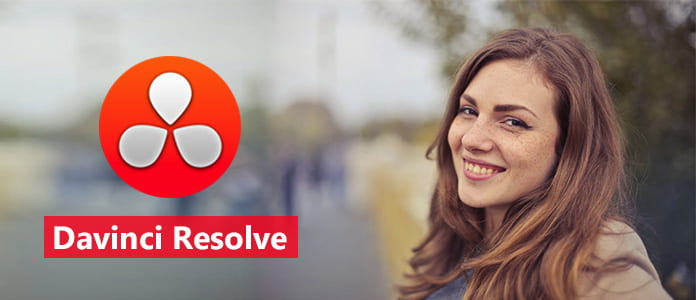 Therefore, this article aims to show you the complete introduction of DaVinci Resolve. And you can also get some alternative programs that are similar to DaVinci Resolve here. Now, let's start to look through this DaVinci Resolve tutorial together.
Part 1. The Complete DaVinci Resolve Tutorial for Beginners
These are collections of the basic information about DaVinci video editor. Thus, you can get something you need quickly and easily.
1. Price of DaVinci Resolve 15
Well, the latest DaVinci Resolve 15 Studio Beta charges people for A$419. and you can access its basic functions in DaVinci Resolve free version, which is DaVinci Resolve 15 Beta. You can head to its official site to free download DaVinci Resolve 15 video editor directly.
As for DaVinci Resolve 14 Studio and easier versions, the current price is $299. And the DaVinci Resolve price is free for another plan. Consequently, you can use editing tools, color correction and post-production for free only.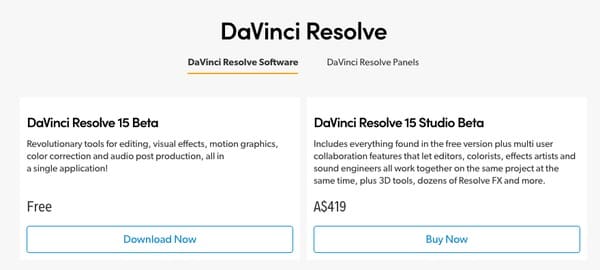 2. Overview for DaVinci Resolve 15
DaVinci Resolve provides various professional tools that common video editors cannot afford. Thus, you can get unlimited creative flexibility when you are editing video and audio files online or offline. There are no DaVinci Resolve system requirements. So you can install and access DaVinci video editor on Windows, Mac and Linux operating systems with no incompatibility issue. Just as above mentioned, DaVinci Resolve offers two enterprise pricing places. So you can decide which version to choose according to your real demand. After all, it is not cheap to own DaVinci Resolve full version.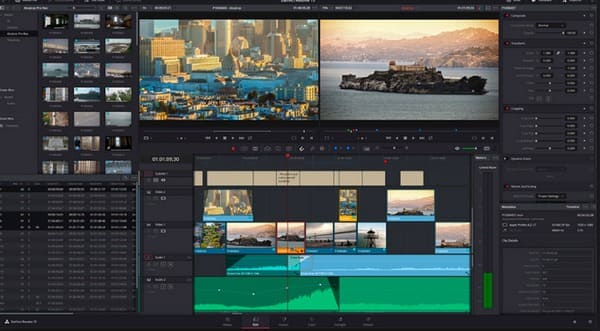 3. Main Features You Can Get from DaVinci Resolve 15
Get professional editing filters of speed effects, transitions, timeline curve editor and more.
Bring fusion effects for users to create cinematic film quality visual effects effortlessly.
Provide the advanced color correction tools, noise reduction, etc.
Offer the professional audio workstation with fairlight audio built-in tools.
Make importing, syncing and organizing footage fast in DaVinci Resolve video editor.
Guarantee the Multi-user collaboration and high-performance playback engine.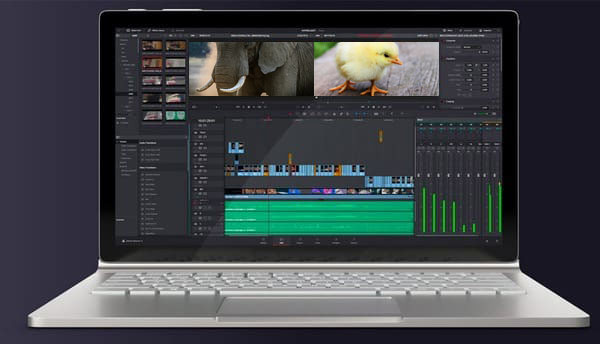 4. DaVinci Resolve review
DaVinci Resolve offers lots of advanced editing and organizing features for both video and audio files. Furthermore, it allows you to get precise controls over color correction and grading. And you are supported to customize ultra-HD videos with DaVinci Resolve media offline as well.
However, it seems not to be a friendly video editor for novices. And DaVinci Resolve free version does not offer 4K support. In a word, if you are an aspiring auteur with creative talents, then DaVinci Resolve can be your best video editor.
Part 2. Top 5 Best DaVinci Resolve Video Editor Alternative for Windows and Mac
There are also other good video editing software with high performance and professional quality. So you can read and get the best DaVinci Resolve alternative editor here.
Top 1: Adobe Premiere Pro
Supported OS: Windows, Mac
Pros:
Provide various professional editing tools.
Offer the enhanced mercury playback engine.
Get expert training videos from the online library directly.
Cons:
There are some limitations of GPU support range.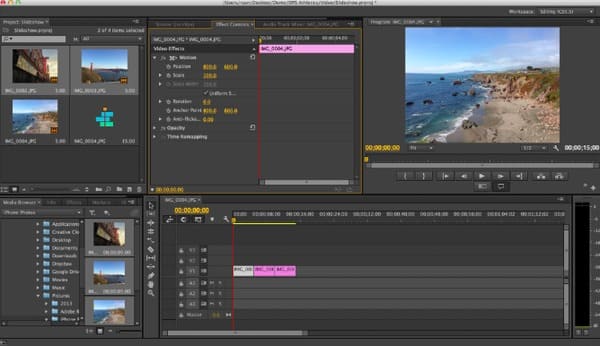 Top 2: Final Cut Pro
Supported OS: Mac
Pros:
Get the redefined interface and customizable workspace.
Batch process up to 99 audio tracks per time.
Provide well-managed motion templates.
Cons:
It does not allow users to run other video editors at the same time.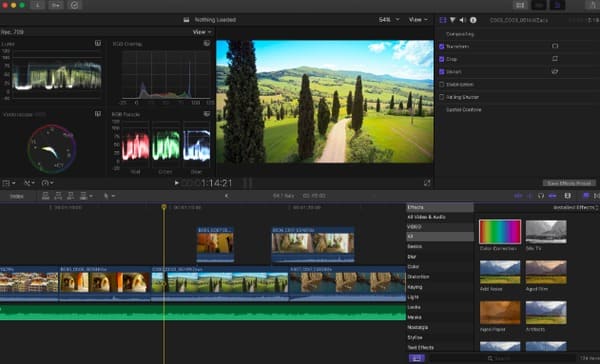 Top 3: Lightworks
Supported OS: Windows, Mac and Linux
Pros:
Lightworks is mainly designed for industry standard applications.
Support many operating systems with a highly customizable interface.
This DaVinci Resolve similar program is resolution independent.
Cons:
There are not enough audio effects.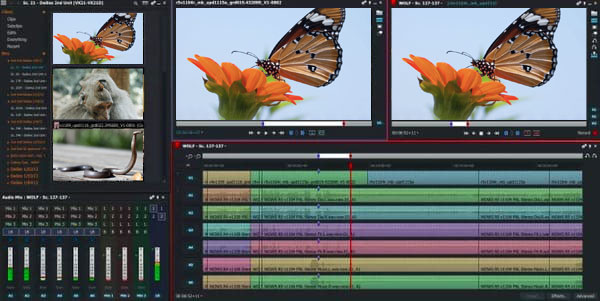 Top 4: Avid Media Composer
Supported OS: Windows and Mac
Pros:
Support to access an extensive workflow over the single platform.
Get useful editing tools for television and film creations.
All those provided filters are well-organized.
Cons:
You are restricted of color correction.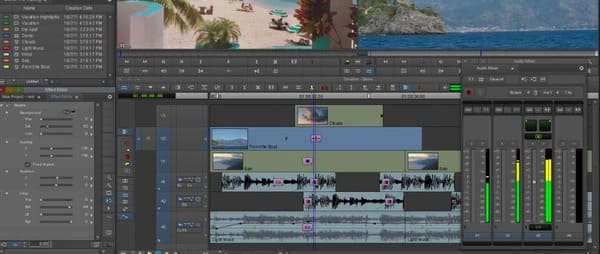 Top 5: Sony Vegas Pro
Supported OS: Windows
Pros:
Provide free style type camera movements.
Support 2K, 4K and stereoscopic 3D editing capabilities.
Bring various types of pre-installed video effects for gamers and short movie makers.
Cons:
Offer the Windows version only.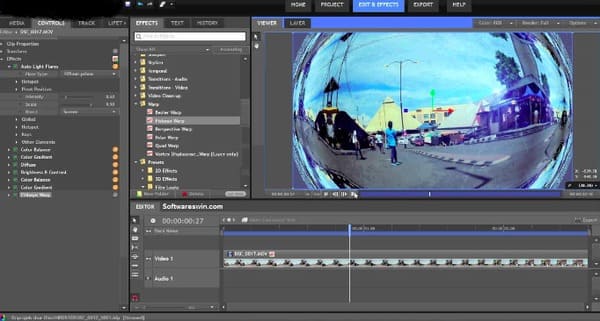 Part 3: Get Easier DaVinici Resolve Features with Aiseesoft Video Converter Ultimate
If you are looking for an easy-to-use and powerful Video Editor, then Aiseesoft Video Converter Ultimate can be your best DaVinci Resolve alternative program. You can achieve most video and audio customization in this all-in-one video processor in high quality.
What's more, this video editor has simplified professional filters into options and sliders. Thus, you can apply the target video effect within few clicks. And there is a real-time preview window you can use during the whole video editing process.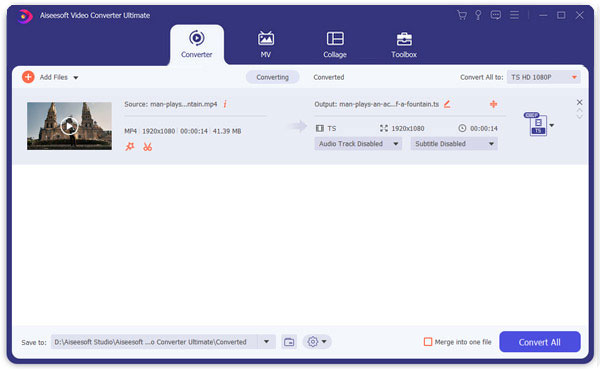 Convert video and audio files over 1000 formats on Windows and Mac PC.
Support all encoding formats including HD/4K UHD and 3D converting
Download YouTube videos and other online videos to your computer.
Provide default settings for all popular devices.
Enhance video quality and get other customizable filters to make your video visually energetic.
Add external subtitle and multi-audio track to your favorite video.
Actually, you can free download Video Converter Ultimate to access its features first. And it charges a reasonable price for all provided functions.
Well, if you have any other feature about DaVinci Resolve to supplement, please don't hesitate to contact us. Of course, you can also write down your experience with DaVinci Resolve in the comments below.