How to Use Wax Video Editing Software to Edit Videos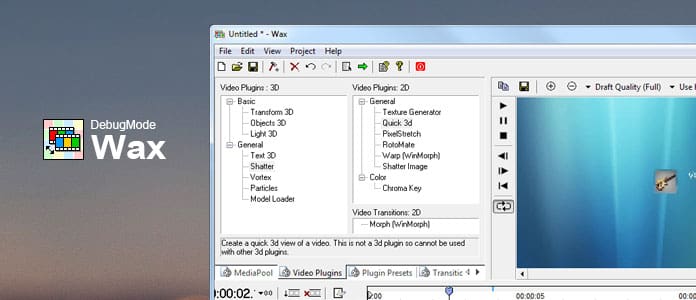 Part 1. What is Wax video editing software
Brief introduction about Wax Video Editor
Wax is one of the most popular editing tools that allows users to edit videos and create special effects easily with widely supporting video formats. Wax Video Editor can also create 2D and 3D special effects and can work in two modes which are standalone application to beginners and "plug-in" to video editors for more professional users. Currently it can work as a plug-in for Pure Motion EditStudio, Adobe Premiere and Sony Vegas.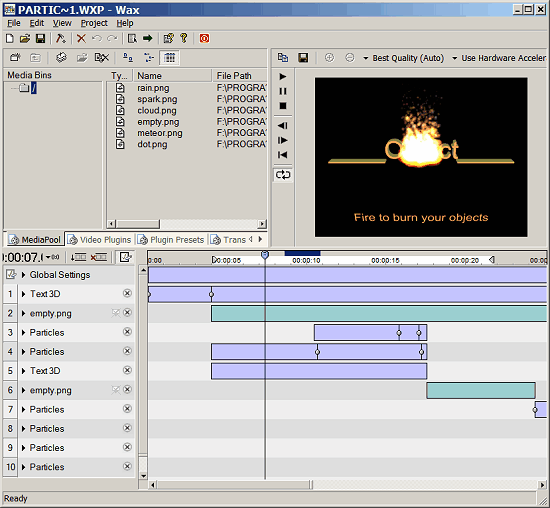 Wax Video Editor Review
One of the best things about Wax is it is a free video editor with a wide variety of useful features that is easy to use for even a novice to edit videos and create their own special effects. The downside of it would be the appearance is a little out of fashion. Besides, it may not support some older system, so it means you cannot run Wax on some old system computer.
Pros:
Support a wide range of media formats including AVI, AVS, WAV, BMP, JPG, PCX, PNG, PBM, PSD, SGI, BW, RGB, TGA, TIF, DDS, DCX, ICO, PIX, PSP, XPM;
Very easy to use and totally free;
Support creating special effects for videos;
Graphics acceleration to video card for creating mind-boggling effects in real time or near-real time.
Cons:
A little bit outdated comparing with other video editing tools;
Not available for all operating systems.
Wax editing software free download
You can easily download Wax from many download sites when you search Wax on the internet. The latest version of Wax is 2.0e. The current version of WinMorph comes with Wax 1.01. If needed you can use both Wax 1.01 and 2.0 in the same PC, or just install Wax 2.0 and use WinMorph as a plug-in from it. It supports operating systems including Windows 95/98/Me/NT/2000/XP and the additional requirements would be Windows 95/98/Me/NT/2000/XP/2003 Server. It is very easy to install this software and once the installation is completed, you can find many different video editing features for editing videos.
Part 2. How to use free editor Wax to edit videos
Wax's editing features come with many different formats shown on a drop-down menu in its main interface. Now let's first learn what Wax can help use to edit our videos in advanced.
Wax Video Editor features
Unlimited video and audio tracks with top-down compositing and many compositing modes; 2D and 3D Plug-ins and transitions to create effects and 3D compositing with 3D objects, lighting, shadows, texture generator, etc. Plug-ins includes:
• RotoMate - rotoscope/paint over video with fully key flammable shapes and masks
• Shatter - create explosive effects
• ModelLoader - load 3d models from .3DS, .MD2 and .MS3d files
• Particle Generator - generate various natural particle effects like fire, smoke, rain etc
• Text 3D - create extruded/beveled 3D text and more
Project management with media bins or folders, element properties and comments for ease of use;
File input and output through filters;
Plug-in Adapter technology to load and use VirtualDub filters, DirectX plugins, Freeframe plugins and Windows Movie Maker presets inside Wax.
How to use Wax video editing software
1. Download and install Wax on your computer and launch it. Right click MediaPool panel to load media files and drag and drop your media files to the timeline. Go to Video Plugins to put Quick 3d plugin to the added media track. Click the arrow in front of Quick 3d to check the drop-down list options like Posx, Posz, Cropleft, Crop bottom, etc. You can set all the parameters and view the real time settings on the to preview window.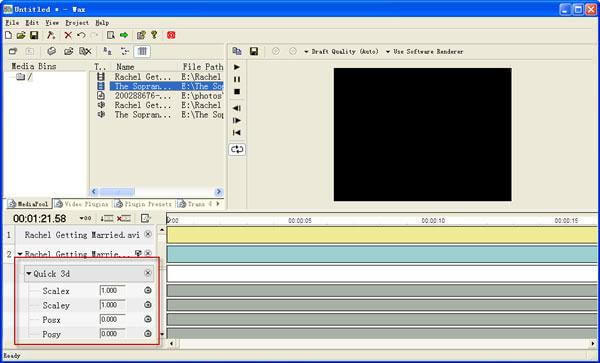 2. Click the Project Settings button in the tool bar and see the pop-up window. Specify your file name, save patch and video options including frame rate, video dimensions, etc. and click OK after setting.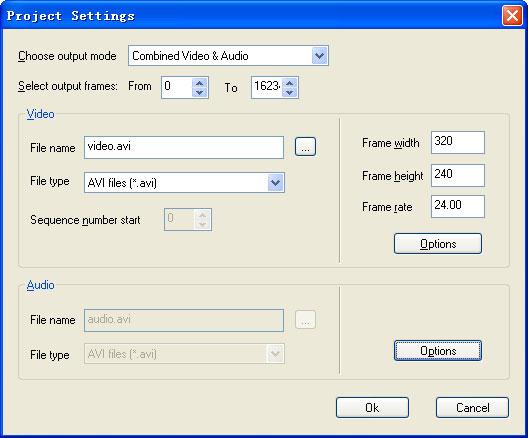 3. Click the green arrow on the tool bar to save your video to the place you just set and a few minutes later, you can see your edited video on your computer.

Part 3. Best Wax video editing software alternative
Of course, Wax is very popular and easy to use video editing software. However, as its limitation of old fashion interface and operating systems (especially you are using Mac), you may wonder if there is any free video editor as great as Wax Video Editor. Here we would like to introduce you Free Video Editor to help you easily rotate, clip, crop, watermark and convert video and audio files on your Windows and Mac. Learn how to use this free video editor to edit videos easily on both Windows and Mac.
Step 1Download and install this free video editor on your computer. Choose any editing function on the main interface to enter the edit window. You can easily switch to other specific editing tools on the top toolbar without going back to the main interface. Click "Add File" button to add your video to this program.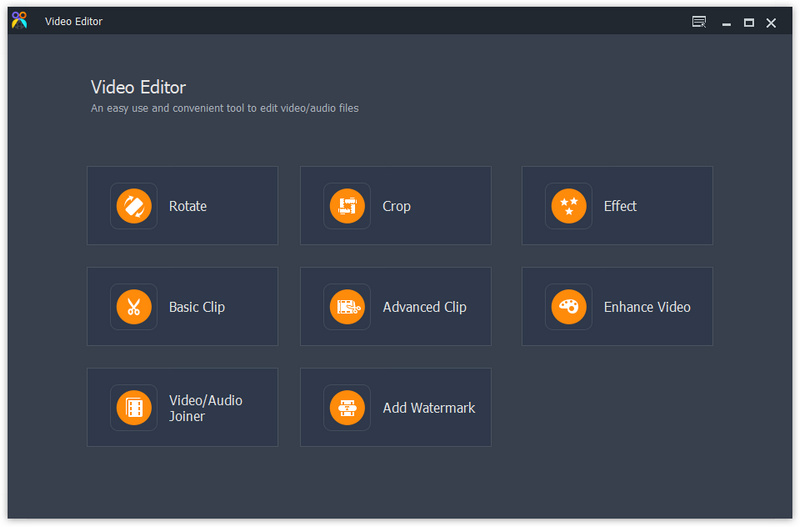 Step 2If you want to rotate your video. Choose "Rotate" on the top toolbar and you can rotate your video with 90 clockwise, 90 counterclockwise, horizontal flip or vertical flip by clicking the button on the left sidebar. You can also crop, enhance, add effect and watermark to your video by switching to this function interface and continue edit the same video.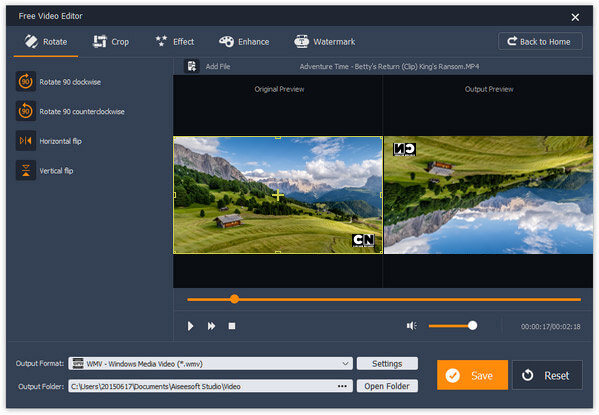 Step 3After editing, click "Save" button to save your edited video. It will take a few minutes to save the file. After saving, click "Open Output Folder" and you can check your edited video on your computer directly.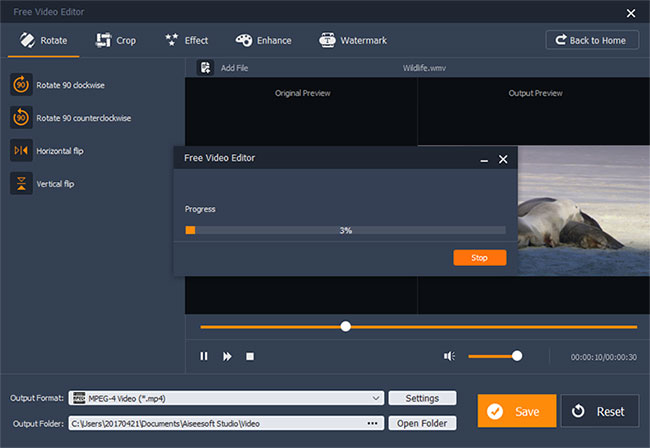 You can also check the following video tutorial for quick understanding: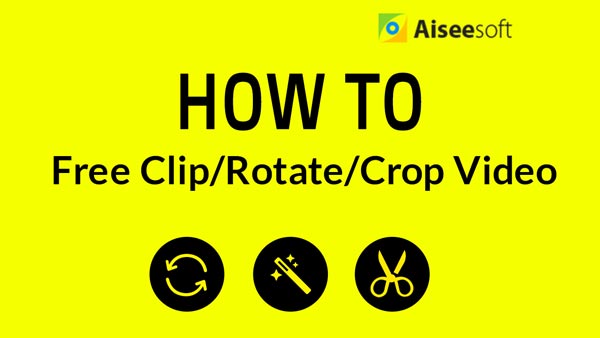 In this article, we generally introduce Wax video editing software and how to use it to edit your videos. And we also offer an alternative to the Wax Video Editor. Hope you can edit your videos easily with this free video editing tools. For more recommendation, you can also leave your comments below.