How to Fix a Soft-bricked Android Phone
New features attract us when we play around with Android devices and many of us would like to test new ROMs, kernels or other tweaks. But sometimes things go wrong and your Android phone may get bricked. If your Android phone turns abnormal, what should you do? Don't panic. Pay attention first, do you know what "brick" is?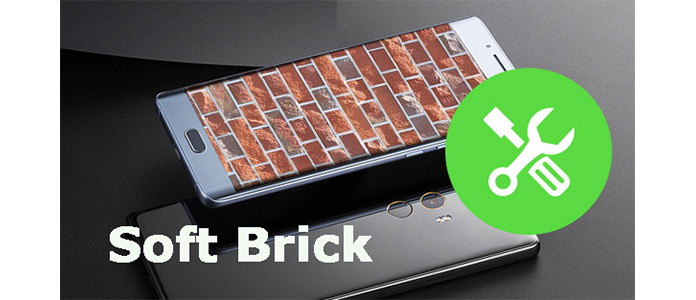 Android Soft Brick
At the beginning, I would like to simply discuss the difference between soft brick and hard brick. After that, you can tell your Android phone is soft-bricked or hard-bricked. Hard brick means the device is totally dead and there is nothing you can do to fix it at all. You can easily identify a hard-bricked Android phone according the following points:
◆ The device cannot be powered on any more.
◆ Your computer cannot recognize the device any more.
◆ Nothing responsive shows when you do any operation to it.
If you Android phone has the symptom referred above, then you unfortunately get an expensive "brick". In contrast to that, a soft-bricked Android phone is only half-way dead. That's to say, soft brick can be fixed. This situation often occurs when you flash a custom ROM, root Android device or download a malicious app, etc., then your device is stuck in the startup interface, not booting anymore or being constantly crashing. We list several common situations when you Android phone gets soft-bricked:
◆ Flash stock ROM
◆ Root Android phone unreasonably
◆ Use apps requiring root access
◆ Install a custom ROM
◆ Update Android's firmware
◆ Factory data reset Android
◆ Multi-tasking on Android phone
As we referred before, soft-bricked Android phone can be fixed. Then what to do? This article is going to introduce you with Broken Android Data Extraction, the best Android tool to extract Android files and fix Android system to normal. With this program, fixing soft-bricked Android phone is just a piece of cake. Currently, Broken Android Phone Data Extraction perfectly supports fixing various Samsung phones and tablets, such as the Galaxy S series, the Galaxy Note series, Galaxy Tab series. As for other Android devices, we are working for solutions. Make sure your Android device is in the following list:
Samsung Series
Models
Samsung Galaxy Note
Galaxy Note 3
SM-N900, SM-N9002, SM-N9005, SM-N9006, SM-N9007, SM-N9008 SM-N9008V, SM-N900S
Galaxy Note 4
SM-N9100, SM-N9106W, SM-N9108V, SM-N9109W, SM-N910C, SM-N910F, SM-N910G, SM-N910H, SM-N910K, SM-N910L, SM-N910P, SM-N910R4, SM-N910S, SM-N910T, SM-N910U, SM-N910V, SM-N910W8
Galaxy Note 5
SM-N920C, SM-N920G, SM-N920I, SM-N920K, SM-N920L, SM-N920P, SM-N920R4, SM-N920S, SM-N920T, SM-N920W8
Samsung Galaxy S
Galaxy S4
GT-I9500, GT-I9505, SCH-R970, SCH-R970C, SGH-I337M, SGH-M919, SPH-L720
Galaxy S5
SM-G900F, SM-G900FQ, SM-G900I, SM-G900K, SM-G900L, SM-G900M, SM-G900P, SM-G900R4, SM-G900R6, SM-G900S, SM-G900T, SM-G900T1, SM-G900W8
Galaxy S6
SM-G9200, SM-G920F, SM-G920P, SM-G920T, SM-G925F, SM-G925P, SM-G925T, SM-G928P, SM-G928T
Galaxy S7
SM-G930F, SM-G930T, SM-G935F
Samsung Galaxy Tab
Tab Pro 10.1
SM-T525
Supported Files
Contacts, Messages, Message Attachments, Call Logs, WhatsApp, WhatsApp Attachments, Gallery, Picture Library, Video, Audios, Documents
How to use Broken Android Phone Data Extraction
At first, download and install Broken Android Phone Data Extraction. And we will in detail show you how to use this program for soft brick fix.
Main Features:
◆ Fix locked, frozen, crashed, black-screen, virus-attack Android phone to normal.
◆ Recover and extract contacts, messages, WhatsApp data, call history, photos and more from broken Android phone.
◆ Support almost Samsung Galaxy S, Samsung Galaxy Note, etc.
Extract files from unresponsive or locked Android device
Step 1No responding when touching the Android device but the computer can detect it? Don't remember the screen password? Broken Android Phone Data Extraction can help you. Connect your Android device with computer, launch the program and then click "start" button.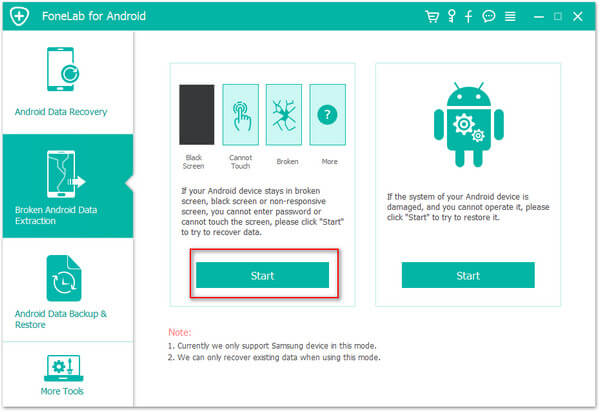 Step 2Choose the model and phone name for your phone. Click "confirm" button.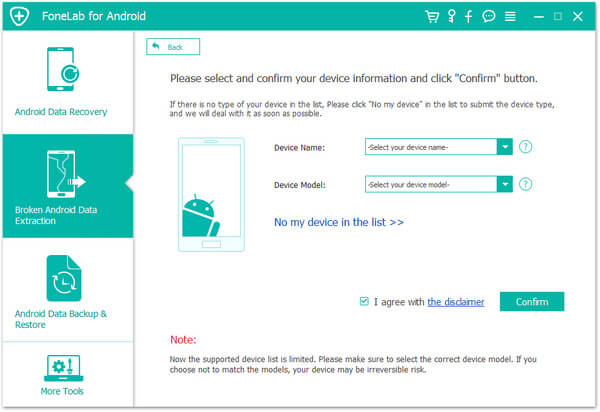 Step 3A simple guide to let your Android phone enter Download mode.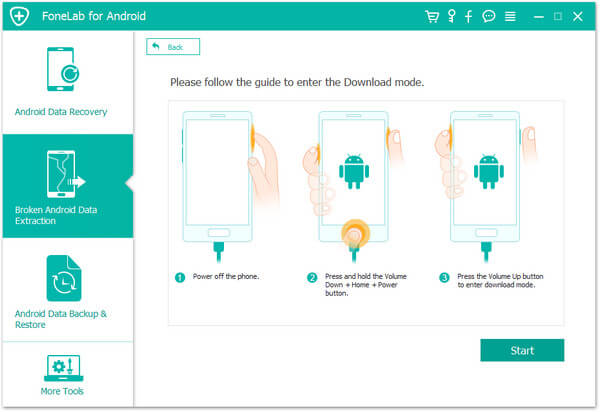 Step 4Soon, the program will scan your Android data. And you are able to view and recover your contacts, photos, messages, videos and other Android files.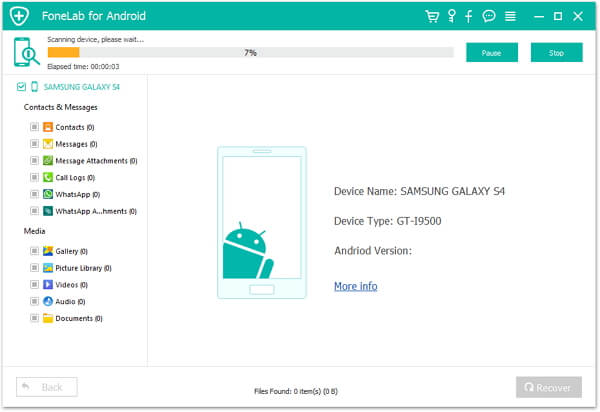 Fix Android system to normal
Step 1Broken Android Phone Data Extraction can still offer solution when your Android phone is broken/bricked, or gets stuck in black screen/Fonego screen/vendor screen and so on. Click "Fix Device" button.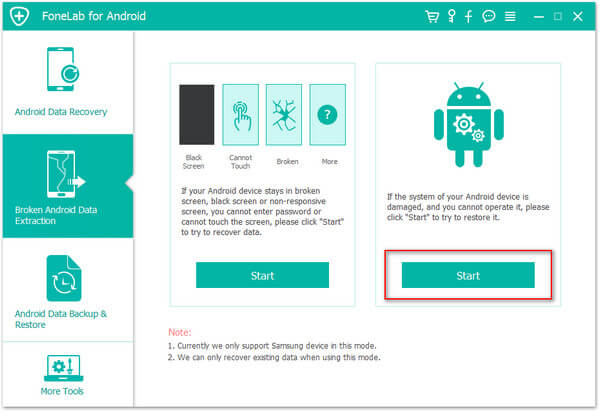 Step 2Choose the corresponding issue your Android device is facing with and click "Next" button and then select your phone model and name.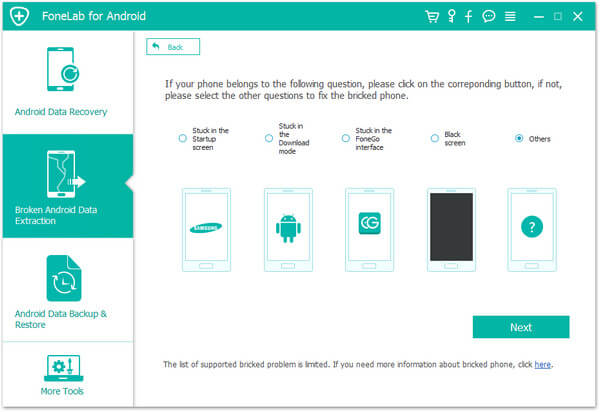 Step 3When the Android system is fixed, you can use "Android Data Recovery" feature to scan and recover your Android files.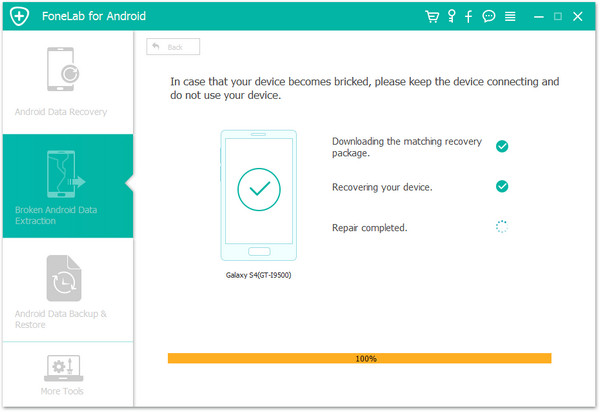 You can learn the steps from the video below: