Image Capture – Where and Use It on iMac
Image Capture is the built-in program that allows users to transfer photos from digital camera, scanner or iOS device to iMac. As the easy photo transfer software, many users prefer Image Capture to iTunes or iCloud.
However, where is Image Capture on Mac? How to use it?
That's what we shall uncover in this post.
Keep reading and get the details.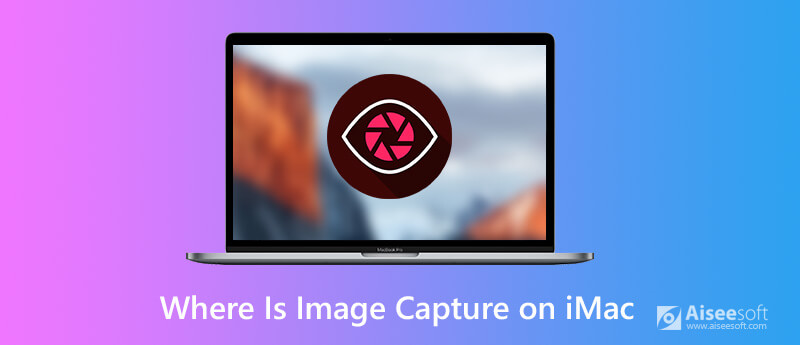 Part 1. Where Is Image Capture?
Unlike iPhoto, Image Capture cannot open automatically when you connect your camera or device. You can follow 3 ways below to find where is Image Capture.
Find Image Capture via Launchpad
Step 1.
Open
Launch Pad
in the Dock.
Step 2.
Find and open the Other folder.
Step 3.
Find Image Capture (An image icon).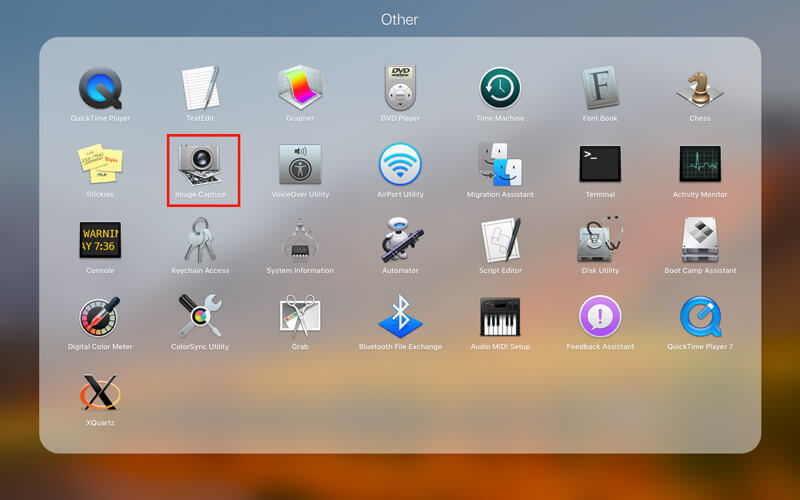 Open Image Capture from Finder
Step 1.
Run iMac, and click
Go
on the
Finder
menu.
Step 3.
Look up for the Image Capture icon and open it.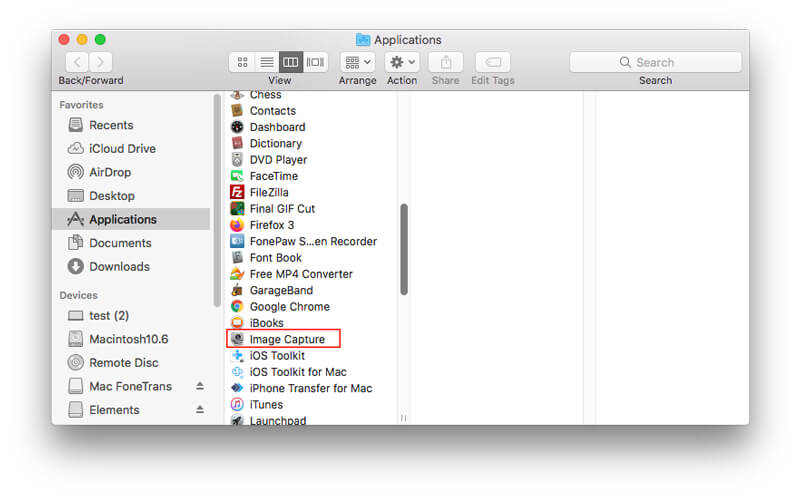 Launch Image Capture Through Finder
Step 1.
Press Command + Spacebar to open Spotlight Search. Or click the magnifying glass icon at the right of the menu bar to enable it.
Step 2.
Input Image Capture and it will appear in your search result.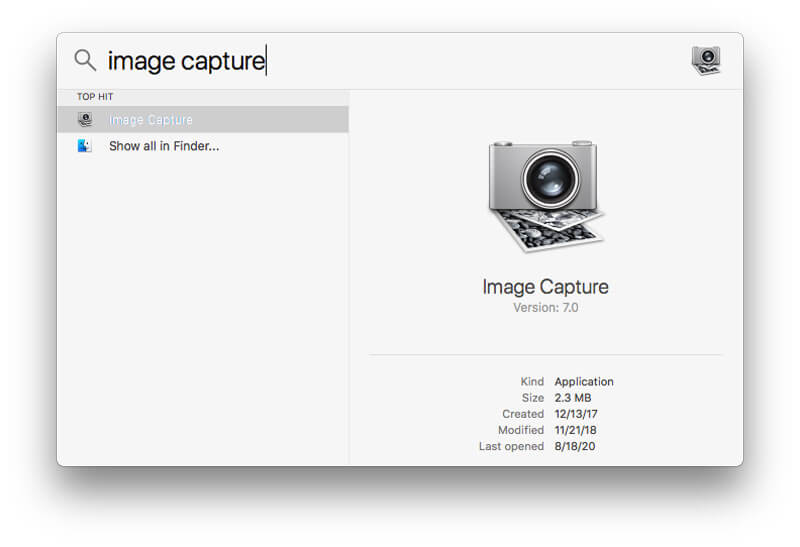 Part 2. How to Use Image Capture?
After finding Image Capture, you can use this app to manage your images on iMac easily. There are 3 main features of Image Capture, transfer photos, scan images and take screenshots.
Now, let's break down it into details.
Transfer Images via Image Capture to iMac
Image Capture can help you import photos from cameras, iOS devices and iPad devices to iMac for backup or space free-up.
Step 1.
Connect your iOS device to your computer via the USB cable.
Step 2.
Open Image Capture on iMac and select your device in the
DEVICES
list.
Step 3.
Select the images you want to add to iMac, and click the
Import
in the lower-right corner to save the images on your iMac.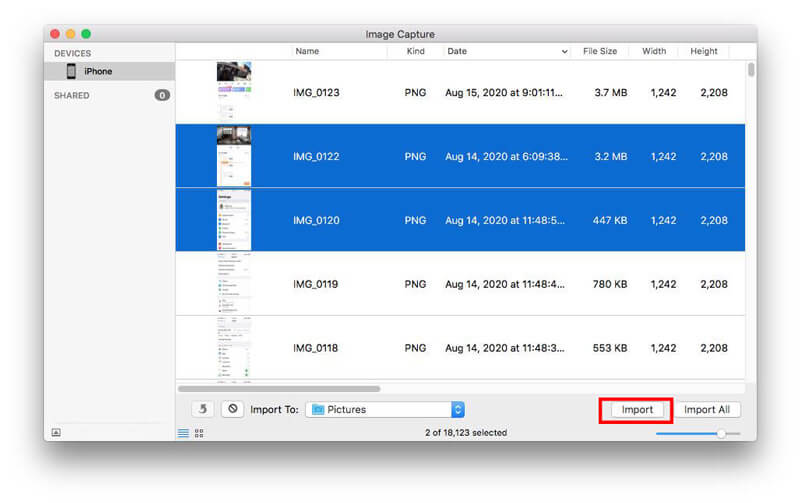 For remove items from the device after transferring them to your iMac, you should select Delete after import.
For deleting specific photos from iPhone, you can check it here.
Scan Images in Image Capture on iMac
Image Capture can be used to scan images after connecting a scanner to your Mac.
Step 1.
Connect your scanner to your iMac and turn on the scanner.
Step 2.
Select your scanner in the
DEVICES
list in Image Capture.
Then you can scan your images.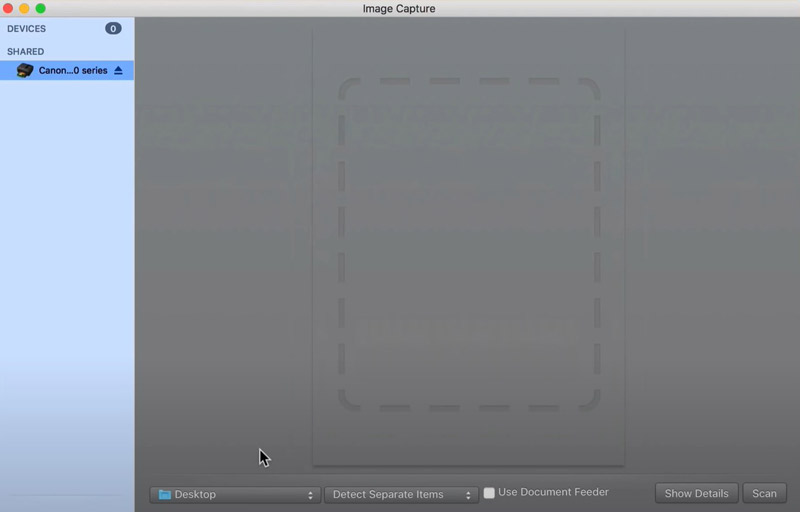 Take Pictures in Image Capture on iMac
With the compatible camera connected to your iMac, Image Capture can also take pictures and save to your iMac.
Step 1.
Connect your camera into your iMac.
Step 2.
Select your camera in the DEVICES list.
Step 3.
Choose
File
and select
Take Picture
.
After that you can set such preferences for taking pictures as Manual, Automatically every, Download new images to, and Delete after downloading.
Part 3. How to Fix Image Capture Not Working/Showing?
Image Capture can be enabled via settings to automatically transfer images from your device to iMac whenever they are connected.
However, Image Capture is not showing or working when you connect your device into iMac. For fixing it, you should make sure you have done the settings correctly.
Step 1.
Connect your device to iMac and find the device from
DEVICES
list in Image Capture.
Step 2.
Click the
Show Hide
button in the lower-left corner.
Step 3.
Click the
Connecting this [device] opens
pop-up menu, then choose
Image Capture
.
Click Show device settings if you don't see that pop-up menu.
For more solutions to fix Image Capture not detecting device, you can check it in details here.
Part 4. Best Image Capture Alternative
Image Capture becomes many users' option to transfer photos from iPhone and iPad to iMac. However, it is not intelligent enough to manage your iOS photos on Mac.
Here another photo manager software for iPhone and iPad is recommended, Aiseesoft FoneTrans.
FoneTrans is the data transfer and management tool for iPhone iPad and iPod on Windows and Mac. It can handle photos, videos, music, contacts, messages and other data (notes, calendars, notes, Safari, etc.) on Mac at ease. Besides, you can use this software to transfer data among computer, iTunes and iOS device.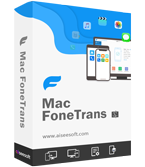 Downloads
Transfer images between iPhone/iPad/iPod and Mac Pro/mini, MacBook (Air/Pro), iMac etc.
Manage iOS photos on Mac like delete, add, create album, move, etc.
Transfer photos, videos, music, contacts, messages and more data.
Work for all iOS devices like iPhone 11 (Pro), XS (Max), XR, X, 8, 7, 6, iPad Pro, iPod, etc.
You can save yourself the frustration by using the best Image Capture alternative below.
Step 1.
Connect iPhone to Mac
Free download the iPhone to Mac photo transfer software on your computer. It is compatible with both Mac OS X 10.7 or above (macOS Big Sur or later macOS Monterey included) and Windows 10/8/7 and you can download whatever version you need.
Launch this program immediately after installation and connect your iPhone to computer with the USB cable.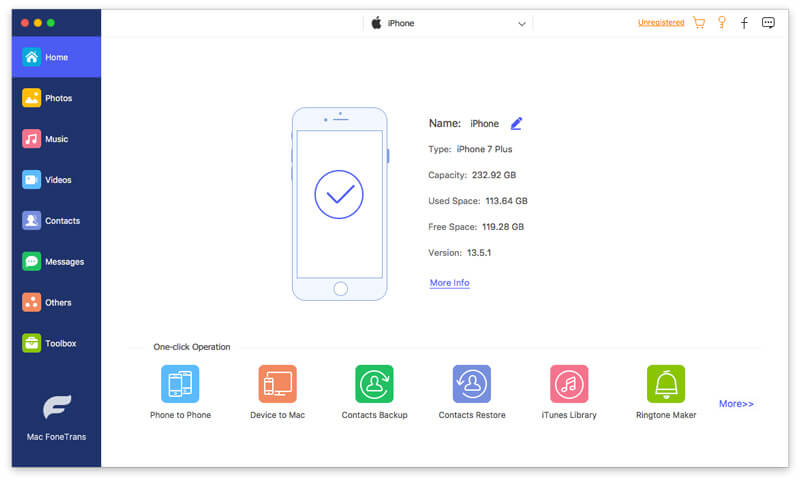 Step 2.
View photos
Click Photos from the left pane, and all the detailed photo types and items will display on the right pane.
Double-click to view the image thumbnail.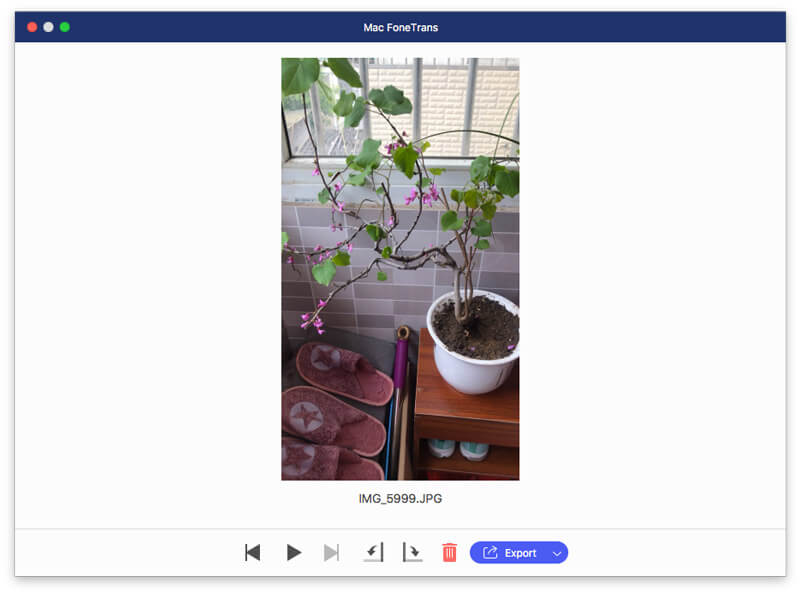 Step 3.
Transfer photos to iMac from iPhone
Select the checkbox of the image one by one, and click
Export to Mac
to transfer them into your iMac.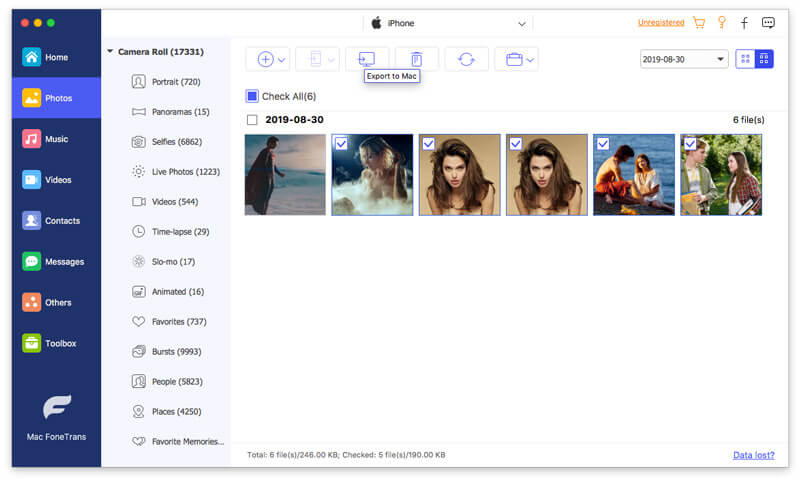 In addition, you are allowed to add photos from iMac to iPhone/iPad by clicking the add button. The Delete button will erase the selected photos from iPhone directly. Besides, you can create a new album and move photos from one album to the other album, etc.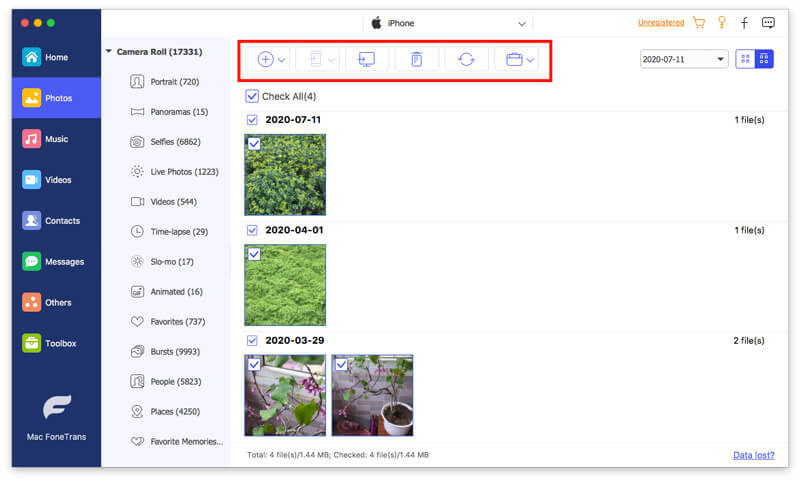 For finding the replacement of Image Capture to take a screenshot on Mac, you should jump it here.
Part 5. FAQs of Image Capture
Which is better, Image Capture VS Photos?
Photos is the photo organizer and transfer app while Image Capture is the combination of image manager to transfer photos, take and scan picture. If you are seeking for the image transfer software, Photos app will be better. However, if you need more functions, Image Capture is the smart decision.
Where is the captured picture via Image Capture?
The screenshot you taken in Image Capture will be saved to the desktop by default.
Why does iPhone take so long to import photos?
The transferring speed depends on the image numbers you move. You can take fewer images to transfer from iPhone to Mac via Image Capture. Besides, Aiseesoft FoneTrans is the quick data transfer software, which carries 10X faster than Image Capture to transfer the images.
Conclusion
Image Capture is the free built-in tool on Mac to help you transfer, take and scan images. Someone cannot find it easily. This page shows 3 ways to find and open Image Capture and how to use it. Apart from that, you can use the alternative to Image Capture to transfer photos between iPhone/iPad and Mac computer.
Have you this page solved your problem?
Image, Photos or FoneTrans, which one do you pick up?
Let me know by leaving your comments below.

Leave your comment and join our discussion