Top 3 Digital Audio Workstation (DAW) Apps to Record Music/Sound on Computer
Summary: when DAW mentioned, you may think of some music producers in the studio. However, actually, you could also use DAW software to record your songs, sounds, and more audio file, and edit them to share online or to your friends. In this post, we will share three DAW apps that for beginners to record and play the audio recording files. Get the best one suitable for you to record your own music.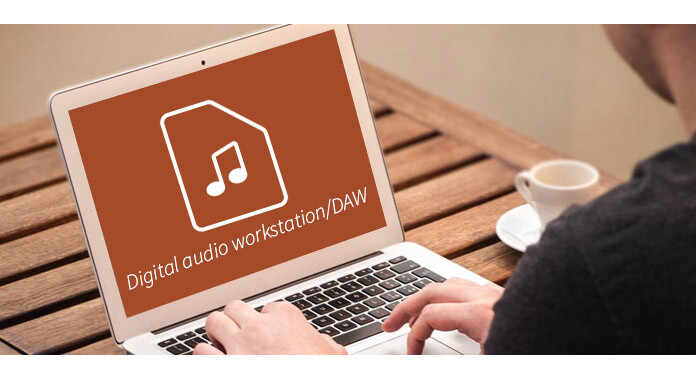 Part 1. What is DAW?
DAM, acronym for digital audio workstation, is commonly an electronic device or computer software application for recording, editing and producing audio files such as songs, musical pieces, human speech and sound effects. DAWs are used for the production and recording of music, radio, television, podcasts, multimedia and nearly any other situation where complex recorded audio is needed.
DAW can simply refer to the software itself, but traditionally, a computer-based DAW has four basic components: a computer, either a sound card or audio interface, digital audio editor software, and at least one input device for adding or modifying data.
DAM can be as the professional audio recording devices like in the music studio, but also can be as the part-time audio recording software for fresh hand. In the following description, we will share the top 3 audio recording software which are suitable for fresh hand, so that many of you can have a fun easily.
Part 2. Top 3 digital audio workstation apps on computer
Screen Recorder
Price: $27.3
Platform: Windows
Link: https://www.aiseesoft.com/screen-recorder/
Screen Recorder is one of the best digital audio workstation in the market for part-time lovers. This software can record audio from computer system and sound/voice from microphone, like your own voices, Skype conversations, etc.
Pros

➤ It is easy to use for DAW beginners.
➤ This software is able to record any audio from your computer to save music from any online sites and microphone to save your own sounds.
➤ It supports multi-display recording, which lets you switch recording process in multi-monitors.
➤ You can save the audio recording as MP3, M4A, AAC or WMA, so that you could playback or edit easily with other audio editors/players.
Cons

➤ This app does not have audio editor. If you want to further edit your audio files, you need Free Video Editor.
➤ Windows-only; if you are on Mac, you are out of luck.
How to use Screen Recorder to record audio files?
1Run this software on your own computer. Select "Audio Recorder".
2Turn on system audio if you want to record system audio only. Or make microphone audio on if you only want to record sound from yourself. Or both on when you are attending an online conference or in char room.
3Click "REC" to record the audio file. Click the stop button to pre-listen and save the audio recording file.

Audacity
Price: Free
Platform: Windows, Mac
Link: http://www.audacityteam.org/
Since its first release in 2000, Audacity has become one of the most popular pieces of free software around. This digital audio workstation app is the audio recorder and editor with simple interface. It is total free without any limitation.
Pros

➤ Apart from the basic audio recording feature, it has built-in audio editing functions.
➤ It supports audio track loading for waveform editing.
➤ It provides various audio effects like pitch, bass, treble, normalize noise, reverb, phasing, etc.
Cons

➤ When you add effects to a track, they are actually altering the waveform; these changes happen to the original file, so you can't go back and undo them later.
➤ Audacity requires numerous plug-ins to reach optimal functionality; it cannot export projects as MP3s, for example, unless the user installs an MP3 encoder.
➤ On macOS Sierra 10.12.1 and later, including macOS High Sierra (but not 10.12.0), Audacity's all effects, LAME and FFMPEG will not work.
How to use Audacity to record and edit audio files?
1Download this digital audio workstation software to your computer, install and launch it.
2Prepare your sound card or microphone, and click the record button to start to record audio file.
3After making the recording file, you could use the edit feature. Edit, Generate, and Effect will help you to edit your audio recording file.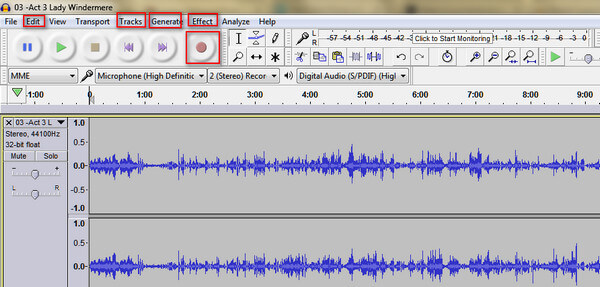 WavePad
Price: $20.99 - $34.99
Platform: Windows, Mac, iOS, Android, Kindle, Online
Link: https://www.ableton.com/en/
WavePad is the multimedia to enable you to edit and record audio file. It is more famous for its audio editing feature. This software provides you powerful editing effects like trim, copy, compression, pitch, shifting, silence, etc.
Pros

➤ It lets you record audio and import audio for further editing.
➤ It provides professional audio editing features like cut, copy, paste, delete, insert, etc.
➤ Powerful audio effects like amplify, normalize, equalizerm ebvelop, reverb, reverse, etc.
➤ Advanced tools like spectral analysis (FFT), speech synthesis, voice changer, etc.
Cons

➤ The floating toolbars get in the way of your workflow.
How to use WavePad to record and edit audio files?
1Download, install and run this software on your computer.
2Click the record button to start to record the audio file.
3After completing the recording, you could start to play it. And the powerful editing features in the interface make you edit the audio file efficiently.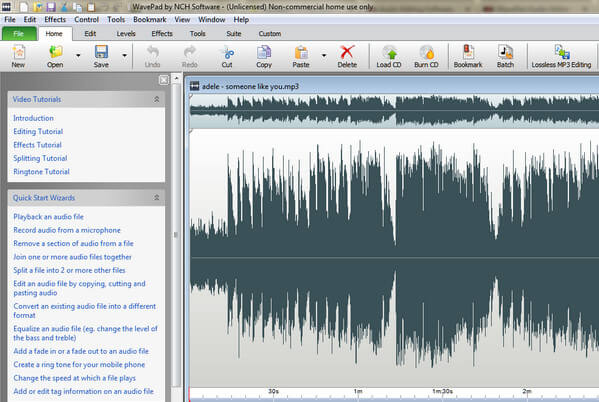 This post aims at showing the digital audio workstation software on computer. If you want to record and edit audio on your iPhone, then you should read this essay: How to record audio on iPhone.