Free Online Screen Recorders You Need to Know
Screen recording seems very helpful when you have intended to record a tutorial video to tell the detailed usage of an application or the specific strategy for playing a game like LOL and Dota. Many times you also want to record an awesome online movie and save it on your PC/Mac.
Here comes the question, how do you record computer screen? Some people may use their cameras of iOS and Android devices or camcorders like Canon, JVC, and Sony to capture the screen. However, the output recording quality won't be satisfying. Actually, the easiest way to solve this problem is to use a professional online screen recorder.
So in this article, we will sincerely recommend 5 reputable free online screen recorders for you to record Windows and Mac screen.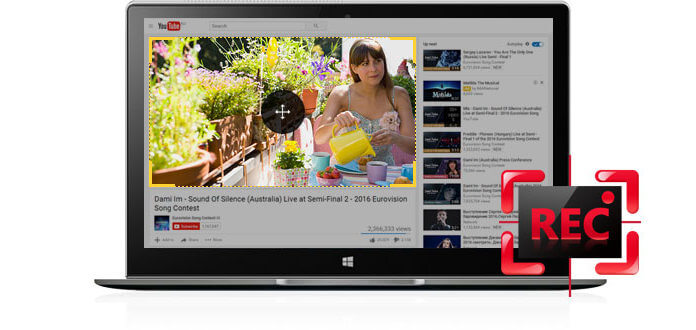 Screencast-O-Matic
Screencast-O-Matic is one of the most popular screen recording tools to help users to record Skype chats, movies, online meetings, gaming videos or favorite videos. Apart from its offline application, it also has online version that is very simple to use. This software can record screen and webcam, or record both of them at the same time. Narration by microphones and systematic audio can also be included.
Go to the website of Screen-O-Matic, click Start Recording. Then a pop-up notice will tell you to download launcher file. When you finish it, back to its home page, and click Start Recording again. Customize your own recording area by dragging the black-and-white frame, and tab the Rec button to start screen capturing. Click the blue Pause if you want to stop. If you want to continue, click the red Rec again. Click Done when you finish recording. The captured video can be saved as MP4, AVI or FLV file. Or you can upload the recorded video to Screencast-O-Matic account or YouTube for online sharing. However, the online recorder allows you to record what you want only within 15 minutes.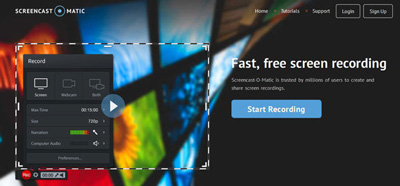 Apowersoft Free Online Screen Recorder
Regarded as one of the best online video recording programs, Apowersoft free online recorder needs no Java Applet and gives multiple recording options for you to choose from. Many users would choose it as a webcam recorder online to record GoToMeeting online conference. With this brilliant online software, you can easily save the captures of precious on-screen activities on PC or Mac. Hotkeys are provided. From recording settings, you can also adjust the video settings.
Go to the website of Apowersoft Free Online Screen Recorder, click Start Recording. When you first use this, you need to download a file Apowersoft provides with online to launch it. Within minutes, you can begin to record your desktop now. Click the button of Start Recording again, and then a recording frame will appear. You can choose Full screen or drag the frame to a customized region. After that, tab the red REC. During the recording, you can also edit the capture or add watermark on it as you like. This decent online screen recorder allows you to record screen or webcam. System sound and Microphone sound can also be recorded. When you finish recording, you can keep the capture as MP4, WMV, AVI, MOV, FLV, MPEG, VOB and ASF. You can easily convert the recorded capture in another video format. After that, it will be a pop-up window to let you preview the capture. Trim function is also provided if you want to remove some useless segments.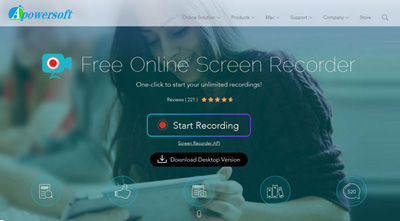 ScreenToaster
If you are looking for a free online app for recording everything displaying on your screen, ScreenToaster is a nice choice. What's more, it can also be a good online sound recorder. Based on a mix of Flash and Javascript, this free web recorder enables you to capture on-screen actions and directly upload to their webpage.
Before recording, make sure you have the latest version of Flash and Java to launch ScreenToaster app. Visit ScreenToaster from your browser, and tab Start Recording. If there is a notice of testing a new version of it, click the specific link the notice provides. Within moments, the recording frame will appear. You can adjust the handles, and choose the recording region. System and microphone sound can be recorded. After that, click the red button of Record on the right to start recording. Once you accomplish it, press the blue square button of Stop. When you return to the browser, you can preview the recording. Add video information if you want and click Upload, the web app will automatically save the capture as an MP4 video. Once you upload it successfully, you can download the video anytime from Screenoaster.
ScreenCastle
As the most flexible and friendly web screencast app, ScreenCastle enables you to directly record Skype video calls, gaming process, and others on your screen. You can customize the capture region. Audio activity can also be recorded from the microphone. It also guarantees a safe environment for users with its helpful functions which can check the reputation of the external source.
When you go to the website of ScreenCastle, click the red button in the interface. It will tell you to download a file to support Java runtime environment. After that, click the big red Record button on the homepage. Choose the target recording region, or drag the arrows to adjust the frame size. Select to record microphone sound or not. Press the OK button to begin the recording and click the square Stop button if you want to finish recording. It can be saved as an FLV file. Also, you can choose to upload the recording to the web, so you can share it with friends or others by giving different HTML embed codes.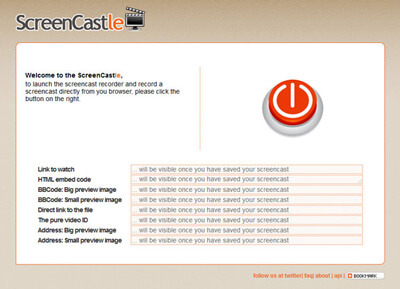 ScreenJelly
ScreenJelly, another reputable free web-based online screencast app, enables you to record whatever on your screen. Voiceover can also be recorded. With this interesting recording tool, you can upload the recording to any networking website, like Twitter, Facebook and others, or share it with your family, friends or others by emailing them a specific link.
When you first go to the ScreenJelly, you need to download a small Java applet. Like ScreenCastle, it has a similar red Record. Just hit the button, and start to record what you want. However, it is designed to record the full screen. When you finish it, ScreenJelly will create a URL of your capture. With this, you can easily email the recorded video with others. Or you can upload it to Twitter, Facebook for online sharing.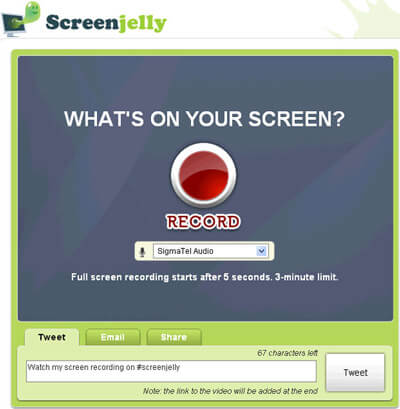 These top 5 best online screencast tools can help you better record Mac screen and Windows desktop. Hope you can find your suitable online screen recorder. By the way, if you are looking for a reputable third-party software for Windows screen, you can free download and try Windows Screen Recorder to record LOL gameplay, Japanese anime, etc.
Aiseesoft Screen Recorder
Aiseesoft Screen Recorder is professional screen capture software which can capture online videos, games, podcast, webinars, lectures, presentations, Skype calls, online conference, webcam videos, etc. in full screen or customized screen size with ease.
Record game for sharing.
Screencast webcam videos.
Support capturing pictures from screen.
Record streaming audio, online audio, microphone voice with high sound quality.