Unbiased Review on Photo Shrinker- Everything You Must Know to Shrink Images
Selecting the right photo shrinker might be a problem because millions of options have already been available on the web. For many reasons, you will need a reliable tool to help you reduce the image size without turning it into a blurry one. If you want to attach an image to an e-mail, you will need to downsize it to make it sendable, especially if the image you want to send has a large file size. Instead of reading different articles about the tools you can use, why don't you try to stay in this post to know more? In this post, we sifted out the best shrinker tools on the market to help you select the right tool easily. Keep on reading this to know what these tools can help you in this particular task immediately.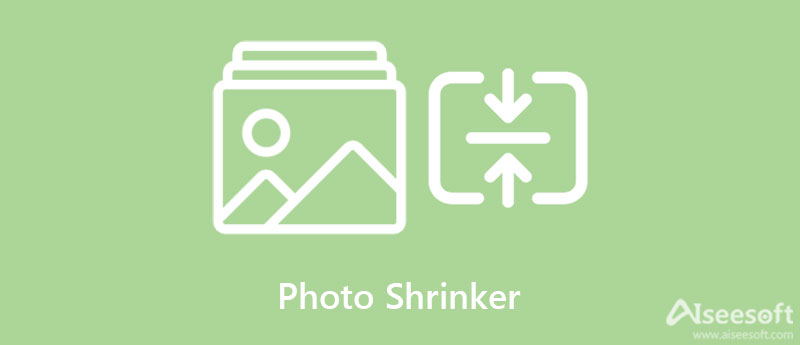 Part 1. Top 5 Photo Shrinker Tools You Can Download or Use on the Web
1. Aiseesoft Free Image Compressor Online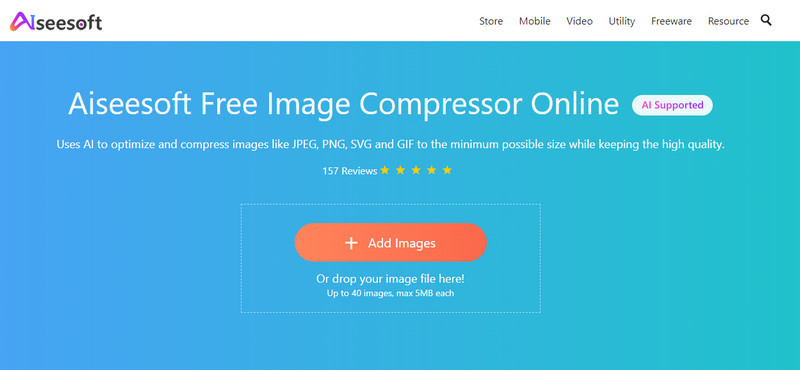 Available: the Web
App File Size: Downloading or Installing isn't needed
Aiseesoft Free Image Compressor is our favorite photo size shrinker online; we can use it on the web without downloading anything on our desktop. With the help of this tool, the file size of your image isn't a problem because this is the only solution you'll need in your hand. Due to its specialty in effective shrinking, we can guarantee you that you can have the files ready once you've used this. If you haven't done shrinking images before, you can tell yourself that this task is easy to handle by you. This tool is the best choice for anyone with a problem with their image size, so if you want to have a quick shrinking, then this tool is the choice we suggest for you!
PROS
It can shrink one or more files automatically with AI technology.
Upload the image here, and it will compress the size immediately.
It doesn't make images distorted after compressing.
Drag and drop features are supported in this app.
You can share the compressed image on multiple social media platforms.
CONS
You can't use this tool if you don't have internet.
2. PicResize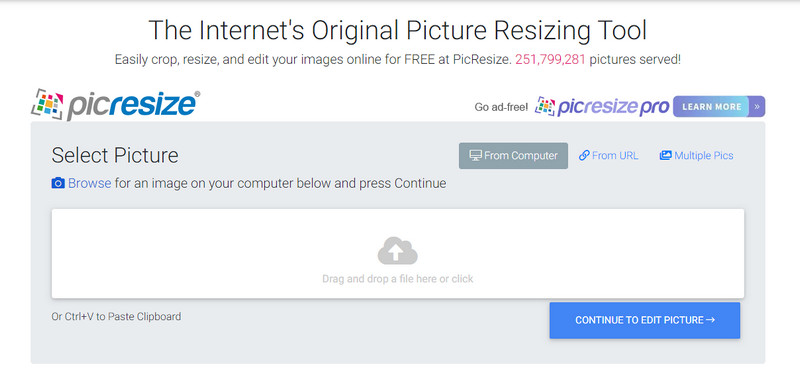 Available: Web
App File Size: Downloading or Installing isn't needed
PicResize is a dependable photo shrinker for Instagram that you can use. This tool is worth a trust to use, especially if you don't like downloading anything to your device. Like the first mentioned tool, you can quickly master using this software because of its intuitive interface. With it, you can edit another image before you compress it, such as crop, rotate, flip, add special effects, and save it in a different format. Even though this software is available on the web like Aiseesoft, it still doesn't have an AI technology to shrink the image you upload here automatically. But if you prefer to work manually, you can go to the official website of this tool to use it.
PROS
It is an online photo size shrinker you can use on different web browsers.
It supports additional editing features you can freely use.
It supports an average of formats to upload and export.
It automatically deletes the image file you compress after 20 minutes.
CONS
It needs an internet connection.
The speed of compressing is slower than other compressors.
3. Download Fast Image Resizer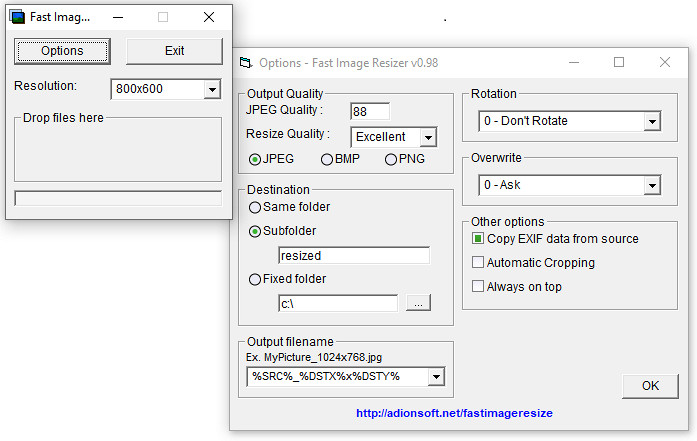 Available: Windows
App File Size: 5.1 MB
Download Fast Image Resizer is a fast and effective photo file shrinker you can download on your Windows PC. The name says it all; the process it provides for shrinking the image is faster than other software you can use, but it is not as fast as the Aiseesoft online tool. Even though you will need to download and install the software before you can use it, there is no need to worry about its file size because it is minimal. Also, the GUI of this software is small. In addition to its GUI, you can adjust other image options if you want to shrink them effectively. So, if you want to download this software, you can go to its official website and download the tool.
PROS
Free to download software on your Windows.
The tool is on-point, and it does the job effectively.
You can alter the options before compressing.
5. Photo Compress- Shrink Pics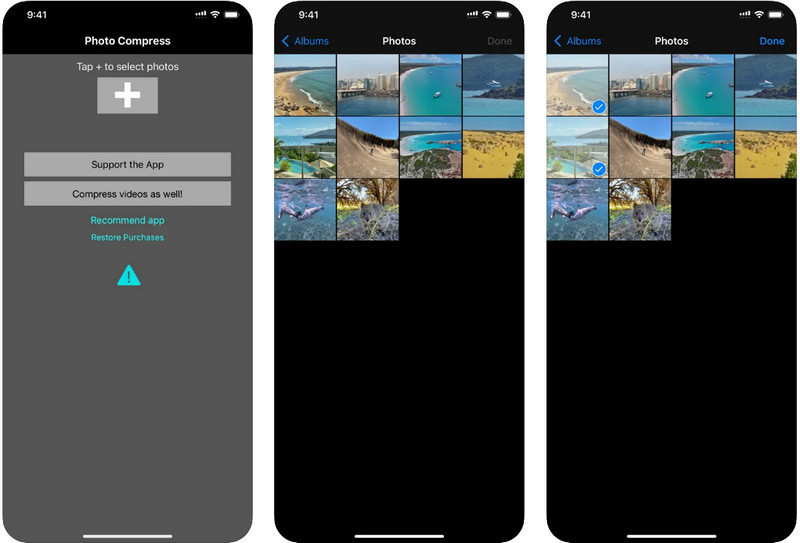 Available: iOS
App File Size: 29.8 MB
Photo Compress- Shrink Pics is an image shrinker free download app on iOS 10.3 or later. With it, you can shrink the pictures you capture on your iOS and save more space on your drive. As we mention, this app is free to download, but it offers in-app purchases to use other features and functions that aren't usable on the free version. It can deal with downsizing single, multiple selections, or an entire album folder on your device. If you want to achieve a specific file size. Also, you can save the compressed version and delete the original file on your phone quickly with this app. Though it seems incredible, this app has some problems, significantly if you are shrinking multiple images.
PROS
It can compress multiple files at once.
Free to download on any iOS 10.3, iPadOS 10.3, or later.
Customizable compression settings you can easily use.
CONS
It can become faulty, especially if compressing multiple files.
GUI of it needs to have an update.
Part 2. Which of the Photo Shrinker is the Best | Comparison Chart for the 5 Photo Shinker Tools
Do you think the information about the photo MB shrinker we add isn't enough? If so, you can read and check out the table we add to see what are other information about the software we mention. So, if you want to compare and contrast, read the following information.
| | | | | | |
| --- | --- | --- | --- | --- | --- |
| Feature/s | Aiseesoft Image Compressor Online | PicResize | Download Fast Image Resizer | iResize | Photo Compress- Shrink Pics |
| Speed on Shrinking Image | Fastest | Slow | Fast | Fast | Fast |
| Free to Use | YES | YES | YES | YES | YES |
| Supports AI Technology | YES | NO | NO | NO | NO |
| Shrink Multiple Images Simultaneously | YES | YES | YES | YES | YES |
| Supported Image Format to Upload | PNG, JPEG, GIF, BMP, or SVG | BMP, GIF, JPG, or PNG | JPEG, BMP, and PNG | GIF, JPEG, PICT, PNG, TIFF, and PSD | JPEG or JPG |
| Share Shrink Image on Different Platforms | YES | NO | NO | NO | NO |
Part 3. FAQs about the Photo Shrinker
Is it safe to download a photo shrinker?
Yes, especially if you download the photo shrinker on its official website. If you are thinking of downloading a shrinker app on your device through a third party, we should warn you that you must avoid it!
Can I shrink a GIF for free?
Yes, you can shrink a GIF easily with the tools and apps we enlist in this article. But before you select which tool to use, you must read the comparison chart we add in part 2 to see if the tool you want to use supports shrinking GIFs.
How to determine if that is the best image shrinker app?
Every tool on the market can shrink capable tools, but if we are talking about the best, you must read the information we enlist here. As we gather the best apps, you can use them to shrink the photos you have on your local drive without encountering troubles.
Conclusion
Whether you use it online or download an image shrinker on your device, you can finish the task efficiently without sacrificing the image quality. You can select a tool in this post by depending on the unbiased review we did on each. So, which do you prefer? You can leave a comment below to share your thoughts about this review.

Leave your comment and join our discussion