Part 1: Top 4 Phone Cleaning Apps for iPhone
Top 1: Aiseesoft iPhone Cleaner
Aiseesoft iPhone Cleaner is absolutely the most powerful iPhone cleaner you can find on the market. It works on your Windows and operates on your iPhone via iTunes. Thus, you do not need to worry about the safety and privacy. With one click, it will scan and present you with the junk files, space-consuming applications, large files, and photos.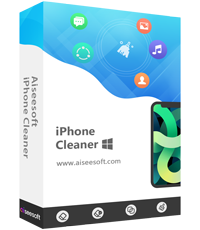 Downloads
Free up space by cleaning useless files and data on your device.
One-click to view and uninstall all applications on your iPhone
Thoroughly scan your iOS for large files and delete the unwanted files.
Release room taken by photos by compressing and exporting.
Erase all the data permanently when you give away or abandon your iPhone.
Top 2: Smart Cleaner
Smart Cleaner is also an all-in-one iPhone cleaner app. The most outstanding feature of it must be the secret vault which allows you to hide some private photos, videos, audios, contacts, and documents.
Key Features
1. Two modes for you to choose from: smart cleaning and manual cleaning
2. Easy-to-use interface guides you to whatever task you want to conduct.
3. Smartly scan and present occupied storage and duplicate photos.
4. Secret vault for you to store private media and contacts.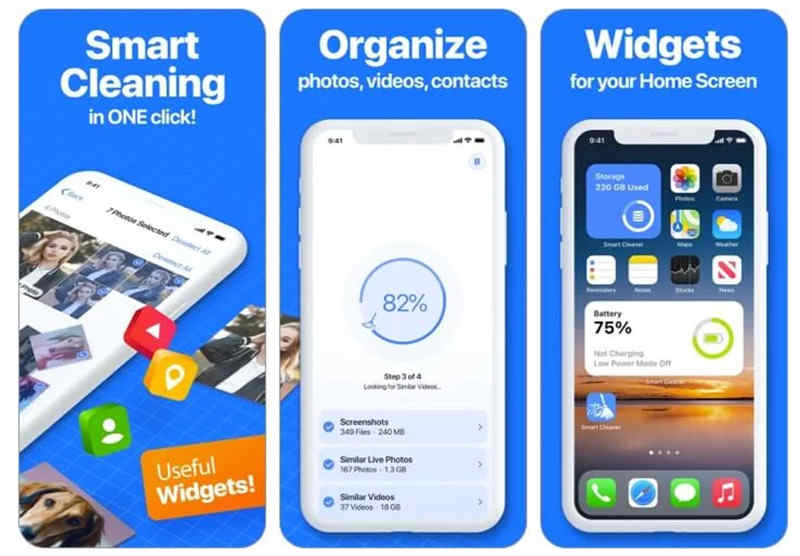 Top 3: iFreeUp iPhone Cleaner
iFreeUp performs very well in preventing privacy leaks by shredding and overwriting the deleted files. Moreover, this app is able to optimize your iOS system and speed up your device.
Key Features
1. Detect and clean temp files with just one click.
2. Conveniently transfer all kinds of media files to other devices.
3. Transfer and backup your apps and games to save the data and progress
4. Thoroughly delete and shred media and other files to avoid recovery.

Top 4: Boost Cleaner
This is an all-round iPhone cleaner to clean your iPhone and improve your album and contacts. The ad-blocker is also handy if you are often obsessed with webpage advertising.
Key Features
1. One-stop cleaner to clear up all your unwanted photos and videos.
2. Present to you and delete the duplicate photos, videos and contacts.
3. View how much storage of your iPhone has been taken.
4. Test out your network speed and check your network connection.
5. Handy ad-blocker prevents you from advertisements when using Safari.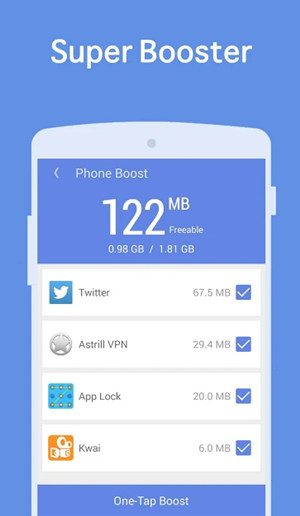 Part 2: Two Methods to Clean Your iPhone
We just introduced the four best iPhone cleaning apps. Now here come some 2 methods to clean your iPhone.
How to Clean iPhone with Aiseesoft iPhone Cleaner
Step 1.
Launch Aiseesoft iPhone Cleaner and connect your iPhone to your computer via a USB-lightening cable. Click
Allow
on your iPhone.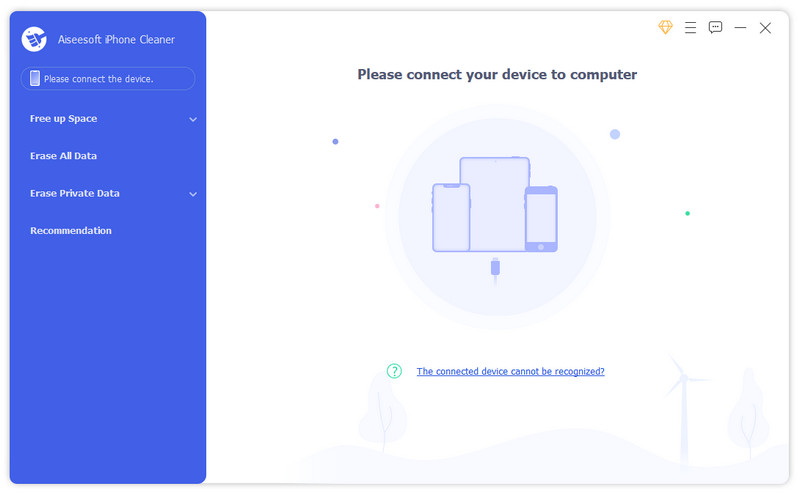 Step 2.
Click the
Quick Scan
button in the main interface and wait patiently during the scanning process.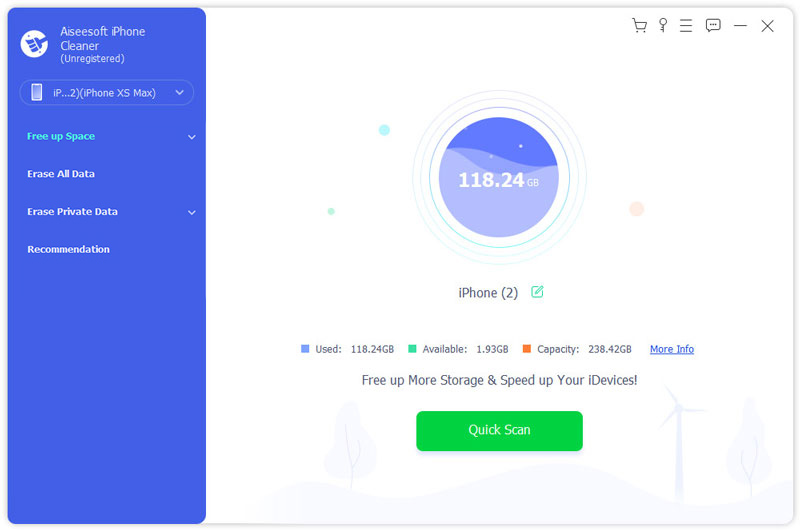 Step 3.
When the scanning is finished, you can see how much space you can free up for your iPhone. Click any of the four
Erase
buttons to use the corresponding cleaning feature.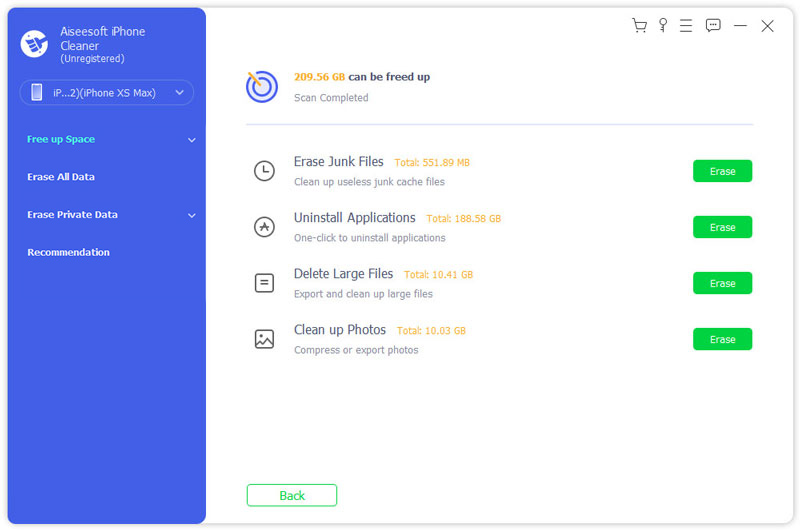 Erase Junk Files: It is safe to clean all the five types of caches and files you see in the interface. Check the five boxes for them and click Erase.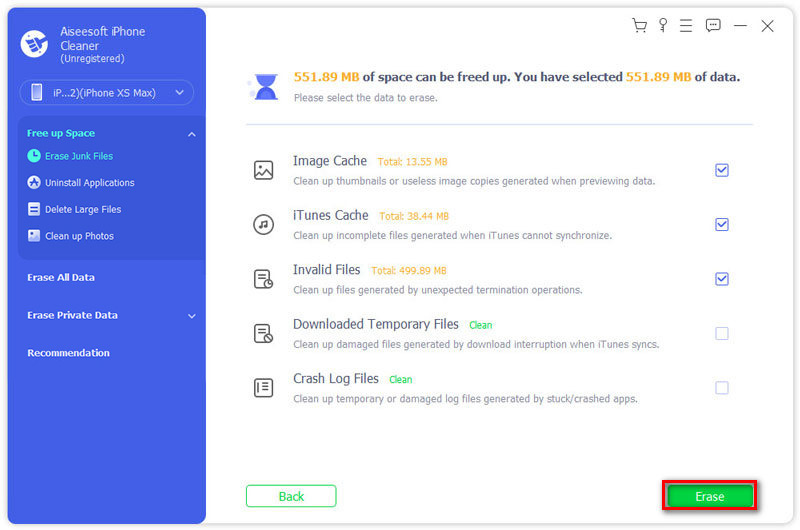 Uninstall Applications: Here you can view how much size is occupied by each single app. If you want to remove any of them, just click the Uninstall button on its right side and click confirm.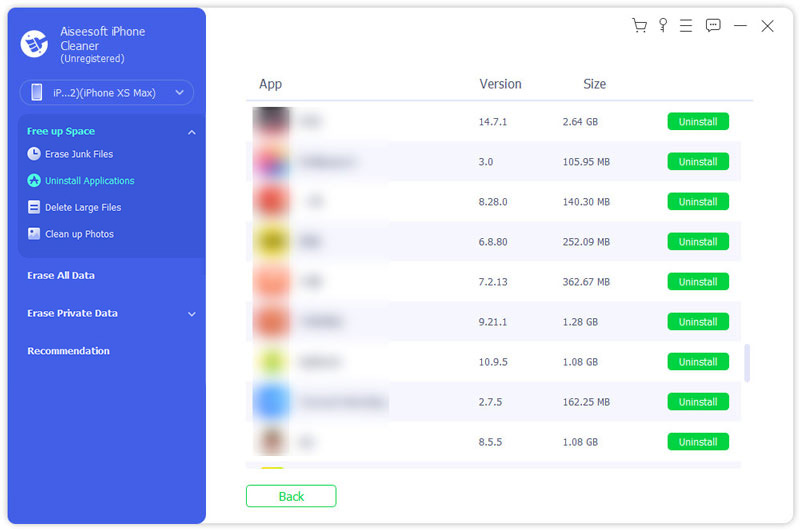 Delete Large Files: Check the boxes of the files that you want to clean. Then you can click the Erase button to clear them. If you want to backup them before erasing, you can check the box of Backup before erasing on the left of the Erase button.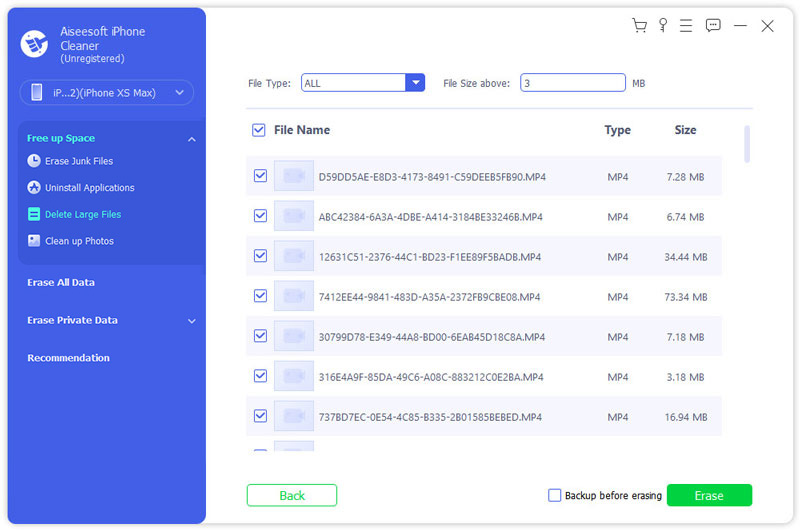 Clean up Photos: For this function, you have two options: backup & compress and export & delete. The former allows you to compress all your photos and videos by 75% in size without losing any quality. The latter can move all your photos to your computer and delete them from your iPhone.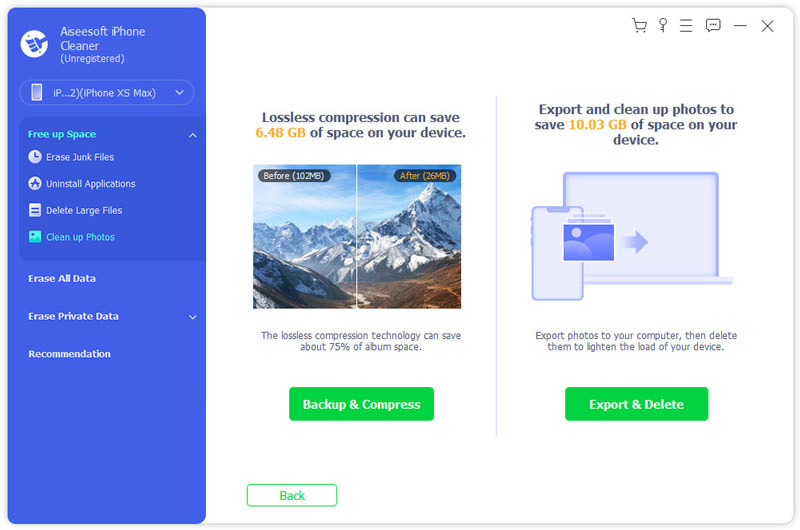 How to clear up the RAM of your iPhone
RAM, short for Random Access Memory, is the place where the processing data of your iPhone is stored. Most of the time, clearing it can make your iPhone work more smoothly.
Step 1.
Unlock your iPhone. Press and hold the power button until the
slide to power off
menu shows up.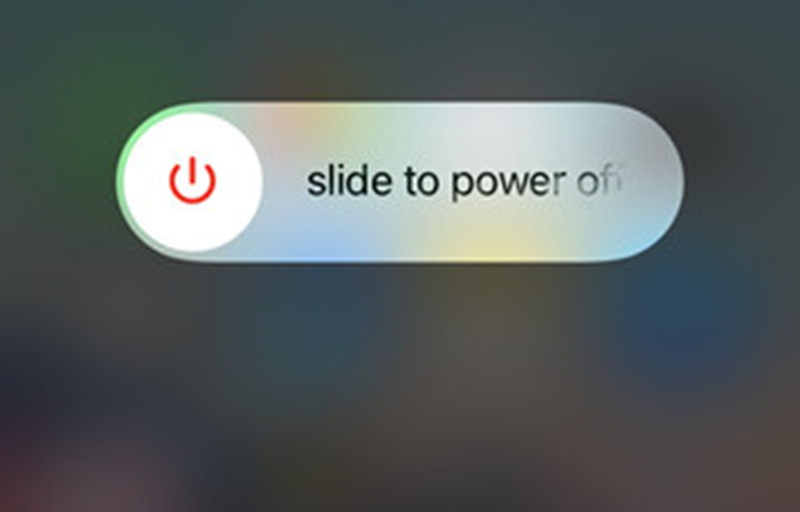 Step 2.
In this menu, tap the
Assistive Touch button
. Now, long touch the
virtual home button
. In several seconds, it will return you to the Home screen. Now your RAM is cleared.
Part 3: FAQs about Speeding Up and Cleaning an iPhone
How to reset the RAM for iPhone 5, 6, 7, and 8?
The steps are the same as the steps to clean up iPhone. However, when iPhone users need to long-touch the virtual home button, you just need to long-press the physical Home button of your iPhone 5, 6, 7, and 8, instead.
What is the app cache on iPhone?
An app needs to load its cache every time it opens. Most apps save their cache in the RAM of your iPhone so that they can load more quickly next time. However, this takes up space from your RAM quickly and makes other apps work slowly. That's why you may need to clear it.
What other junk files can I clean on iPhone?
Voice memos, message attachments, call history, and completed reminders in the reminder app.
Conclusion
This article introduced the four best iPhone cleaning apps for you to choose from. We also introduced how to free up storage for your iPhone with the best iPhone cleaner app - Aiseesoft iPhone Cleaner. More than the phone cleaning apps, you can also reset the RAM manually.

Leave your comment and join our discussion