iMobie PhoneClean Review – Free Up Space and Speed Up iPhone
If you want to free up more storage and protect privacy on your iPhone, iMobile PhoneClean is your good choice. You can use iMobile PhoneClean to manage iPhone storage and complete iPhone cleaning routines with ease. No matter you want to speed up iPhone or re-sale it to others, it is important to clean up your iPhone with PhoneClean software. During this time, you can check the iMobile PhoneClean review to get the latest information.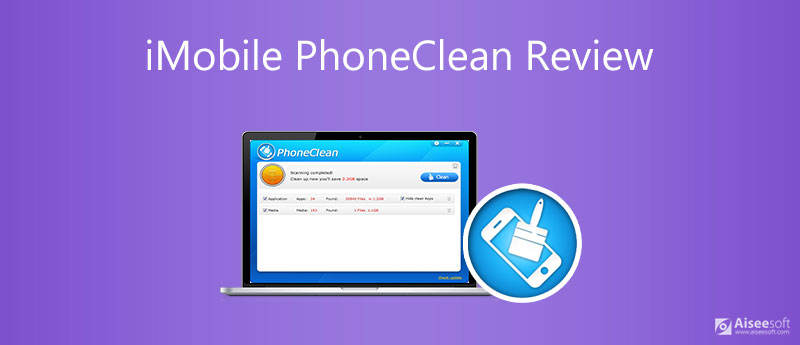 Part 1: iMobile PhoneClean Review
Is PhoneClean good to use? You can get a quick summary from the following iMobile review. Here you can get the pros, cons, price, safety, and other related info about iMobile PhoneClean.
iMobile PhoneClean Pros
Delete particular files or file types to protect the privacy and erase iPhone data.
Optimize iPhone system performance by removing buildups and unnecessary files.
Start cleaning your iPhone the moment you enter the home with its iMobile PhoneClean silent clean.
Clean up iPhone with various models, including silent clean, quick clean, internet clean, privacy clean, system clean, and erase clean.
Create a backup before erasing data with iMobile PhoneClean automatically.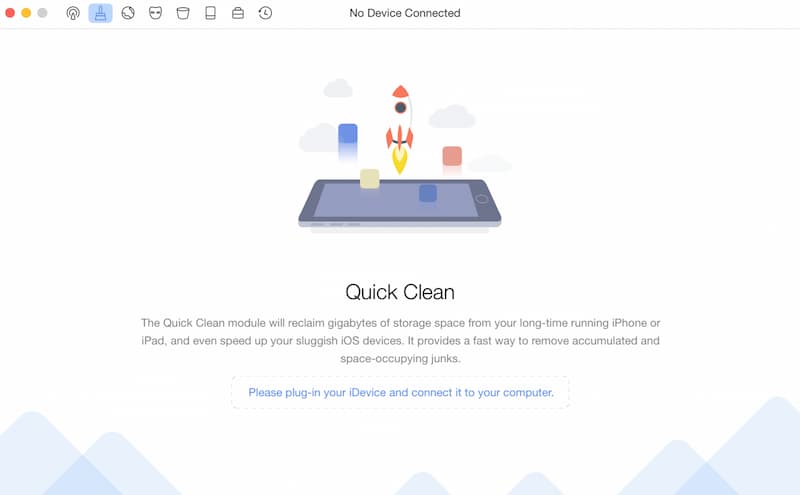 iMobile PhoneClean Cons
The iMobile PhoneClean free trial version is limited. You need to buy the PhoneClean full version license and upgrade to iMobile PhoneClean Pro to unlock all features.
Beginners may feel confused about the iMobile PhoneClean interface.
Even though you disable the PhoneClean silent clean feature, it may still delete junk files in the background automatically.
Who can Use iMobile PhoneClean
If you encounter the following situation, you can take iMobile PhoneClean into consideration.
Delete sensitive data with zero recovery rate.
Find and delete unwanted files to speed up iPhone.
Fix the full storage issue on iPhone.
Remove cookies, caches, browser history, and other internet junk files.
Completely wipe the entire iPhone data before giving away or selling it to a new user.
The PhoneClean scanning process is a bit slow.
Is iMobile PhoneClean Safe to Use
Yes. iMobile PhoneClean is completely safe to use. Just download PhoneClean from the iMobile website to get the clean version. Later, you can delete cookies, browser history, app caches, downloads, photos, videos, and other junk files with the iMobile iPhone clean tool.
Is iMobile PhoneClean Free to Use
No. iMobile PhoneClean is not free to use. To unlock all PhoneClean features, you need to buy a license to activate it completely. The iMobile PhoneClean 1-year personal license charges $19.99. Or you can buy the iMobile PhoneClean lifetime personal license at $29.99. If you want to clean more iPhones, you can upgrade to the iMobile PhoneClean lifetime family license key at $39.99.
Part 2: iMobile PhoneClean Alternative
There are many iPhone cleaning modes in iMobile PhoneClean. However, beginners are not familiar with those jargon. If you are looking for an easy-to-use alternative, Aiseesoft iPhone Cleaner can be your good choice. You can clean up the iPhone full storage in seconds based on its intuitive interface. The fast scanning and erasing speed are also powerful. Thus, you can do a deep clean on your iPhone without too much effort.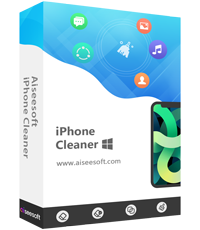 143,600 Downloads
Delete all photos, videos, documents, apps, caches, and other unused files to free up iPhone before selling.
Detect and present all apps on iPhone, along with the occupied storage space.
Get all large files off and speed up your iPhone.
Delete contacts, messages, call history, and other private data selectively.
Wipe data on iPhone with 3 different security modes.
No data recovery possibility.
Step 1:
Launch Aiseesoft iPhone Cleaner after the installation. Use a lightning USB cable to connect the iPhone to your computer. Tap
Trust
to make iPhone trust this computer.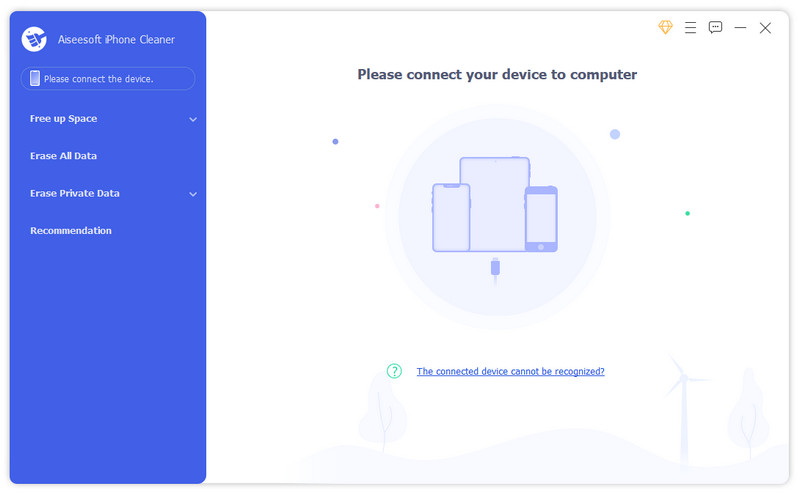 Step 2:
Choose between
Free up Space
and
Erase All Data
based on your need. If you want to make more space on your iPhone, you can click
Quick Scan
on the main interface.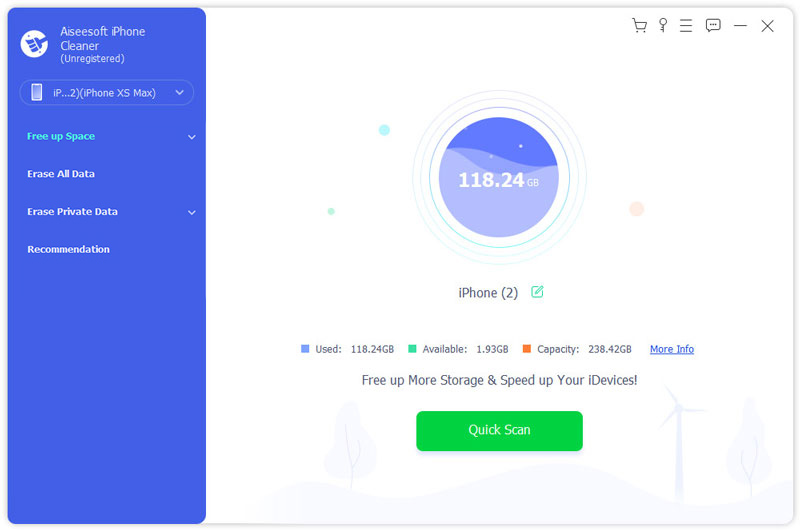 Step 3:
Here you can specify the iPhone cleaning tasks with
Erase Junk Files, Uninstall Applications, Delete Large Files
, and
Clean up Photos
. Then follow the on-screen guide to complete iPhone deleting files.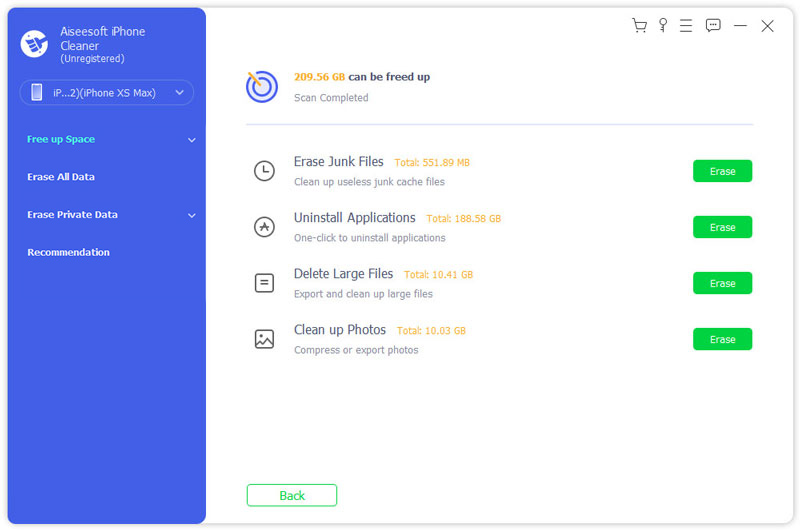 Part 3: FAQs of iMobile PhoneClean
How do you use PhoneClean on your iPhone?
Download and install iMobile PhoneClean on your computer first. Later, plug your iPhone into the computer via a USB cable. From the top drop-down list, select the Settings icon. you can specify iPhone cleaning settings here. Later, navigate to the cleaning mode to start your phone clean experience.
Can PhoneClean remove iPhone viruses?
No. iMobie PhoneClean is not capable to clean iPhone from viruses and malware. If your iPhone gets viruses, you can perform iPhone virus removal with third-party anti-malware apps.
Can you use PhoneClean on a jailbroken iPhone?
Yes. iMobile PhoneClean can work with jailbroken iPhones successfully as well. If you are not sure, you can free download PhoneClean and start its free trial to check.
Conclusion
That's all about the complete iMobile PhoneClean review. You can use PhoneClean as your iPhone cleaner to free up space and speed up iPhone. Once you enable its auto-deleting mode, PhoneClean can work in the background to delete junk files automatically.
However, PhoneClean is unfriendly to new users. If you are looking for an iMobile PhoneClean alternative, Aiseesoft iPhone Cleaner can also be your good choice. You can get a well-designed interface and most similar features here. The PhoneClean alternative lifetime license is much cheaper. If you don't mind manual iPhone cleaning, then Aiseesoft iPhone Cleaner is worth buying. You can feel free to download it and have a try right now.

Leave your comment and join our discussion