What Can I Do when iTunes Home Sharing Is Not Working
I want to share the movies of my iTunes library to the iPad of my sister. However, I find the iTunes 12 Home Sharing is not working. How can I fix it?" - Ella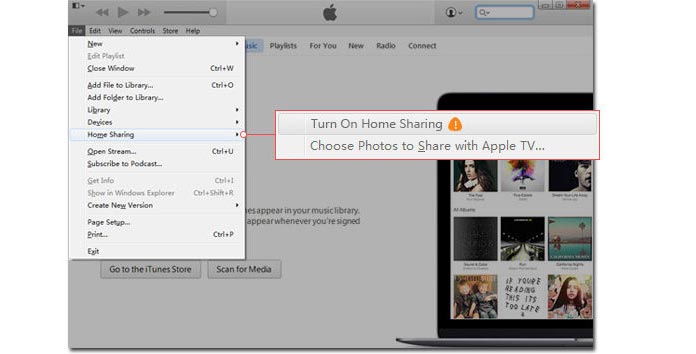 When it comes to iTunes, you know it a lot. However, what is iTunes Home Sharing? Have you ever wanted to transfer other people's iTunes movies or music to your own iTunes library? Considering that there are more than one computer or Mac in one single household, Apple released iTunes Home Sharing in iTunes 9 and higher version to wirelessly share or stream your iTunes library, including movies, music, apps, TV shows, and so on among up to 5 empowered computers or Macs that are sharing the same Apple ID and Wi-Fi network. Moreover, Apple TV as well as any iOS device, like iPhone, iPad and iPod, can also be supported. In some cases, however, people like Ella may encounter issues with iTunes Home Sharing not working or not existing in iTunes. Read this post, and know more about how to troubleshoot the iTunes Home Sharing not working. Before you follow the guide as below, you had better move your iTunes backup to other location for backup.
Part 1. iTunes Home Sharing not working for Windows 10/8/7
When you Google the topic, you will find many cybercitizen have many problem on iTunes Home Sharing. Some of them announce that there exists no feature of Home Sharing on iTunes. Some have disenable iTunes Home Sharing on Windows 10/8/7 to share iTunes library with other iOS devices, Apple TVs and other computers. And in this part, we will discuss and find suitable solution to Home Sharing not working for Windows. The frequently used way is to uninstall iTunes and then reinstall iTunes again. But this way is not always available, so you need to find other ways to solve this problem as below.
How to set up and use iTunes Home Sharing
Set up Home Sharing on iTunes
Maybe you find no iTunes Home Sharing because you do not set it up. So firstly, you need to make sure you have turned on iTunes Home Sharing, which requires the latest iTunes version (iTunes 9 or later). Please let the computers be in good Wi-Fi connection.
Step 1 Launch iTunes.

Step 2 Click "File" > "Home Sharing" > "Turn on Home Sharing".

Step 3 Sign in with the Apple ID and enter the password. If you forgot iTunes password, try to fix it.

Step 4 Tab "Turn on Home Sharing".

Step 5 Repeat these steps for other computers.
How to use iTunes Home Sharing (Taking iTunes 12 as example)
Step 1 Turn on the feature of Home Sharing on the authorized computers.

Step 2 Tab "Edit" > "Preferences".> "Sharing".

Step 3 From the "Sharing" tab, you can choose to share with others the whole iTunes library or the selected playlists. A password can be created for access to the iTunes library. From the window, you can clearly see the numbers of iTunes connection. Check the box of "Home Sharing computers and devices update play counts". Tab "OK".

Step 4 There will be home icon showing up in the top-left corner of iTunes main interface for you to view music, videos from other computers or devices that share the same Apple ID and the home Wi-Fi network. So that you can easily transfer iTunes music to iPhone from one iTunes playlist.
1. You should use the same Apple ID on all computers and other devices.
2. Make sure Home Sharing is not limited because of your firewall.
3. Be sure all computers and devices are in good Wi-Fi network.
Other solutions when iTunes Home Sharing is still not working for Windows
Ensure "Bonjour Service" is operating
If you disenable iTunes Home Sharing, maybe the "Bonjour Service" is not running on the Windows computer. From this point, you can turn on iTunes, and tab "Edit" > "Preference" >"Sharing". "Bonjour Service" is operating if the "Sharing" tab has sharing options. Or you can open "Window Task Manager" with iTunes being on > "Services" > check "Bonjour Service" in running. Otherwise, you need to turn it on.
Step 1 Select the button of "Start" > input "services.msc" > press "Enter" from the keyboard.

Step 2 Find "Bonjour Service" and double click it.

Step 3 Choose "Automatic" from the drop-down list of "Startup type".

Step 4 Click "Apply" > "OK".

Step 5 Shut down iTunes and restart it.
Restart home network router
If Home Sharing problem remains when "Bonjour Service" is on, you may need to check your home network router.
Step 1 Click "Start" > "Control Panel" > "Network and Internet" > "View network status and tasks" under the tab of "Network and Sharing Center" > select the active network with usually name of "Wi-Fi 1", "Wireless Network Connection" and so on > "Properties" > check Protocol Version 6 (TCP/IPv6) > "Close".
Step 2 Restart iTunes and enable iTunes Home Sharing function again.
Part 2. Reasons for iTunes not sharing for iPhone/iPad/iPod
To enjoy the feature of iTunes Home Sharing for iPhone/iPad/iPod, you need to know its usage on iOS devices.
How to use Home Sharing on iPhone/iPad/iPod
Step 1 Go to "Settings" > "Music" ("Videos") > "Home Sharing".
Step 2 Click the button of "Sign in" and input the Apple ID and its password. Do the same actions with other devices or computer.
Step 3 Now you can use Home Sharing on your iOS device. To enjoy shared music and videos on iPhone, iPad or iPod, go to "Videos" app > "Shared" > select a library. For shared music, tab "Music" > "My music" > choose a library on iPhone or iPod. Choose "My music" and you can directly find the shared music.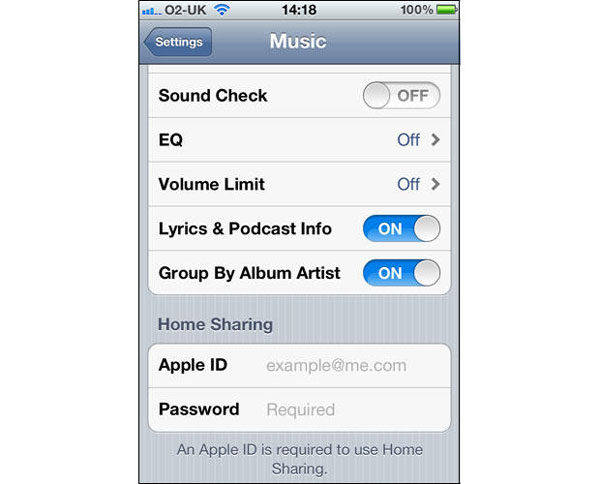 Notes: iOS 4.3 or higher version is needed when you intend to use this function on iPhone/iPad/iPod. However, since iOS 8.4 was released, many people found that Home Sharing for music had been removed on iOS devices. The feature continually applies to iTunes and Apple TV.
Why Home Sharing not work between iTunes and iOS devices
Network
The feature of Home Sharing needs all computers and devices to be in the same Wi-Fi network. Check and make sure your iOS device is in a good cellular network, or Home Sharing will be disenabled for your iPhone/iPad/iPod. If problem still exists, unplug the network router and wait for a while. Then plug the router again and retry iTunes Home Sharing when network is stable.
iTunes problems
Make sure iTunes has been launched through Home Sharing process, otherwise your iOS devices will not have access to iTunes library. If the iOS device does not enjoy the feature still, restart the computer and the iOS devices. After that, retry to see if the problem gets solved. If you still can fix the issues, you can take more advice to fix iTunes error.
Settings of firewall
The firewall setting may prevent you to be accessible with iTunes library. Check the firewall settings and make sure your iTunes is not blocked.
Part 3. iTunes not sharing with Apple TV
Apple TVs can also have access to iTunes library through iTunes Home Sharing feature, so that you can enjoy music and videos from iTunes on the large screen of the Apple TV.
How to enjoy Home Sharing on Apple TV
Step 1 For 4th generation Apple TV, tab "Settings" > "Accounts" > "Home Sharing". On earlier models, choose "Settings" > "Computers".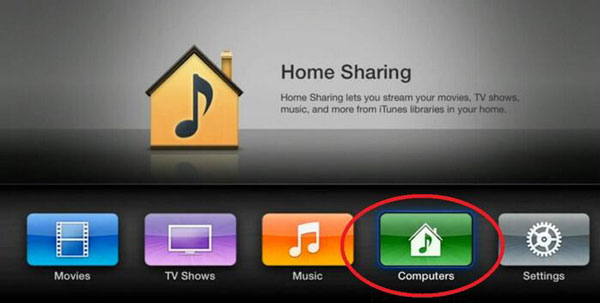 Step 2 Turn on "Home Sharing".
Step 3 Input your Apple ID and password. Repeat steps on other Apple TVs.
Step 4 You can find contents from computer on Apple TV by tab "Computer" app > "content category".
Tips of Home Sharing with Apple TV
1. Make sure you have downloaded the latest version of iTunes.
2. Better choose Apple TV of 4th generation.
3. Check network router to see if Apple TV has been in good Wi-Fi environment.
4. Keep iTunes running and set "Wake for Wi-Fi network access" in case your computer goes sleeping.
5. Guarantee your iTunes is not blocked by firewall.
6. Enjoy Home Sharing feature with the same Apple ID and network.
7. If your Apple TV cannot connect with iTunes library, restart Apple TV and iTunes.
In this article, we mainly talk about iTunes Home Sharing not working for Windows, iOS devices and Apple TV. Before you follow the suggestions mentioned before to fix iTunes Home Sharing problemw, you had beeter transfer iTunes library to an external drive just in case.