Get Free and Best iPhone Messaging Apps Now
With more and more people liking to chat with friends and families by texting messages more than calling, many texting apps come to us. Especially for iPhone users, there are so many messaging apps for iPhone that people want to find the best one or free one.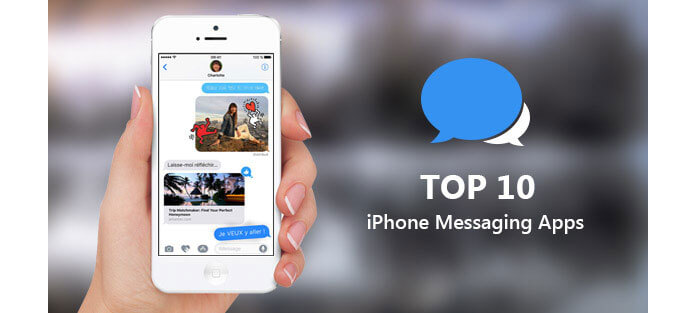 Here we recommend top 10 iPhone messaging apps, including free message app, group text app, free voice and text app, or text app including emoji, etc. You can choose one according to your need.
iMessage – The most common iPhone messaging app(Free)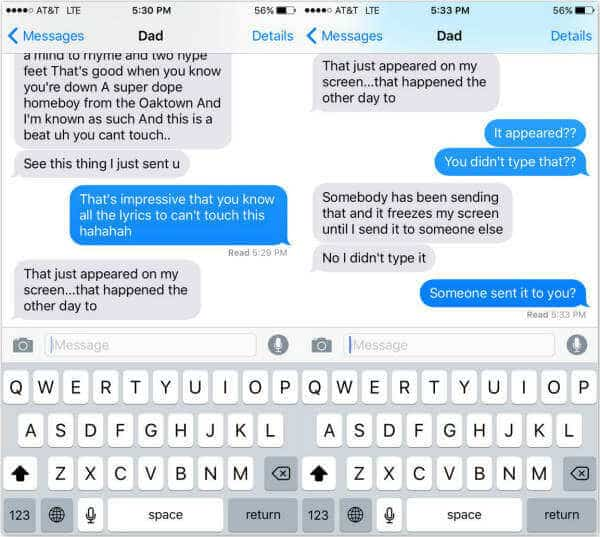 Speaking of iMesssage, almost everyone knows, is a quite simple and convenient messaging app for iPhone users. There are a few features with iMessage:
1. Built- in: iPhone built-in texting app, which means people don't need to download and install it again.
2. Emoji/photo/text: With iMessage, you can send SMS messages, emojis and photos to other people using iOS devices. Of course, you need to turn on iMessage from "Settings" > "Messages" > "iMessage".
3. Group messaging: iMessage group text is also good. You can name your group, add or remove anyone, mute notifications, and leave a group as you like.
4. Secret and privacy: iMessage can ensure your privacy safe, even Apple cannot read your messages.
iMessage is the most common and simple texting app for iPhone. If you and your friends/families are using iOS deivces almost every day, you can use it, because iMessage is only supported by iPhone, iPad, iPod and Mac.
WhatsApp – The biggest texting app for iPhone (First year free, $1 per year after)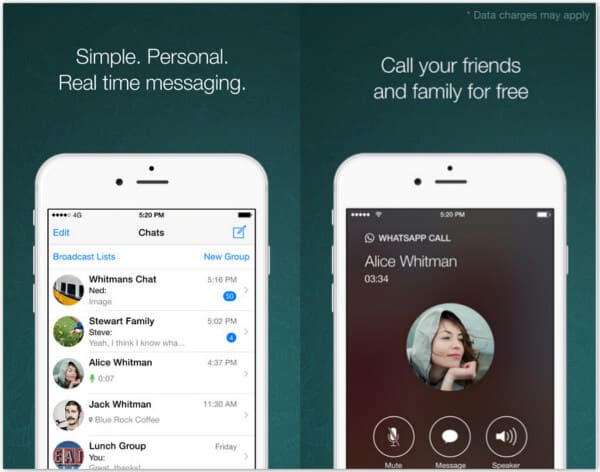 If say iMessage is the messaging app only for iPhone, then WhatsApp is the biggest text app for iPhone and Android and other phones. There are a large amount of people using WhatsApp all over the world. Let's see this texting app:
1. Recognize contacts: as easy as you can imagine, just log in WhatsApp with your phone number, and it will recognize your contacts who have WhatsApp. And you can start to text messages immediately.
2. Free international call: With WhatsApp Calling, call your friends and families from different countries for free. (Data charge may apply)
3. Text/voice message/photo/video: You can send text/voice messages to others, there are no style changes with text; Send and receive photos/videos to and from others.
4. Broadcast/group text: Set up groups and begin to group chat. Broadcast messages to multiple contacts at once.
5. Other functions: Share location and exchange contacts through WhatsApp. Check how to fix Find My iPhone Online not sharing location.
WhatsApp is a big hit with many users. Free call is its standout function. Except for iOS and Android versions, you can also use WhatsApp on web browser.
Messenger – More than an iPhone messaging app (Free)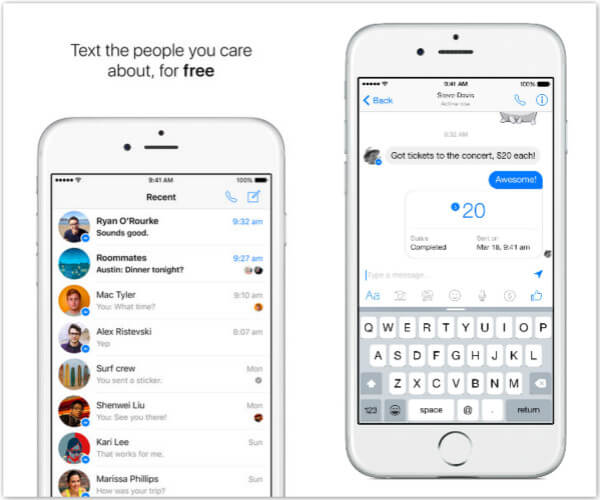 Facebook Messenger, more than a text app for iPhone, is very convenient for people using Facebook. Because Facebook is a very popular social app in our life with a large number of users, for contacting with friends and families more conveniently, Facebook developed Facebook Messenger. You can check the main features with this free texting app:
1. Log in: You can use your Facebook account to log in Messenger.
2. Payment: Send money safely and easily through this free text app for free.
3. Text messages: With Messenger, you can know when your text messages delivered and seen.
4. Video/voice call: You can have face-to-face conversations with people anywhere through video call and it is a HD call.
5. Stickers/photo/video: Send stickers, photos and videos to your friends and families.
In a word, Messenger is a powerful and free text messaging app for iPhone. It is safe and easy with sending money to others as long as you add your debit card to it.
Snapchat – One image and message app for iPhone (Free)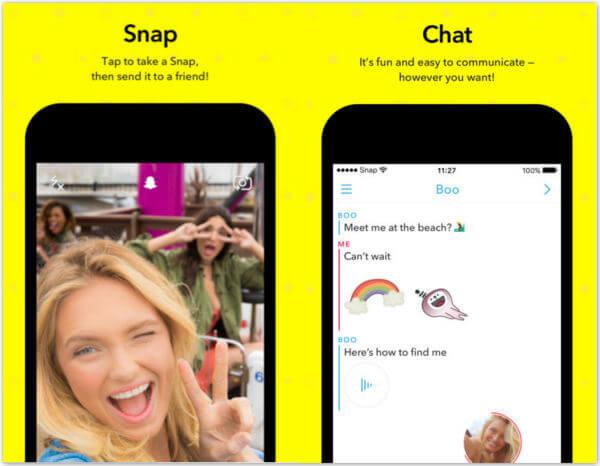 You must be boring if lets you just send messages to your friends and families. More and more people love sharing their photos with others. Snapchat can do this. And the point is that Snapchat is one app for sharing images instantly and privately. Now, just read the key points below:
1. Pictures and videos: Send pictures or videos to others and others can only see these snaps for a few seconds as long as they opened. These snaps will self destruct and clear themselves from viewers' iPhones. But you cannot stop viewers taking a screenshot.
2. Text messages: Besides sending pictures, you can send text messages with Snapchat.
3. Photo tools: You can add filters, stickers, themes, etc. to your images.
Snapchat is one free messaging app for iPhone, and for people love pictures more than text, they can see more pictures stories with Snapchat.
Kik – One popular iPhone messaging app with bot shop (Free)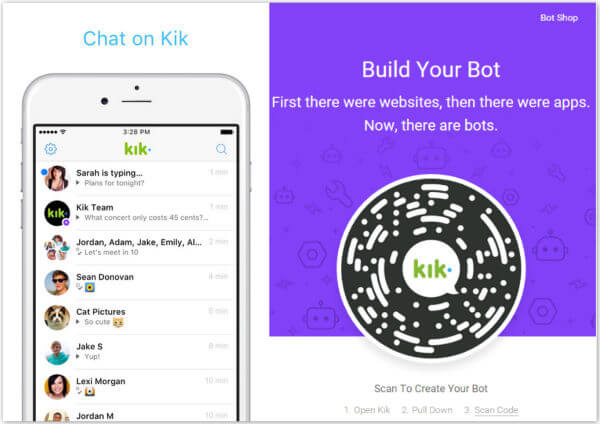 Kik, one popular messaging app among teenagers, has its own characteristic. With artificial intenlligence developing, Kik developed bots, which are computer programs that mimic conversation with people. There are some tips you need to about Kik:
1. Bot Shop: "First is website, second is app, and now is bot". Kik allow you to chat with bots and bots will answer your questions, including notes, weather, festivals, etc. And you can create your own bots to chat with different needs.
2. Text messages/group text/pictures: Send pictures/text message and create group chat to contact with your friends and families.
Kik, is more than a text app for iPhone, but a bot for iPhone messaging. There are more and more other companies begin to develop bots, like Facebook, Google+ and more. Anyway, Kik did a good work on bot shop.
Skype – One phone call and messaging app for iPhone (Free, charge partly)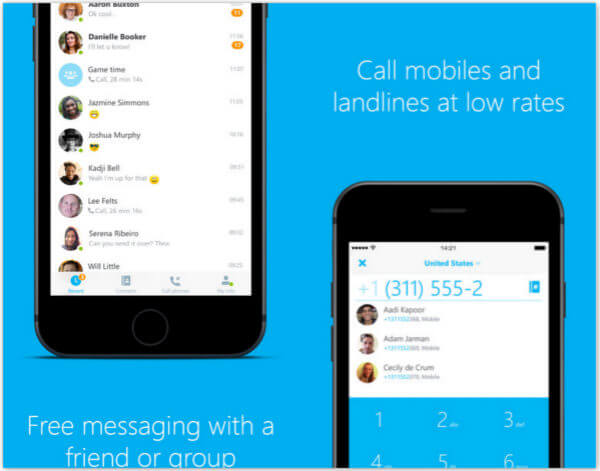 When we talk to Skype, you may think of phone calls and video chat, but it also supports text messaging. Just check some content of Skype:
1. Call to mobiles and landlines: Call people who are not online.
2. Video call/group video calls: Video or voice call anyone in the world, and add friends and family into one group.
3. Text messages: Send text messages and instant messaging to others.
4. Documents/emoticons/screenshots/voice: Send files and mojis with Skype freely.
Skype makes easy with video calls and text messaging. If you often do the two things, Skype is your best choice.
Line – One funny iPhone messaging app made of emojis (Free, charge for some items)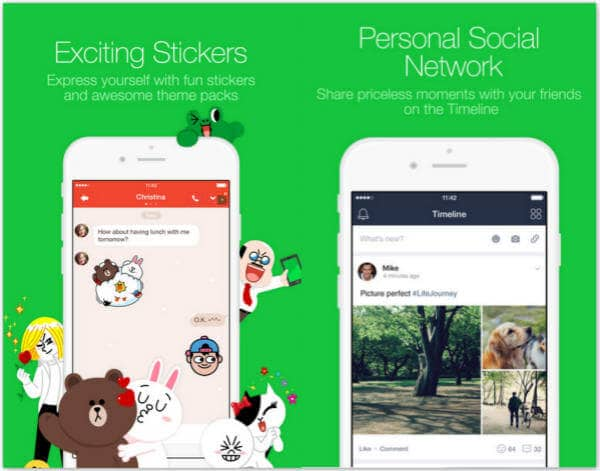 If you say that you like using more stickers and emojis in your messages, Line will be your first choice. This message app can turn almost every word you send to emojis, which lets you find more fun during chatting. Now check the guide for Line:
1. Profile page: Use phone number and SMS. After you sign up, you will get a profile page, you can post your records about life.
2. Stickers/emojis/themes: Line is a wonderland of stickers and emojis. If you love cartoons and lovely things, you definitely love Line.
3. Social network: Playing games, reading books, drawing, sharing hobbies and more on Line.
4. Text messages: Just send text messages regularly and using emojis.
5. Photo/audio or video call: You can send photos, audio/video call to your friends and family.
6. Group messaging: You can create and join groups as you like.
As is mentioned above, you must be satisfied with the funny and lovely stickers in Line. If you want to have your own virtual world, just enjoy Line.
Telegram – A free and great message app for business on iPhone (Totally Free)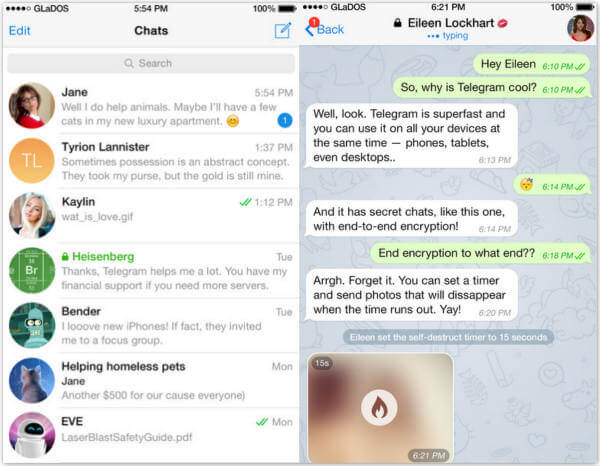 There are many messaing apps for people's life, but what for business? Here Telegram comes. Telegram is one great texting app for business. You can learn more from below:
1. Send any type of files: Whatever type of documents you want to send to others, or whatever size of files you want to transfer, you can do with Telegram. Like Word, Excel, PowerPoint, webpage, etc.
2. Cloud storage: It is attracting that you can access your messages on various devices with this cloud-based function.
3. Group chat: Chat with group of up to 5000 members. With Telegram, you can build group chat, and it is a surprise that there could be 5000 people in your group chat.
4. Private text messages: The messages are encrypted and can self-destruct.
With fast and safe functions, Telegram grows quickly around the world. And with powerful function of sending business files, Telegram becomes more and more popular.
Slack – A texting app for iPhone with team communication (Free, paid partly)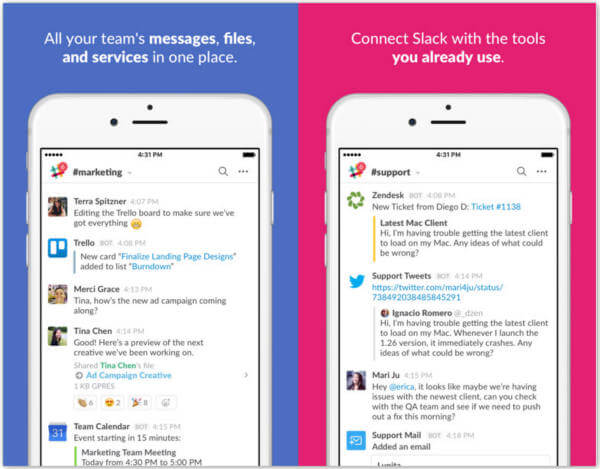 Slack is more likely a chat room for team work. You must be annoyed when you see tons of emails in your mail box. And Slack is your best choice.
1. Team conversation: You can invite some team members in open or private channels.
2. Search entire archive: All your files are automatically archived and you can search them everywhere.
3. Sync to all the devices: Help you remember what you have done and begin again on other devices.
4. Text messages/group text: Send italics, bold text and paste chunks of text as separate, collapsible snippets.
With better team conversation, Slack reclaimed your workday. If you want to get more functions, you can pay to get them.
Twitter – Also one messaging app for iPhone telling what's happening (Free)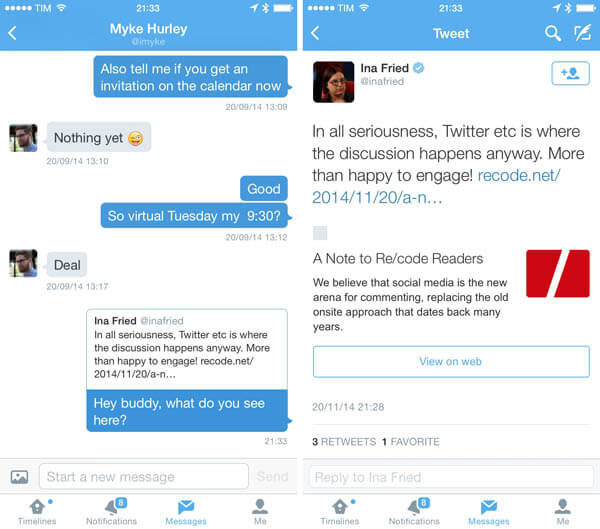 Many social media sites have their dedicated messaging apps for iPhone. But Twitter is not a dedicated message app. However, as a social network, Twitter is also for communicating with your dearest and nearest, of course others everywhere.
1. Manage your messages: Your direct messages and tweets are well managed on your profile page, but hashtags are not special on your iPhone like on website.
2. Share your life: Record and share your life style by taking pictures/sending location.
3. Share photos: You can share pictures via Twitter from almost any other apps as long as the apps can allow you to share photos.
4. Text/photo: Send text/photo messages in one-on-one conversation with your friends and families.
5. Group message: Just one big group chat, you can follow now or quit any time as you like.
See, Twitter is pretty good on helping you paying attention to news, photos, music, sports, entertainment, etc. Of course, as an iPhone messaging app, it is also good for you to chat with your friends.
Now, top 10 message apps for iPhone have been talked out, you can choose one according to their different features and your need. Of course, if you have better idea about iPhone texting and messaging apps, you can give us a review after reading this article.