What Is A Bad Pool Header and How Do I Fix The Error In Windows 10/8/8.1/7
I upgraded my computer to Windows 10 and have been using it for a few weeks and all have been fine until today. For some reasons after coming out of sleeping my computer crashed with the Bad_Pool_Header blue screen. When I attempted to start it NORMALLY, it crashed while showing the Microsoft Windows logo and had the same bad_pool_header error. Any help would be much appreciated.
What is Bad_Pool_Header? Why this error appeared on my computer? How do I fix the issue to make everything back to normal in Windows 10? This article provides the complete information and solutions about the Bad Pool Header BSOD error in Windows 10 as well as Windows 8/8.1/7.
Bad Pool Header
Part 1: What is Bad Pool Header Blue Screen error
The Bad Pool Header is an error occurring on a Blue Screen of Death (BSOD), an error (or error "0x00000019" code) that appears when Windows encounters a critical problem from which it cannot recover. Bad Pool Header is most frequent BSOD error nowadays. When Bad Pool Header error appears, your computer keeps freezing and shows you a blue screen says that: ":( Your PC ran into a problem and needs to restart. We're just collecting some error info, and then we'll restart for you (0% complete). If you'd like to know more, you can search online later for this error: BAD_POOL_HEADER." Or it will pop up the message that says that Recovering orphaned file.
If you receive such above error message, that means your system is having Bad Pool Header issue and may be caused due to various reasons. Getting this error means that there is a problem with your computer's memory. Specifically, this error means that your computer is struggling to allocate memory. It can be seen randomly in any versions of windows but from recent statistics, it is found that many Windows 10, windows 8.1, windows 8 and Windows 7 users have witnessed BAD_POOL_HEADER problem and reported about it.
Part 2: Some reasons to cause the Bad Pool Header BSOD error
The BAD_POOL_HEADER error mostly occurs on Windows 10. There are various reasons to cause the Bad Pool Header of BSOD error. Hardware and software faults are the major reasons behind this error occurrence. Here are some specific reasons that may create this unwanted Windows error.
1. The installed anti-virus & anti-malware software is not compatible with computer and corrupt the system memory.
2. RAM memory is faulty that periodically gives read/write errors.
3. The hard drive is misconfigured, corrupt or outdated.
4. The installation of any incompatible applications.
5. Old or corrupt system drivers may create the error.
6. Corrupted Windows system files cause the issue.
7. Damaged Windows Registry entries or incompatible Windows drivers.
8. Windows update and Hardware replacements.
Before debugging this error, if we can find the possible reason, then it becomes much easier to fix the Bad Pool Header of BSOD error.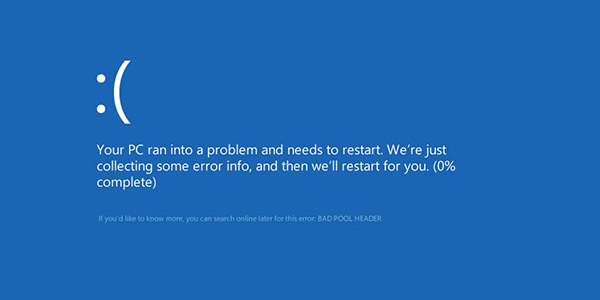 Part 3. How to fix the Bad Pool Header error in Windows 10/8/7
There are some solutions to solve the issue and you would find the one to fix the Bad Pood Header for you Windows computer. Sometimes, the issue is not serious and you can restart your computer to let it recover and repair automatically. But still if the problem exists, you should follow the methods mentioned below to repair Bad_Pool_Header BSOD error.
Method 1. Update Device Drivers
Generally speaking, old or faulty drivers create this Windows Bad_Pool_Header error so you need to check all your system drivers and then update all old drivers. At first, you should download and install the Driver Update program of your choice and then scan all your drivers. This action will detect any potential problems with your drivers. You can uninstall old drivers and then download the latest version to install. You also identify the error or faulty drivers from Control Panel and drivers install folder in local disk.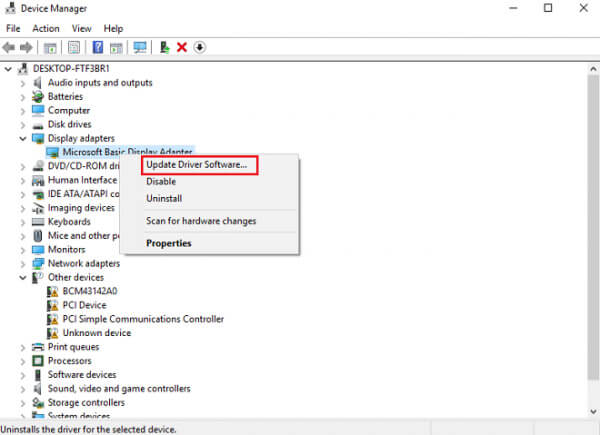 Method 2. Disconnect and unplug external devices
Sometimes the hardware devices we connect to our system except the keyboard and mouse are responsible for this problem. If you would like to check whether an external device could be causing this error, then remove all the devices like any USB hubs, flash drives, external hard drives, webcams, etc. and restart your Windows computer. If this solves your problem, then you will get to know that this BSOD error is because of some external devices.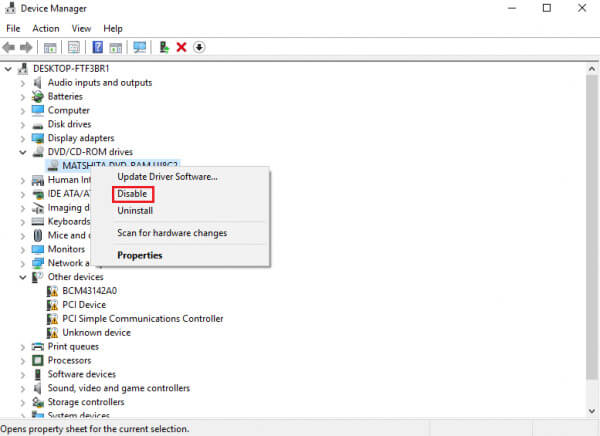 Method 3. Check your RAM(Random Access Memory)
Sometimes corrupted or faulty RAM creates the blue screen error. Run the Windows Memory Diagnostics Tool to test and diagnose your RAM. Often, this Bad Pool Header of Blue screen error is caused by a dusty RAM, so you can take it out and clean the RAM carefully by unplugging from motherboard and then get it back in. If your RAM is damaged or infected then you need to change the RAM.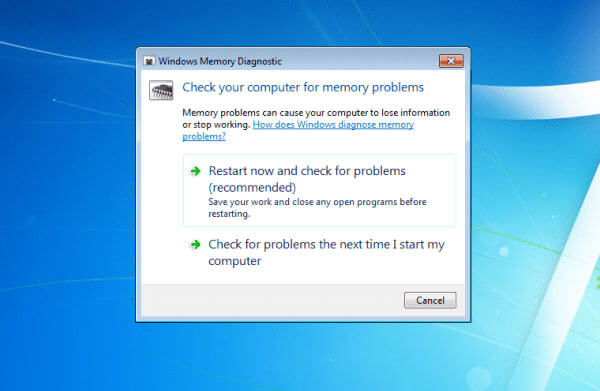 Method 4. Disable Windows indexing service and Windows search
If the Bad Pool Header error still exists, you can disable Windows indexing service and Windows search. For this, you will require administer access of your Windows PC and follow the below steps. Firstly, go to "RUN", press Windows logo along with "R" and then type services.msc followed by enter. Find the Indexing service or Windows Search and double click on it. Now change the startup type to Disabled or Manual from "Automatic".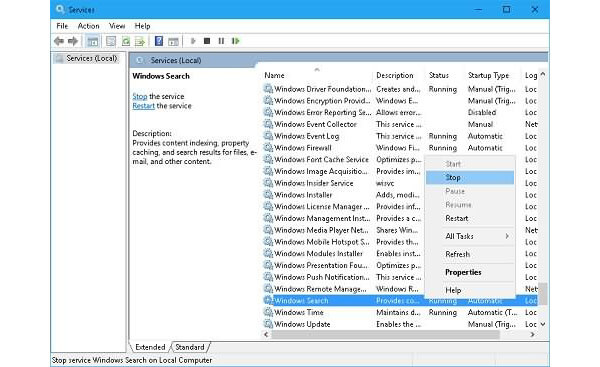 Method 5. Uninstall anti-malware software temporarily
The Bad_Pool_Header BSOD error in Windows 10 is very often linked to antivirus applications. It is amazing that many different software errors are caused by antivirus applications interfering. When antivirus program detects any virus, it lets you remove or fix the virus that's time may delete system file with the virus and encounter the error. Thus we would strongly recommend you to disable your antivirus program to check whether it is causing the error. Once you have disabled your antivirus program, you should check whether the problem has gone away.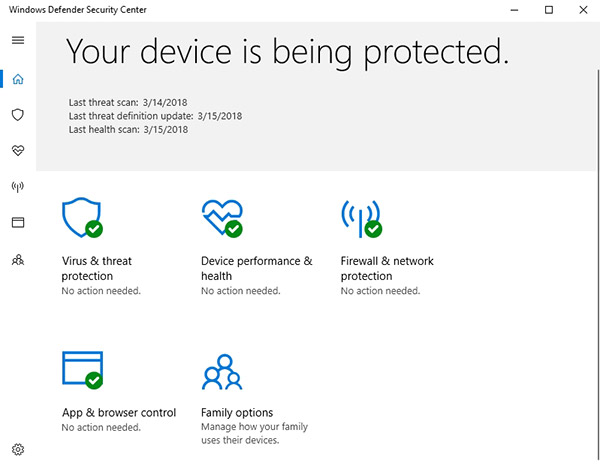 Method 6. Disable fast startup in Windows 10
Sometimes Windows 10 shows this error for upgrading the operating system from old OS. At times, it can interfere with the system and cause Bad Pool Header corruption. To do this method, you need to log into Windows on the problem computer. If you can't, restart it in Safe Mode to try. At first, press the "Windows logo key" and "R" at the same time, then click "Power Options". Look at the different options on the left-hand side and click on the following one: "Choose what the power button does". Once your "System Settings" display on your screen, then click on "Change settings that are currently unavailable". Uncheck "Turn on fast startup (recommended)", then click "Save changes". At last, reboot your Windows computer and see if the error is fixed.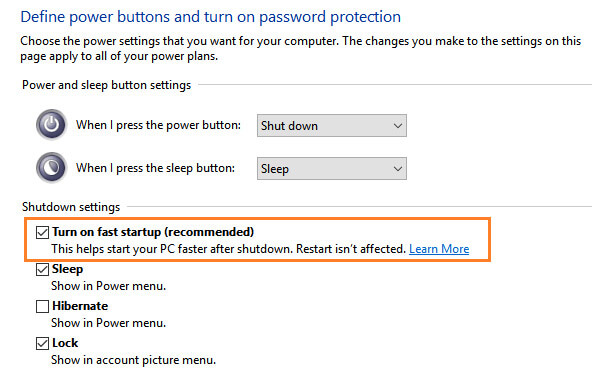 Method 7. Perform Clean Boot in Windows 10/8/7
If your computer encounters the Bad Pool Header error, you could consider performing a "clean boot." To perform clean-boot troubleshooting, you must take a number of actions, and then restart the computer after each action. To enter a clean boot state, type "msconfig" in start search and hit "Enter" to open the System Configuration Utility. Click the "General" tab, and then click Selective Startup. Clear the "Load Startup Items" check box, and ensure that "Load System Services" and "Use Original boot configuration" are checked. Reboot your computer and see if the Bad Pool Header error comes up again.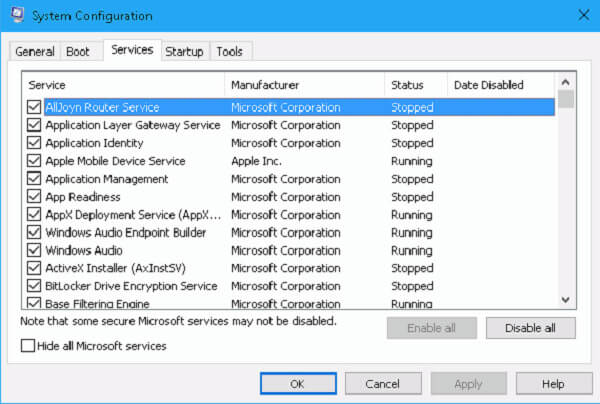 Part 4. Recover lost data when appearing the error of Bad Pool Header
Did your computer is back to normal after trying above methods we mentioned? If the Bad Pool Header blue screen error still exists, don't worry, the last thing you will do is to reinstall Windows system. Of course, Aiseesoft Data Recovery would help you recover your lost data after fixing the Bad Pool Header error.
Step 1Download and install this Data Recovery software on your computer and launch it.
Step 2Choose the data type(s) you want to recover and then choose disk drive(s) where you may find the lost files.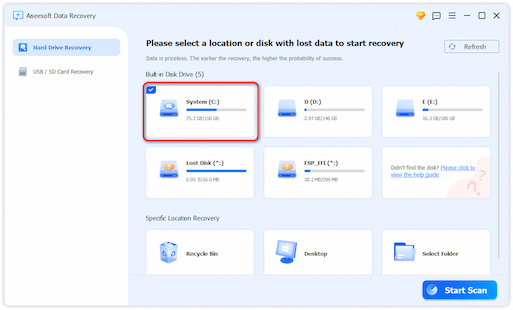 Step 3 Select on scan type in "Quick Scan" and "Deep Scan". The default scan type is "Quick Scan".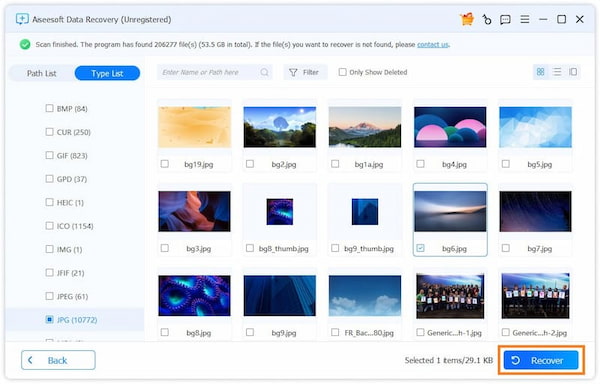 Step 4 After scanning, all the deleted or lost files will be listed in the interface.
Step 5 Click "Recover" button and get all the selected files back to your computer.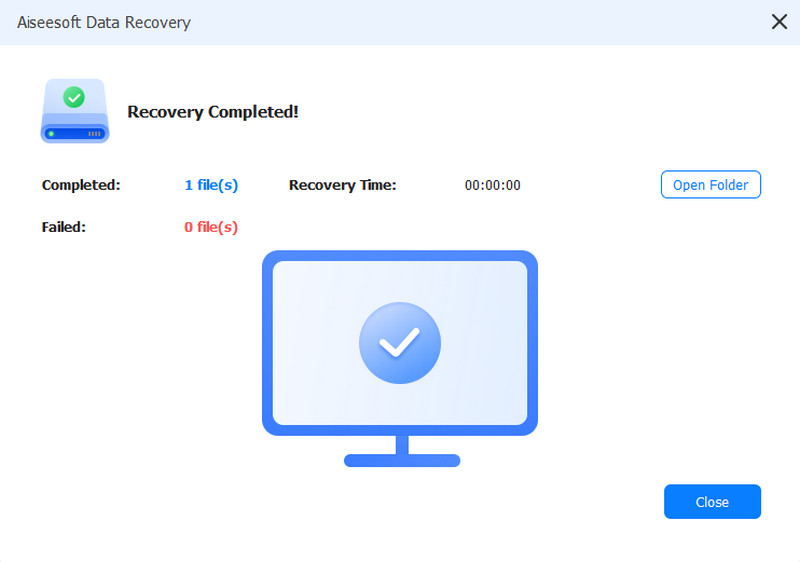 Conclusion
After that, all the methods we have introduced to you. If you have any feedback or your own experience for fixing Bad Pool Header error, please leave us a message in the comments section below to share with us.