If there are files on a DVD that need to playback on smart phone, you can convert VOB to 3GP. Usually the VOB files are large in size, you cannot use VOB to 3GP converter online to get the files for your phone. What should be the best solution to have DVD 3GP file, you can use Aiseesoft 3GP Converter as your initial choice.
Why do you choose Aiseesoft VOB to 3GP Converter
You might find many VOB to 3GP online converter or VOB to 3GP Converter Freeware, but the programs are not recommended. Just find the detail reasons as below.
1. Usually DVD contains one VOB or several VOB files, the size of the VOB files are too large to the 3GP Converter Freeware.
2. Besides the file size limitation, you might also find it difficult to convert the whole VOB to 3GP online for several hours.
3. Further edition for the video files of the VOB, such as combine VOB clips into a movies should also be available when transcoding VOB to 3GP.
4. When you need to convert 4K DVD file, add 3D features or customize the watermark for turning VOB to 3GP, Aiseesoft VOB to 3GP Converter provides these plus and important features.
How to convert VOB to 3GP with Aiseesoft VOB to 3GP Converter
If you have to convert VOB from DVD to 3GP for you cellphone, you might have to convert the downloaded RMVB to 3GP as well. You can also convert VOB to MPEG if you need to use the VOB files on HDTV or other devices.
Open VOB to 3GP Converter
When you download and install the latest version of VOB to 3GP Converter, you can open the tool as the screenshot.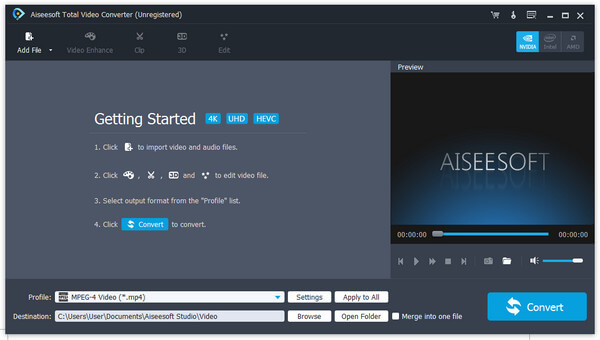 Add VOB files from DVD
You can click the "Add File" to add the VOB files from DVD or drag-n-drop the VOB files from DVD to 3GPP for your cellphone.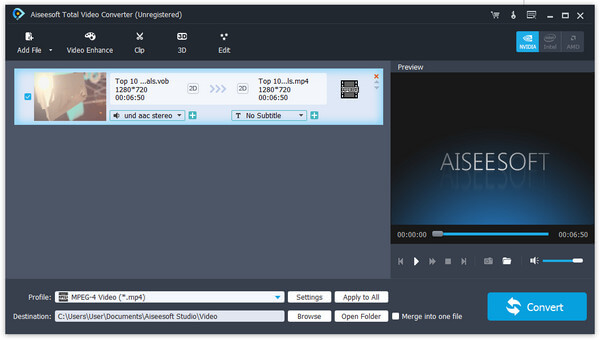 Select the output format
When you convert VOB to 3GP, you can find the various cell phone types from the program, select the output as the device type directly.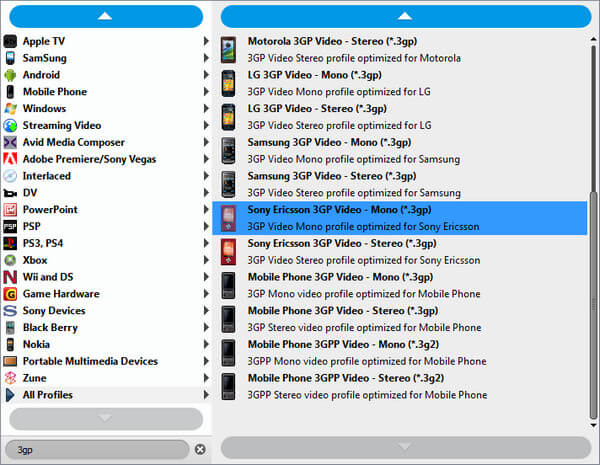 Convert VOB to 3GP
You can adjust the video and audio settings or add special features for the output file. After that click "Convert" button to change VOB file to 3GP.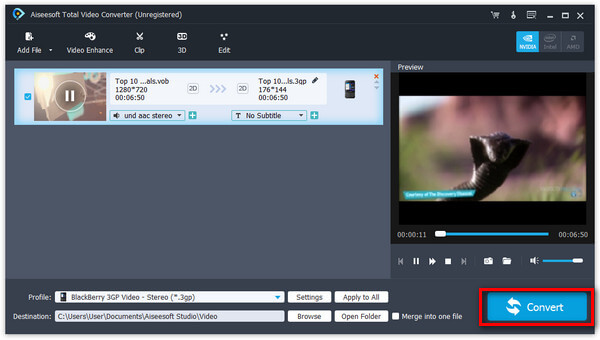 Still, if you have RMVB file from online sites, then you could also convert RMBV to 3GP.