How to Place Multiple Videos on One Screen on Your Computer
When you need to visualize two or more separate video clips happening at the same time, putting multiple videos in one screen can create the split-screen effect. This effect stands out for telling multiple stories in a quick and easy way. Well, with the software available these days, you can easily combine several footage to make one project.
Whether you want to split your screen into two, three, four or more parts, this tutorial can get you started quickly. In this article, we'll show you easy ways to combine video clips to make one video, and also tell you how to adjust borders, add filters, edit clips, and troubleshoot your split-screen projects.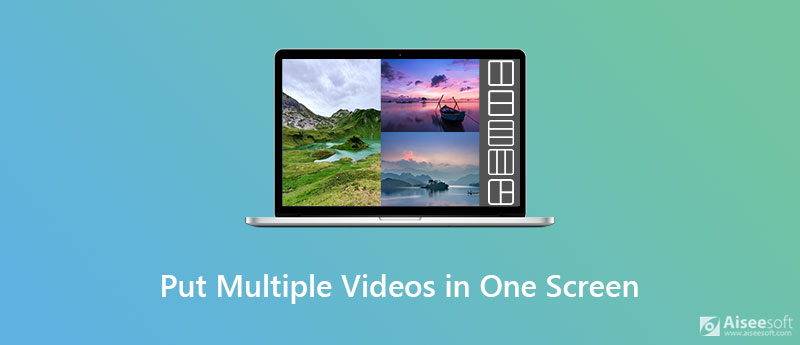 Part 1. How to Make a Multi Screen Video Using a Split-screen Video Editor
To put two or more videos on one screen, the easiest way is to use a high-quality split-screen video editor. Aiseesoft Video Converter Ultimate is undoubtedly an excellent option. Available for both Windows and Mac users, the tool is easy to use and can help you make brilliant professional-like split-screen videos. The program also offers you various templates for video collage. It can export videos to a wide range of output formats and has other handy video editing features such as rotating, trimming, cropping, applying video effects, adding watermark, adding background music, and more.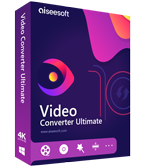 Downloads
Video Converter Ultimate – Best Tool to Create a Multi Screen Video
Easy to make a video collage with images, GIFs, or videos.
Place two, three, four, or more video clips in a single frame quickly.
Plenty of frame shapes and filters to choose from.
Comes with basic and advanced video editing features.
Export your collage output in MP4, WMV, MOV, AVI, MKV, or GIF.
Once you have downloaded and installed Aiseesoft Video Converter Ultimate, you can create side by side videos using the following step-by-step instruction.
Step 1.
Launch the program on your computer and choose the
Collage
feature. To make things easier, you can start with choosing a suitable split-screen template, which depends on the number of your video clips. Go to the
Template
tab and select one mode you prefer. Here you can adjust the aspect ratio, and determine the thickness of the border.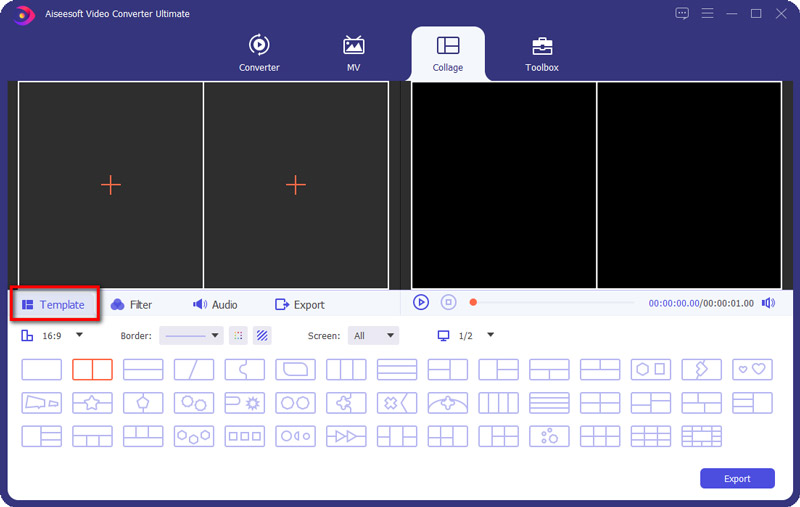 Step 2.
Click + icon to add the videos and images one by one. You can select the position for the video.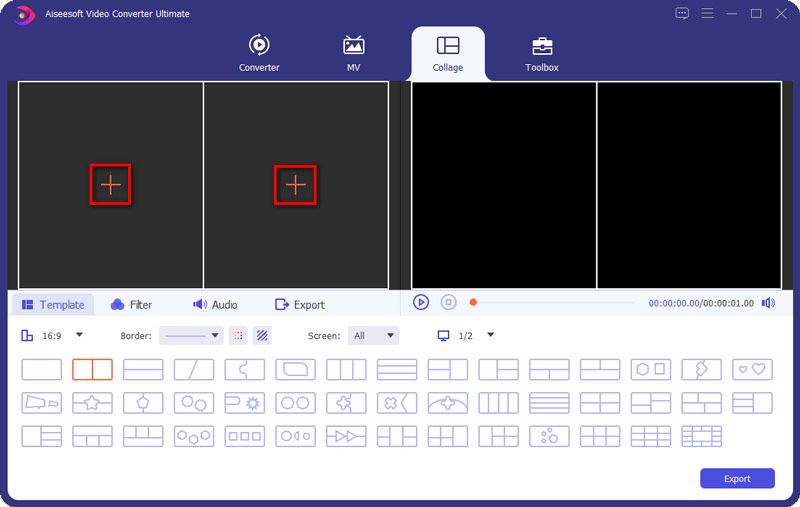 Step 3.
Now, you can adjust the position of the videos as desired by dragging on them on the edges.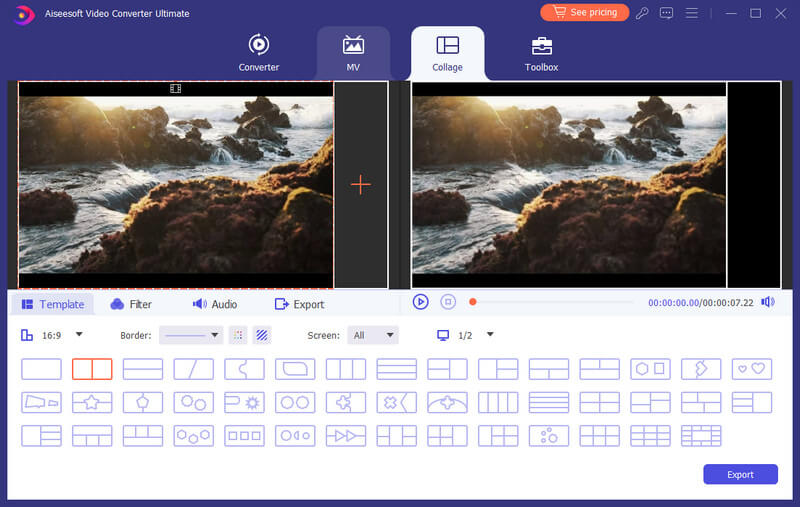 Step 4.
This is where most of the work is done. This program also makes it easier than ever to edit video clips.
Apply filter:
You can choose a filter by clicking on the Filter tab.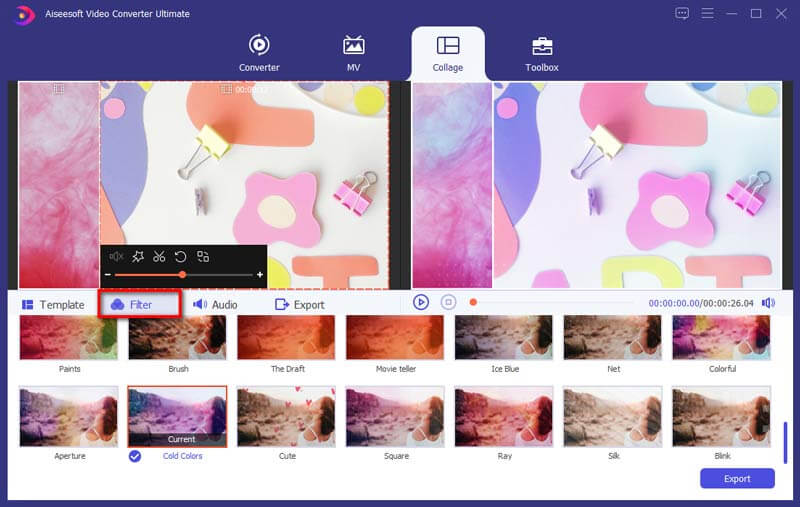 Edit video clips:
Select the video you want to edit, click the Edit button, and then you will be taken to the Edit window. Here you can crop, rotate, add watermark, add subtitle, and more.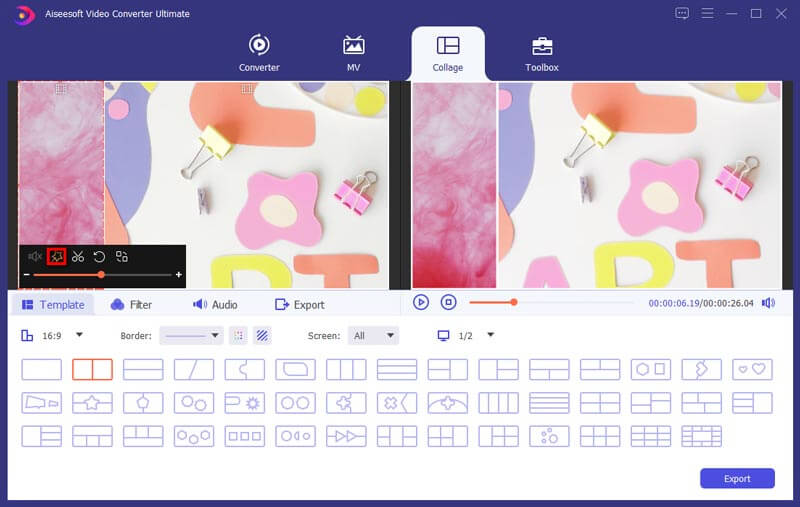 Add background music:
If you'd like to change the original audio in the video, you can add a song as the background music from the Audio tab.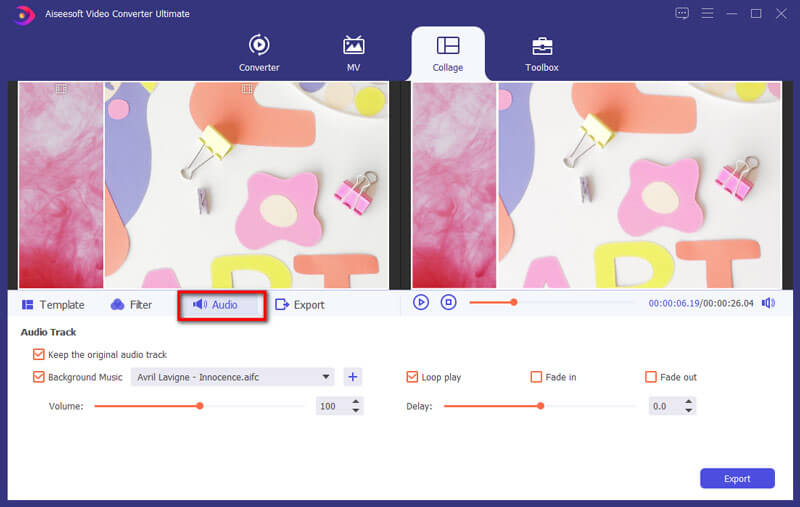 Step 5.
You can preview the video from the preview window on the right side. Then, head to the Export tab where you can save multi-screen video to popular video formats, such as MP4, MOV, WMV, MKV, AVI, etc. You can also determine the output video quality, resolution, and frame rate. Finally, click
Start Export
to save the video to your computer.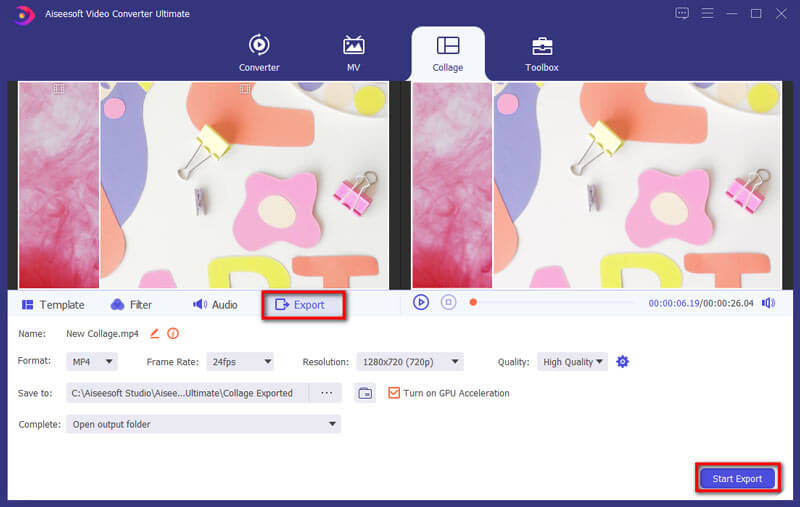 Part 2. FAQs of Putting Multiple Videos in One Screen
What is the best split-screen video editor to put multiple videos into one screen?
Aiseesoft Video Converter is the most powerful and efficient split screen video editor for Windows and Mac. In fact, the program is a full-fledged post-production application that can be used to edit the video for creating industry-standard videos.
Can I combine 4 videos into one screen?
You can use the above-mentioned video collage editor to simply place 4 shots into the frame template.
Conclusion
The above is about how to combine multiple video clips into one in one screen. After exporting your video, you can publish it to social media platforms.

Leave your comment and join our discussion