How to Use G Suite Essentials to Record Google Meet
These days, working from home has become a trend due to COVID-19, which makes online meeting platforms popular among the public. Google Meet is one of them. It is safe and easy to use. Available to everyone, Google Meet allows you to start or join a meeting with a simple web browser or a phone app effortlessly.
In the following post, we will show you how to record Google Meet video meetings with a G Suite Essentials account. You can also learn how to record Google Meet on your phone.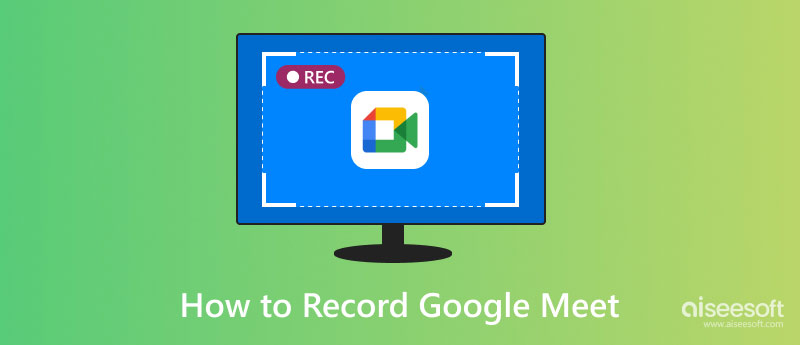 Part 1. Record Google Meet using G Suite Essential
Recently, users can try G Suite Essentials and experience advanced features for free on Google Meet through Sept. 30, 2020, including conference recording, live streaming, noise filtering, etc. So, when you use Google Meet on your laptops or desktops, you can have a try.
Among all these features, recording meetings may be the most useful one, especially if you want to review the meeting later or send the recording to absentee. Here are the steps to record a Google Meet video meeting with the recording tool it offers.
Step 1.
Go to the webpage of Google Meet and start a
New Meeting
.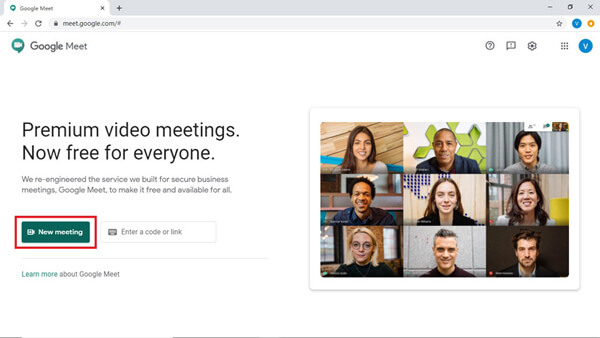 Step 2.
When the meeting is ready, click
Join Now
.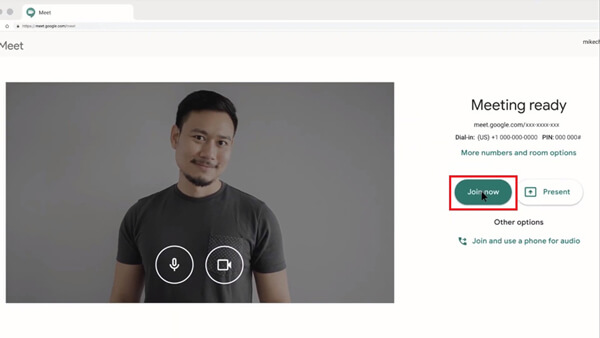 Step 3.
Find the
More
icon (3 Dots) in the bottom right corner. Then choose
Record Meeting
.
Step 4.
Click the
More
icon again if you want to
Stop Recording
. Or you can wait till everyone leaves the meeting. The recording will stop automatically.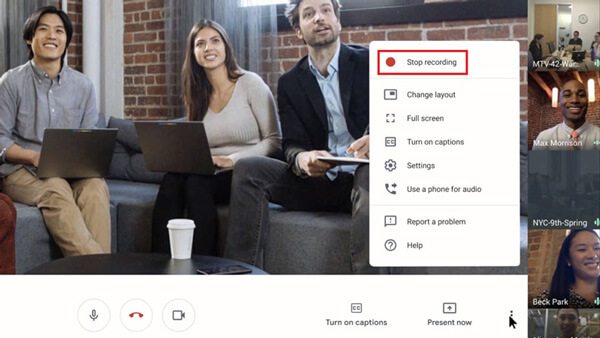 Step 5.
The recording video will be saved to the
Meet Recordings
folder under
Google Drive
.
1. You can only get the recording feature with Google Meet's computer version.
2. Google Meet will notify other participants when you start and stop recording.
3. The recording link will be emailed to the meeting organizer. And it will be added to the Calendar event.
4. Live captions cannot be recorded to the recording.
Part 2. Record Google Meet with Aiseesoft Screen Recorder
Even though it is convenient to use the built-in recording tool of Google Meet, there are still a lot of restrictions while recording video meetings. For example, only the meeting organizer or the one in the same organization as the organizer can record the meeting.
So, if you are only a participant who wants to record the conference, what should you do?
The easiest way is to use Aiseesoft Screen Recorder to capture the Google Meet screen. As the most professional screen recording software, it enables you to record anything that's presented on Google Meet and export the recording in MP4, WMV, MOV, etc. as you like without notifying anyone. It even empowers you to edit the recording in real time.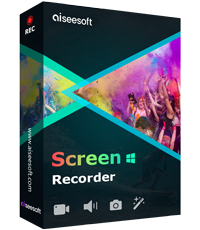 149,039 Downloads
Record Google Meet video meetings or any other meetings with high quality.
Add text/shapes/lines/arrows and take screenshots with ease while recording.
Modify the frame rate, audio/video codec, video quality, etc. as you like.
Provide media library to help you manage all recording videos like a pro.
Step 1.
Free download and install Aiseesoft Screen Recorder to your computer.
Step 2.
Then launch the software and choose
Video Recorder
.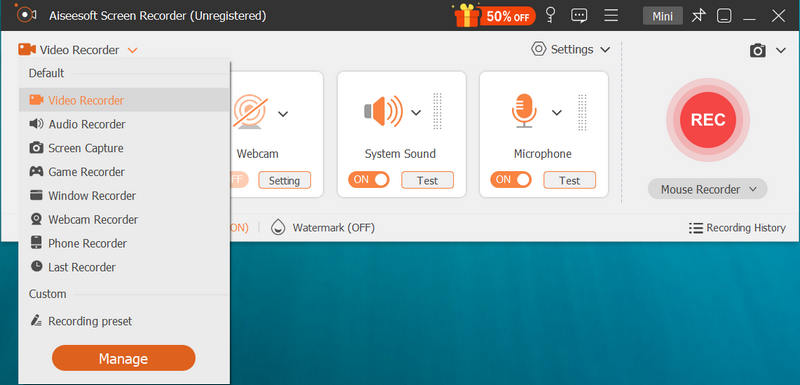 Step 3.
Here you can adjust the recording area and set audio source according to your needs. Then click
REC
to start recording.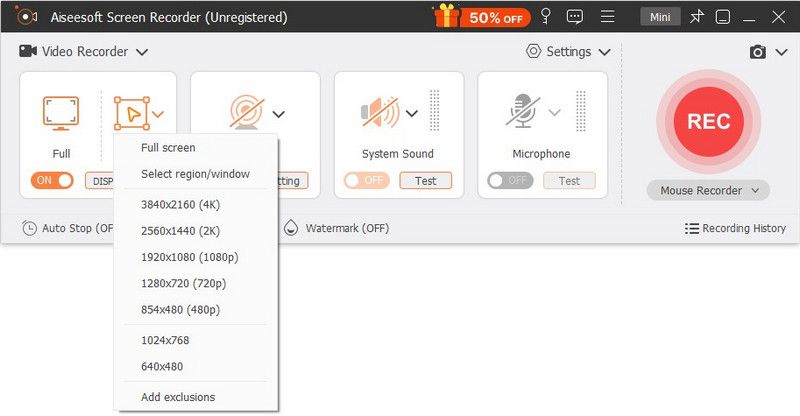 Step 4.
Now you can go to Google Meet and record your meeting. While recording, you can add real-time drawings to your video. Click
Stop
to end the recording.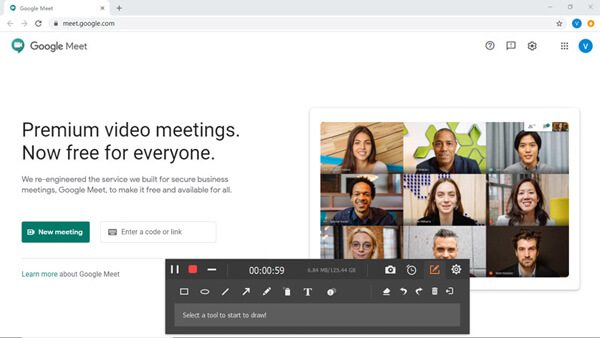 Step 5.
The Preview window will pop up by default. You can trim your video by adjusting the time for start and end. You can also take screenshots as you want by clicking the
camera
icon. After that,
Save
the video to your computer.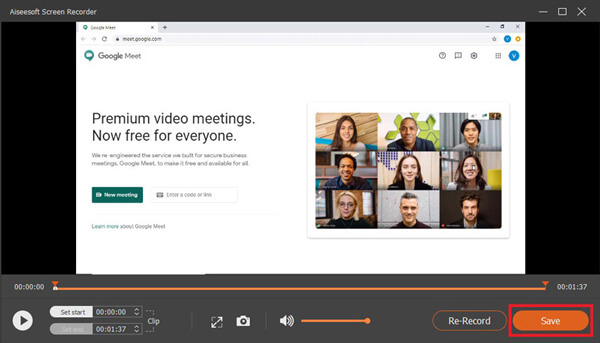 Part 3. Record Google Meet on Your Phone
As is known, mobile users can't directly record Google Meet conferences in the app. In this situation, you have to find another recorder to capture the meeting for you.
For Android users, recording Google meet may be a little complicate. Normally, you have to utilize a third-party screen recording app to record phone screen.
As for iOS users, the recording is quite easy, because Apple actually provides a pre-installed screen recorder in iOS devices. As long as you are using iOS 11 and later, you can follow the steps below to record your screen.
Step 1.
Tap
Settings > Control Center > Customize Controls
. Then add
Screen Recording
to your control center.
Step 2.
Then to start recording, please swipe down or scroll up your screen to get your control center menu. Long press the
Record
icon. Turn on microphone and tap
Start
Recording. Now you can go to Google Meet and join a meeting.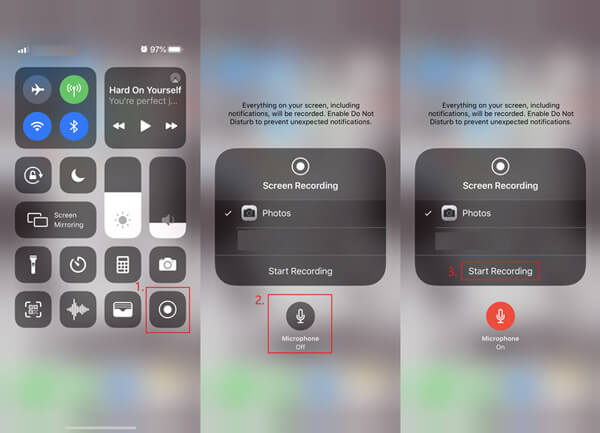 Step 3.
If you finish recording, just go back to control center and tap the
Record
icon again.
Part 4. FAQs of Google Meet Record
1. How much is Google Meet per month?
For now, it is free to try G Suite Essentials. But after Sept. 30, you will have to pay $10 per month to maintain the account. As for G Suite Enterprise Essentials, it will cost you $25 a month.
2. Do I need a Google account to use Google Meet?
If you only want to participate a meeting on the computer version of Google Meet, then you don't need to register a Google account. Just make sure that the meeting organizer has granted you access to the meeting.
3. Which one is better, Zoom or Google Meet?
If you are asking which platform has better features, then Zoom is the answer to that question. But if you only want a simple meeting tool, then Google Meet is actually enough for daily use. And for your information, the recording feature on Zoom has a lot of restrictions as well. So, you can still use Aiseesoft Screen Recorder to record Zoom meeting.
Conclusion
After reading the whole article, you must have a better understanding on how to record Google Meet. Before Sept. 30, G Suite Essentials is a method worth trying for it's free. But if you need a screen recorder with much more functions, you can download and employ Aiseesoft Screen Recorder. Contact us if you have any question.

Leave your comment and join our discussion