[Best Ways] How to Record a Zoom Meeting on PC/Mac/iOS/Android
If you frequently make the video conferencing in Zoom, you may have the need to record some important Zoom meetings. Whether you want to record online Zoom meeting with its built-in video recorder, or eager to find some other tools to get the job done, you can easily find what you need in this post.

Is there a third party software to record Zoom or BlueJeans app meetings/conferences?
I often make video conferencing in Zoom with my clients, and sometimes, I want to record and share some specific Zoom meetings. Can I directly record Zoom meeting? Or is there any good recorder recommendation?
Zoom is a very popular online meeting providing service which enables you to make video conferences, virtual meetings, webinars and more with ease. It has the capability to host up to 100 participants at the same time. That's way many company meetings or demonstrations are held in Zoom.
Zoom offers two kinds of recording ways, cloud recording and local recording. Surely, you can record Zoom meeting with third-party recording apps. This post will show you how to save the video conferences in Zoom with different solutions.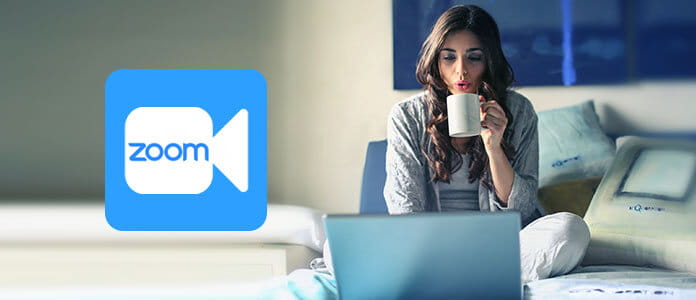 Part 1. Record Zoom meeting with its built-in recorder
Zoom offers two recording options: one is cloud recording , and the other is local recording. Cloud recording is automatically enabled for paid subscribers. It enables you to capture video, audio, and chat text to the Zoom Cloud. After that, you can easily download or stream the recorded Zoom video conferences. Local recording allows you to record video and audio locally on your computer or shared network drive through Vimeo or Youtube. This recording way is can be used by both free and paid users.
Before recording Zoom meeting, you need to note that only the host is allowed to record Zoom meeting. If a participant wants to record the meeting, then he/she needs to ask permission from the host. And for those who use Zoom for the first time, it may be hard to find the recorded file. Because the cloud recording is based on Internet, you may spend a long time to complete the download. Besides, the recordings will be saved as M4A file by default, which means you cannot record audio only. If you are okay with these, then here are the steps on how to make Zoom video conferencing recordings.
Steps to make Zoom video conferencing recording
Firstly, you need to enable the cloud and local recording feature.
Navigate to the Zoom site and log into your account. Find and click on the Account Settings option.
Click the Cloud Recording or Local Recording option on the Recording tab. Make sure this Zoom recording feature is enabled.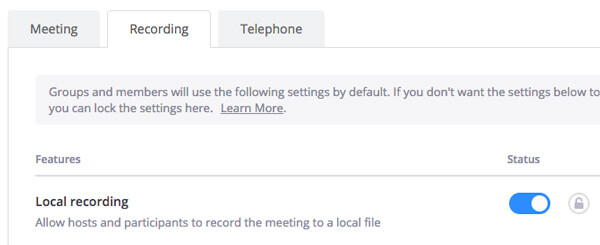 Step 1.
Start a video meeting in Zoom as the host.
Note: Only the meeting host can record a Zoom meeting by default. But the meeting host can allow specific users to capture the meeting content through the Manage Participants panel.
Step 2.
You will find a Record button and click on it. There will be window prompts you Record on this Computer or Record to the Cloud if you are a paid user.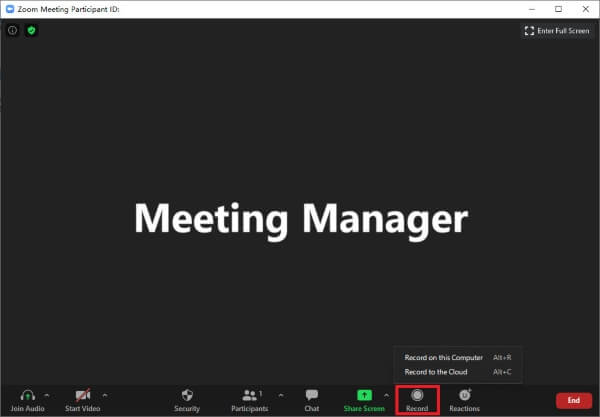 Step 3.
The recording process will be automatically starts and you can see a recording indicator in the top-left corner. After recording, the captured Zoom video will be saved in MP4 format.
Part 2. How to record Zoom meeting on PC/Mac without permission
As you can see from above, only the Zoom meeting host and some specific participants are allowed to record the video conference content. If you want to freely capture anything displayed on the screen, you should pay more attention to this part.
Here we sincerely introduce you with a powerful screen and audio recorder to help you record the Zoom meeting with high output quality. Compared with the Zoom built-in recorder, it can bring more control of the meeting recording.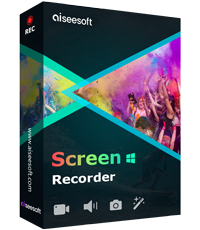 Downloads
Aiseesoft Screen Recorder is the professional video and audio recording software, which can help you record Zoom meeting, online videos, podcast, webinars, lectures, presentations, Skype calls, online conference, webcam videos, songs, etc. with high-quality image and sound quality.
Provide "Blu-light" real-time HD video encoding technology to ensure excellent image and sound quality.
Recorded Zoom meeting videos can be saved as MP4 or WMV file which would be easy to playback on any video player.
Record system audio, microphone voice with high sound quality.
Capture any sound on your computer from system audio or microphone according to your need.
Support capturing pictures from screen.
Step 1.
Launch Zoom meeting recorder
First, you can free download and install this powerful Zoom meeting recording software on your computer. Then launch it and start the Zoom meeting.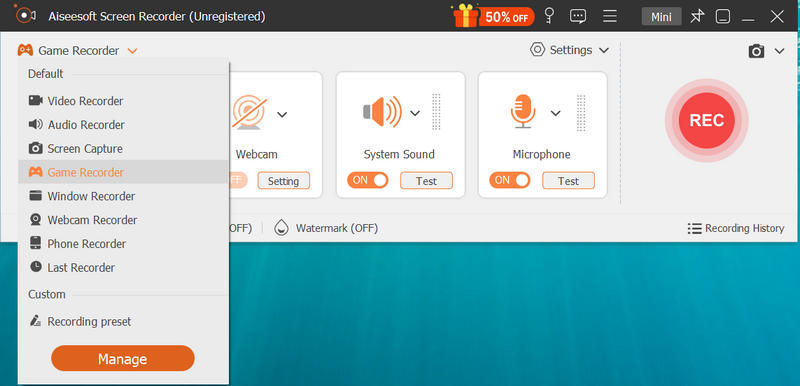 Step 2.
Adjust recording settings
When you enter the Zoom meeting recorder, choose the Video Recorder option. Then you can adjust the recording area according the Zoom meeting.

This Zoom meeting recorder enables you to capture sound from system audio and microphone. You are suggested to turn on both sound source to make sure capture all audio in the Zoom meeting.
Step 3.
Record a Zoom meeting
Click the REC button to start recording the Zoom meeting. You can get full control of the whole recording and handily pause, re-start and stop the recording. The captured Zoom meeting video will be saved in any popular video format based on your setting.
Part 3. How to record Zoom meeting on iOS devices
If you are an iOS user and want to make a Zoom call recording, you can rely on the screen recording feature built in the iOS device to record iPhone screen. Besides using this method to save recordings to your iOS device, you can also choose to record to the Cloud on Zoom directly.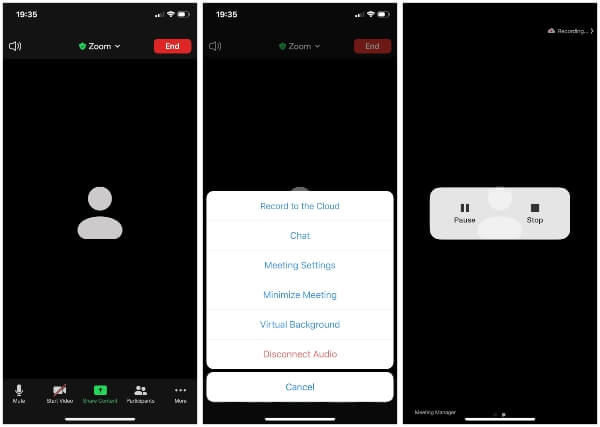 Step 1.
Start a new Zoom meeting on your iOS device. Then tap More in the low-right corner of screen.
Step 2.
Find and press
Record to the iCloud
from the options to start recording.
Step 3.
If you want to end the recording, just tap the
Recording
icon in the top-right corner, and then tap
Stop
. If you need the recording, you can find it on Zoom's website.
Part 3. How to record a meeting in Zoom on Android
If you are an Android user and often hold a Zoom meeting on your Android device, you can take the following guide to record a Zoom meeting.
Step 1.
Open Zoom app and enter a Zoom meeting on your Android device.
Step 2.
If you are a host, you can directly start the recording by tapping the Record button. Or you need to tap Participants and then Record button to capturing the meeting.

Step 3.
You can tap the screen and the tap the Stop Recording button to stop and end the Zoom meeting recording.

After reading this post, you can easily record a Zoom meeting on your computer or portable iOS/Android device. If you have any better Zoom video conference recorder app recommendation, you can leave us a message in the comment.
Part 4. FAQs of recording Zoom meeting
1. Where do recorded Zoom meetings go?
You can view all cloud recordings and local recordings on Zoom client. Log into Zoom client and click Meetings. Then click the Recorded tab to view all Zoom recordings.
2. How do you save a meeting ID in Zoom?
The Zoom meeting ID is displayed on the top center of your Zoom meeting window on PC or Mac. If you are using iOS or Android device, you can tap on the screen to display the Meeting ID at the top.
3. How do I cancel my Zoom meeting?
You can view, edit, start or cancel a scheduled Zoom meeting in Zoom client. Click on Meetings in Zoom client and click Upcoming tab to view the scheduled Zoom meetings. Navigate to the Zoom meeting you want to cancel, and click Delete to cancel it.
4. How can I see who joined a Zoom meeting?
Once you logged in Zoom, you will see your profile details. Click Report on the left menu of your screen. Select the meeting time period, and click Go to check the list of participants.