How to Record Remote Meeting Session on TeamViewer
TeamViewer, as the remote access, control and support solution, can remote in to computer or mobile phones anywhere, especially the COVID-19 spread in the globe. Since its upgrade of version 3.5, a session recording feature has been added to enhance meetings. It can record remote meeting session without any third-party recorder directly.
This tutorial shows you how to record remote meeting session on TeamViewer in 2 ways, with or without built-in recording feature.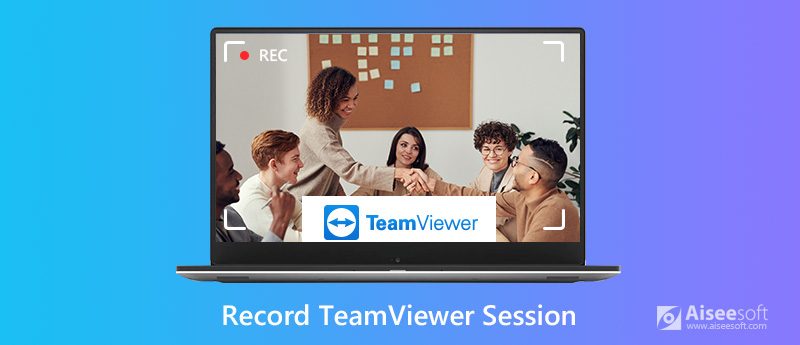 Part 1. How to Record Remote TeamViewer Session Via Third-party Recorder App
The first recommended solution to record TeamViewer session is using the third-party recorder, Aiseesoft Screen Recorder.
Aiseesoft Screen Recorder is the desktop TeamViewer recorder to capture all activity on your screen. All the actions including music and video from remote computer will be recorded for the purposes of training, video tutorial, etc. Besides, it offers more customizable controls to adjust the recording quality, output format, hotkeys, recording modes, etc.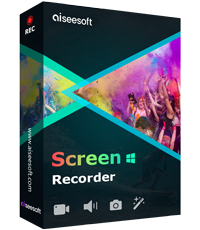 Downloads
Screen Recorder – TeamViewer Session Recorder
Record all the remote activities (video, audio and webcam) from TeamViewer.
Real-time editing while recording like add texts, draw shapes. take screenshots, etc.
Timer recording launches the session recording automatically.
Record remote meeting from TeamViewer without permission or notification.
In brief, it is the must-have TeamViewer meeting recorder with powerful but easy controls.
Here's how to get started.
Step 1.
Download TeamViewer session recorder
Download the TeamViewer recording software on your computer. Launch it after the successful installation. It has both Windows and Mac version and download the version based on your computer.
Initiate the window, select Video Recorder.

Step 2.
Make recording settings
In the screen of Video Recorder, you should make the TeamViewer recording settings.
Select recording region: Full or Custom option lets you choose the recording region in the whole screen or customized region.
If you open TeamViewer in full-screen, then here you should select Full. Otherwise, click Custom to draw the customized region for recording.

Select recording audio: Toggle on either Microphone or System Sound, or both of them to record sound from remote computer and yours.

This software also offers other easy controls to change the hotkeys recording, output formats, recording quality, etc., by clicking the gear icon above Microphone.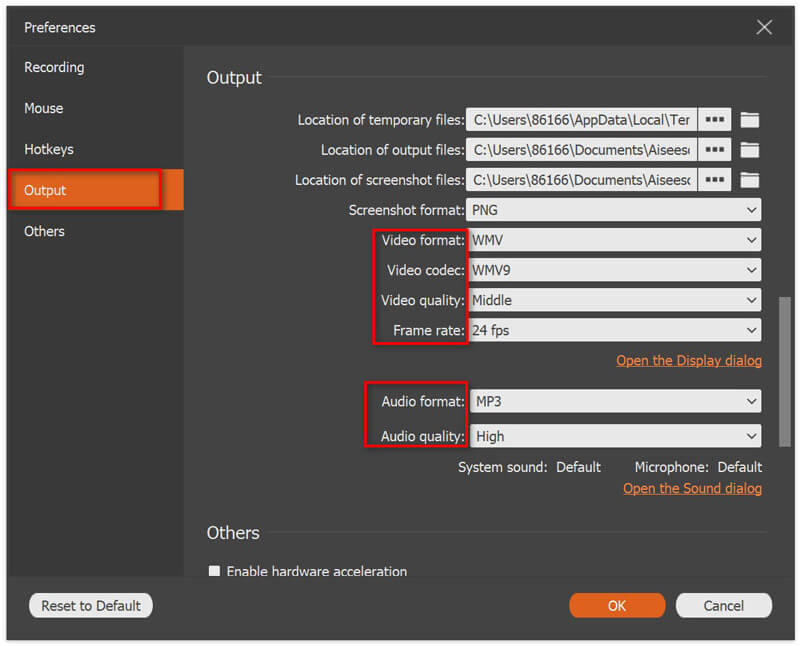 Step 3.
Record and edit TeamViewer remote session
While all the things are getting well, establish a remote connection via TeamViewer, and click the
REC
button to start session recording.
While recording, the float bar gives you more controls to add text, draw a shape, take a snapshot, etc., to highlight the recording. Once the Internet connection freezes, you can pause recording and resume it later.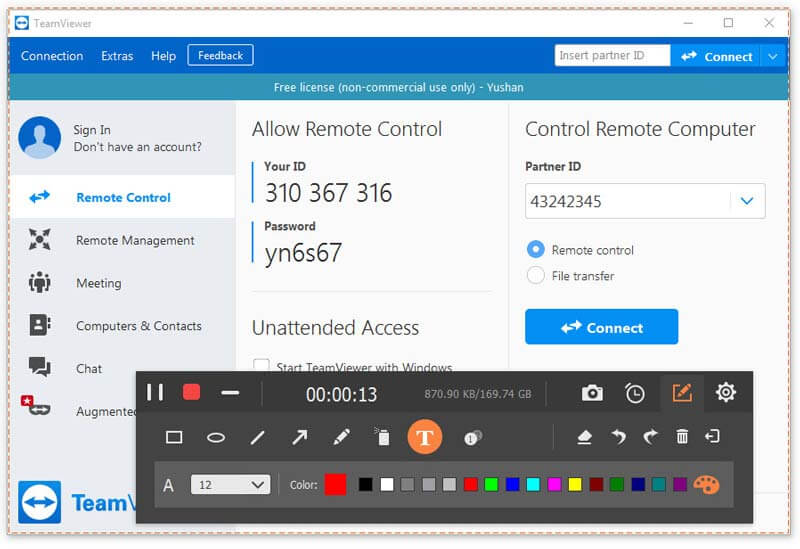 Step 4.
Play and save TeamViewer recording
The stop button in the float bar will put you into the preview window. The preview feature allows you to play the recording file directly before exporting. Clip feature also can get rid off the unwanted parts and click Save to choose the path to store the recording file.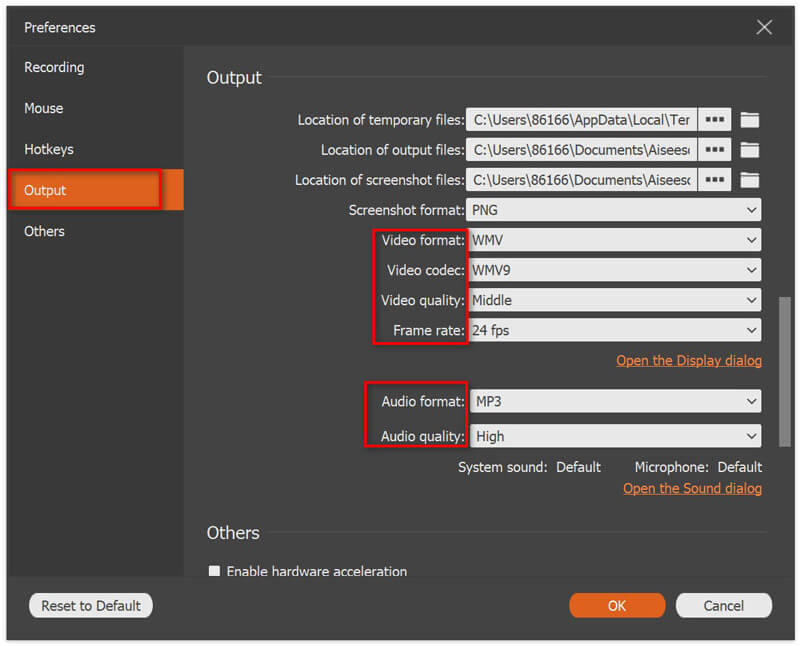 After saving it, you can upload the recording directly online. No matter how many incoming or outcoming sessions you have, you could record all of them easily.
Moreover, follow the steps above to record meeting from AnyMeeting, Zoom, WebEx, and more.
Part 2. How to Record TeamViewer Session Within App
Introduced at the beginning, TeamViewer is built-in its session recording feature. Now, let's check how to record remote meeting on TeamViewer within app.
Step 1.
Run TeamViewer after getting the successful connection with the remote users.
Step 2.
In the main screen, head to
Files & Extras
tab.
Step 3.
Find and click Start session recording. Then it will start record meeting session automatically.

Step 4.
Click Stop and save button to save the TeamViewer meeting as TVS.

That's done to complete the TeamViewer session recording on computer. However, you may notice that the recording file is in the extension of .tvs, which can be opened by TeamViewer itself. For playing it or editing it further, you are recommended to convert session recording to AVI with TeamViewer 7 and above.
Step 5.
Again, click
Extras
in TeamViewer, and click
Play or convert recorded session
.
Step 6.
Choose the recording TVS file to play it.
Step 7.
In the recorded session window, click
Convert
.
Step 8.
Configure the settings and click Convert to start converting TVS to AVI.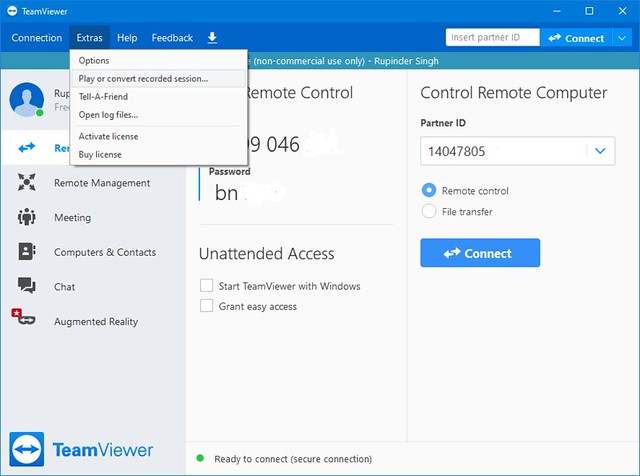 The above steps are making session recording manually on TeamViewer. It can also start the automatic recording whenever a remote-control session is started. The steps are pretty easy.
Step 1.
Click on
Extras
on TeamViewer to select
Options
.
Step 2.
Navigate to
Remote Control
tab, and check the box next to
Auto record remote control sessions
.
Step 3.
Click
OK
to save the settings.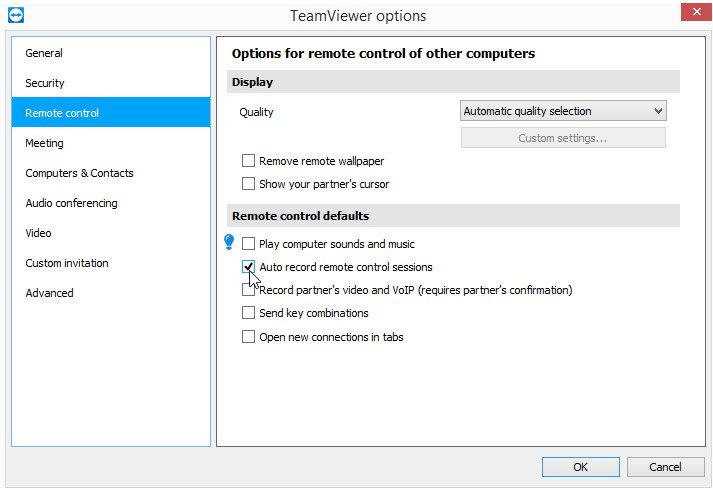 1. The conversion feature from TVS file format into an AVI file is available for Windows users currently. For Mac users, you need to get an AVI converter for Mac.
2. TeamViewer session recording should be granted the permission from the host and the remote computer users.
Part 3. FAQs of Recording TeamViewer Session
Where does TeamViewer save recordings?
TeamViewer meeting sessions are first saved into a temp folder. Once the session is closed, the recording file will be saved into the Session recording directory under C:/Users/username/AppData/Local/Temp/TeamViewer/Version.
Is TeamViewer free?
From the very beginning, TeamViewer has been available to everyone completely free of charge for personal. However, if you use it for business, it is free trial for 14 days.
How to fix TeamViewer recording missing on Mac?
Apple has introduced a security mechanism with macOS 10.14 (Mojave), macOS 10.15 (Catalina) and above. For recording TeamViewer session on Mac, you should grant access to TeamViewer on your Mac.
Conclusion
TeamViewer is the access tool to control other computers remotely. Session recording is the added feature, which can record computer activities remotely to keep all the points. This post is the detailed guide to recording session with audio on computer in 2 ways. You can use the built-in recording feature to capture the session but need to convert to AVI for playing on devices smoothly. In addition, you can also use the TeamViewer recorder app from third-party to record anything as export in a range of formats you like.
Which way would you try?
Do you have any other solutions to this issue?
Let me know by leaving your comments below.

Leave your comment and join our discussion