Top 7 Webinar Platforms You Should Never Miss
Webinar is an online seminar that achieves real-time point-to-point conversations from one sender to many receivers. COVID-19 has pushed many companies and professionals to telecommuting, which made webinar a daily schedule for many enterprises.
Considering the importance of webinar in telecommuting and collaborative relationships, we will share the top 7 webinar platforms and their pros and cons in this article. So, you can choose the best one and start the online webinar now.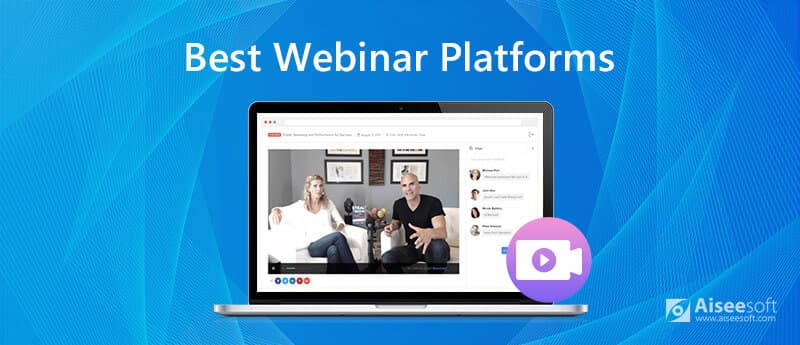 Part 1. Top 7 Webinar Platforms for Windows and Mac
1. Zoom - Webinar Platform Leader
As the leader in modern enterprise video communication, Zoom provides an easy and reliable cloud platform for video and audio webinar, conference and chat. Zoom's webinar service enables you to host online events with up to 100 interactive video participants. Besides, it adds integrated global toll-free telephone calling to your webinars.
Pros
Start the webinar with 100 to 10,00 view-only attendees.
You can broadcast your webinars to YouTube or Facebook Live.
Allow attendees from desktops, laptops, mobile device and conference room.
It is easy to schedule a webinar event and export to calendar then invites guests.
Cons
There are some security and privacy issue need to be improved.
You can't edit a recorded tool before exporting.
You need a stable internet connection to avoid delays.
The mobile apps are not as good as the website platform.
Check how to record Zoom meetings
2. ClickMeeting - Online Sharing Webinar Platform
ClickMeeting is the web-based webinar platform where you can share online classes, training sessions, business meetings and collaboration, as well as any online webinar events. You can also start a live stream on Facebook. ClickMeeting enables you to know where the attendees hail from, the device they used, and the average rating your webinar has.
Pros
You can add your logo, change the page color and custom the webinar room.
No need to download anything when hosing or attending a webinar on computer.
ClickMeeting mobile app is available to host or attend webinar from smartphone.
Cons
There are lags when you are hosting a webinar with your customers.
New users may be confused about how to adjust audio and webcam features.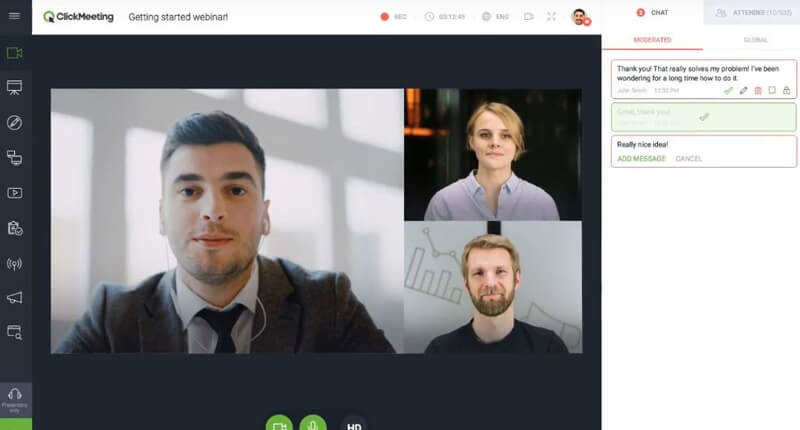 3. WebEx - Global Webinar Platform
Cisco's WebEx is the leading enterprise solution for webinar, video conference, online meeting and screen share. It is dedicated to global connection, communication and collaboration needs. It has features like digital whiteboards, sharing files, detect background noise and mute suggestions, wireless connection options, etc.
Pros
The audio and video quality of the webinar conference are good even in complicated situations.
It is available on web and standalone app, which is convenient for everyday users.
It allows up to 1,000 participants in a virtual webinar meeting room.
Cons
Pricing can be expensive for small organizations.
Users have to enter the meeting ID, attendee ID and passcode manually.
There are lags and slow down issues when sharing or controlling screens.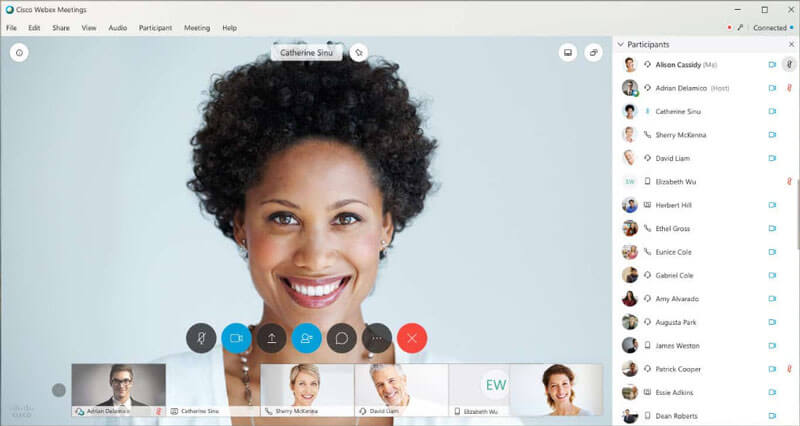 4. GoToWebinar - Professional Webinar Platform
GoToWebinar is a webinar platform for business and sole proprietors to create and deliver online and video webinars and conferences. It is an excellent webinar platform for professionals and companies, whether they want to talk with their target audience, provide training through online and audio conferencing, or conduct speaking engagements to participants.
Pros
GoToWebinar allows hosts to share content or document to participants.
You can conduct your own webinar numbering from five to 1,000 participants.
Users don't need to create an account to participate in a webinar meeting.
Cons
The interface is not intuitive, so it is a little complex to use.
There is a cost to access the premium features you want to use.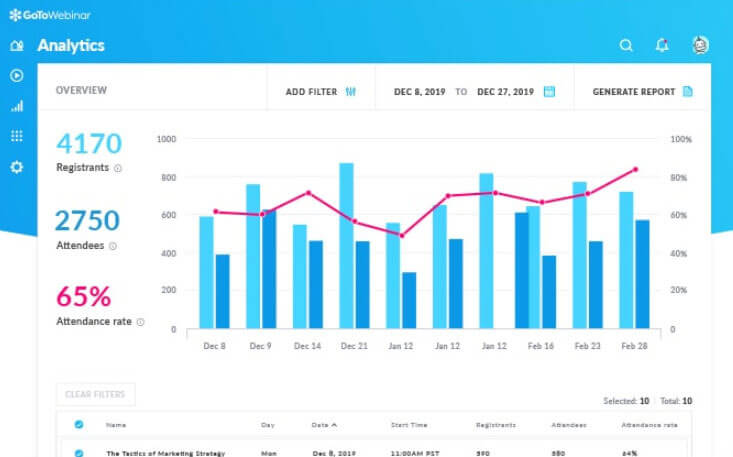 5. Demio - Simple Webinar Platform
Demio is a top webinar platform that provides a simple and no-download webinar experience. It offers unlimited webinars and the storage for 100 recordings. Demio delivers clear, HD quality, real-time live streaming webinar to your audience without any delay. If you want to invite audience to join your webinar, just send them the link.
Pros
The user interface is intuitive and simple.
Attendees don't need to have an account to enter the webinar.
It will record your webinar events automatically, and then customize and share the replay with your audience.
Cons
A stable and fast internet connection is required for webinar participants.
Almost impossible to playback the recorded webinar with weak internet connection.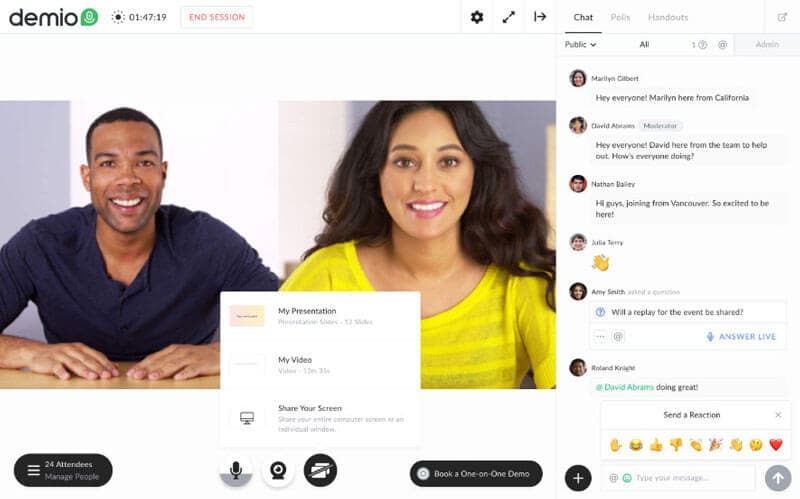 6. WebinarNinja - Live & Evergreen Webinar Platform
WebinarNinja is the best all-in-one webinar platform that gives everything you need to create your webinars. It provides a comprehensive set of marketing tools to engage with your audience. You can create live, automated, series, summits & hybrid webinars. It surely gives users stunning professional webinar presentation experience.
Pros
It provides a clean, intuitive and easy-to-manage interface to start webinar.
There is no need for attendees to download any software to enter the webinar.
Upload your PowerPoint slides, and display them without sharing the screen.
Cons
It may take days to upload your webinar presentation to WebinarNinja.
It could be a little tricky to modify the existing webinar.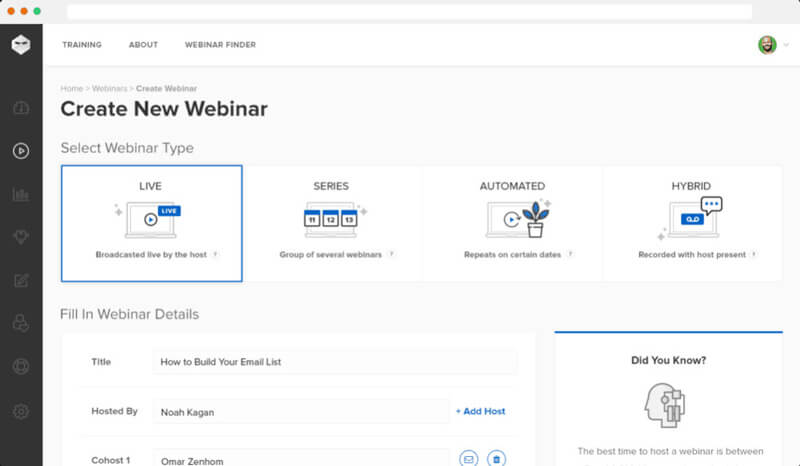 7. JetWebinar - Real Time & Simulated Live Webinar Platform
JetWebinar is the first real-time and simulated webinar hosting platform. It is a cloud-based platform with an intuitive interface. There are a number of different options for webinars like automated, simulated-live and hybrid along with broadcast to YouTube & Facebook Live.
Pros
The number of webinar participants on JetWebinar could be 2 or 2,000.
Users can receive text messages to communicate in real-time on an automated webinar.
There is no lags between presenters and attendees in a webinar.
Cons
You can't start an instant webinar like start a meeting or Facebook Live.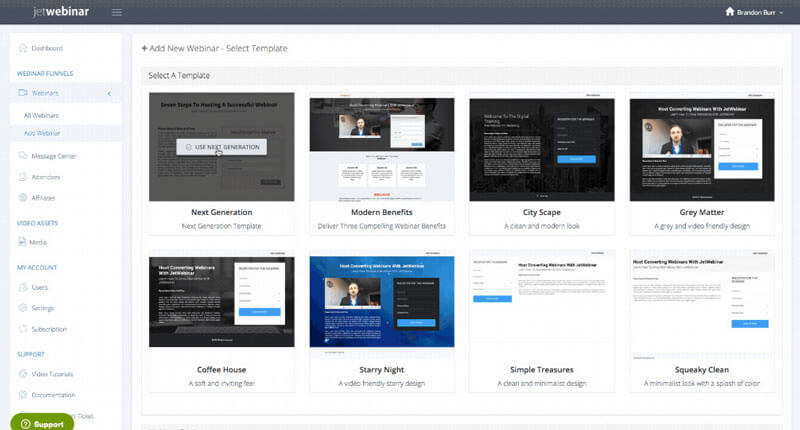 Don't miss: How to create online courses
Part 2. Best Webinar Recorder You Should Know
If you want to save the webinar meeting, a professional live webinar recording tool is essential for you. Aiseesoft Screen Recorder is the best live webinar recorder to capture any webinar or video meetings with super-high quality. What's more, this webinar recorder enables you to easily edit recorded webinar videos, such as cut, rotate, trim, and more.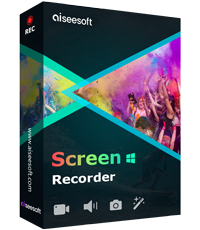 Downloads
Easily record live webinars and video conferences with high quality.
Record webinars with full screen or customized area and real-time drawing.
Capture computer screen/webcam, record audio and take screenshots.
Record online videos, 2D/3D gameplay, video/audio chats, music and more.
Powerful editing features and export captured content in any popular format.
Part 3. FAQs of Best Webinar Platform
Is Zoom good for webinars?
Zoom is the most popular webinar platform where you can host webinar, share screen and record sessions. If you are worried about security issues, you can try other webinar platforms instead.
Do I need to be on camera for a webinar?
If you are a webinar host, it is good to be on camera when you make presentation, talk about the topic, etc. If you are attending an online meeting, there is no need to be on camera.
Can the instructor see you in the webinar?
No. You won't be able to see or hear the audience when you are presenting a webinar. The audience can't type in or submit the questions to the speaker during a live session.
Conclusion
We mainly talked about the top 7 webinar hosting platforms and their reviews. If you want to save a webinar, you can try Aiseesoft Screen Recorder to capture the live webinar and save it to the local computer. Hope you can find the best Leave us a message if you have any questions.

Leave your comment and join our discussion