How to Record RingCentral Meeting Audio and Video
RingCentral RingCentral provides the solution to global cloud communications and collaboration. Integrated with phone, video conferencing and messaging, it is considered as the leader in Unified Communications. Especially the spread of COVID‑19 pandemic, video conference is the necessary part increasingly.
While using it, recording RingCentral meeting is what many users require.
Does RingCentral support meeting recording?
How to record RingCentral meeting calls?
Find the answers from the full guide in this post.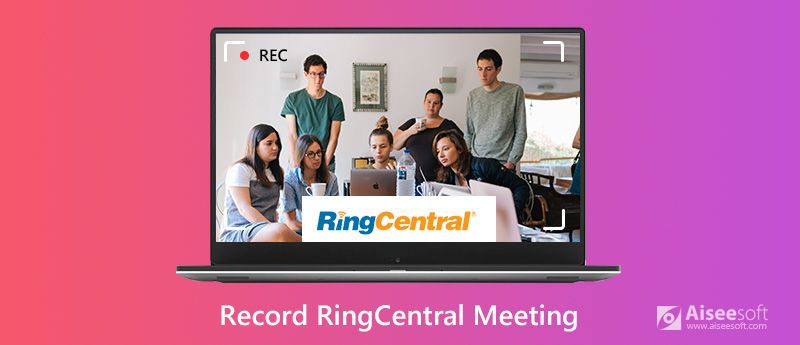 Part 1. How to Record RingCentral Meeting on Desktop
Can you record RingCentral meetings?
Of course, you can.
Recording RingCentral meeting allows you to keep a recording of a meeting. You can retrieve points from the recording later. To capture RingCentral meeting, no special tech knowledge is required. The process starts with Aiseesoft Screen Recorder.
Aiseesoft Screen Recorder is the RingCentral meeting recording software. Whether you are the host or not host, you could capture anything in RingCentral. Apart from that, the recording file can be saved as a wide range of formats for smooth playback on almost any device.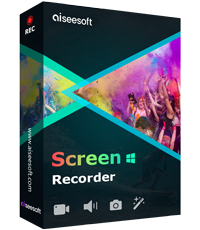 Downloads
Screen Recorder- RingCentral Meeting Recorder
Record messages, videos and calls in RingCentral meeting.
Record meeting locally and on cloud even if you are not the host.
Real-time editing while recording meeting to take notes.
Timer recording can record RingCentral meeting automatically by schedule.
Whether you're a tech pro or one of the not-so-tech-savvy types, you could follow the simple tutorial below to record RingCentral meeting.
Step 1.
Download RingCentral recorder
Free download the RingCentral recording software on your computer. It is compatible with Windows and Mac computer, and you can record RingCentral meeting on desktop easily.
Open this program on desktop, and select Video Recorder.

Step 2.
Make recording settings
Before meeting recording, you should make recording settings for RingCentral.
Click
Full
or
Custom
to choose the recording region for RingCentral.
In addition, you should select audio that you want to record from
System Sound
or
Microphone
.

Step 3.
Record RingCentral meeting
After joining a RingCentral meeting, click
REC
button to start recording RingCentral meeting.
While recording, the float bar enables you to edit the meeting recording like add the text, draw a shape, take a snapshot, and more.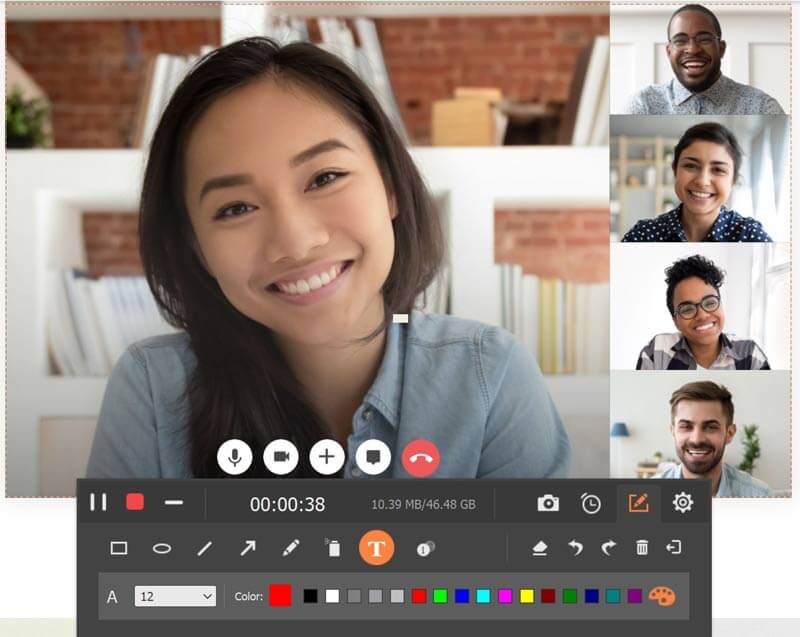 Step 4.
Stop and export RingCentral meeting recording
After the recording is done, click the
Stop
button and you can start playing the recording. The clip feature can cut down the recording file. When everything is done, click
Save
to export the RingCentral meeting file.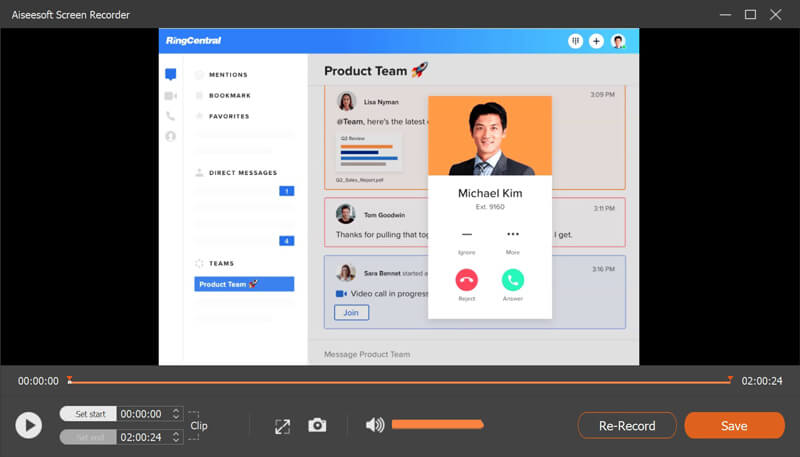 For sharing or playing the RingCentral meeting recording file smoothly, you can click the menu (three-line) to choose Preferences, navigate to the Output tab, and choose MP4, MOV, AVI, WMV, etc., from the drop-down option of Video format.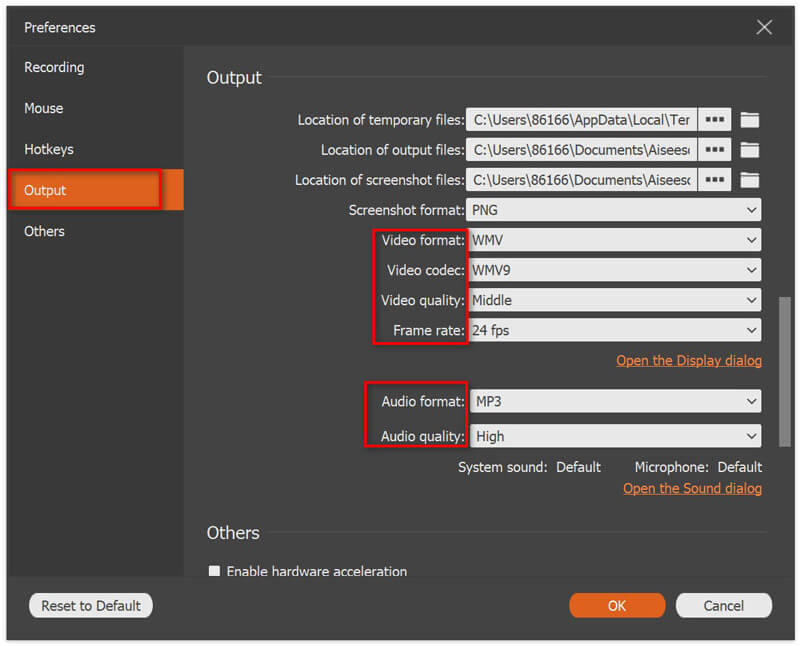 Follow the similar steps, and you can record AnyMeeting, WebEx recording, and more.
Part 2. How to Record RingCentral Meeting Locally
Apart from recording RingCentral meeting via the third-party recorder apps, you are allowed to capture meeting via RingCentral Meetings.
Before starting recording meeting from RingCentral, there are still some limitations you should bear.
Record RingCentral Meeting on Windows and Mac
RingCentral Meetings is the app that you can record on desktop computer.
Step 1.
Log in to RingCentral Meetings on Windows or Mac computer.
Step 2.
Click
Start with video
or
Start without video
.
Step 3.
When you host join the meeting, click the
Record
button to start RingCentral recording.
Step 4.
Click the stop button at the upper- left hand side of the screen to record RingCentral meeting.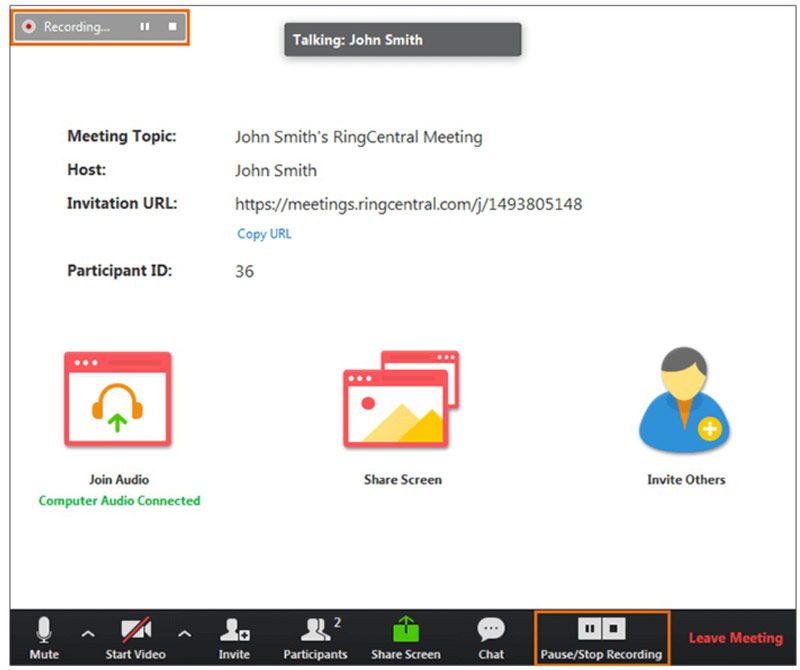 Note: RingCentral Meetings is only available for Desktop (Windows and Mac).
Record RingCentral Meeting on Web
Apart from the desktop recording via RingCentral Meetings app, you can also record RingCentral meeting on the web.
The steps of recording RingCentral meeting on the web are pretty easy.
During an ongoing meeting, click Record meeting button to start recording.
After that, the recording file will be converted to MP4 when you stop recording on the Recording tab.

Note: Only the Host can record the meeting. A Participant can record the meeting after the Host assigns him/her as a Moderator. Moreover, no further editing features are offered from RingCentral, and you may need the MP4 editor to edit the recording file.
Record RingCentral Meeting on Mobile Phone
Incidentally, RingCentral can enable meeting recording on iPhone and Android if you are the Host. Even if you are not the Host, you can start a meeting recording after the Host grants you as a Moderator.
While joining a meeting, tap the Record button to start recording.
While the recording stops, the meeting recording file will be converted to MP4 automatically.
If you want the recording file as other formats, you will need the MP4 converter.

Enable RingCentral Meeting on the Cloud
Cloud meeting recording from RingCentral is also available once the administrator account turns on Cloud Recording feature.
Step 1.
Log in to your RingCentral account online, on the
Admin Portal
, go to
Meetings
, select
Meeting Settings
, and find
Recording
.
Step 2.
Under
Cloud Recording
, toggle the button
ON
to enable cloud recording.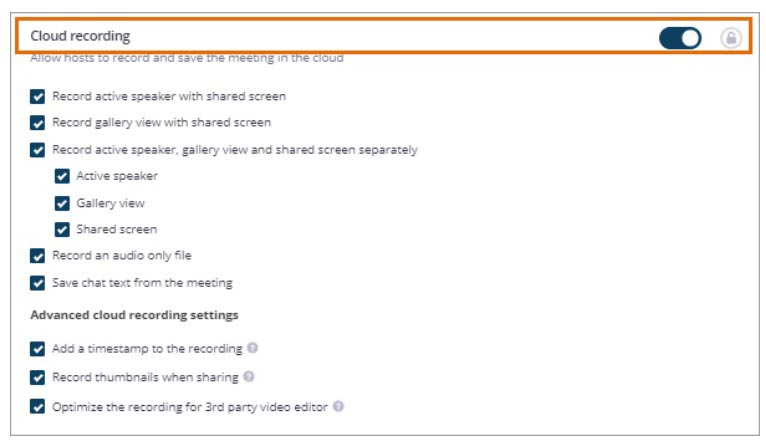 Step 3.
Then you can see the
Record to the cloud
option from the
Record
drop-down list in a meeting.
While ending the meeting recording from RingCentral, you can share the recording via the link.

Note: Cloud meeting recording will be stored on the cloud, and you need to pay for the storage. Meetings are stored on RingCentral's cloud storage for up to 1 year.
Part 3. FAQs of Recording RingCentral Meeting
Where do RingCentral recordings go?
By default, meeting recording file will be stored in /Users/username/Documents/RingCentralMeetings on Mac, and C:\Users\username\Documents\RingCentralMeetings on Windows. However, you are allowed to change the location by clicking Settings, choosing Recording and finding Change File Location.
How to record a meeting to the cloud without the Host?
If cloud recording is enabled on your account, you can schedule a meeting by selecting the Enable Join before host option. The meeting recording will start automatically without the Host, when the first participant joins the meeting, and the recording file will be saved on the Host's My Recordings page.
How long can a RingCentral meeting last?
A meeting bridge can go up to 24 hours. When the meeting is done, the meeting recording will be done. The participants or the hosts will have to dial into a meeting again and a new meeting recording will start. But you can use Aiseesoft Screen Recorder to record as long as you wish for multiple meetings.
Conclusion
Recording a RingCentral meeting can help you record all the things in a meeting. This page is the full guide to record RingCentral meeting on desktop, mobile phone, web even the cloud. No matter which way you follow, you can record RingCentral meeting easily. Compared with the built-in recording feature from RingCentral, Aiseesoft Screen Recorder comes in handy without any limitations.
Now it comes to your turn.
Which way will you pick up?
Do you have any other recommendations?
Let me know by leaving your comments below.

Leave your comment and join our discussion